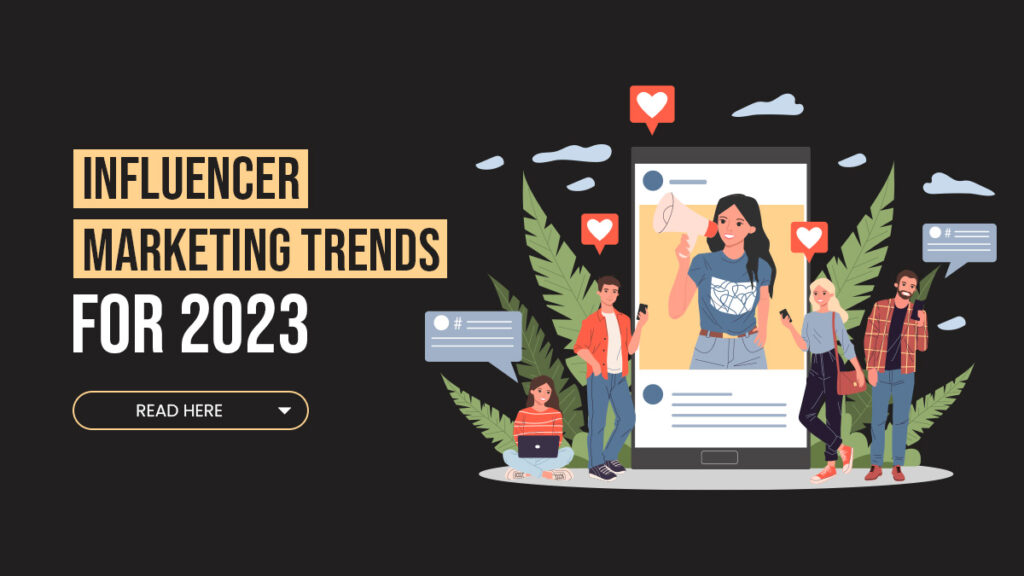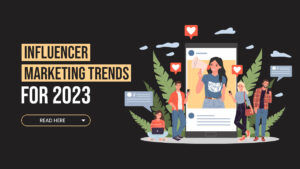 Jan 10, 2023
Influencer Marketing Trends for 2023
Influencers have keyed into what makes a particular audience on Social Platforms. So, many brands partnered with influencer content creators in past years. For many businesses, Influencer Marketing is a bankable Online Advertising Strategy. Thus, companies must be familiar with Influencer Marketing Trends for 2023.
One of the chief factors Social Media Marketers must watch out for is a shortened attention span. Currently, people have an attention span of a staggering eight seconds. In light of this, TikTok and Instagram Reels are excellent channels to engage with current Social Media users. They tend to want to consume more sensational content much faster.
Not only that, but among influencers, Instagram is a popular Social Media platform. In one Statista analysis, it was the platform of choice for 94% of campaigns.
Businesses and influencers must develop exciting Social Media content that can grab attention in seconds.
A Rundown on Influencer Marketing
Paid Advertisements have a 200% Return on Investment, which is why businesses find it an excellent marketing method. However, as with all marketing methods, you must create a compelling ad that reaches your intended audience.
Fortunately, influencers can help you create an enticing Paid Ad for Social Platforms. Influencers can create innovative content that can reach a sizable audience, especially one with a refined niche. Influencers often share their life experiences, knowledge, or takes on trends. Short-form content, especially videos, is the key to spreading Brand Awareness and boosting sales.
Influencer Marketing requires an endorser with a substantial Social Media presence. Influencers are excellent additions to your marketing efforts, as they can help you generate quick, informative, and snappy content! As an endorser for your brand, influencers generate authentic content that's related to your brand.
Thus, you won't need to bring on a celebrity to produce ads that bring in the most engagement. So, with an influencer, you can stay within budget while gaining high Returns on Investment.
Common Influencer Marketing Strategies
Of course, there are several standard strategies for Influencer Marketing. These include the following:
Reliance on Video Content;

Weaving a relatable or interesting story into your content;

Finding (and tapping into) niches;

Cross-channel campaigns, or posting content on

varied Social Platforms

; and

Stronger relationships with influencers or content creators.
However, time marches forward, and 2023 will bring a new slate. The best way to fill it with success is to follow popular marketing strategies. Some of these methods include the following:
Creating long-form content;

Using

Artificial Intelligence tools

to create Social Media content;

Increased reliance on Augmented or Virtual Reality;

Sustainability; and

More imperfect and raw videos over curated, polished content.
There are more Advertising Trends businesses can take advantage of! Here is what companies can expect for Influencer Marketing in 2023.
The Top Influencer Marketing Trends of 2023
Video Content Holding Strong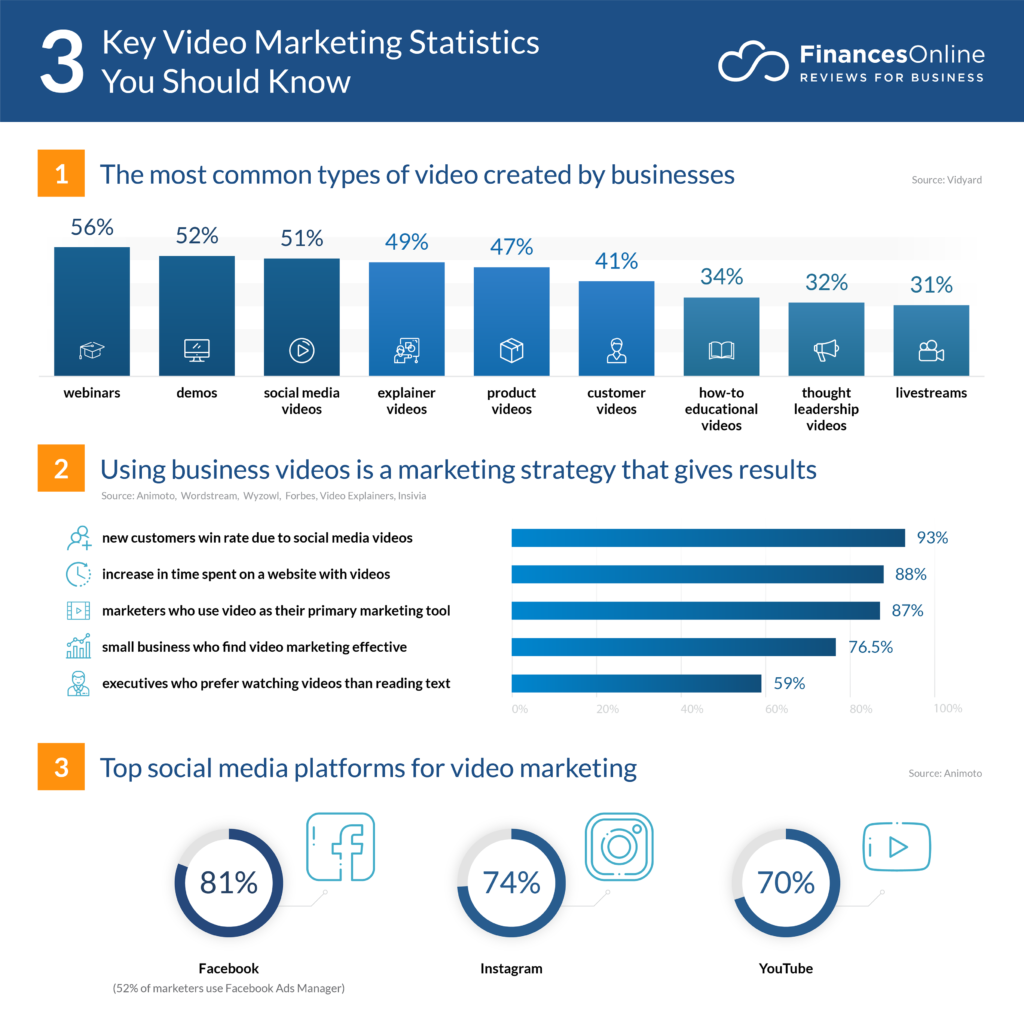 Source: Finances Online.
As with the Digital Marketing Trends in 2021, the need for Video Content will stay consistent in 2023. Thus, businesses must post more of it on Social Media for better success. Fortunately, Influencers are perfect for sponsored content and sharing content unrelated to brands.
Platforms focused on short-form content allow influencers to create videos that are enjoyable and easy to consume. Not only that, but with an influencer's touch, the content will have a personality of its own.
So, consider partnering with an influencer known for making exciting content while promoting your brand.
An Increase in Partnerships and Collaborations
Naturally, businesses can enlist influencers to advertise their products or services. As a result, 2023 will see more long-term partnerships between brands and Social Media Influencers. In addition, brands will put more effort into influencer partnerships, so they last longer and yield more positive buzz.
However, brands can take another route with this. So they can ensure that their brand ambassadors have a more significant say in the products or services they endorse. So in 2023, businesses can launch new products or services that were co-created by their partner influencers.
When a brand co-creates a product line, it indicates that it wants to listen to its endorser. This will show audiences that there is a deeper connection between the brand and the influencer than just an endorsement. After all, 92% of consumers trust recommendations from friends and family over other advertising methods.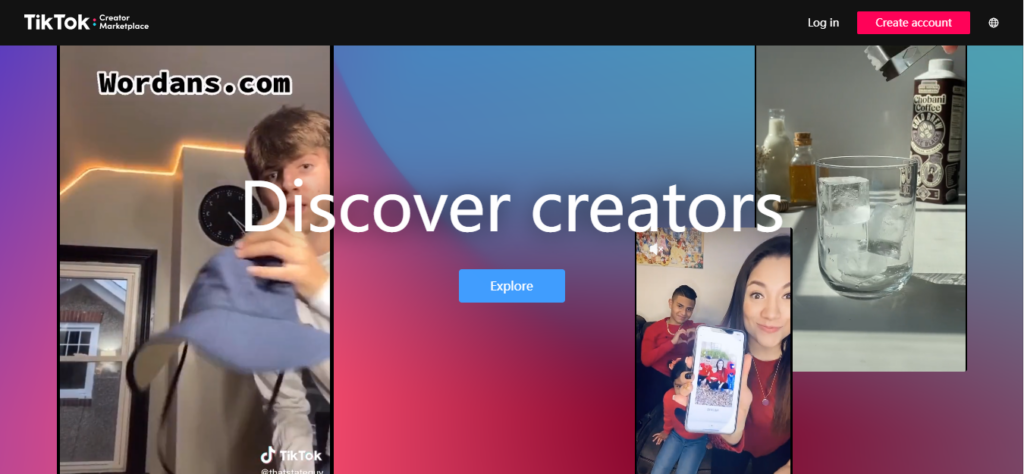 Source: TikTok.
Creator Marketplaces and Live Shopping
Creator-focused marketplaces on Social Networks can further your Social Media Marketing Strategies for 2023. TikTok and Instagram, particularly, are accessible channels for brand and influencer collaborations. Other platforms may follow suit with Social Commerce, so watch out for this 2023 Influencer Marketing Trend.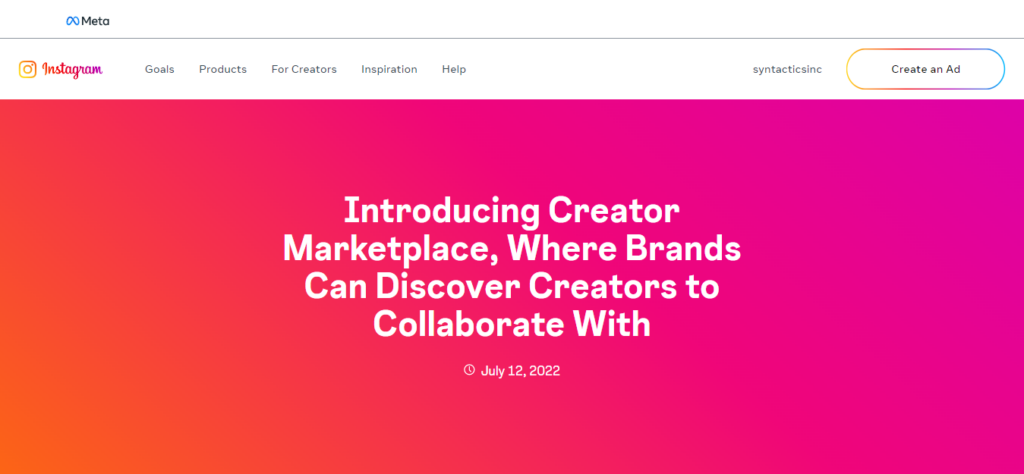 Source: Instagram.
In addition, Livestream Shopping on several platforms may give your partnerships a considerable boost. Of course, through live streams, influencers can promote products (including yours) to their community. Thus, your partnered content creator can reach people in real-time.
As a result, consumers can purchase items during those live streams. In addition to elevated shopping experiences, they're also an excellent way to provide customer care. So, influencers can address questions and concerns about the product.
More User-Generated Content Creators
Imperfect content has become one of the most popular Influencer Marketing Trends of 2023. So rather than having polished content, influencers are free to make unscripted content. However, you can partner up with creators that specialize in User-Generated Content.
UGC Creators are not the same as influencers on Social Networks. Instead, they're Social Media users focused on creating User-Generated Content for companies.
60% of customers think UGC is "the most authentic marketing content" on the Internet. As a result, it's more trusted than advertising campaigns. After all, UGC is like customer reviews in video form. Thus, businesses on Social Media should consider collaborating with UGC Creators.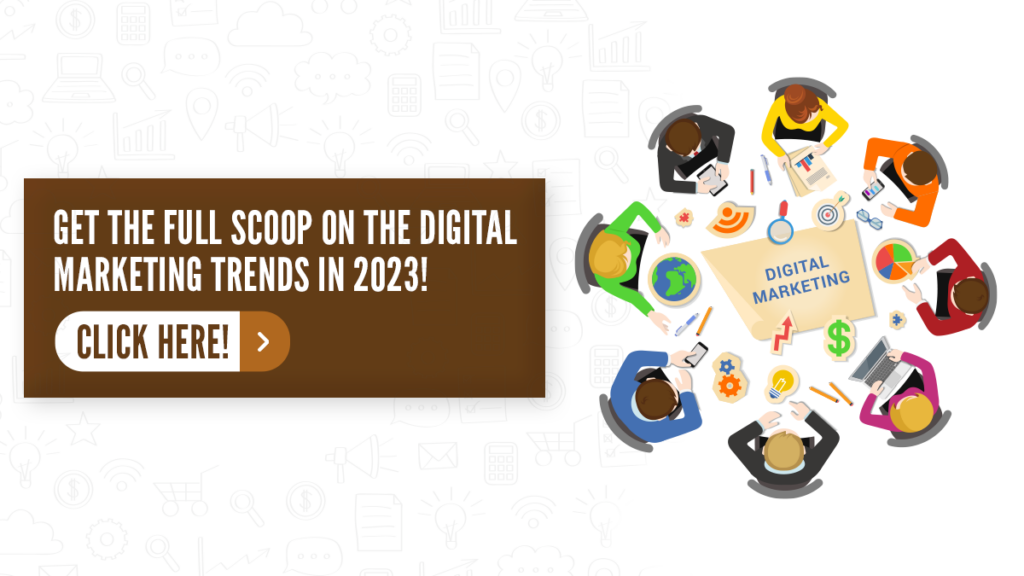 Micro- and Nano-Influencers
As mentioned above, finding your niche and sticking with it is vital. Fortunately, Micro- and Nano-influencers can help your business tap into relevant niches on Social Media.
Firstly, Micro-influencers have follower counts between 10,000 to 100,000. On the other hand, Nano-influencers tend to have follower counts in the 1,000 to 10,000 range. The two influencer types tend to be part of small yet dedicated communities.
Also, their content recommending your brand feels more authentic. And since they're part of a smaller community, their audience can connect to them more easily. So, collaborating with influencers can sometimes be even better than partnering up with an established celebrity!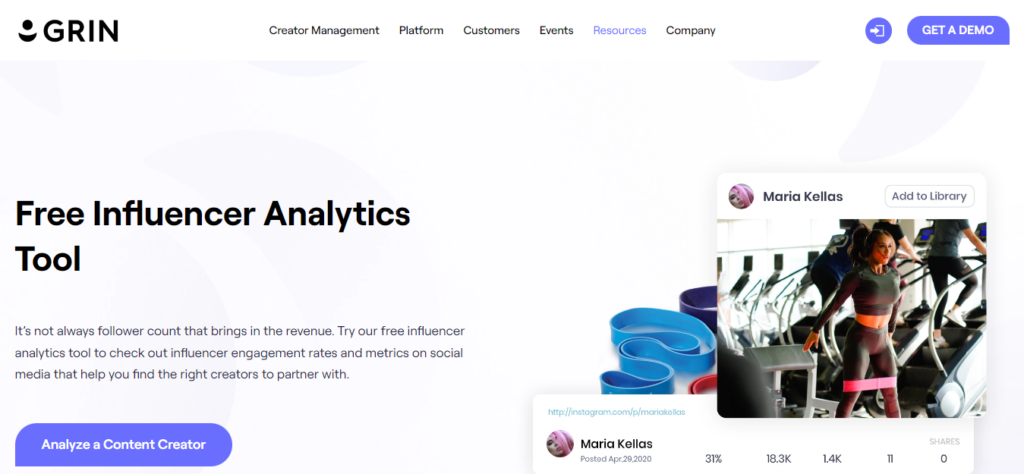 Source: Grin.
Measuring Influencer Marketing Success
As many Marketing Specialists know, measuring your performance — including Social Media Post performance — is critical. Regularly checking analytics can assist with refining strategies and boosting ROI. In addition, influencer marketing campaign data provides insights into what your business has done and what it can improve.
However, marketers and businesses tend to collaborate primarily over emails and messaging platforms. Thus, there are not a lot of data and analytics reports you can go on. It's why businesses should find influencers with target audiences that match theirs. It's the best way to find a common marketing platform with audience demographics.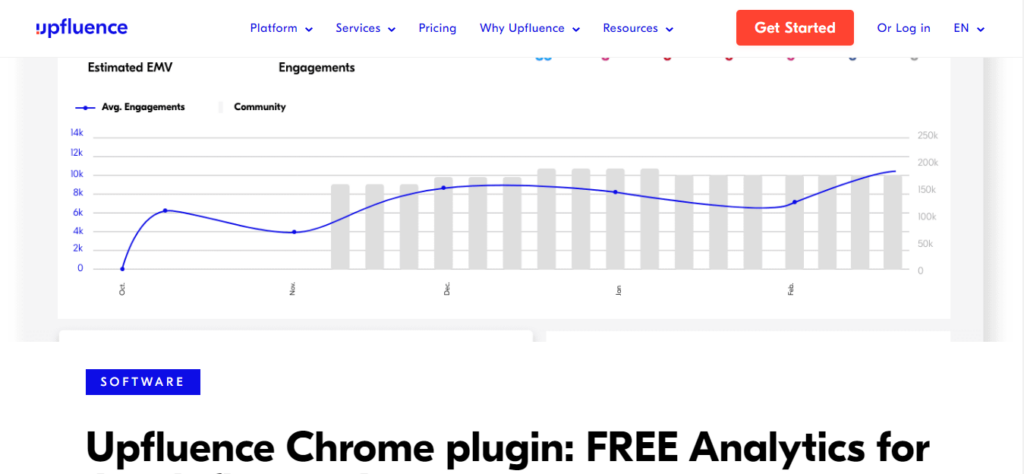 Source: Upfluence.
So, businesses need to see the results of their partnership with an influencer. Of course, some of the most important Social Media metrics include the following:
Audience reach;

Likes;

Comments;

Saves;

Trackable URLs; and

Discount code usage.
As a result, businesses can learn more about their Influencer Marketing efforts. Then, they can use these insights to create better Marketing Strategies and achieve better results.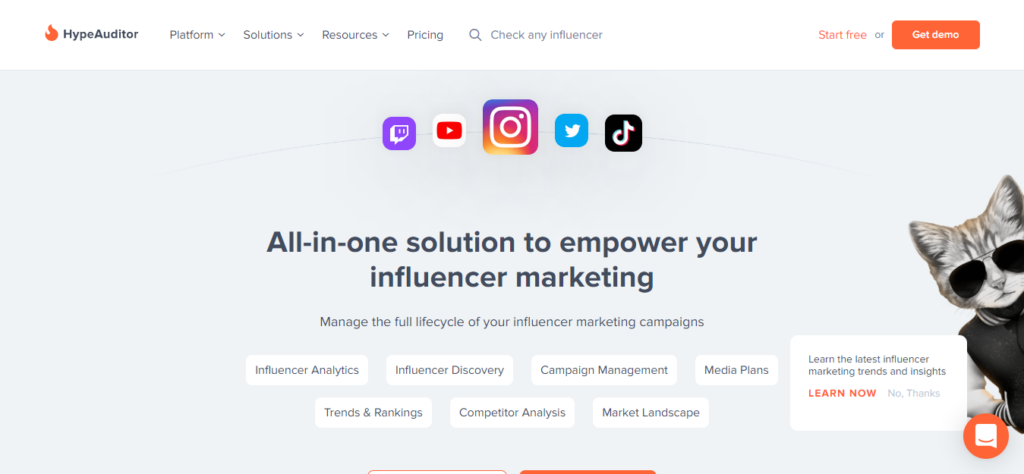 Source: HypeAuditor.
Final Thoughts
Influencer-generated content is an excellent method for getting the attention of your target demographic. So naturally, businesses should find an influencer or content creator that's tapped into that demographic. With their help, a company can create fresh, exciting content that helps advertise your brand, products, or services.
Of course, companies can create short-form videos on Social Media applications like Instagram and TikTok. These can be used to market products or services to Social Media users. There's also the possibility of selling products via live streams.
For instance, one Influencer Marketing Trend is creating campaigns for multiple platforms. It's highly recommended if your intended audience is found on more than one Social Media Network.
Additionally, a product line co-created with a partnered influencer indicates that the brand listens to its collaborator. As a result, it demonstrates that it wants to hear from its customers. Thus, the influencer's audience will favor your business' product.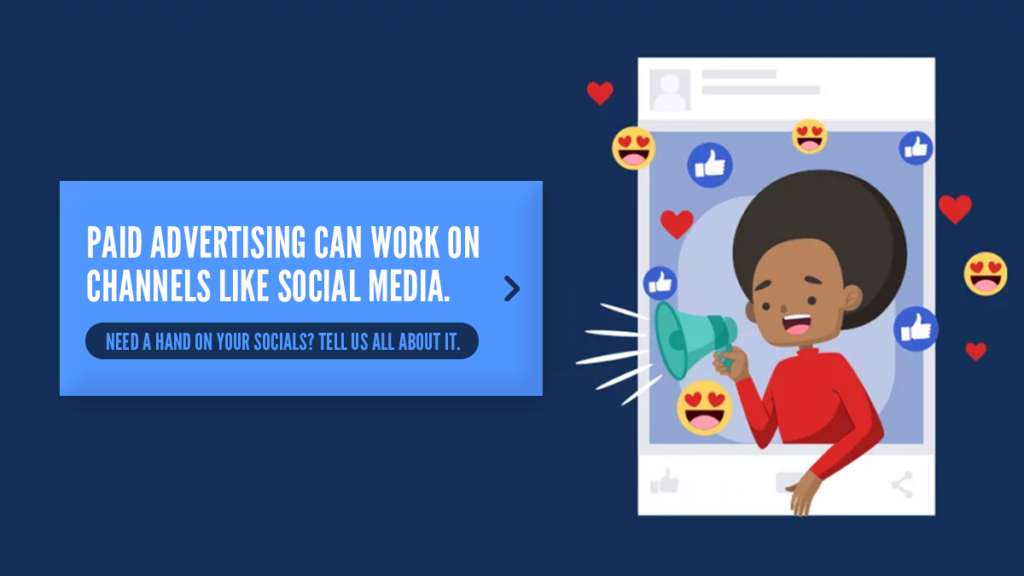 There are plenty of other ways to market your business via Social Networks. However, a Social Media Marketing Company in the Philippines can elevate your business' success for 2023.