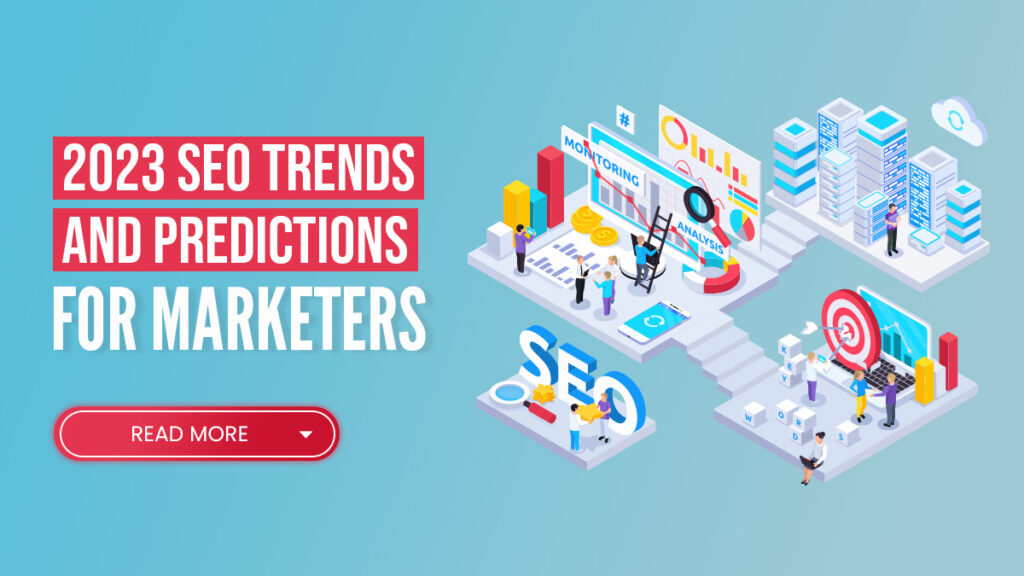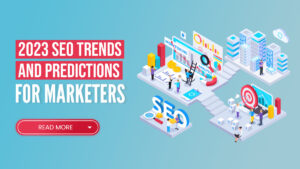 Jan 10, 2023
2023 SEO Trends and Predictions for Marketers
Search Engine Optimization Trends change yearly, monthly, or weekly. The perfect SEO Strategies constantly differ, but it's still vital to understand and apply them to your own business. So, Digital Marketers must watch out for the SEO Trends of 2023.
Many of the trends for 2023 are similar to the 2022 Search Engine Optimization Trends. But also, there are several mainstay SEO Strategies or best practices, such as:
Ensure your website caters to the human user's experience;

Utilizing Long-Tailed Keywords;

Content creation following the E-A-T (Expertise, Authoritativeness, and Trustworthiness) Principle;

Relying on Local Search strategies; and

Optimizing your content to create Featured Snippets.
However, every Online Marketer understands the importance of adapting strategies to keep up with algorithm changes. The 2023 Search Engine Optimization Trends ensure your business is visible on search results pages this year and get ahead of your competitors.
The SEO Trends and Predictions of 2023
A Renewed Focus on Core Web Vitals
One of the most crucial SEO Trends to watch out for is ensuring your website's Core Web Vitals are optimal. After all, Google always wants the best for its users. Fortunately, the Google PageSpeed Insights Tool lets you see what kind of user experience your web page offers.
So, if your website's text, images, and video content load quickly, Google rewards you with high search results rankings. Likewise, slow load speeds will cause your SEO rankings to suffer.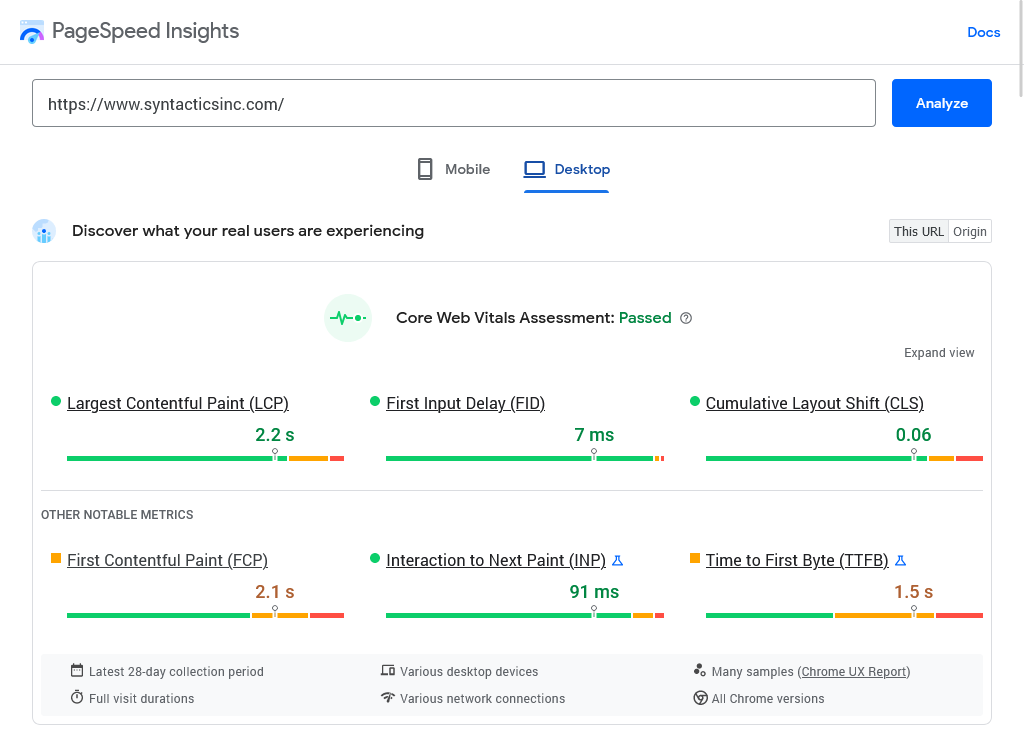 Core Web Vitals will tell you how users interact with your website. From there, you can find out what to improve for better site load speed. So when examining Web Vitals, Digital Marketers should check out the following metrics:
First Contentful Paint or FCP, which tells you how quickly content loads on your site.
First Input Delay. Also known as FID, this tells you how fast a page processes a user interaction.
Largest Contentful Paint or LCP refers to how long it takes for the biggest piece of content to load for visitors.
Cumulative Layout Shift. CLS refers to how many layout shifts happen without any user interaction.
Continuing with Image Optimization Best Practices
Image Optimization makes your site's pages more accessible to Google users, including those with visual impairments or disabilities. Unfortunately, if not appropriately optimized, image files can be so large that they slow down page load speed.
Slow loading time can cause your user experience to suffer, meaning higher Bounce Rates. Thus, it's vital to ensure your images are at a manageable file size.
A search engine can help draw more people to your pages. So, you must also add related keywords as alt text to images in content that describes it to screen readers. It lets users understand visual content, and your content ranks on Search Engine Results Pages.
Here's a summary of quick tips for optimizing your visual content:
Do an image audit on your website to find out what you need to improve.
Compress images by minimizing file sizes.
Serve image content in AVIF or WebP file formats.
Incorporate keywords into image file names.
Include unique, descriptive alt text for each image.
Add keywords to your images' unique alt text.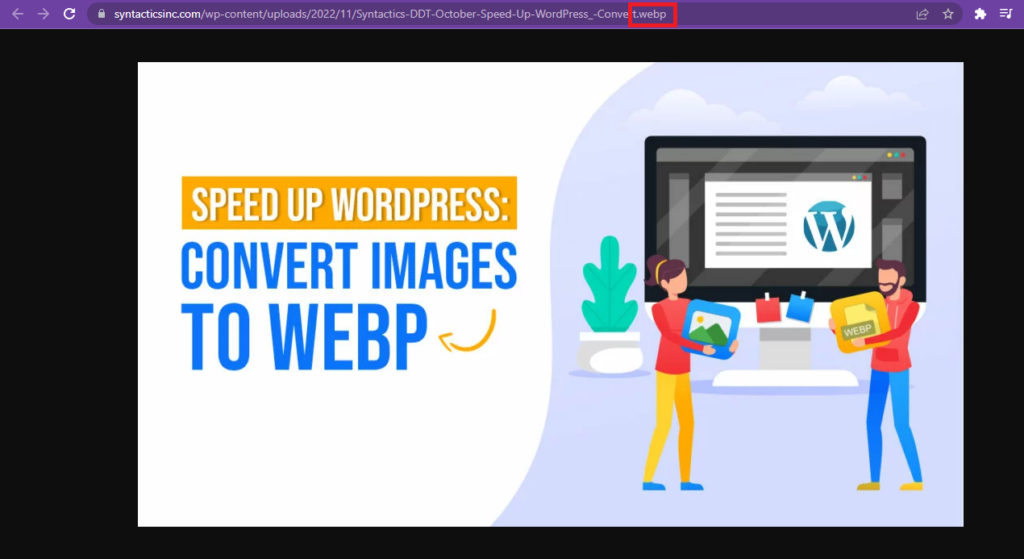 Incorporating Video Marketing into Your Campaigns
Video Content reached nearly 93% of global Internet users, which makes it an attractive Marketing Content Type. So, companies must continue incorporating videos into their Marketing Campaigns.
Naturally, you can create videos for products or services. But you can also create video content that explains industry- or business-related topics. In addition, you can add these kinds of videos throughout your website.
These must also be optimized with keywords and hashtags, particularly on Social Media Networks. For example, Digital Marketers can post longer Video Content on YouTube. However, short-form videos suited for TikTok and Instagram are popular with most audiences.
In addition, Google adds more emphasis on this 2023 SEO Trend with new features! To allow users to better search for information, Google added the following:
Clip Markup. This lets you highlight particular points in your video so users can skip to them whenever necessary.
Seek Markup. This feature will indicate to Google how your URL is structured, so it automatically displays the video's key moments. Also, it allows Google to link to particular points in your content.
Continued Use of (Curated) AI-Generated Content
More Digital Marketers will rely on Artificial Intelligence (AI) to create content. 2023 SEO Trends says AI software or tools can significantly benefit marketing efforts. AI-Generated Content isn't limited to copy such as articles or blogs, but images as well.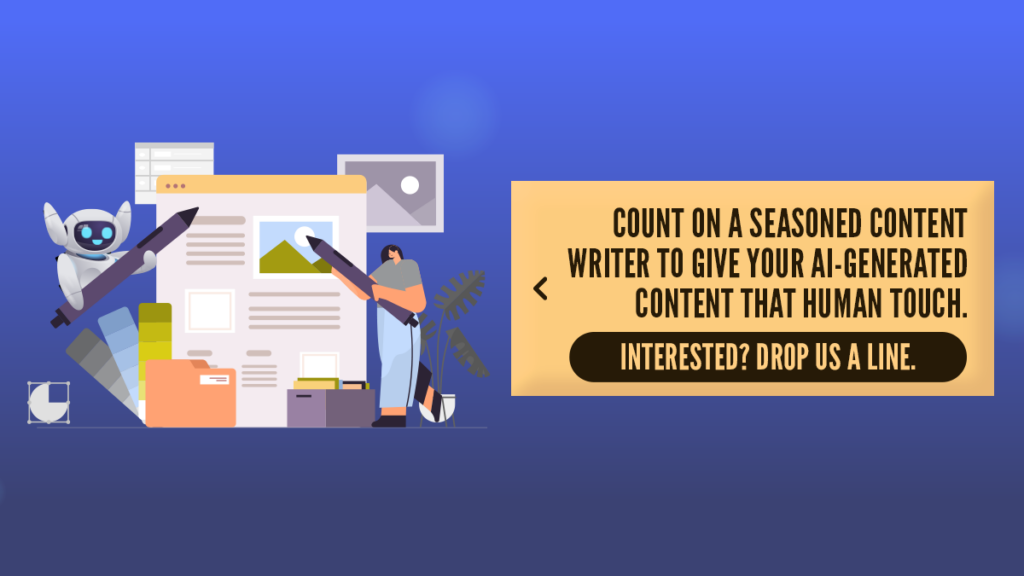 AI processes large datasets using intelligent algorithms. As a result, AI can primarily assist with searching for new subjects or topics. Additionally, it can provide a content base, which you can edit to your liking.
AI Content Tools will generate more natural text and images by this year. Still, marketers should know not to rely solely on automation to create compelling content. After all, humans know best how to create content that looks, sounds, and feels human.
In addition, Google prioritizes ranking valuable content through its helpful content system. It rewards content that satisfies Google users' needs — such as content that answers a query satisfactorily. But, AI-Generated Content doesn't always hit the mark, which emphasizes the importance of a human touch.
Thus, humans should still curate AI-Generated Content to get Google's attention and achieve high SERP Rankings.
Improving the Online Shopping Experience
Online shopping is serious business for both companies and consumers. In 2021, there were more than 2.14 billion digital buyers globally. In 2023, an estimated 265 million consumers will be from America alone. Thus, businesses looking to boost their sales should consider selling products online.
Fortunately, SEO is an excellent way to let consumers know about your brand and what it has to offer consumers! As Google's mission is to provide the best possible experience for users, it also offers an AI-enhanced Shopping Graph. It uses real-time product listing data to provide relevant product suggestions.
The data comes from a variety of merchants and includes things like:
Product reviews;
Item specifications or details;
Product prices;
Inventory data; and
Images or videos.
Because shoppers searching for products can find relevant items through this graph, you need to optimize your product listings with keywords.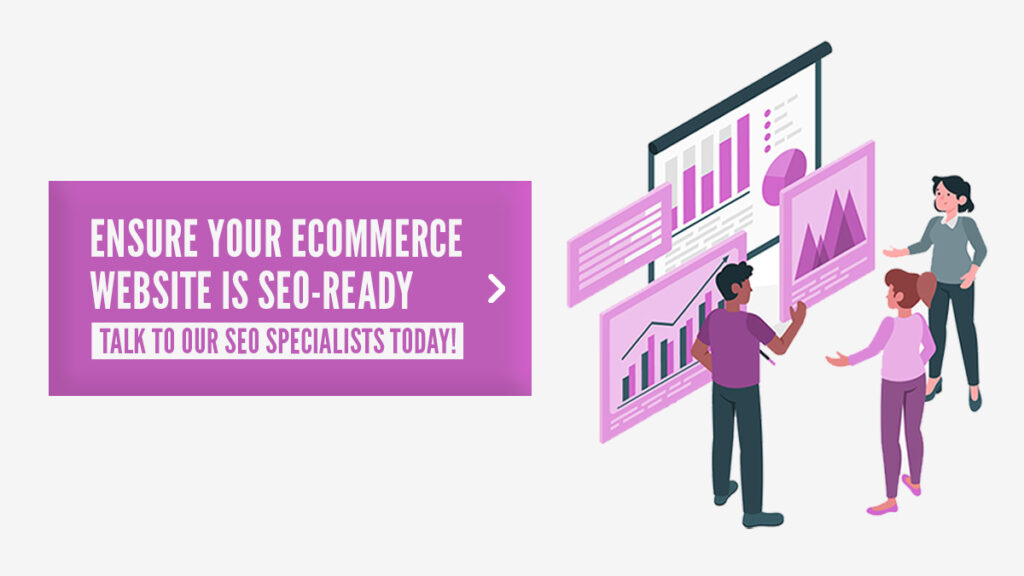 Semantically-Related Keywords
Another of the SEO Trends of 2023 is semantically-related keywords, which incorporate intent and semantics in search. Google intends to use the Multitask Unified Model or MUM. It's an algorithm that can understand the emotion and intent behind a user's search query.
So, Google won't just look at matching text to find answers to search queries but also relevant keywords. Thus, Keyword Research Tools can be of great help. Therefore, marketers must write engaging content around Topic Clusters. By creating content pieces closely tied to a given subject, a business can provide enlightening information to Google users.
In addition, you can optimize the content with semantically-related keywords and -phrases. So because you're trying to answer your audience's questions, it's vital to anticipate what they'll ask.
You can create a persona of your ideal demographic member. Then, you can use it to find keywords that people are likely to search for on Google. You can achieve higher SERP rankings by tailoring your content to semantically related keywords. As a result, it's easier to get the attention of your target audience.
Anticipating Conversational Queries and Voice Search
As a 2023 SEO Trend, marketers should anticipate and prepare for Conversational Queries. So, potential customers might be looking for your business using local language or vernacular they find more comfortable.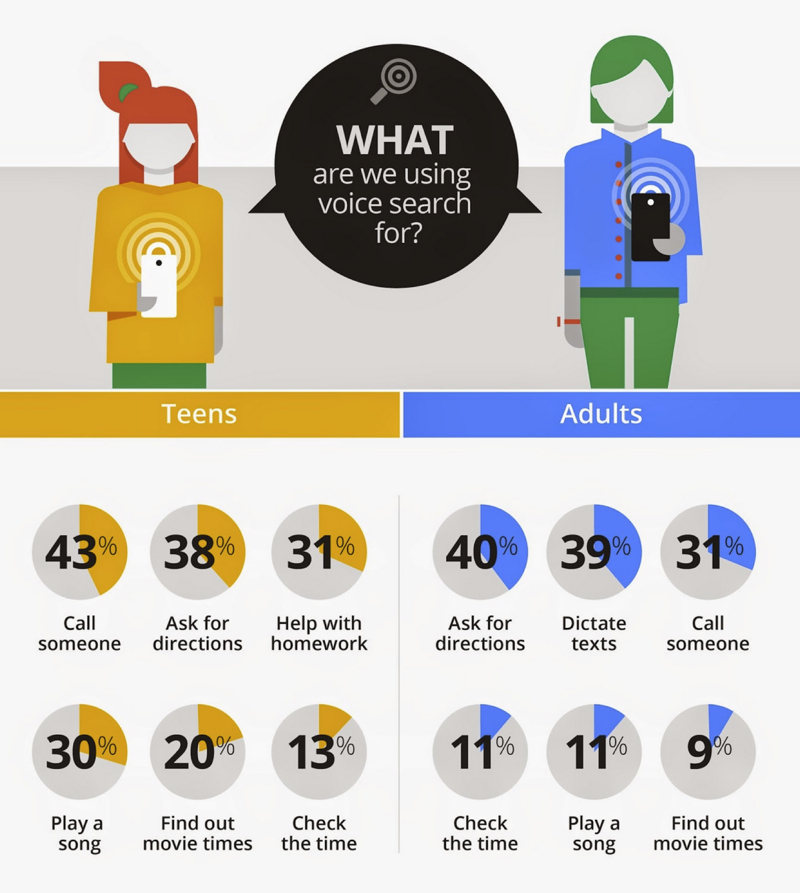 Source: MarTech.
Thus, you need to tap into Conversational Queries, which tend to be more casual. In addition, they're most commonly used with Voice Search. In addition, 27% of global Internet users use voice search on their mobile devices.
So naturally, Google already caters to its mobile voice searchers. Its LaMDA algorithm allows it to understand conversational speech.
Marketers should also hop on the bandwagon and optimize content for Voice Search using Conversational Queries. When Google users type a query into the search bar, they utilize essential keywords. However, voice searchers tend to ask their queries in complete sentences.
So, it's vital to consider your intended audience's geographical location to learn how they speak. Then, once you know how they converse, you can anticipate how they will ask search queries. Finally, ensure that your answers to these Voice Searches are concise so you can provide more information afterward.
The Rise of Google Multisearch
Naturally, businesses can make use of varied Marketing Content Types. Of course, people will consume articles, images, videos, and also audio content like podcasts. However, Digital Marketers can use Google multisearch to bolster a business' online visibility.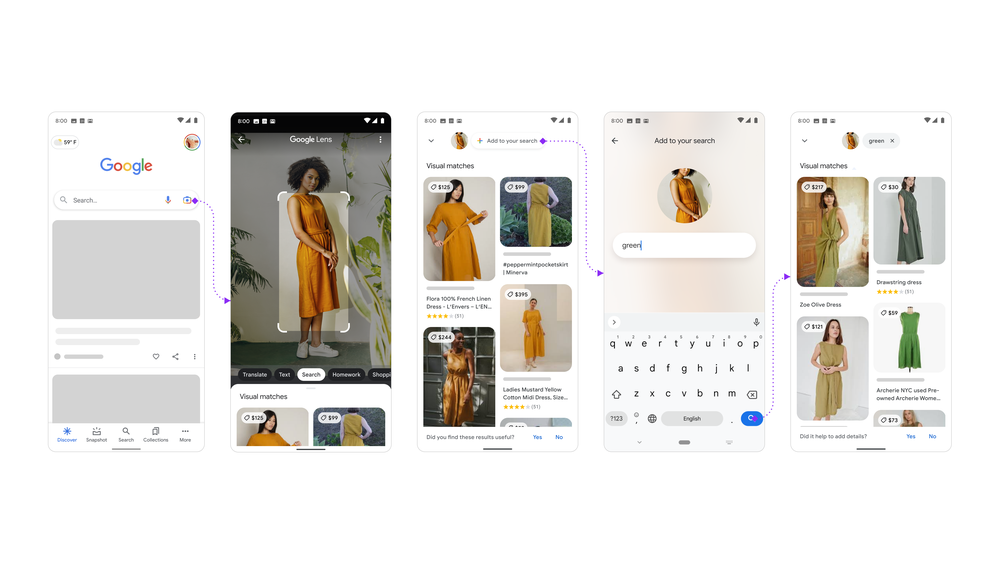 Source: Google.
As mentioned earlier, Google wants to provide a stellar user experience. Algorithms will now see all the aspects that make up any piece of content. Therefore, Multisearch can significantly benefit Google users.
It accomplishes this by allowing people to take a photo, add a text query, and then do a visual image search. Afterward, Google will show you results based on them.
As a result, users can search for almost anything as long as their device can take pictures. By 2023, more people will use multisearch, so marketers should use it to their advantage.
Final Thoughts
To provide the perfect user experience, businesses must follow emerging trends. Thus, they must prepare to take on projected Search Engine Optimization Trends. Not only that, but they must also watch out for Google algorithm updates. Also, keyword research tools can help them get ahead of the competition.
So, it's critical to apply the following SEO Trends this 2023 for user accessibility and SERP visibility:
Monitor your pages' Core Web Vitals reports;
Apply Image Optimization practices;
Utilizing videos on your advertising campaigns;
Have a human edit AI-Generated Content;
Refine your online product listings;
Apply Semantically-Related Keywords to your content plan;
Optimizing your content for Conversational Queries; and
Anticipate Google multisearch usage.
SEO is a critical aspect of your Digital Marketing plan. It increases the effectiveness of all your other advertising methods. SEO trends can have similarities with succeeding years, but trends don't stay the same for long.
SEO in 2023 will see trends from the past year's projections but perhaps unexpected trends too. For some, it can be a challenge to keep up with newer SEO Strategies. Fortunately, an SEO Company in the Philippines is in the business of following existing trends and watching for emerging ones.