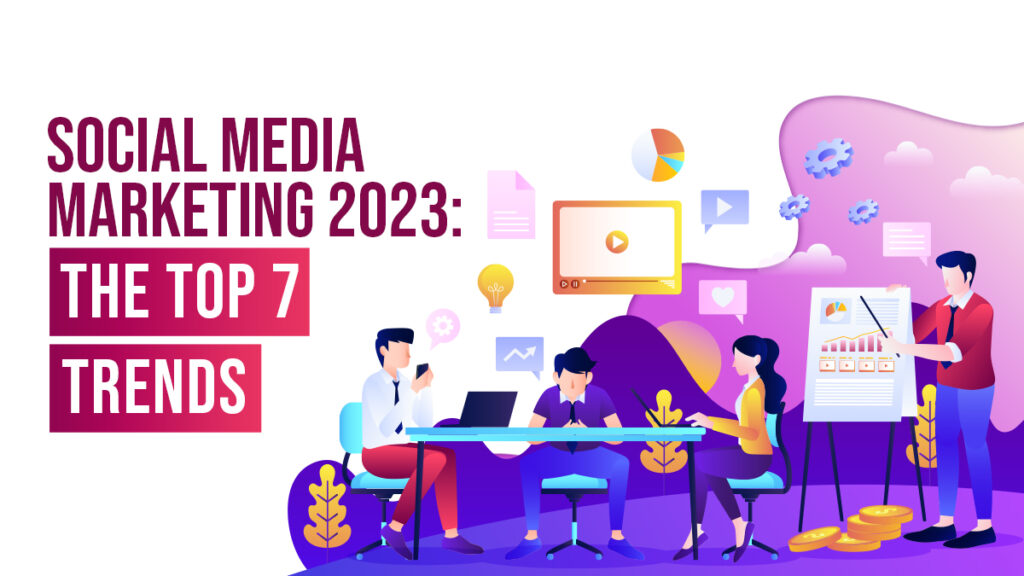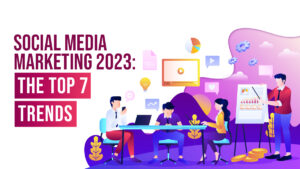 Jan 6, 2023
Social Media Marketing 2023: The Top 7 Trends
Social Networks or platforms are one of the leading Digital Marketing channels in use today. Businesses should keep up with the Social Media Marketing world in 2023 and follow its predicted trends. Social Networks allow people to find brands, products, and services like search results pages. However, with Social Media platforms, one can have a more in-depth understanding of a company and what it can offer.
Social Media engagement increased by 61% during the COVID-19 pandemic. In general, the pandemic impacted Social Media usage across the world. The number of Social Media users grew, and so did the number of hours a person spent on Social Networks.
For instance, most Facebook users can see a few relevant advertisements in their feeds. This is because Facebook has a powerful targeting feature. It ensures that ads are suited to a user's needs and interests.
Social Networks have been proven to be incredibly successful advertising channels. As a result, more and more businesses have been spending more of their budget on it.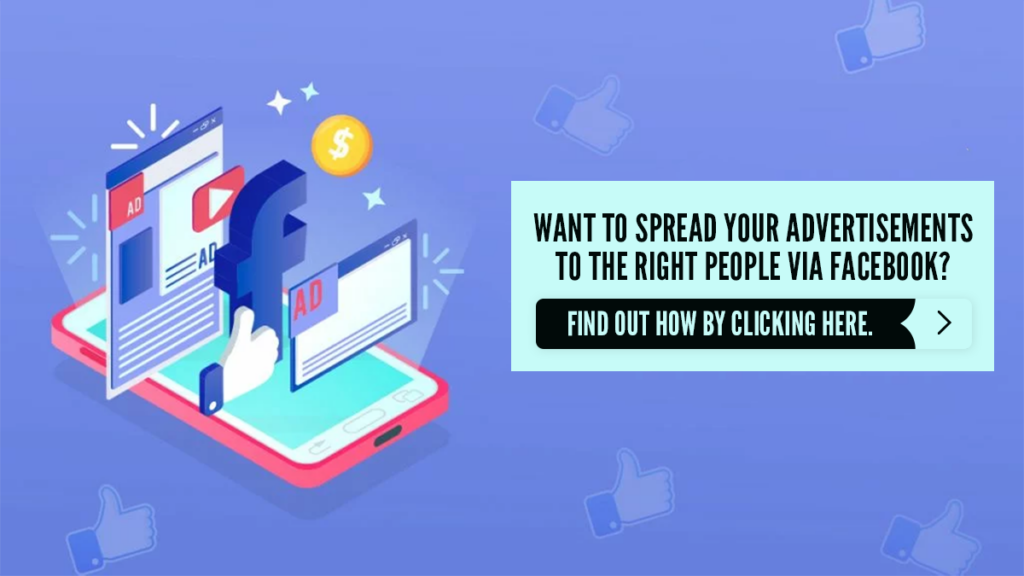 What Will the Social Media Marketing World Be Like in 2023?
As mentioned earlier, people are using Social Networks or platforms more than ever. As such, Social Media will continue to grow and thrive, becoming an opportunity-rich advertising channel that attracts potential customers.
Here are a few of the top examples of Social Media Advertising Trends for 2023:
Increased reliance on 

Influencer Marketing

 (particularly Micro- and Nano-Influencers);

Continued usage of Video Content;

Continued use of Short-form video content, such as on TikTok and Instagram Reels;

Using Social Media as a shopping platform;

Using new Social Platforms;

Analytics Tracking;

Investing in gaming; and

Augmented Reality usage.
These are only a few top Marketing Trends that will spell success in the coming year. In addition, many of these trends overlap with Digital Marketing Trends for 2023.
But, Social Media's whims can often change, meaning marketers can't always stick with a trend in the long term. As a result, strategies that worked in the past might still work or lose to emerging tactics. So, it's vital to keep your eyes peeled for any developments during the new year. Then, you can stay ahead of the industry if you take advantage of them.
Social Media Marketing Trends for 2023
Audio in Social Media
Several Social Media platforms have made steps toward Social Audio. For instance, Twitter users have the option to utilize Twitter Spaces and create voice tweets. In addition, Facebook offers Soundbite reactions, Live Audio Rooms, and short-form audio clips. Lastly, for business-minded marketers, there are always LinkedIn Audio Events.
On the subject of more niche platforms, Discord is an audio-based software that caters to video game players. Initially, it allowed people to communicate with other users without stopping to type messages.
Podcasts are an excellent marketing content type, and the Wavve Social Network allows marketers to tap into it. It will enable music or podcast creators to use an audio snippet to create a professional Social Media video.
Source: The Podcast Host.
Social Audio will make a mark on the Social Media Marketing world of 2023. So, consider creating a Social Media Strategy around audio!
User-Generated Content
Influencer Marketing is a beneficial Social Media Advertising Strategy, but you can also utilize User-Generated Content. This term refers to original content created by individuals concerning your business.
One of UGC's hallmarks is authenticity, which can be a significant driving force. In addition, for many consumers, UGC is "9.8x more impactful than influencer content." So, you may consider it word-of-mouth marketing in Social Media Content form! UGC is the perfect content type to help you connect with consumers and foster stronger relationships with them.
After all, Social Media is an excellent channel for ensuring platform users can do their part to help your brand. Businesses should use UGC to boost customer Brand Awareness and their sales figures.
So, why not count on UGC from your customers, who can become influencers for your brand in their own right? They can save you time and resources to create informative content while highlighting your existing loyal customers.
AI-Generated Content
Most marketers felt the effects of Artificial Intelligence in Content Creation this year. Thus, in 2023, AI-Generated Content can further your Social Media Advertising efforts. The tool improves as it's exposed to more data.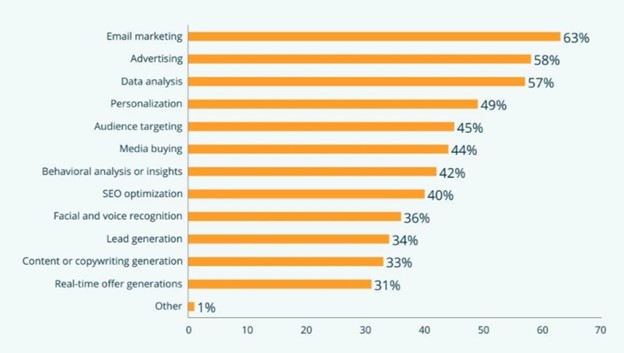 Source: Spiceworks.
An AI Content Generator Tool can automate work like creating content for marketing campaigns, like blogs. In addition to copywriting, AI tools or software can automate Social Media post drafting.
But even with its many advantages, marketers must remember to give the generated content a human touch. Thus, it's critical to curate the content and tailor it according to your brand personality.
It might be worth it to examine AI Content Generator Tools. Some businesses may already be using Content Generation Tools, but they don't have a strategy in place. So, companies should create a Marketing Strategy for their AI-Generated Content.
More Reliance on TikTok Marketing
The majority of people use Facebook as their Social Media Platform of choice. It even boasts 2.91 billion monthly active users as of this writing. However, TikTok has gained its fair share of popularity recently.
With Video Content being an industry mainstay, brands must rely on TikTok Marketing Strategies. So, with the platform's help, you can market your products to the younger generation. Not only that, but Social Media Marketers can even use TikTok videos to sell products to consumers.
As a result, TikTok offers excellent online advertising opportunities. Also, more companies utilize TikTok as a marketing platform and even add TikTok Pixels to their WordPress sites. Thus, it will become better equipped to handle the needs of Digital Marketers.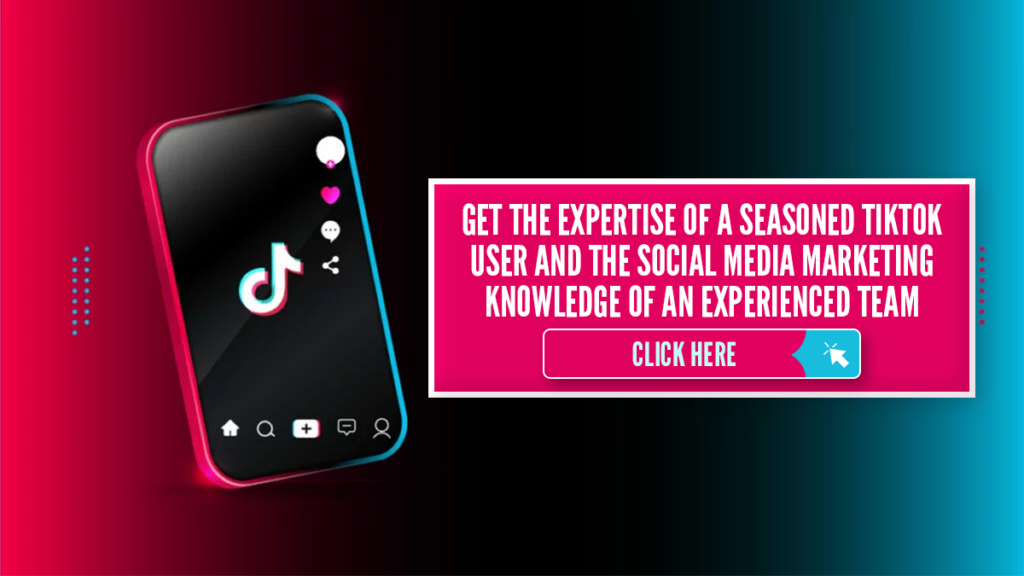 An Emphasis on Authenticity
Next year, authenticity will be all the rage rather than pristine brand advertisements. Consumers want to connect with businesses that provide an emotional connection. Thus, brands should focus less on themselves and their products or services. So, companies should provide even more valuable information to consumers in 2023.
Also, they must ensure that their brand voice comes off as more human. Your consumers have personal values, though they may depend on the audience you're marketing to. They will have a solid connection to your brand if you share the same values as them.
For this 2023 Social Media Marketing Trend, businesses should tell an authentic story. Additionally, it's vital to stick to their values to ensure brand authenticity.
To accomplish brand authenticity, company leaders can use their active Social Media presence and speak on current or relevant issues. Another strategy for exhibiting brand authenticity is to use particular channels that focus on it. The BeReal, Instagram Candid, and TikTok Now Social Platforms are excellent examples.
Social Media as Customer Service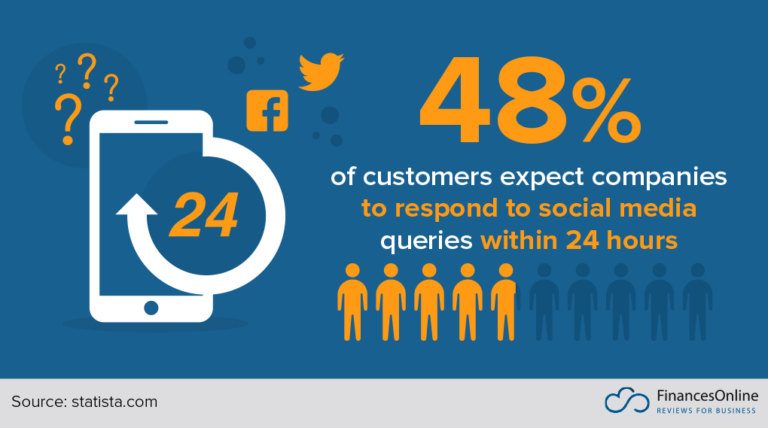 Source: Finances Online.
Consumers can interact with businesses through the Social Media channels of their choice. So, it's an excellent way to provide Customer Education and address customer concerns or questions. In past years, customers turned to Social Media and asked brands about products or services. In addition, 54% of people on Social Networks use the platform to research products.
Businesses can gain a lot of success by advertising new products on Social Networks. So, it's critical to use the platforms for Customer Service. In addition, the customers of today require solutions to their problems immediately. Not answering this need may cause their opinion of your brand to suffer.
As a result, companies must have a Social Media Customer Care Strategy to ensure a seamless brand experience. Thus, businesses need to answer customer questions to help them make an informed buying decision. Also, companies should provide Customer Support after the customer makes a purchase.
Social Media as a PR Tool
Maintaining Public Relations is critical these days, and Social Media is the perfect channel for that. As most people worldwide use Social Media, they can monitor real-world crises in real time. Additionally, 79% of consumers expect a brand to respond to their posts on Social Media within 24 hours.
So, businesses must watch out for negative sentiments or posts that might damage their reputations. After all, word spreads like wildfire on Social Networks. As a result, even the slightest issue can become a large-scale problem.
Social Listening can benefit all companies, not just as a consumer research tactic but to avoid bad PR. So, businesses should acknowledge a crisis and be transparent in their posts. Afterward, they must take steps to resolve that problem. A great start is to admit their mistakes and be honest about the plan they're using to solve the crisis.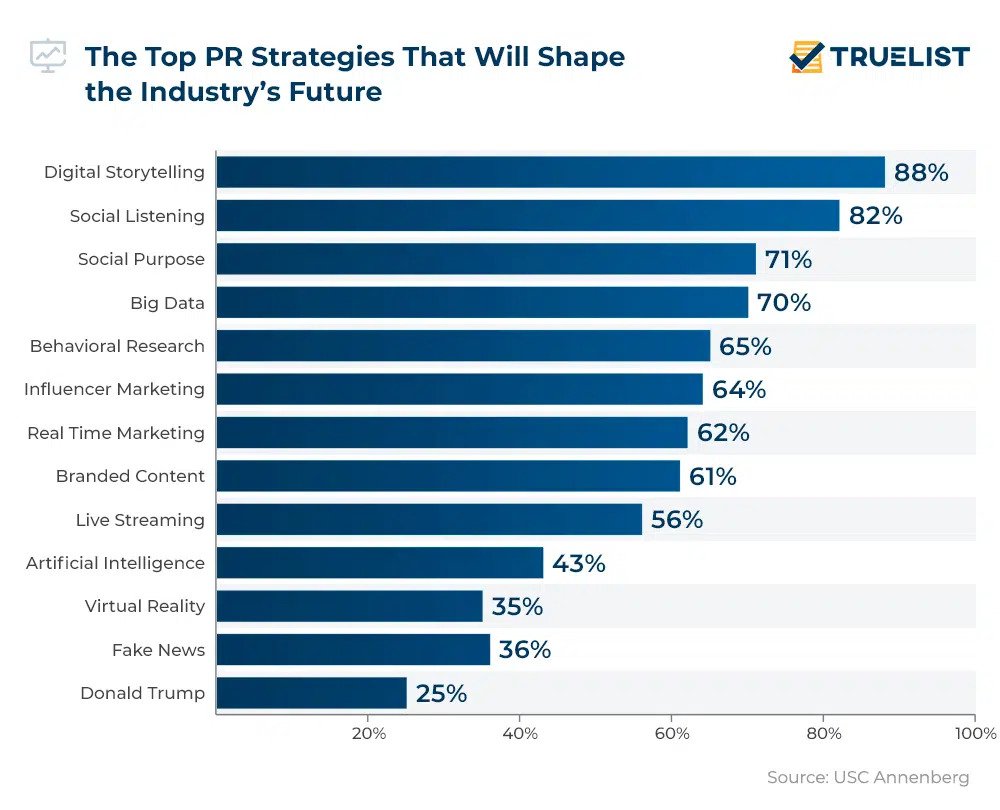 Source: TrueList.
Final Thoughts
Following their progress from 2022, the Marketing Social Media Trends for 2023 will reach their peak. For instance, one strategy for getting Social Media users' attention is to utilize TikTok. Also, they must lean more toward creating short-form videos. Social Commerce is another excellent trend one can hop on in 2023.
Another surefire way to attract customers is to partner with Social Media Influencers related to your brand. It's vital to collaborate with Content Creators who have extensive knowledge of a Social Network. Additionally, they also have a history of reaching a platform's users. As a result, the partnership can significantly increase your business' reach.
These and other trends will surely bring your company great success in the Social Media Marketing world soon. Thus, Social Media Marketers must research emerging trends and apply what they've learned these past months. 
However, it's important to note that other trends might come out of nowhere. A Digital Marketing Company in the Philippines can help your brand take on the Social Media Marketing Trends in 2023.