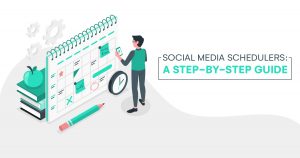 Sep 9, 2021
Social Media Schedulers: a Step-By-Step Guide
Social media schedulers and calendars are becoming more and more popular,  and it's a great way to see what's going on with your socials without having to check them all one by one.
But why use social media schedulers?

It's part of your job in digital marketing to make sure everything about a post is perfect before you let everyone see it. The grammar has to be spotless, your graphics have to be clean and eye-catching, your photos have to be professional-looking, and your videos have to be running at a good number of frames per second.
It's important to schedule your social media posts just right so that you can reach maximum engagement with your followers as soon and as much as possible. You also need to be mindful of when people are most active online! A posting schedule can help your followers know when to expect updates. But what if you're too busy to post? You can't just put it off—your loyal audience might be disappointed, especially if you've got a good streak going!
Well, social media schedulers can handle it for you.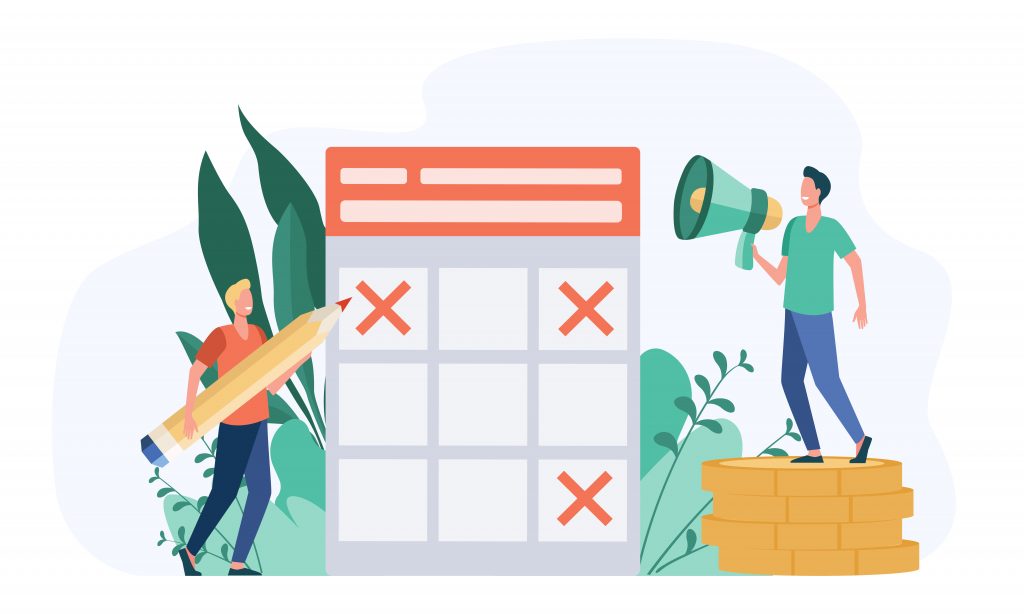 How to use social media schedulers
Of course, what's a social media scheduler without a content posting calendar? "A social media calendar is an overview of your upcoming social media posts. It can be organized in the form of a spreadsheet, Google calendar or interactive dashboard (if you're using a social media management app)," says Hootsuite.
No need to sweat about the small stuff when you've got schedulers! Too busy to manually post every caption or picture? A social media management calendar can take care of it. You need to launch posts simultaneously, but you only have limited fingers on the Post buttons? This type of tool can post those, no biggie. Is the scheduled date too far away? Plan ahead with your social media scheduler.
Here are the best social media planners for scheduling your social media posts. Note that these are all connected to certain social media platforms, so make sure you've got the right ones for your business!
SEMrush
SEMrush was in our last article. As previously mentioned there, it's "one of the leading social media management tools and content marketing platforms used by businesses today." SEMrush allows you to track the performance of posts published on multiple platforms. In addition, you can also manage your ads! Read here for a more thorough look at SEMrush.
Here's how you schedule some social media posts on SEMrush:
Step 1: Ensure social media profiles are connected.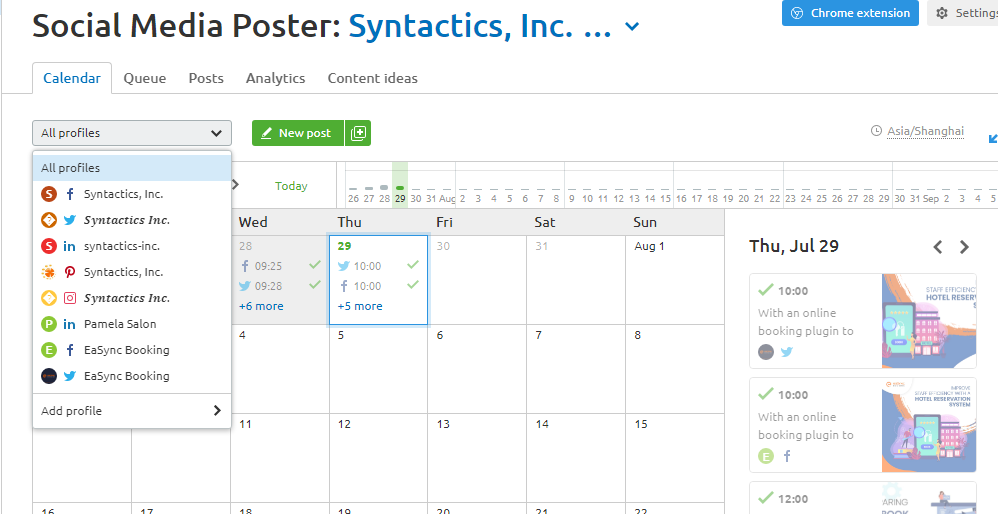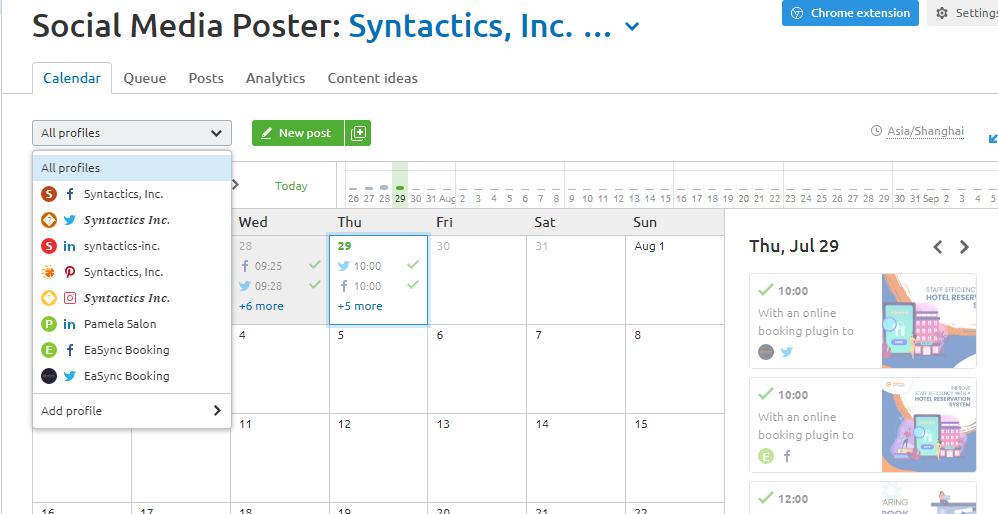 Step 2: Click the plus sign to create New Post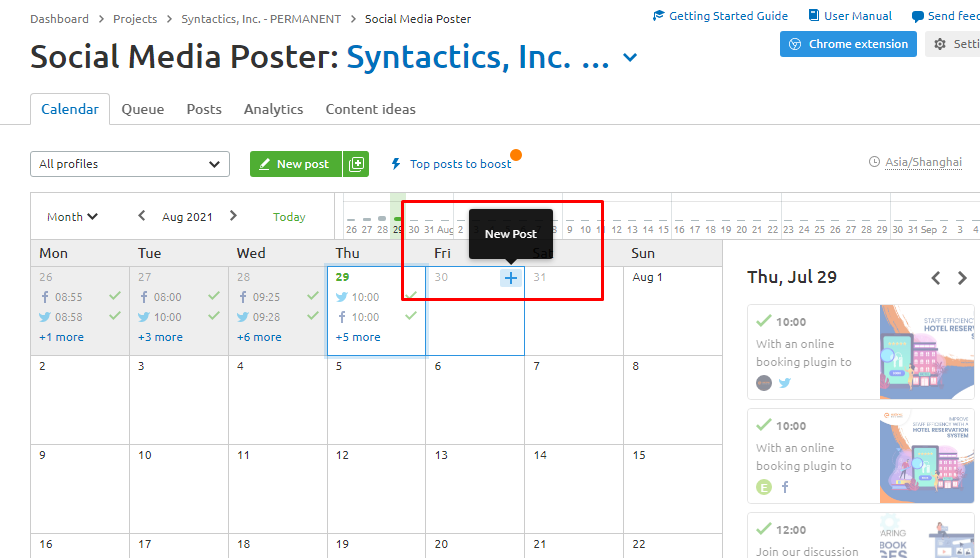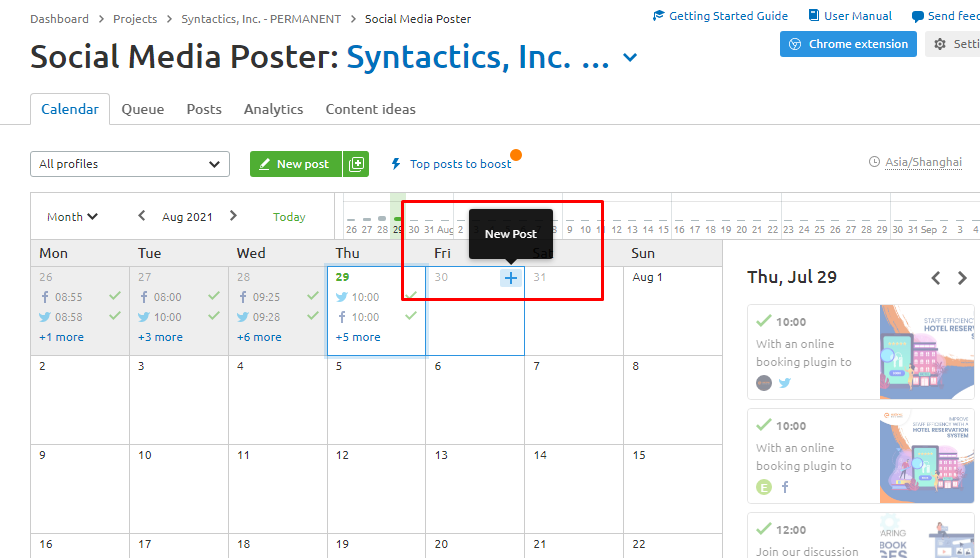 Step 3: Start posting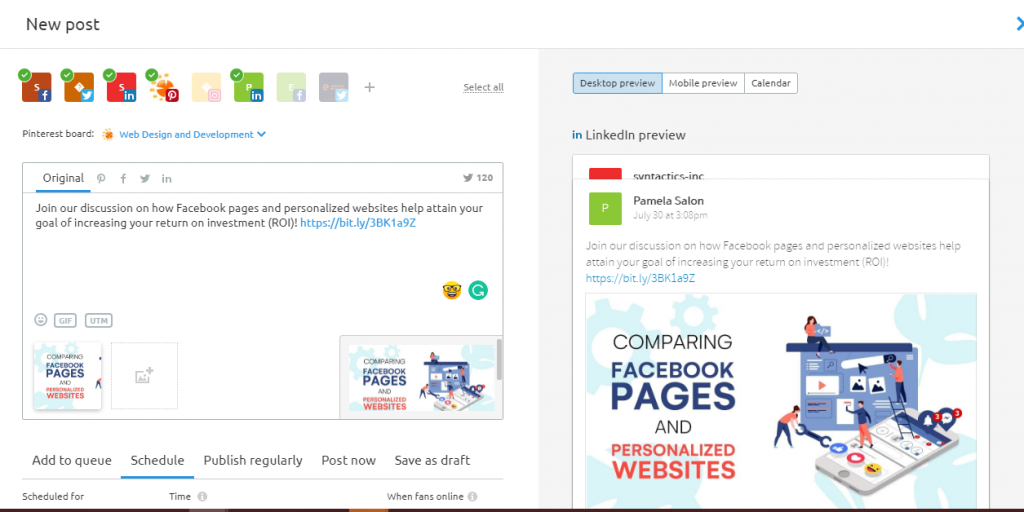 Step 4: Select the date on the content posting calendar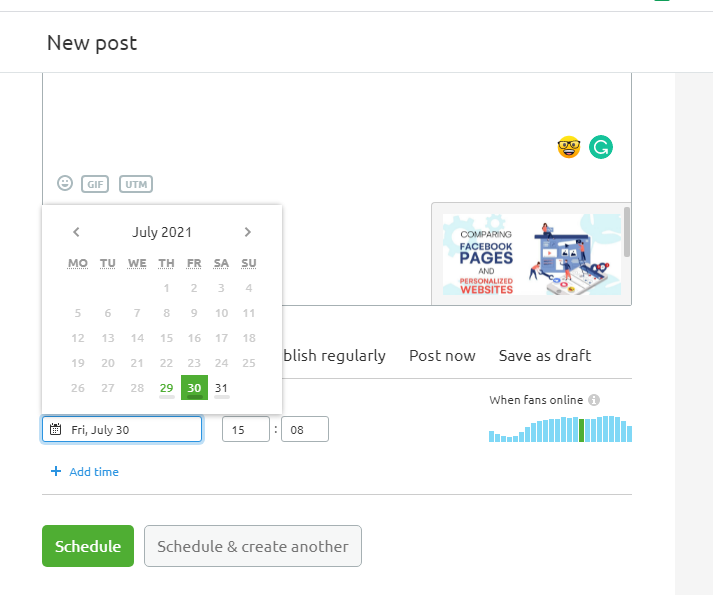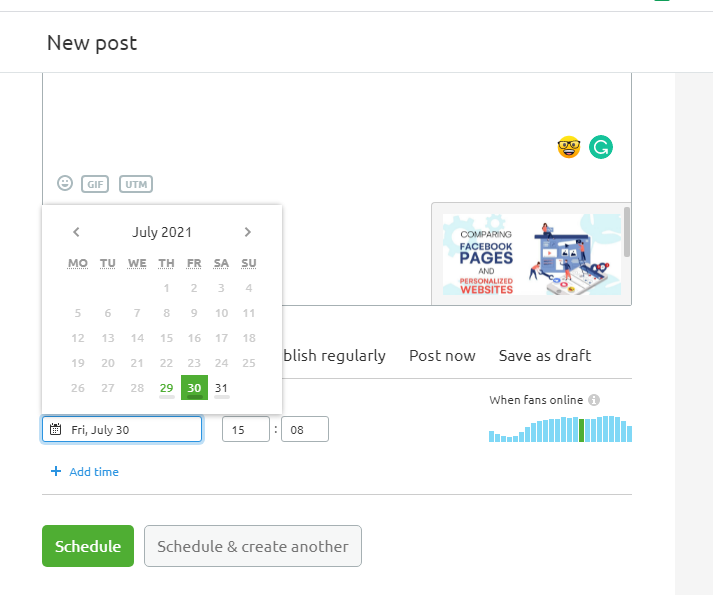 Step 5: Check if the post was scheduled successfully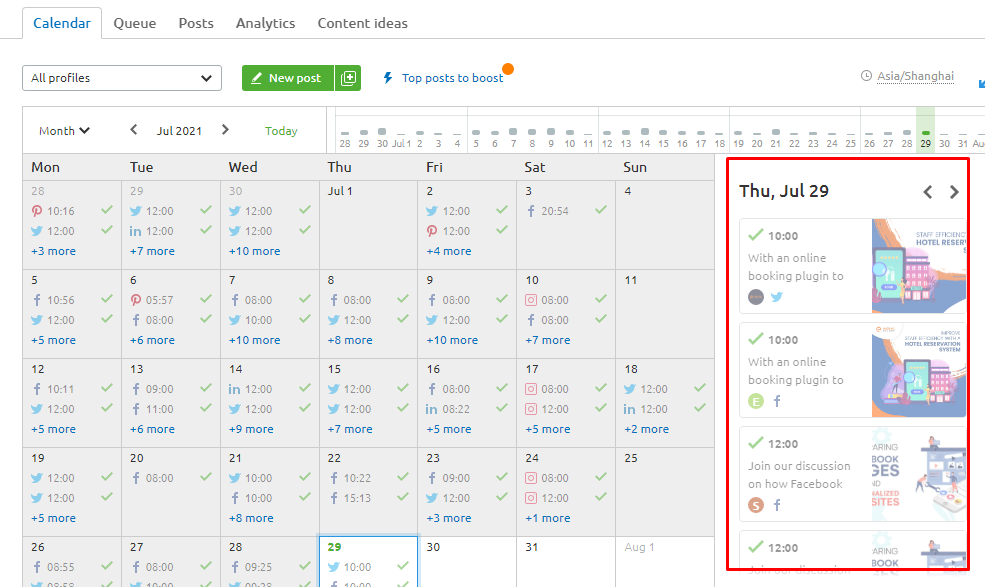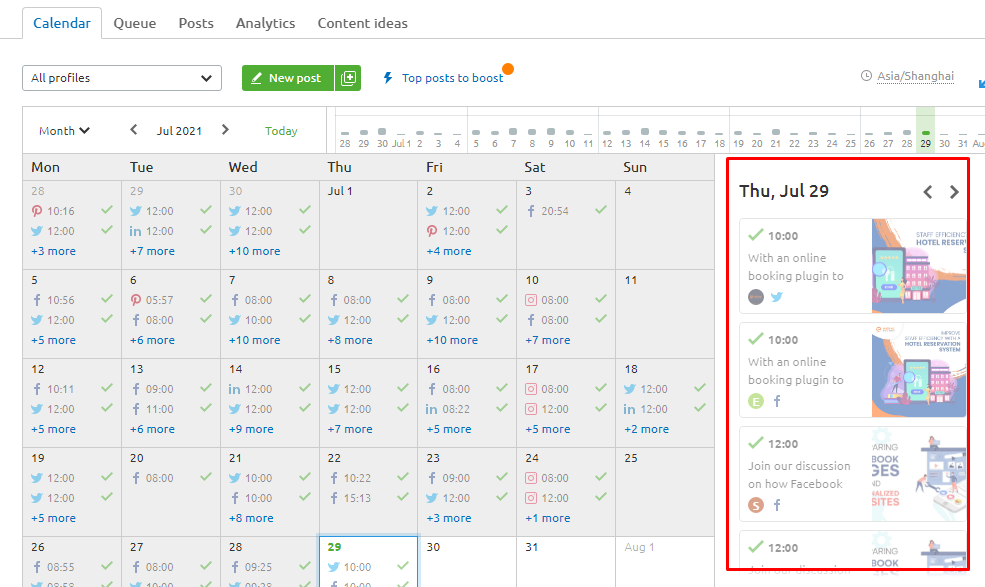 Buffer 
You may have spotted Buffer last time! To refresh your memory, it "offers an intuitive and streamlined social media management platform that drives meaningful social media engagements and results." Moreover, this social media planner is inclusive of a suite of products that boosts efficiency! With Buffer, you can plan and publish to achieve that sweet, sweet engagement. You can even collaborate with others through the tool!
Buffer connects your social media accounts such as Twitter and Facebook. Here's how:
Step 1: Create a post with 'What would you like to share?'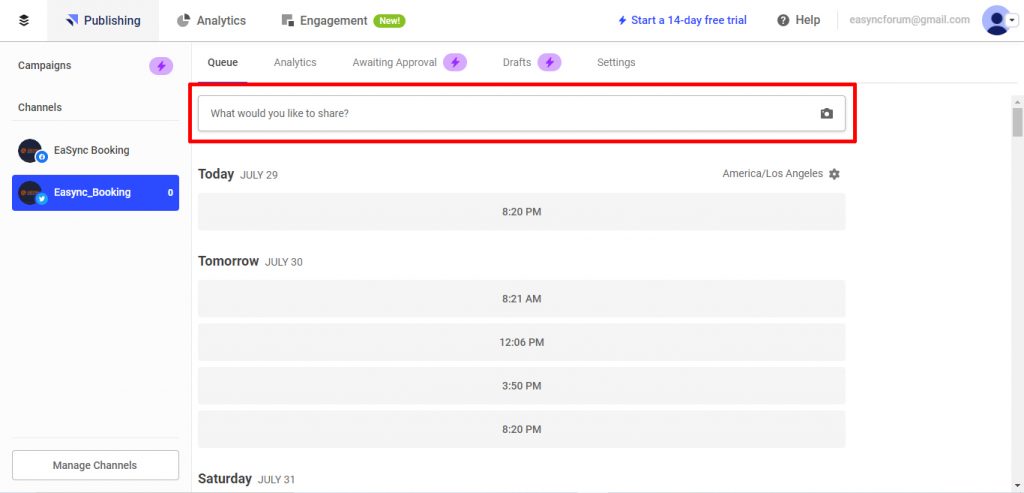 Step 2: Select the accounts.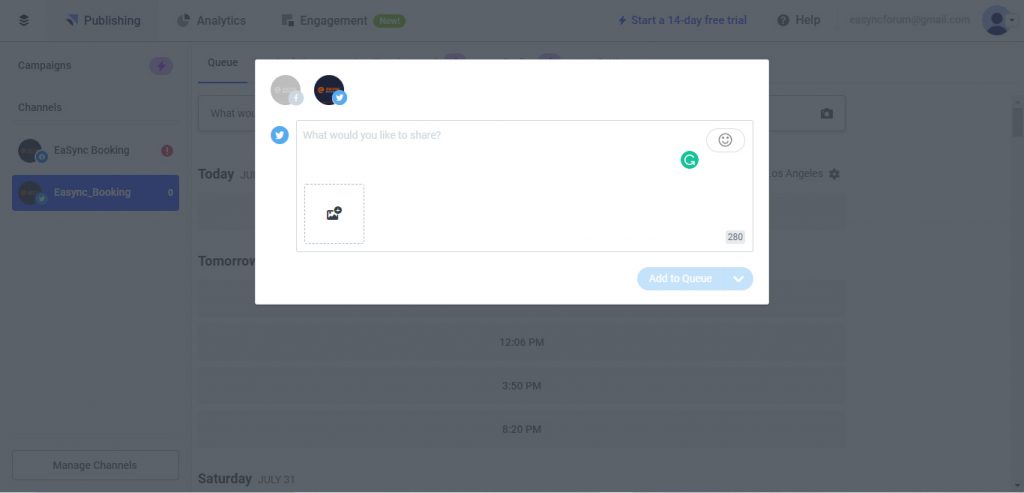 Step 3: Add your content.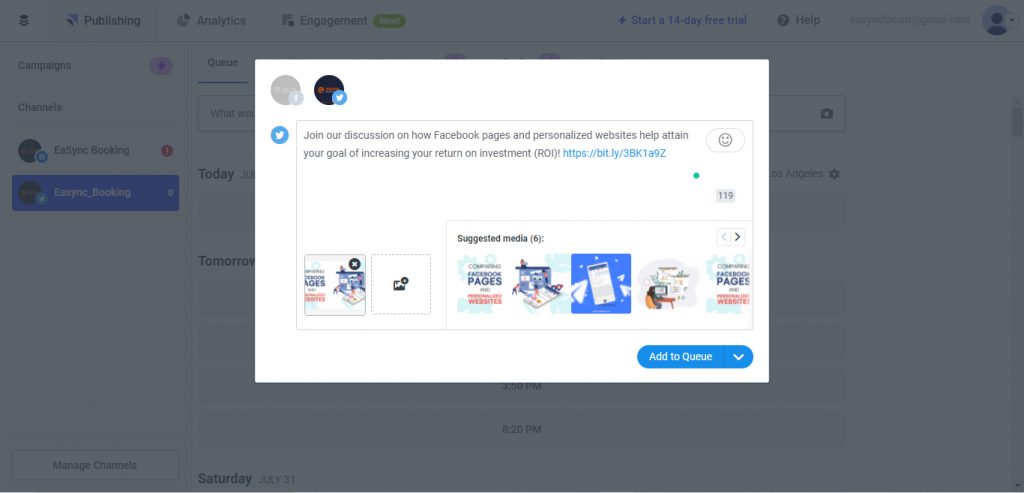 Step 4: Click on the desired posting option.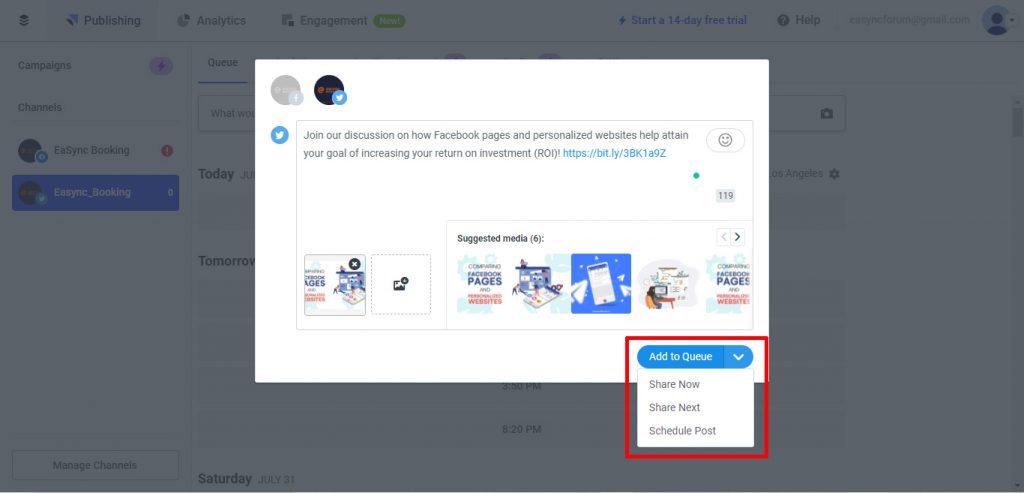 Hootsuite
Hootsuite can schedule posts on Instagram and Facebook. Since it's also attached to LinkedIn, it can manage posts there as well. Hootsuite, as previously mentioned, "is an all-in-one management platform that lets users create and schedule social media content, including ads, and track their effectiveness in real-time." So you can keep an eye on multiple platforms without the tediousness of clicking through pages. It's also great for handling keywords!
Here's how to schedule social media posts on Hootsuite.
Step 1: Click New Post.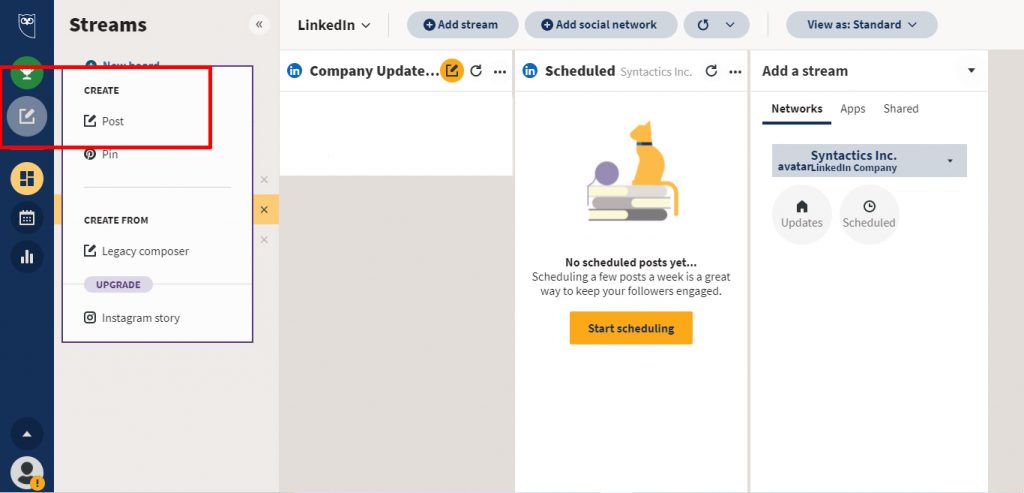 Step 2: Choose the social network to post to.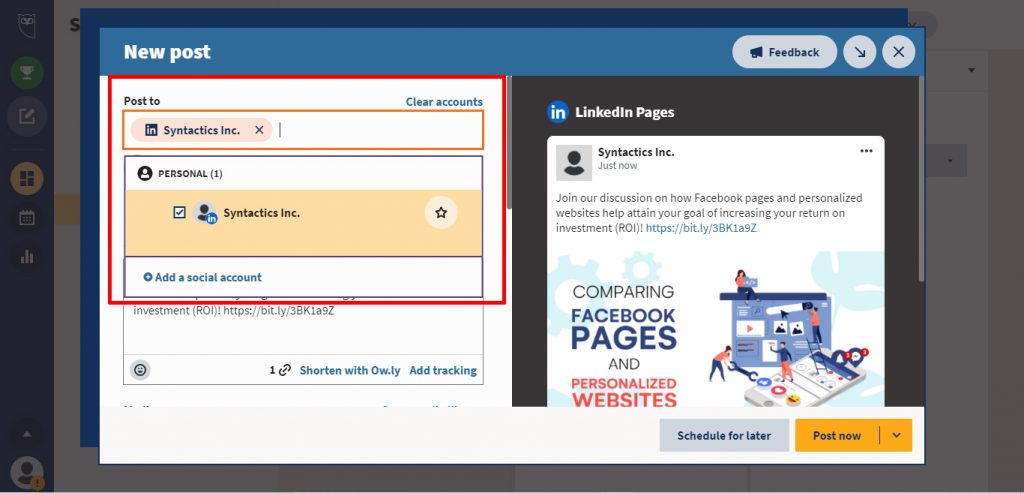 Step 3: Add your components.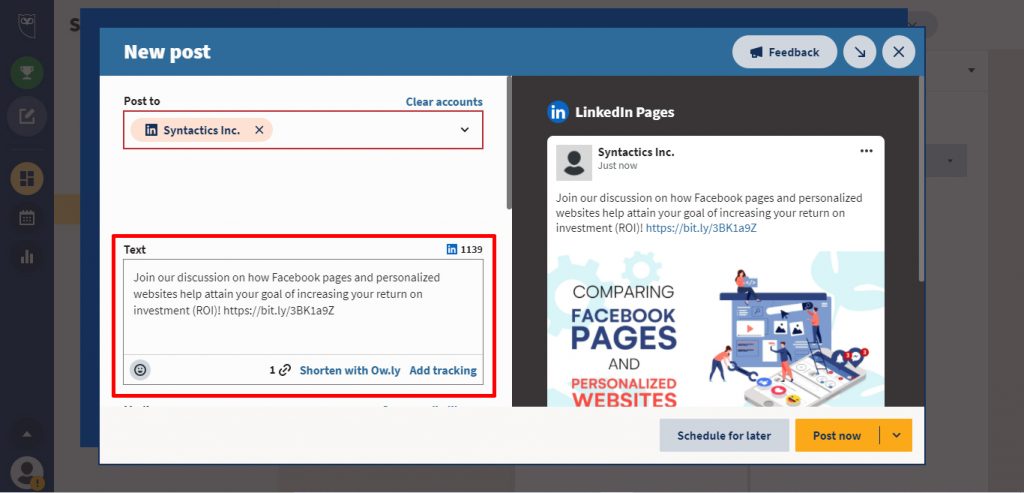 Step 4: Click Schedule for Later to choose a date and time on the content posting calendar.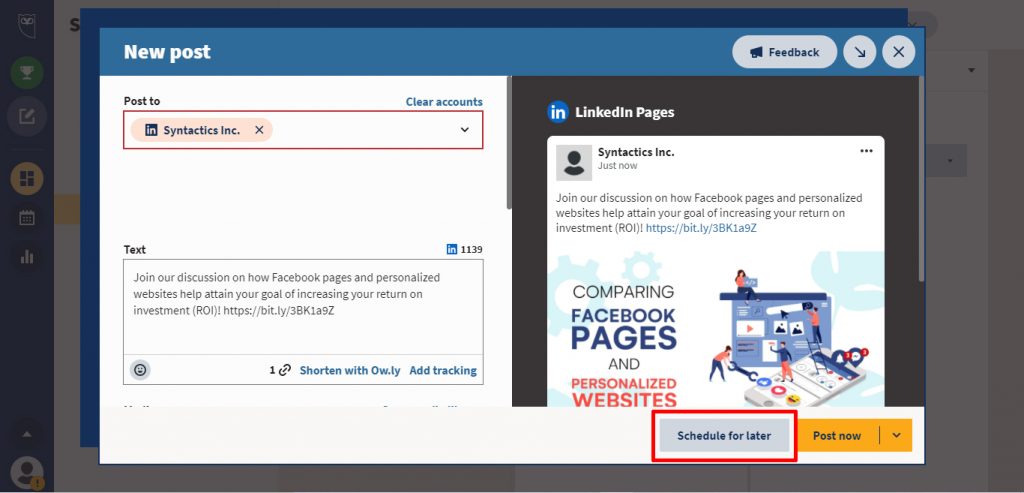 Step 5: Click Done.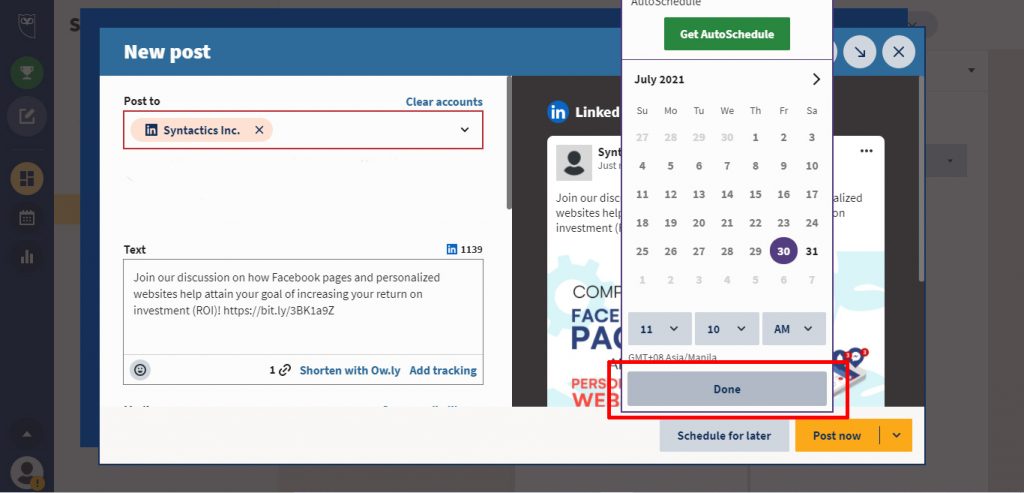 And here are some new schedulers on the digital block:
Planoly
Planoly is an excellent social media planner if you want everything easy peasy lemon squeezy. Its grid system is great for giving you a comprehensive look for the posting week. It's also got a drag-and-drop feature so you can upload your images easily. Before you get started, just know that Planoly can only handle your Instagram account. If you don't have one and don't plan on getting one, you can skip ahead. 
But, if you have one or are planning to get one, read on!
Step 1: Create a post by clicking on the Stories icon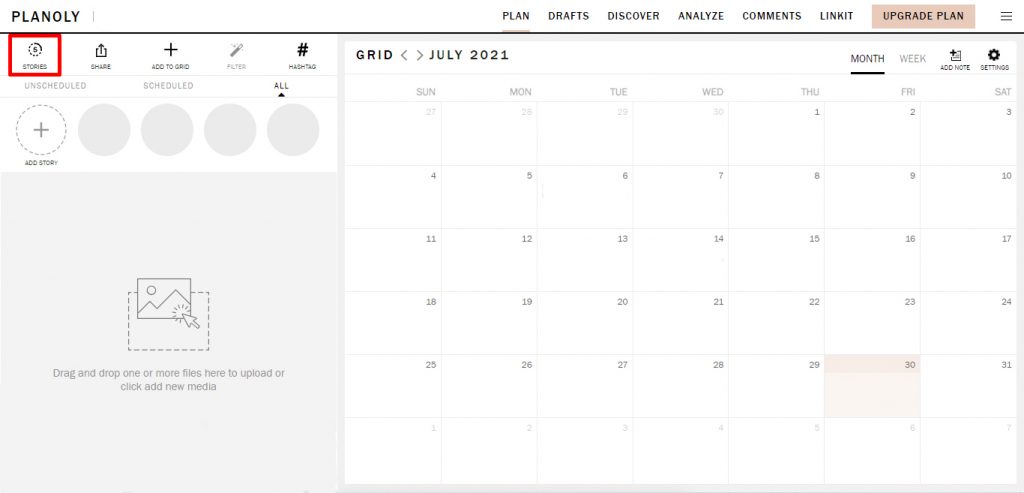 Step 2: Upload by Source or drag and drop the media in the Stories grid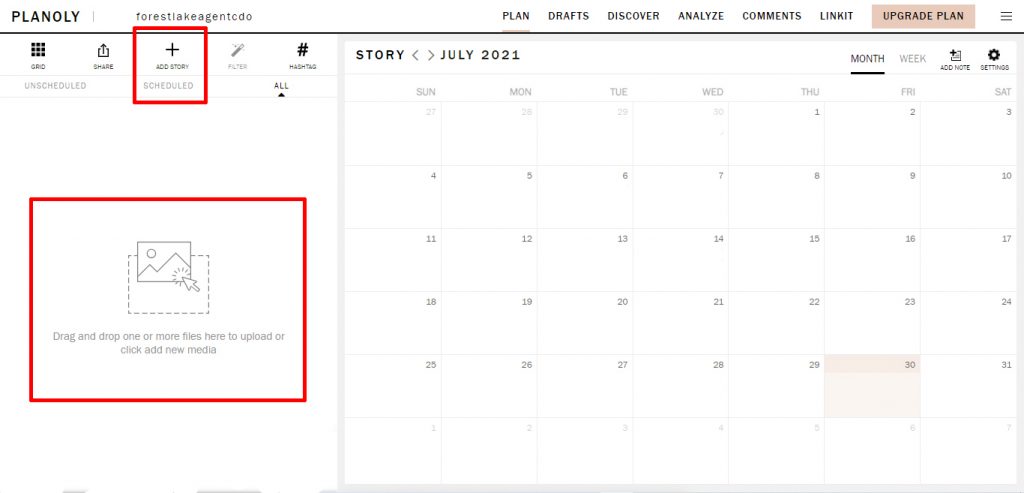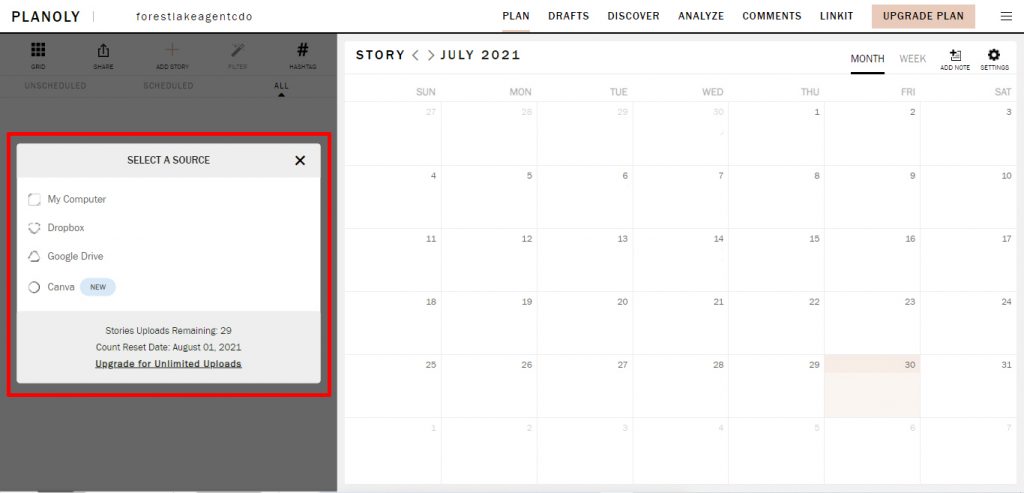 Step 3: Edit by clicking the Stories post's thumbnail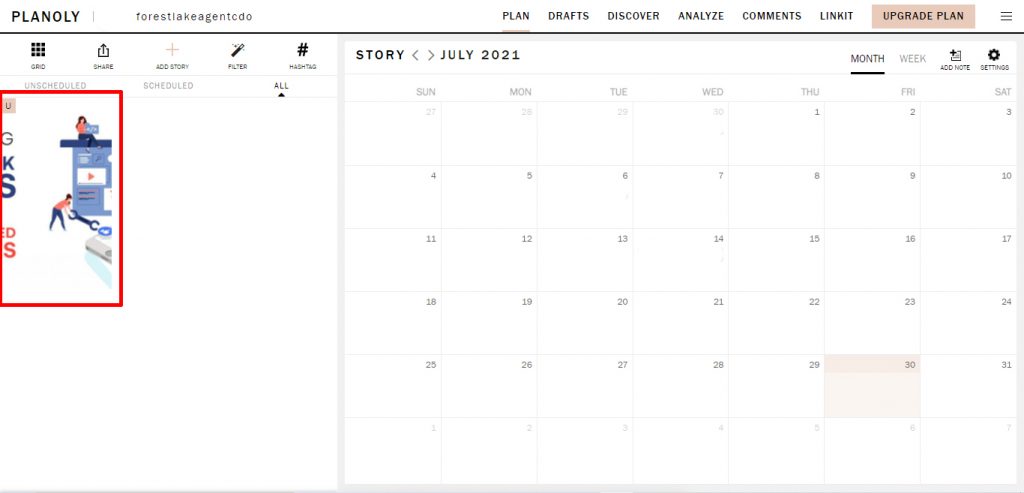 Facebook Creator Studio
Not only can FB Creator Studio connect your business Facebook, but your Instagram as well. On Facebook Creator Studio, you can add photos and videos and manage your content and engagement. FB also advertises itself as allowing for monetization — as long as it's eligible, of course. To post on Creator Studio, you'll need a business Facebook page, but if you've already got one, you can start by:
Step 1: Select which platform to post on.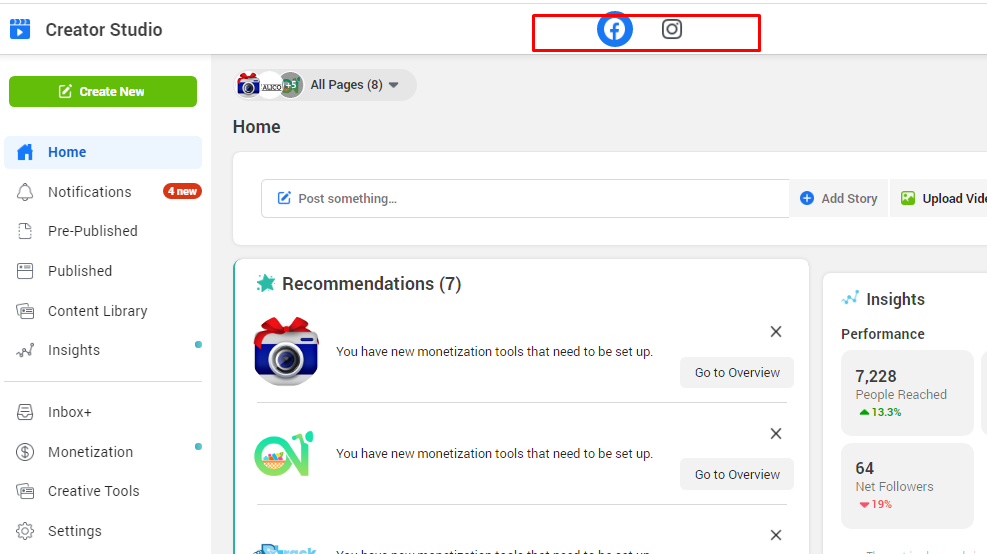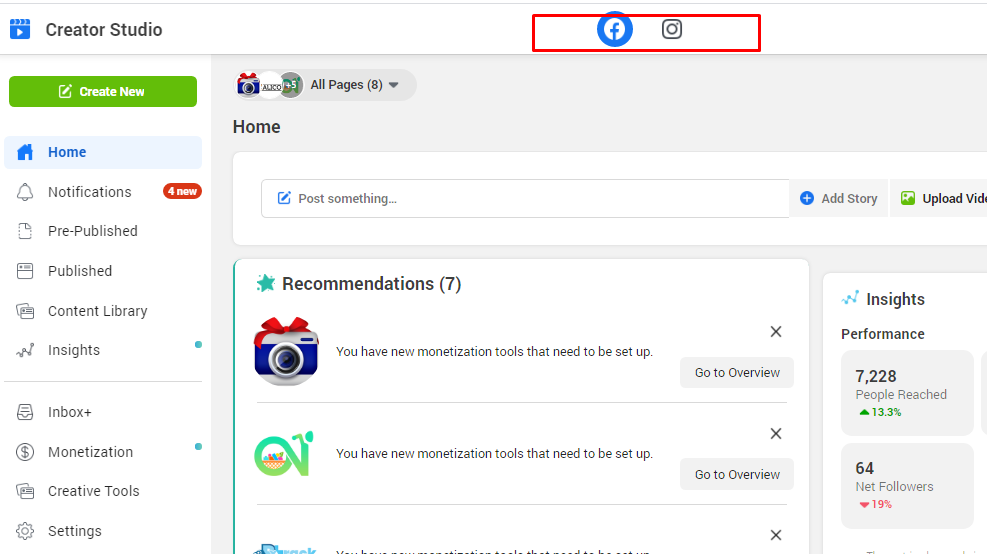 Step 2: Click Create New, then click Create Post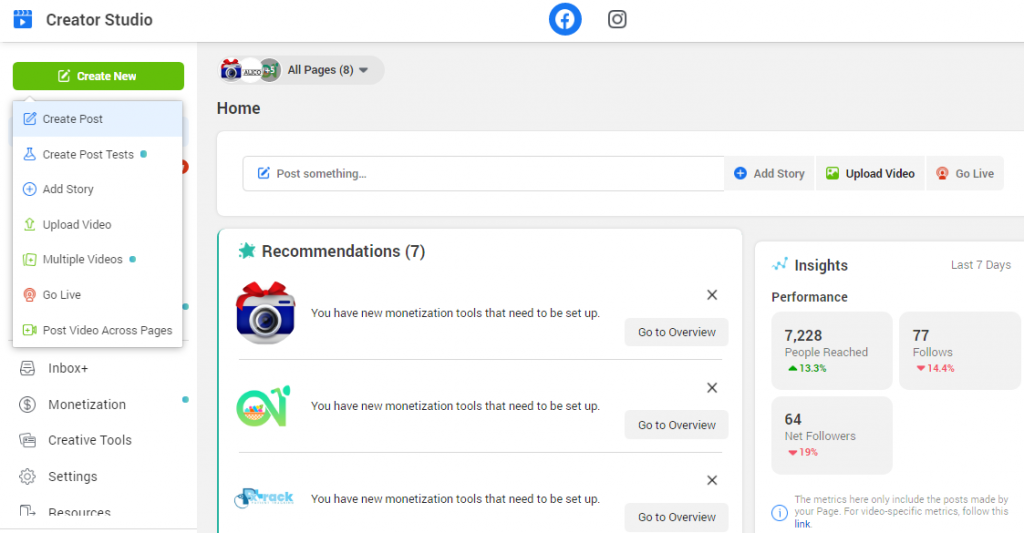 Step 3: Choose a Page to post from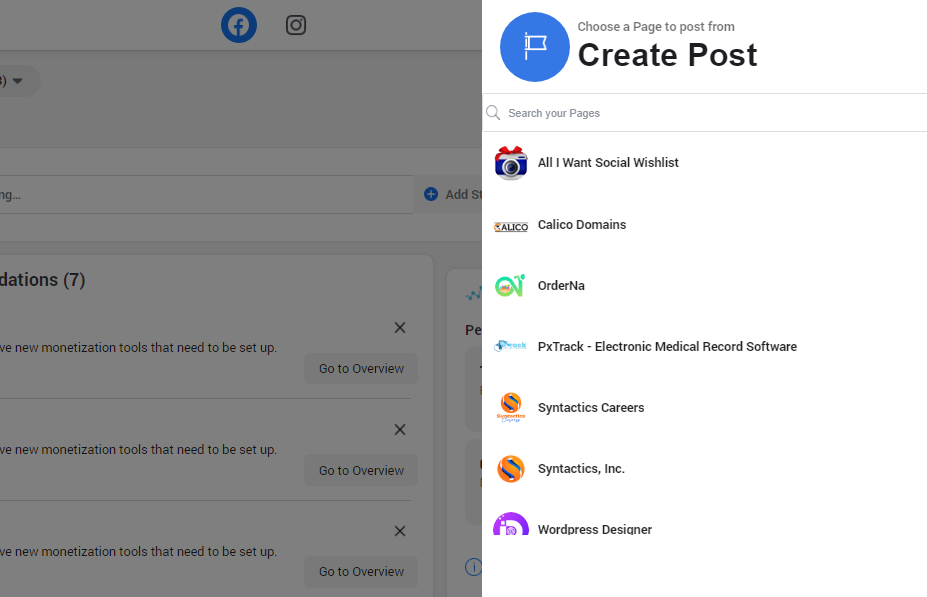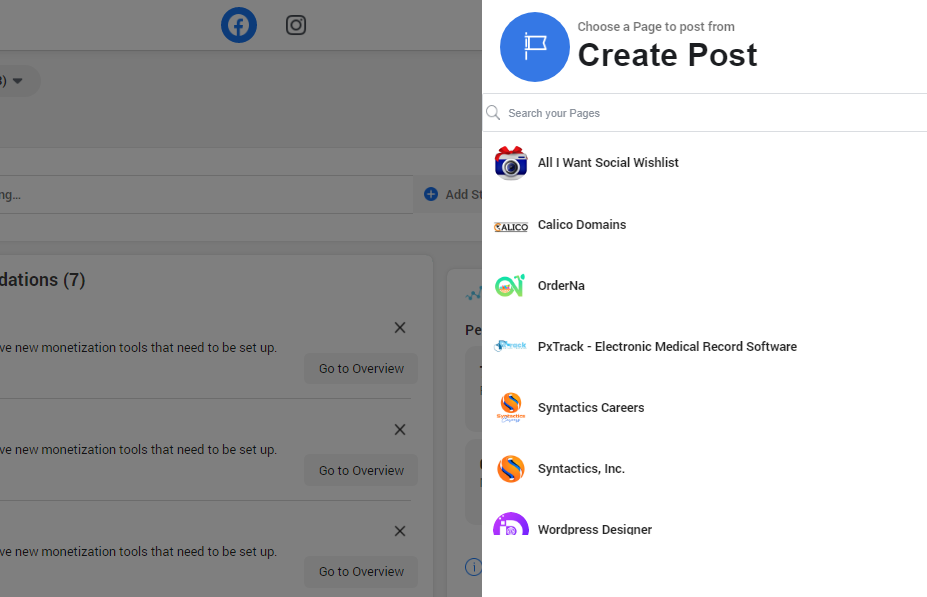 Step 4: Input your content, then click Publish.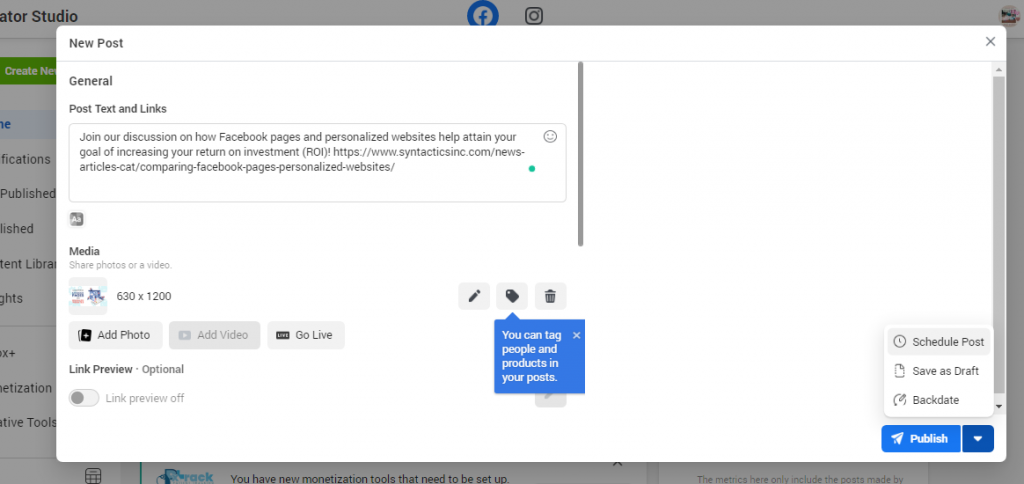 And with that, we've reached the end of the recommended list of social media calendars and management tools.
A social media scheduler can help you out—a lot.
Regardless of the number of social media management tools you have, the benefits are enticing. These social media planners free up precious time for you to work on larger-scale tasks. You and your team won't have to argue about who hasn't pressed the post button this time—the tool posts away as you work!
The tool tends to have content posting calendars that readily show when posts go live. Many social media planners can assemble, schedule, and automate your posts, but you'll need to check which platforms they're compatible with first. Social media marketing services in the Philippines can tell you more about these tools.