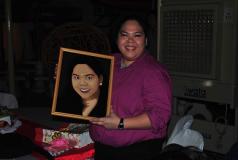 Aug 8, 2011
Syntactics CEO Celebrates Birthday Bash With The Amazing Birthday Race
Syntactics Web Development and SEO Philippines Company employees celebrated the birthday of its President and CEO, Ms. Stephanie Rosalind P. Caragos with a birthday bash entitled The Amazing Birthday Race.
The concept for the Amazing Birthday Race was to follow 4 clues which eventually led her to the birthday party venue, a local videoke restaurant named The Venu located in the Carmen district of this city.
The race began after 5:00 P.M. when Ms. Caragos realized that the office was already empty of employees and the company's COO, Mr. Wilfredo P. Kaamino, Jr., gave her the first clue. This clue led her first to the St. Augustine Cathedral where an employee was waiting to give her the second clue.
The second clue led her to the rotunda of the new Cagayan River Bridge where another employee was waiting.
Armed with the third clue, Ms. Caragos had to cross the new bridge and, despite heavy traffic, quickly made it to the third location and another employee waiting with the third clue near the Fatima Church in Carmen.
Speeding to the fourth location and fourth employee at the Country Village Hotel, Ms. Caragos was finally directed by the fourth clue to the venue itself where Syntactics employees greeted her with a birthday song, flowers, gifts and age question jokes.
The birthday night was filled with fun, songs, laughter, food and drinks for the whole company, with some employees giving out intermission numbers. Most of the night was devoted to videoke revelries which lasted throughout the night.