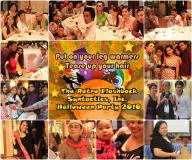 Aug 8, 2011
Syntactics Outsourcing Philippines Holds Annual Halloween Party with a Retro Theme
November 2, 2010 – Cagayan de Oro City, Philippines – Syntactics, Inc. – the most established Search Engine Optimization Outsourcing Company company held its annual Halloween Party for 2010 with a Retro theme at the Pearlmont Inn Bayanihan Function Room along Limketkai Drive.
While other companies and firms have their typical Halloween party wearing scary masks and costumes, Syntactics SEO and Web Design Philippines decided to go with a retro party theme bringing back groovy and funky retro attire and glamorous hairdos from the 50's, 60's, 70's and 80's.
Aside from the parade of retro fashion, another highlight of the night's celebration was the 2nd Annual Miss Guy Contest.
This year, the Syntactics Outsourcing Philippines Miss Guy pageant has brought together 9 lovely and bold candidates with 3 candidates representing each color team.
As the race for the year's 2010 championship title nears its end on December, the blue team victoriously won over its toughest competitor, the red team, when Bong Adolfo (QA dept.) was crowned Miss Guy 2010.
Meanwhile the 2nd and 3rd runners up were awarded to Kerl Mag-aso and Jay Felix from the yellow and red team, respectively.
For the special awards, Bong bagged the Best Retro Attire and Best in Gown, Jay won Best in Talent while Kerl got the Best Sports Attire.
From a simple but fun-filled and very hilarious pageant and party, the employees of Syntactics Outsourcing Philippines took stock and effort in achieving success for the glory of its company.
Anyone interested in inquiring about the company's outsourcing Search Engine Optimization or Web Designer Philippines services can contact +63-88-856-2242
About Syntactics Inc
Syntactics Inc is a Cagayan de Oro-based Search Engine Optimization Outsourcing Philippines that is geared in giving a strong commitment and adherence to timeliness and quality. Its Web Designer Philippines has a working environment that allowed their search engine optimization specialists to best express their natural skills and abilities, a place where they can work as a significant member of the team and family as well as to work in a company that continually adheres to integrity and the pursuit of excellence.