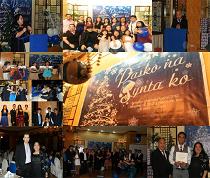 Jan 14, 2013
Syntactics Inc. Holds Annual Christmas Party with The Theme Pasko Na Synta Ko
December 28, 2012- Cagayan de Oro City, Philippines– one of the leading SEO companies in the Philippines- Syntactics Inc.- held its annual Christmas Party with the the theme Pasko Na Synta Ko at Pearlmont Inn,  Limketkai Drive last December 22 at 7:00 in the evening.
The entire Syntactics Inc. family  gathered once again to celebrate the best time of the year- the birth of the Savior Jesus Christ. Families, Friends, Team Members, Guests and the Management came in their best and glamorous cocktail dresses and gowns for the ladies and formal coat and long sleeves for the gentlemen.
The night was full of exciting activities that everyone really enjoyed. The highlight of the event aside from gift giving was the annual awarding of the most valuable employees and the  team of the year. Deserving employees were given due recognition   for  the hard work that they have exerted which contributed much to the betterment of the company for the year 2012.
Listed below are the names of the major awardees for this year:
CORPORATE AWARDS
Employee of the Year
Djane Rey Mabelin
Rookie of the Year
Aubrey Virtudes
Officer of the Year
Ronna Marie Kaamino
Team Leader of the Year
Ladymieh Abacahin
Team of the Year
Web Team
Outstanding Designer of the Year
Von Bryan Quilab
Outstanding Project Manager of the Year
Geralden Omandam
Outstanding QA Officer of the Year
Corrine Ebarle
Perfect Attendance
Jose Nacasabog
Outstanding SEO of the Year
Renee Jo Waban
Best in Attendance
Jennibeth Torrecampo
SEO's Choice Award for Outstanding SEO of the Year
Phillip Salinas
Most Innovative Programmer
Kahlil Van Quilab
Color Team Over-All Champion:
1st Place
Blue Team and Yellow Team
2nd Place
Red Team
Other deserving employees have also received a minor award in recognition of their outstanding service and contribution to the company.
"Syntactics Inc. Christmas party this year was one of the best Christmas parties I have ever attended and I loved it! What made the party more fun was the kids' dance presentation," said Joy Bautista, Web Employee "It feels great to have a very successful Christmas party. And I would like to thank the committee and the whole Syntactics family for giving their best to make the party lively, exciting and truly successful depicting our theme…Pasko Na Synta Ko!," Nida Cabanday added- Christmas Party Committee 2012.
If you wish to keep updated on the latest happening on the number IT company in the Philippines, or perhaps you wish to check on our offered services,  feel free to call us at 63-88-856-2242 US: +1-(650) 209-4767 Aus:+61280062938 Email: sales@syntacticsinc.com Contact Person: Stephanie Caragos