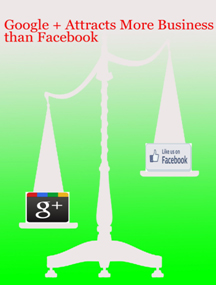 Aug 17, 2012
The Reason Why Google + Attracts More Business than Facebook
Google + is a social network that is developed and maintained by Google itself. The network was first released on June last year but gone full blast in September.
The network was made with the intention of becoming a strong opponent against Facebook. However, it did not even come close to its targeted expectations.
Out of curiosity, people have signed up and tried Google + mainly because of the fact that it uses google's iconic brand.
After closely studying and researching its behavior, it was found out that Google + can actually be of great help to every business especially if these businesses choose to make it a part of social media optimization. It can actually bring greater number of clients rather than what others have initially thought of.
While Google + has not yet probably reached the success that Facebook has attained, the truth is, it does not necessarily even need to because quite frankly, their niches are different.
Well, for you to have a clear view about what this article is really talking about, listed below are the reasons why Google + actually attracts more businesses than your favorite Facebook:
Communicate with Target Niches
Google + revolves around services called "circles" that allow users to define the feeds that are displayed on their home screen.
In the privacy setting, you can hide the list of your members in your circles, and it can be done swiftly with the use of drag-and-drop interface.
If you have specific content that is only intended for your target market, you can just send it to those people instead of having everyone in the network knows about it.
Easy Reaching Prospects
Being a company owner, you need clients to bring in sales to your business and the only way for you to do that is to join Google + community.
It is an effective way to bring in profits right into your bank account since it can easily connect you with your target niche including people in their respective industry.
In Google plus everyone can follow everybody's update without needing a friend's request to be accepted. This feature has spitting image like twitter, but Google + offers you more than just allowing people to follow your account. It is because its database is four times bigger than that of twitter.
Professional Environment
The main and the most obvious difference between Google + and Facebook is its professional and business like environment. The fact is a 15-year old drama queen does not actually find Google + interesting and the same thing goes with Taylor Swift male fans from all over the world.
This can be an honest proof that Google + is clearly for people who are into business.
To wrap it up, Google + was once an underdog to Facebook and other social media sites, but it has carried over figures since the day people began to use Google plus as part of their social media optimization.
Google+ can help you as much as it actually helps your own clients. SMO experts are now engaging their clients to make use of Google + as part of their SMO strategy not only because it means profit but also because it helps you stay connected with your target niche.