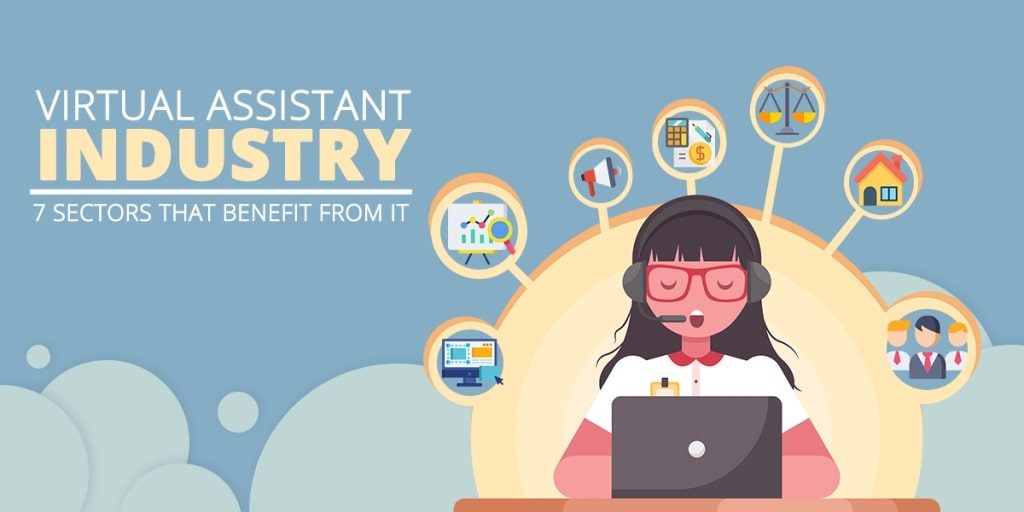 Jan 23, 2019
Virtual Assistant Industry: 7 Sectors That Benefit From It
We're finally starting the new year, and while it means a fresh start, it could also be a year for new tasks and a lot of workloads. This workload might also have tasks from the previous year that you weren't able to work on or you are unfamiliar with. As a business owner, you want to focus on your strengths. You also want to use your time for tasks that you are an expert on. A friend then tells you to opt for the virtual assistant industry or VA industry and to "Hire a virtual assistant!"
This brings you to the question, what is a Virtual Assistant or VA's?
They're much like personal secretaries that keep you updated and organized. They are also experts on the tasks that you are not familiar with but will help your business improve.
You communicate with them and receive their help through the internet. There are now a lot of platforms online where you can find a virtual assistant such as Upwork and Hubstaff. Virtual assistants usually post their resumes, skills, and qualifications. Hence, you can choose the one you see are the best for the tasks you require.
The Virtual Assistant Industry
Some of the biggest benefactors of the virtual assistant industry are companies who only need an employee for a short-term project. By outsourcing a VA for these short-term projects, companies can save up on office space and lessen cost since they pay the VAs by the hours or a fixed price. Cost of benefits and equipment are also no longer required in the VA industry. More importantly, VAs are already skilled in the task they are needed for, freeing companies from training costs.
The internet is also widely available today. The internet speed is much faster and has made communication through chat, voice call, and video call easy. Hence, VAs can easily be reached online.
Employers no longer have to wait for an applicant who possesses the skills that they need. They can contact a qualified VA (most VAs publish their resumes and skills online) immediately hire one to get the job done. When they wait for an applicant to come into their office's doorstep, it might take months or even a year for their project to be finally completed.
Industries That Hire VAs
Virtual assistants are capable of doing various tasks which is why multiple industries need and hire them.
Here are some of those top industries:
1. IT Firms
Technology is continuously improving and growing, so IT firms are also increasing in number. The need for IT services is also rising as more companies need it. There are virtual assistants with skills in web designing, development, and administration. Websites also need content such as web copy and graphics. More importantly, coding changes and updates every year. IT firms would have to spend money and time if they had to train their in-house staff. Hence, they turn to VAs who already have the skills and experience with tasks in the IT field.
2. SEO Agencies
There's also a rise in the number of businesses who are in need of SEO services to market their brand online. Additionally, SEO services help manage their reputation. SEO agencies then hire virtual assistants, specifically VAs with expertise in keyword research, running Google Ads, paid Facebook ads, management of social media, graphic designing, and creation of social media captions, articles, and blogs.
3. Marketing Firms
Marketing firms aim to help businesses promote their products through conceptualizing and planning strategies that will promote the brand. These firms then need the VA industry to help them execute the strategies that they come up with. VAs deal with tasks such as social media management, running Facebook ads, blog and article creation, graphic designing, promotional videos, composing and sending out newsletters, providing customer service support and much more! By letting the virtual assistant industry do these tasks, marketing firms can focus more on creating strategies on how to promote companies, products or brand.
4. Accounting Firms
These firms hire virtual assistants to do tasks such as data entry, bookkeeping expenses, paying bills, collecting payments, sending clients invoices, reconciling bank statements, organizing records, and preparing reports.
5. Law Firms
Law firms deal with a lot of paperwork and tasks that can be very time-consuming. Virtual assistants, however, can help them lessen the workload. They take charge of data entry, email management, scheduling, legal transcriptions, research, and even communication with clients.
6. Real Estate Agencies
Real estate agencies are one of the continuously growing industries. Every year there are new homes and families and individuals will always be in need of them. To market the houses, real estate agencies seek help from the virtual assistant industry to post ads online, manage their social media accounts and website, create articles and graphics, and provide customer service support.
7. Recruitment Agencies
In today's competitive world, many career-seeking individuals and companies in need of qualified applicants seek the help of recruitment agencies. Recruitment agencies can then take advantage of the virtual assistant industry and hire virtual assistants to help them with the collection, screening, and submission of resumes. VAs can also compile and list needed qualifications, and even update social media pages.
Conclusion
All in all, the virtual assistant is a superhero for many industries and businesses such as IT firms, SEO agencies, marketing firms, accounting firms, law firms, real estate agencies, recruitment agencies, and so much more. It's the go-to for these sectors because the VA industry has pools of experts for various tasks, making them save money and time and get the job done much faster and better.
Are you ready to benefit from the virtual assistant industry this 2019?