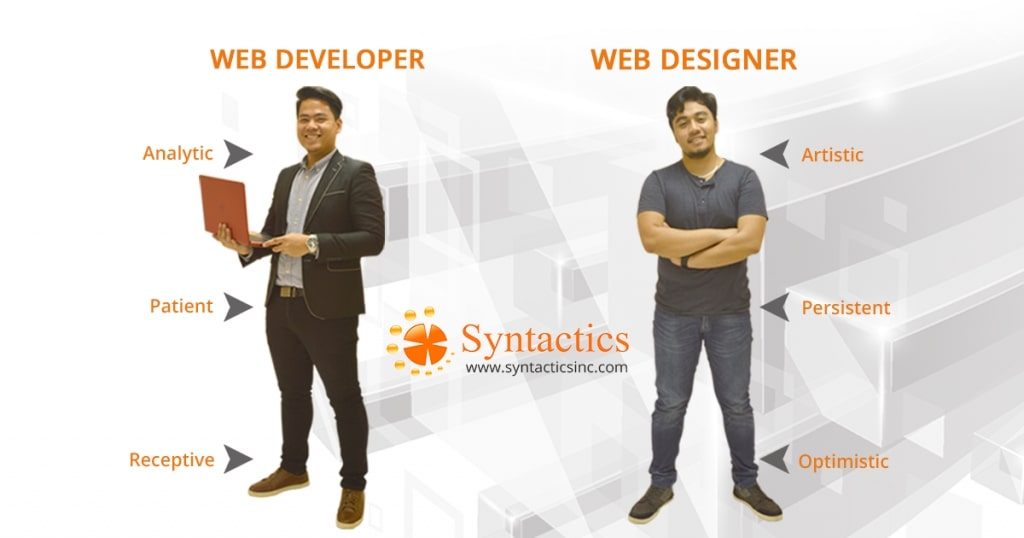 Feb 19, 2018
The Distinction Between a Web Designer and Web Developer
A common mistake, even of people working in the tech industry, is interchanging the terms Web Developer and Web Designer. But in truth, these are different professions requiring different sets of skills.
The reason many often mistake one over the other is that there are people who possess the skills for both fields. Also, they are comfortable doing both designing and developing. However, it's essential to know the distinction between the two. Both jobs have differences that are important in the creation of your website.
We will carefully examine in this post the difference between a web designer and a web developer.  We will also dissect what both professions do, their background in terms of education, and the difference in skill sets needed for the job. By the end of this blog, you will (hopefully) know the difference between a web designer and web developer.
Web Designer
Think of web designers representing the right side of your brain – imaginative and creative.
What Web Designers do:
A web designer concerns himself with the aesthetic and functionality of a website. This means that the web designer will create layouts, features, call to action buttons, and even content and graphic design.
He will have control over how the website looks and feels. Meaning, the designer has the authority over the navigation of your website. The designer also controls how visitors of your site take in information. Web designing includes the kind of colors and the number of graphics and photos used to achieve the proper user experience and to attract the appropriate audience.
A web designer helps in positioning your company's branding. Since many brands use social media to position their brands, this shows how vital a web designer's job is.
Background:
Educational background of individuals in this profession commonly requires a Bachelor's Degree in Computer Technology and any similar field. Having an Associates Degree will do as well (degrees that teach how to develop and create websites).
Skills needed:
For this type of profession, the most important skill required is creativity. Using Dreamweaver, photoshop, fireworks, or flash, a web designer will create the website look. There is also a need for web designers to have an understanding of different colors, fonts, and user experience to properly execute the website design.
Although not required, there are many companies expecting web designers to know HTML, PHP, and .Net. If a web designer is knowledgeable of such platforms, here is capable of creating a sound website.
Aside from the evident skills that this job requires, web designers also need proper planning and organizing skills; mainly because the position requires meetings with clients and reaching deadlines. Therefore, there is a need that you be good at planning your projects and your time correctly.
You will also need the skill to be able to translate the client's wants and needs. However, at the same time, recognize what website visitors want to know. A site represents your client, and therefore you need to translate that in the pages of a website effectively.
Web Developer
If web designers are the creative right side of the brain, think of web developers as the left side of the brain – logical and reasonable.
What Web Developers do:
Web developers take the information given by web designers and use it in creating the website. Using programming languages such as HTML, CSS, Javascript, PHP, and .NET, they will translate the design and build an actual website from it. As they say, web developers are the backbone of a website.
These people usually build websites from the ground up. In fact, for substantial scale projects, the workload is often divided by different people – one working on the back programming while the other concerns himself of the user interface and layout. Doing so lessens and also hastens the work for these programmers.
Background:
The educational background of most developers range from high school graduates to Bachelor Degree holders, but most developers hold an Associates Degree. However, if you want to advance in this field, a Bachelor's Degree in Computer Programming or other related fields is required.
Skills needed:
To become a web developer, you need to know programming languages. This is the primary tool that developers use in creating a website. Therefore, having vast knowledge in these aspects is very much needed.
Like web designers, although not required, web developers need to have an understanding of design. This is to translate the design to the actual website properly effectively.
Aside from that, developers need to have a keen eye for detail. This is because a minor error in the code can cause a huge impact on the way the website's function. Developers also need to have kilometric patience. Since most projects developers will be doing are built from the ground up, they will need to spend an enormous amount of time in front of the computer.
Both professions are working together in achieving the same goal – creating a website that will attract users. A symbiotic relationship where one cannot correctly execute the target without the other.
That said, it's essential that your web developer and web designer have had worked together in a longer period. It is vital that there is already a familiarity and harmonious work pattern between the two. Luckily, there is a company doing web development in the Philippines that provides both a web designer and web developer that has worked on several projects together already. Syntactics, Inc has a dedicated developers team that can help properly execute your ideas into the website you want.