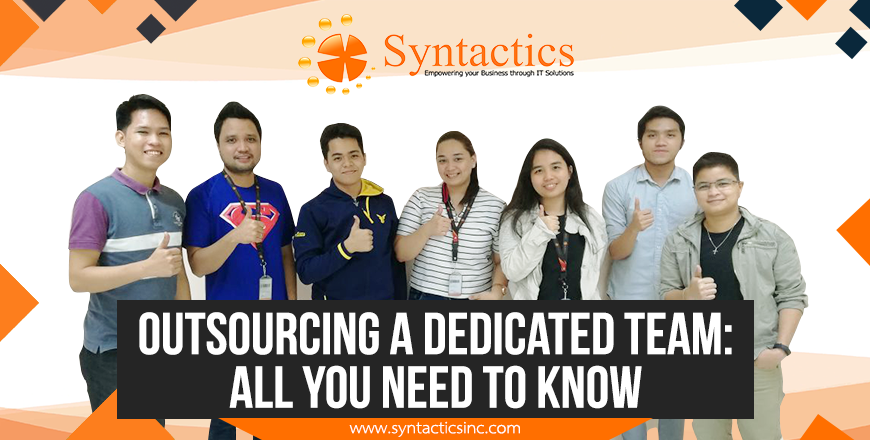 Feb 19, 2018
Outsourcing a Dedicated Team: All You Need to Know
Increase in workload usually entails a need to increase in your office size. Meaning, there is a need to increase the number of people working there as well. However, many companies do not do this because of the cost and time to be spent looking for staff. Unfortunately, most often than not, this would usually result in having overworked staff. Now is the best time to tap outsourcing dedicated teams. The global pool has many talents you can tap instead of merely hiring somebody within your vicinity. Besides, chances are, the best developer in your area is already working for someone else.
Pros and Cons of a Remote Staff
There are a couple of companies who believe that outsourcing dedicated teams would only give them a headache. The main reason for this is time difference and the interaction between the central office and the remote team. Handling a remote unit can also be difficult. However, you can prevent such issues. For example, you can set up meetings daily to discuss important details about your project. You can also use different means of communication to do so.
Recently, this type of "additional staff" is getting more and more popular. The reason for this is the cost and time this remote staff offers. Aside from the cost of hiring a person (or a team), companies do not have to purchase new equipment. They also do not have to worry about office space, among many others.
It would be advantageous for you if the team you hire already belongs to an existing outsourcing or offshore company. Then all you need to do is ask the company to put together the team with the skills you need. After that, you can pay the amount per head or for the whole team. Meaning, you spare yourself from managing, evaluating staff, facilitating team buildings, creating a culture and everything else involved in management. You are also saved from managing the payment of overhead costs such as rent, electricity, legal, HR and finance staff. You get to focus on building your product or developing your solution.
Choosing to Hire A Remote Staff
When opting to seek a remote staff, there are different choices available. You can either hire a person to add to your existing team or hire an entirely new dedicated team.
There are different advantages and disadvantages of each. So choosing who to hire would greatly depend on which you would prioritize more and which you need most as well.
Additional Person on Your Existing Team
There are IT companies that give clients the option of hiring only certain people instead of an entire dedicated team. That said, if you just need an additional person to add to your team, you can opt for this. This is usually the option for someone who is looking for a person whose expertise is in a particular field.
Since this is someone who is already working for a company, you do not need to find this person yourself. Instead, someone from the company will recommend an individual person for you. With this, you need not worry about human resource costs, taxes, time spent on interviews and assessment because the company has already done this for you and will recommend someone fit for what you need.
An Entire Dedicated Team
A dedicated team is a group of people working together in an outsourcing company and acts as your remote staff. The advantage of hiring an entire team is the fact that all have worked together and understands each other. Also, it is easier to relay instructions to a group rather than to different people in different parts of the world.
A team like this usually consists of a project manager, a quality assurance officer, a web designer, and a web developer.
Project Manager
The project manager is your point person. This person is the one you communicate with regularly and who oversees the operations of the project on your behalf. Additionally, this person needs to make sure the completion of projects are on time and accurate.
An effective project manager should be able to water down information from you to the team. A project manager can also delegate tasks to the team appropriately.
Quality Assurance Officer
For you to ensure the highest standard in every product completed, there is a need for a quality assurance officer. This person double checks all your operations before forwarding it to you, as well as fix bugs, should if needed.
Having a quality assurance officer is vital in your operations because software development requires intricate details. Also, a quality assurance officer makes sure the technology use is on par with the latest technology in the market.
Web Designer and Web Developer
Several people tend to interchange these two terms. But these are two different roles and requires different sets of skills.
A web designer is concerned with the aesthetic and usability of the website. This person projects the client's objectives and creates the look of the site using adobe photoshop and the like.
Regarding the design process, there is a need to be knowledgeable about the design aspects. Such aspects are the balance, contrast, emphasis, consistency, and unity of the website. Finding the perfect balance will give your users a better experience.
On the other side of the spectrum is the web developer. Commonly referred to as a programmer, a web developer takes the work of the web designer and breaks it into different components to make a functioning website using different programming languages such as HTML, javascript, CSS, and PHP to do so.
The blurred lines in these roles sprung from the fact that many web developers are comfortable using Adobe or web designers knowing writing codes. Understandably, these skills help in understanding how the other works and how designing and developing effective work hand in hand.
Harmonious work in the design and development is a massive advantage because both roles (in a way) create your company's representation which is your website – the face of the company. Also, with over 70% to 90% of shoppers using the internet for product research, having a sound web design and web development is essential for that possible increase in revenue.
Outsourcing Dedicated Teams
Preferably, outsourcing dedicated team is ideal because you do not have to search through a pool of Curriculum Vitae since certain IT companies can already provide you with a group. Additionally, you do not have to worry about any human resources issues, taxes, and the like because these things are already covered by the IT company already.
Another advantage of outsourcing teams is you can get the team working solely for your project. Meaning, the team can focus their attention on finishing the project you need therefore you are sure of getting timely responses to this.
There are dedicated teams in the Philippines you can hire. Syntactics, Inc formally established a dedicated team last year, although the company has had two teams that have been taking on the challenge for quite some time now.