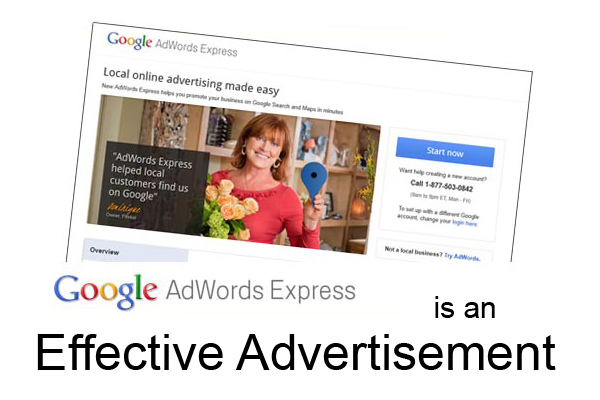 May 23, 2014
Advertise Effectively and Benefit From AdWords Express
In order for your business to be successful, you have to keep yourself updated with the latest trends, especially when it comes to advertisements. Recently online marketing has become what almost every business is doing, making use of the internet's reach and powers for the promotion.
There are many ways you can establish your business online. You can create your own website, or even make use of trending social networking sites like Facebook and Twitter.
For a long time since online marketing started, the number one goal has always been to come out on the first page of popular search engines like Google and Yahoo. When a consumer searches for a product and you're the first organization/company that comes up, they're most likely to order from you and look nowhere else.
Google Places, an application from Google that helps you create a solid local listing foundation, has proven its importance to businesses especially the local ones. If you have already made a Google Places account for your business then surely you've noticed the AdWords option.
If you haven't then allow me to explain. AdWords is an advertising service by Google that places your ad at the top, bottom or side of the results pages of Google. AdWords is exceptionally handy and easy to manage, you don't have to be an extremely techy-person to know how to use it.
The great thing about AdWords now is that recently an app called AdWords Express has been created, so business owners can check on their ads using their Smartphones. Not only that, they'll also receive notifications about their campaigns and make necessary edits while they're on the go.
AdWords Express can benefit a business owner in many ways, below are a few of these benefits:
You can easily evaluate the effectiveness of your ads in your Google Places dashboard
You'll have more customer reach, locals will be able to see your ad more often when you use AdWords Express
Easy to understand and use, you don't have to be an internet expert to efficiently use AdWords Express
The only time you pay is when a customer clicks your ad, but if you have your business address placed there then most likely they won't need to click it. It will probably lead them to go straight to your office without having to click the ad, almost making it free
You can connect it with your existing AdWords account on Google Places
The app is also free to download from the Google Play Store. Download it now and see the many possibilities it can open for your business.