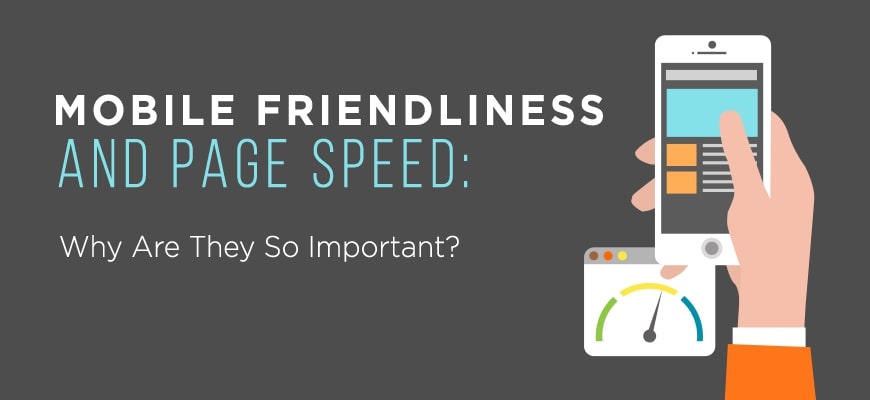 Jul 6, 2017
Mobile Friendliness and Page Speed: Why Are They So Important?
Most online users these days prefer to use Smartphones or other mobile devices in order to have Internet access. Statistics show that 80% of internet users own a smartphone (SmartInsights, 2015). 75% of shoppers shop online using their mobile device (Source: InReality). 53% of American consumers use smartphones to access search engines at least once a day (Source: Google and Mobile Marketing Association Survey). With all these facts, there is no reason why you will not make your website mobile-friendly and optimized with the right page speed.
When you have a mobile optimized site, it will adjust to the screen size. It also formats the content and interface in a way that when users access your website through their mobile devices, they will get the same kind of view and convenience they enjoy when using their desktops or laptops.
Today, there is an increasing demands of having a website that is mobile friendly. So it is definitely the best time to update your website, in case you haven't done it yet.
However, it is not enough to make your website mobile-friendly if you want to have the edge over your competitors. You should also have to look into its page speed. This refers to the time it takes a specific web page to display its content like text, images and more.
As a website owner, you need to remember that if a page shouldn't take longer than 10 seconds to load. Most users will click a way if this happens. Page speed is considered one of the biggest factors for your website's ranking in search engines. It is also a make or break factor for your site's performance.
Why Do You Need to Optimize for Speed?
Page speed can work wonders for your brand; that is if you'll have it optimized. There are different steps to follow in optimizing your web page, and this starts with analyzing its current performance. You have to find out how fast your web page loads. If you're able to confirm that it has a slow loading time, then you need to speed up your website. You can use methods like optimizing images, minifying codes and a caching system.
You can also use a site builder that's pre-designed for speed to avoid the hassle of optimizing it yourself. When your site loads fast, you can receive 25% more views in ads, have lower bounce rates, and better reputation. Plus, your users will stay longer. To put it simply, your page speed spells the difference between providing great user experience and poor user experience.
How Fast Should Your Website Load?
From Google's standard, your website should have a minimum speed of less than half a second. But they have set the threshold to 2 seconds. Loading time beyond that would mean that your site is slow.
Google uses a metric called the PageSpeed score that has a range between 0 – 100 points. If your site performs well, it will receive a higher score. For Google, a site is considered performing well if it has a score of 85 or above.
How Do You Improve Your Page Speed?
The main reason why you need to have a fast loading page is that users find faster pages more efficient. That is why you need to find the best solutions to speeding up your page to stay ahead of the competition. To help you out, here are some tips to boost your page speed:
Optimize Your Database

It is common for websites to use databases to store information. When you have an e-commerce store, a news site, a blog, or any type of dynamic functionality such as internal search, then you are using a database. This can affect your page speed.

You can optimize your database by adding an index. This can enhance your page speed as it helps your database find information faster. With this, your database doesn't have to scan millions of records as it can rely on an index to narrow down the data. It also helps the data return to the page much faster.

Use Only the Necessary Tracking Codes, Share Buttons, & Video Embeds

While you need to track codes to analyze user behavior onsite, you need to review each analytics program. You also need to identify which ones are necessary.

Do not just add any tracking code to your page because it slows it down; it also helps to put your tracking code at the bottom of the page. This can load up your webpage on the user's browser even if the code hasn't finished loading yet.

Another important tip is, limit the use of video embeds. Indeed, a video is a great tool for consumer engagement and for better user experience. However, most video embeds use iFrames to display the video.

These iFrames can affect the page load times as they cause you to load a whole separate page within your main page.

Use Caching

Your browser will request all the images, text, scripts, etc. from the website's server during their first visit. All these are stored in your browser's cache. This is so when you visit other pages on the site, you don't have to download everything again. You only have to download the parts that are unique. This helps in speeding up your pages.

Content Delivery Networks

If your website's server is physically located in another country, it may load quickly for users in that particular area. This is because its data only needs to travel a short distance from the server to their computer. However, for users who are living in a different country from your server, the web page data can travel quite far, even stopping at multiple routers along the way. The delay is added to every single byte of data that is transferred and may cause some problems with loading.
For proper speed, it would be great if you can have a copy of your page in a server in both countries.
These are just a few of the many tips that you can follow to ensure a speedy web page and a more appealing website. It is even better if you ask help from the experts like us at Syntactics.