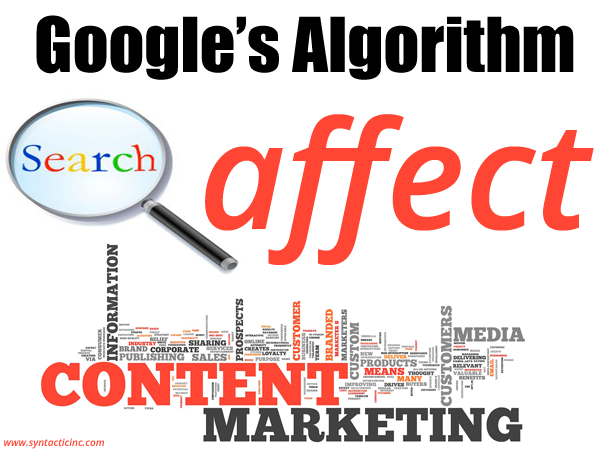 Feb 17, 2014
How Google's Algorithm Updates Affect the Content Marketing Industry
Google has made many changes (37 times in 2012 and 15 times in 2013) in its search algorithm for the last two years. The changes confused SEO webmasters as to what search engine optimization strategy they should use.
It is understandable that SEO marketers worry about the algorithm updates of Google because the changes really affect their site's rankings on the SERP. Now, how about content marketers? How can Google updates affect the content marketing industry?
Here are the changes that Google made and how they affect the content industry.
Keyword Data
When Google eliminates the ability of websites to track users by their keyword searches, SEO marketers who focused their strategy on populating keywords to their content were greatly affected. SEO optimizers no longer see in their Google Analytics report the most searched keywords that users type in the search engine's search bar. It was during this time that Google announced that "keywords" are not anymore the key factor to get found in the organic search results. The changes affect almost all SEO strategies that have been established for many years. On the positive side, Google's elimination of Keyword data in analytics report has enabled SEO optimizers to use keywords for the purpose of publishing quality and informative content. Therefore, Google wants SEO optimizers and Content marketers to give compelling and helpful content that would satisfy the user's needs.
PageRank
PageRank is how websites see how many linkbacks they get. The number of links actually helps websites raise their credibility and rank them on top of SERP. Today, Google no longer considers the number of links as the basis to rank a certain website. What Google wants now for websites is to focus on driving traffic and converting visitors into customers through publishing informative content. Google wants quality links and that is only possible if websites give quality and helpful information to online users.
Hummingbird
This is one of the recent updates made by Google. Google wants searchers to be more conversational and less keyword-focused. For instance, users should type "Where is the nearest dental clinic in Dallas?" rather than "dental clinic Dallas". Content with too many keywords no longer applies to this update. A content that proves to be more helpful and contains more relevant answers to the user's query has a high chance of appearing in the search results.
Google Authorship for Ranking
Many SEO and Content marketing experts believe that Google will use the profile of the publisher or the author to determine the quality and credibility of certain content. If the author is consistently publishing high-quality content that relates directly to what the business is offering, Google might rank the article, or the content higher than the articles with anonymous authors.
With all the changes that Google has made and will be making in the future, they only want one thing: To create good, clear, concise and informative content.
How do Google's algorithm changes affect your SEO and Content marketing strategy?