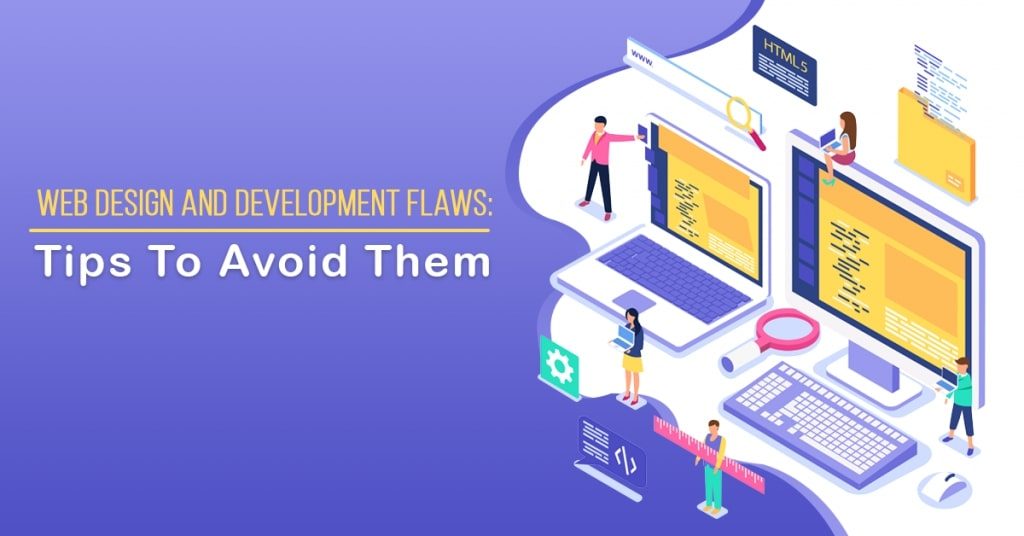 Jun 6, 2019
Web Design and Development Flaws: Tips To Avoid Them
Why Web Design Matters To You
The reason you and I created our websites is basically to establish our brand and draw our target market to the products and services we offer to them. The combined efforts of your web design and development team and marketing team makes them decide whether or not they want what you offer.
So let's ask this question first: Are we really bringing them in or chasing them away with our website? Do they love what they see on our website?
Check this out: Based on Adobe's surveys, 2/3 of website visitors prefer to read from something designed creatively and beautifully.
That means that your web designer and web developer's work determines whether these visitors will read from your site content and engage with your products or services that you offer.
Moreover, with Adobe's statistics, the trend for business owners is that 7% of them prefer to invest in new or improved websites with engaging and creative designs.
In addition to this, Derek Halpern, an online sales and psychology expert, said that web design is superior to content itself. Which means, nobody wants to read the content on a not-so-well-designed website.
Throughout the years as a professional IT company, we have looked further into this behavior of our target market and how they engage with various website designs and useful content.
In this article, we'd like to help you improve your website design and development process and avoid common mistakes that poorly designed sites have.  By identifying the flaws, you can then have a basis for enhancing your website and gain more sales leads.
Tips to Engage Your Target Market with Your Design
Take note of these web design mistakes and assess if your business website has any of them:
YOUR WEBSITE IS NOT MOBILE-FRIENDLY
Have you encountered a website where you need to zoom in on your mobile device to even see the content? Pinching to zoom is a fantastic tech feature. But it is annoying for people who are looking forward to reading content from your website.  Also, Google has an algorithm that decreases your site ranking if it is not mobile-friendly.
What if you have a responsive WordPress theme? It may not be enough.  There are other factors to consider in your web design and development, including:
Touch elements: Consider that mobile users interact using their fingers. That said, buttons and links must not be too close to each other. Else, it makes engaging with your call to action elements difficult.

Font size: Sometimes, the size that's viewable on a desktop may be too small, or too large, for a smartphone.

Playable content:  Mobile users' worst nightmare is to see the "Video can't play on mobile" error.

Redirects:  On a mobile device, make sure your redirects lead to their appropriate mobile URLs.

Website headers: Reduce your header sizes for mobile users to immediately get the content.

Avoid simulators if possible: Make sure that you have an actual mobile unit to test out your mobile design. Sometimes it works on an Android phone, but not on an iPhone.
YOUR WEBSITE HAS A "CLICK HERE TO ENTER" or "WELCOME TO OUR WEBSITE" PRELOADER PAGE.
Your site visitors want to get the information they desire as soon as they land and move on. If they don't get hooked up immediately, it's already an opportunity loss.
Preloaders are a years-ago tactic to keep your visitors busy while the website elements load. However, with today's swift Internet speed paired with HTML5 and CSS3, everything loads faster. Thus, preloaders have become irrelevant and the web design and development expectations have evolved.
YOUR WEBSITE IS TOO SLOW TO LOAD
Okay, here are some of the key culprits for killing web design and speed:
Unoptimized web images

Too many background textures and images

Too much Javascript, jQuery, or other fancy implementations
The online community is impatient. Website visitors expect to get the information that they need fast and in their face right away. If they don't, they always have a button called "Back."
How fast then? Well, 47% of people expect a web page to load within 2 seconds on a desktop. 53% of mobile users expect the same performance.  Based on the earlier Adobe statistics, 39% of people will stop engaging with a website if the images load too slowly.
YOUR WEBSITE PLAYS VIDEOS AND MUSIC AUTOMATICALLY
Nobody wants a website that loads and plays videos or music automatically.  For mobile users, it's a nightmare, especially for those who are mindful of their data usage.
Visitors want a clean website experience, with the ability to choose when and where they can play audio and watch videos.  Do not force them to view them or have it start without them first requesting it. Keep this in mind for every web design and development project.
YOUR WEBSITE HAS CLUTTERED ELEMENTS WITH NO LOGICAL READING ORDER
Navigating a website using a mobile phone can be very tricky, even for mobile enthusiasts. So it's best to find your approach in designing your website's navigation. As long as it's clean, logical, easy to find and read, you should be okay. 
To make sure you are on point, consider these three in your web design and development:
Place navigation menus at standard locations:  Put those elements where people expect them to be. Sometimes being too creative in the web design causes you to miss the point of having a website in the first place — to convert your visitors to customers.

Correct order: It's called the serial position effect. It means that you place what's essential and engaging on the top of your list. The rest will be in the middle or last.

Night mode: A new browser mode that's becoming popular these days. All your content must be readable when the browser this is switched on.
Establish An Engaging Web Design That Works For Your Website: Hire a Professional
In conclusion, these tips can be overwhelming and possibly an additional cost if you already have your website. But think about this for a second:
People, me and you, want to visit an engaging website and find what we are looking for. Immediately afterward, we make the call or click on that BUY button.  We are the audience to that website.

Without that audience that engages, appreciates, and uses your website, your website won't matter. Make it easy for these visitors to buy or avail of the services from you.
And if you are not entirely confident in creating a great web design and development for your website, we recommend that you choose a professional partner with a  proven track record.