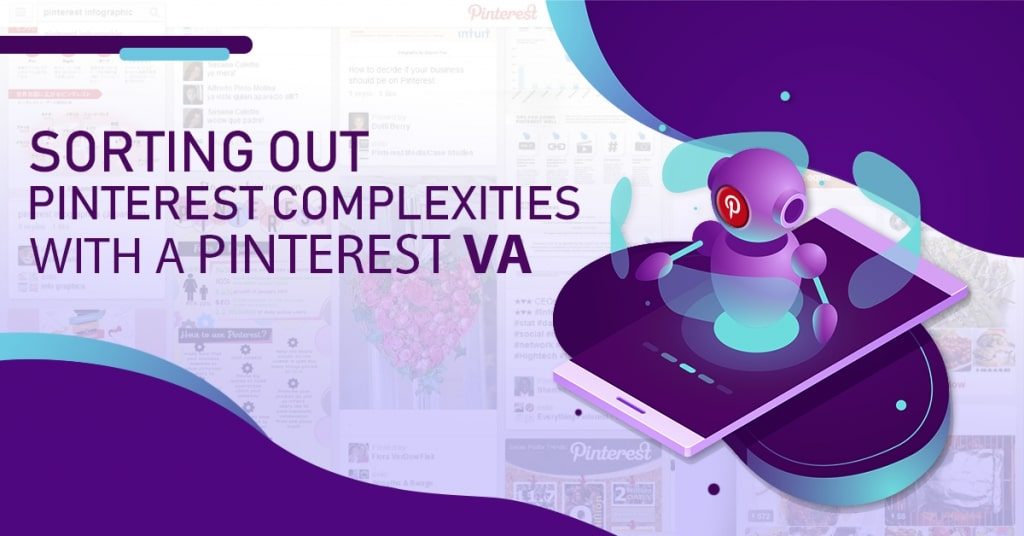 Aug 7, 2019
Sorting Out Pinterest Complexities With a Pinterest VA
A lot of modern business owners and online marketers know that getting active on social media is the key to achieving high visibility. However, not a lot of business owners know the underlying usefulness of one mainly overlooked social media platform – and that is Pinterest. These days though people are paying more and more attention to it, especially as professionals called Pinterest VAs have been popping up to help business owners.
Pinterest is particularly famous for its abundance of all kinds of images and artwork, inspiring artists, cooks, musicians, etc. Most often, when we get on Pinterest; we want to look at beautiful pictures or art, search for a recipe, get inspiration for an outfit, and more.
However, this platform is more than just aesthetics; as it can be a crucial driver in helping you build your business.

The Thing With Using This Platform for Business
It is easy to have fun on Pinterest – but turning it into a business tool? That is an entirely different level. Do not let its pretty pictures and delicious cake recipes fool you; this social media platform is a bit more complicated than it seems.
According to Small Revolution, Pinterest acts a lot like a "visual search engine"; acting as a catalog for artistic ideas and accommodating all kinds of interests. Additionally, like actual search engines like Google, it also has algorithms.
Algorithms? Yikes.
Do Not Turn Back Yet Though
Although not as big as Facebook users; Pinterest users are still in the millions; and Hootsuite says that 93% of its users get on the site to decide to buy something. It would be a waste to let an opportunity like that go to waste; but what if you do not have the time to try and figure it out yourself?
Hiring a Pinterest VA
Fortunately, for the modern business owner, getting help has become a lot easier with the advent of Virtual Assistants. You may already be familiar with who these professionals are. But for those who are not, VAs can do practically anything – including Pinterest.
While most any VA can learn the ins and outs of Pinterest quickly, hiring one that mainly specializes in Pinterest can give you a great head start to optimize it for your business.
Essentially, here are a few things a Pinterest VA can do for you:
Write Well-Optimized Pin Descriptions
Writing an effective Pin description is beyond using fancy words and correct grammar, though the latter is still pretty crucial. A well-optimized pin is also keyword-oriented and SEO-friendly, living up to Pinterest's search engine-like qualities.
Do Pinterest Best Practices Like It Was Their Daily Skin Care Routine
What are the best times to start pinning or posting? When is it appropriate to share Pins out of Pinterest? How often do you need to post and how many images do you need to keep posting? A Pinterest VA takes out all the guesswork when it comes to some of these most common questions, just let them do their magic.
Make Use of all the Parts of Your Pinterest Profile
Asides from the Pin, there is also the Board and the actual Profile you need to worry about – or rather, your Pinterest VA can take care of. How your Pins need to be organized in a Board, how you should come off in your Profile, you can leave it to your VA to tinker with.
Create Enticing Pins
Of course, Pins are the lifeblood of Pinterest, and these are what you need to keep on making for you to reap the benefits of this social media platform. You cannot just Pin any random image; it has to be the right orientation and size and have the right balance of fonts and white space. In other words, creating a great Pin can consume a lot of your time, so best to leave it with a Pinterest VA instead. 
Schedule Pins
Much like other popular social media platforms, live posting has become an "as needed" basis and scheduling is a lot more favored, especially with Pinterest VAs. After creating a bunch of Pins you would approve, their next step would be to schedule these Pins using apps like Hootsuite or Tailwind, or schedule it straight on Pinterest. That way Pins come out at the time they set up specifically for each Pin. 
Use the Right Tools
Aside from scheduling tools as mentioned above, Pinterest VAs are also equipped with the knowledge of using other tools to make their job more efficient. From where to get free yet attractive stock images to tracking Pinterest analytics, they have these all covered. 
There are several other tasks you can trust a Pinterest VA from an online marketing company in the Philippines to do as you focus on revenue-generating tasks for your business. Whatever task they do though, the end goal will always be the same – and that is to optimize your Pinterest to bring up traffic and eventually, conversions.
What else do you think a Pinterest VA can or should do? Let us know!