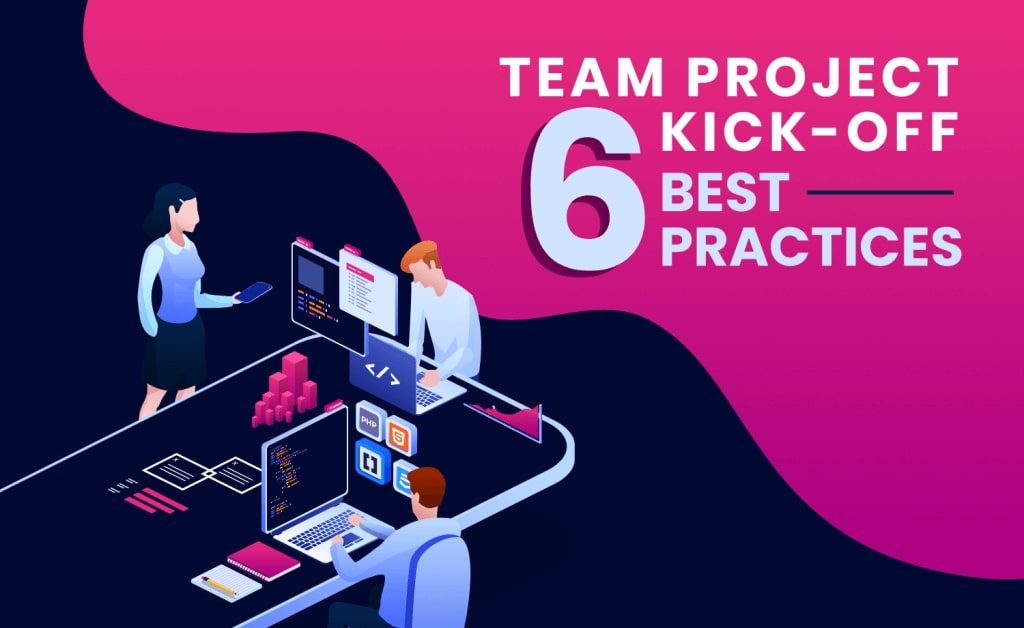 Jul 9, 2019
Team Project Kickoff: Six Best Practices
There are plenty of ways to kick off a team project. We want to share to you best practices that will get your dedicated team behind your project with full confidence and commitment.
The great news is that as it is an expected activity that happens with nearly every time, you can plan on launching a project widely and effectively.  Just like any other start-up initiatives, it takes preparation and the right components to get it right.
Getting your team involved is a different story and something equally worth the project itself.
Best Practices to Conduct a Team Project Kickoff
Have a meeting with your team beforehand.
Before the kickoff of a team project, call to a meeting all concerned stakeholders, including senior managers, team leaders, those in operations, and support groups. Your team is an excellent resource and a pool of knowledge to help and provide additional insights as needed. 
It is always an excellent approach to meet, at least, your team leaders in advance to share understanding and strategy and to discover where others can involve themselves in the initiative. Never develop a project without your team involved.
If a virtual team handles your project, do a conference call with them to discuss the project details, and gather insights. It's best to get their commitment first to whatever effort you'll be doing.
When you conduct an introduction meeting, make sure the people are comfortable and enough time to settle down before starting — even in a Skype chat group.
However, if the team knows each other very well, allow them to do a chit chat before you start the meeting.
Share the vision with the team.
A good project and kickoff for the team are one in which everybody knows why they're here, and what they're going to discover. An agenda that is clearly defined also provides the project manager with a roadmap when he or she facilitates the meeting.  
Be more broad, less micro-detailed when you define your agenda. Specific tasks are less important than making the project team direction clear and exciting.
What you can do is:
Introduce briefly but with clarity the project and the team.

Create excitement and passion for the vision of the project and its goals.

Build credibility within the group. Each team member is essential and plays a vital role in the project.

Promote healthy and professional communication.

Provide timelines and when to get started.
Set project expectations, objectives and scope.
The initial kickoff team meeting is also the best avenue to find out what each stakeholder and team member is expecting of the project and to reach a consensus on the final scale of the project.  Explain what the purpose of the project is, its anticipated objectives and intended achievements, and why this future project is vital to the team.
Sometimes, the setting of expectations may downplay the project excitement as you highlight its scope and limitations. Just ensure that the project has realistic targets and objectives.  
Also, if you intend to use a collaborative project management tool, make sure to introduce it to the team and set a schedule for training.
As expected, you'll be encountering questions at this time. Keep the discussions for Q&A high-level so you won't get lost in the conversation, especially when talking to virtual teams. Focus on addressing questions that relate to the project and the team.
Determine team roles and responsibilities.
It's also the best time to get your team to one area to develop confidence and comprehension between team members and personalities before and during the project kickoff. The delegation of responsibilities laid down implies that everyone understands their roles and be ready to recognize the individuals accountable for their deliverables. Show them how each individuals contributes to the project through relevant diagrams like a Work Breakdown Structure.
Moreover, let everyone know that you thank them and expect what will be delivered. It is not only polite to say thank you: it also creates an atmosphere for a considerable team. The gesture makes individuals feel like they matter and sets a tone of professionalism and civility.
Outline communication channels and processes for team interaction.
Launching the project with a favorable and efficient communication plan will facilitate a sustainable experience for all involved and will also prevent many difficulties in the future. At the kickoff of the project, describe the communication process between each team member, and define the expectations.
What you can do to develop effective communication is to:
Decide which tool or form of communication everyone is comfortable with — email, Skype, Messenger, or a collaborative project management tool.

Define communication protocols and ensure that they are religiously followed.

Have an open-door policy when it comes to communication.

Consider diversity differences (in case of virtual teams).

Be open and honest with your team.
Set an official project kickoff meeting and announcement.
Lastly, once everything is in place after an initial meeting, make it official and empower your team. Let everybody acknowledge and be aware of the undertaking, and the people behind it. Recognize each team member's contribution and what he or she can offer to the project. Announce the team project kickoff and give credit to those who deserve it.