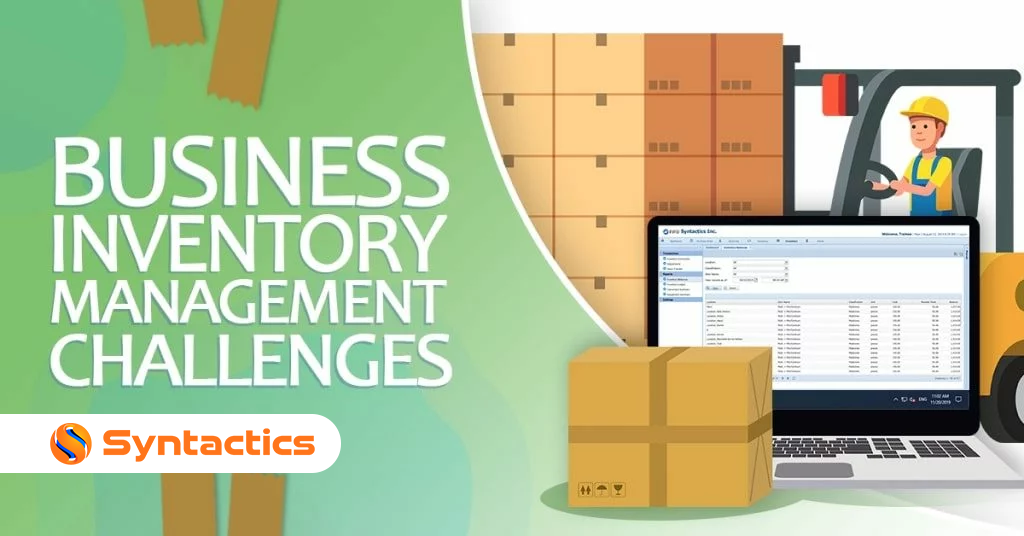 Nov 22, 2019
Business Inventory Management Challenges
Business inventory management is a challenge for many companies. Businesses regardless of size that handle inventory will reach a stage where they can no longer manage it manually. It comes to a point where the need to improve the process of managing inventory is necessary. 
To the bottom line, the scenario is very critical since inventory remains an asset until it is sold, used or processed to produce a product  Because businesses must store, track, and ensure stock availability, quality and reduce cost, achieving these activities with high efficiency enable companies to be competitive. 
In this article, we'll take a look at challenges in business inventory management and how your company can improve if you currently face them.
Known Challenges in Business Inventory Management
These challenges are nothing new to businesses. It is best to identify a few of these that exist in our premises. Besides, the first stage in resolving inventory management issues is to acknowledge that they are there and that we need to address them as quickly and effectively as possible:
Inefficient Processes
Many businesses still use manual business inventory management techniques, even with the available technology. Yes, these processes work but may not be able to cope up with the rising demands as you scale up. If your company is one of them, you'll need to take the risk and manage by enhancing your standard operating procedures and using new tech solutions readily available.
Lack of Relevant and Useful Management Tools
Management should ensure that they always have clear visibility of the supply chain, inventory quality, inventory cost, shelf life, organization, and more. This scenario requires that actual, real-time data must be ready on demand: What to order, the order size and quantity, and what products to replenish. 
It can be a problematic task manually, but there are plenty of new tools that you can use. New applications for business inventory management allows businesses to monitor stocks, expenditures, cash flow, and sales at a central location. The knowledge of your stocks and their relevant analytics is essential for your ability to make strategic decisions.
Problems with People and Workplace
Even if you have the right tools, placing the right personnel in the workforce and management is a significant factor in your success. If incompetency happens, you will end up with problems such as inadequate inventory, poorly-managed warehouse, and wrongly sorted or handled items. On top of that, concerns of the safety of workplace, equipment in handling inventory, breakdowns, exposure to elements in the warehouse, theft, etc. are all related to workforce.
Lastly, you will need the best people to manage your physical workplace to maximize it for productivity purposes.
Ever-changing Customer Demand
Customers' preferences and demands always come first. However, they unpredictably change and look to those businesses that are flexible enough to adhere to them. With that, you must be ready to compete against other companies in meeting their requirements. Your company must be competent to learn and understand the needs of your customers. At the same time, it has to manage the available stock in line with their needs effectively.
Expectedly, your team must excel at forecasting, stock management, supply chain management and warehousing. Backorders will lead to unhappy customers due to shortages and impact the entire business experience. 
How to Improve Your Inventory Management
Moving forward, below are recommendations that you can do to improve your business inventory management based on good practices:
Phase 1
Do a breakdown of your entire inventory and its quality. Separate them into groups such as safety stock, replenishment stock, and acceptable stock. The objective is to keep adequate levels for each group.

Put up a team that determines when to order and/or manufacture/source new products to keep up with the consequences of major marketing campaigns.

Decide who makes critical decisions on inventory control to maintain cost-effective levels of inventory as well as to ensure fast and reliable customer service.

Test out and use analytical formulas that integrate sales forecast data to calculate stock levels accurately.

Recalculate stock levels to improve the effectiveness of your inventory control periodically. You can set it to once every six months.

Determine how often to order new stock items when the supplier doesn't set it, thus taking into account the value of the changeover and inventory.

Implement reasonable quality control in all areas of your business inventory management, not just the finished products.

Decide how inventory ordering should be performed regularly using information from analytical tools to improve inventory management control continuously.

Set up an effective process to determine when excess stock exists and to decide how to handle it cost-effectively.

Assign activities to determine the root causes of outdated inventory to various teams within the company, which operate together, connecting their efforts.
Phase 2
Conduct periodic inventory audit. Inventory appears to be the easiest asset to exploit or manipulate. So your auditors must keep a constant watch over it.

Backup inventory data, just in case. You and your staff could lose valuable operational info if this happens. Schedule a backup process of the data files in cloud-based storage to stop this from happening. Such applications defend your data against hardware failure.

All your information must be collected and saved in one place; else, your data may become inaccurate without proper updates. Integrating your systems and centralizing them in real-time will help your teams gain access to updated information. Do this first before preparing any forecast or making any operational decisions.

Lastly, your business inventory management success depends on your level of communication and accountability. It means that you have to inform the management, teams, and customers on the status of your stocks for transparency purposes.
Final Thoughts
In conclusion, reorganizing your team and setting new standards for your operations based on the recommendations above can be an easy task for your management. But you will need the right tools, such as an inventory management system, that best fit how you can streamline your processes and establish an effective way to manage your inventory.