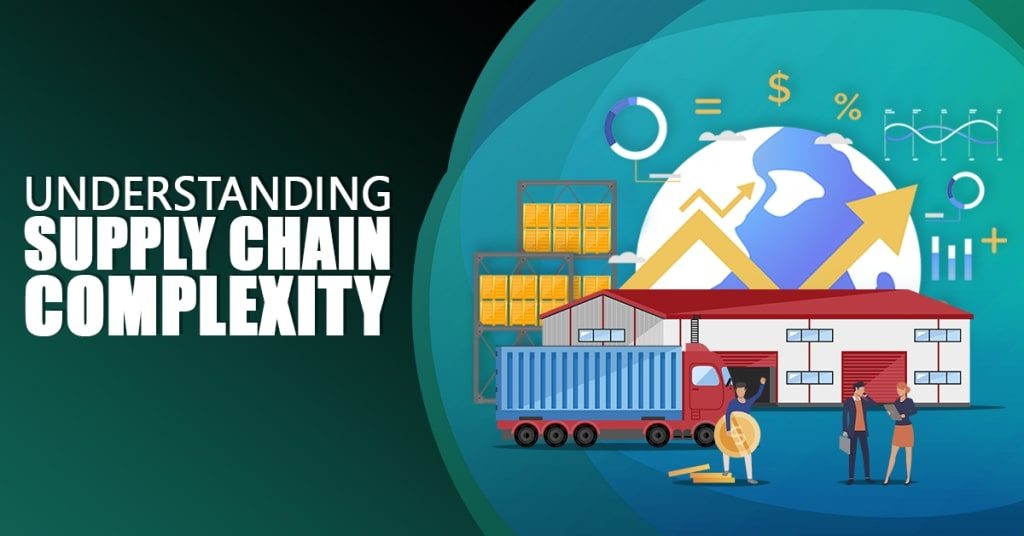 Nov 25, 2019
Supply Chain Complexity: Understanding The Issue
What is a Supply Chain?
Before we talk about the supply chain complexity, let's break it down first. The supply chain is a network of organizations, people, operations, information, and resources involved in moving a product or service from manufacturer to customer in business and finance. Supply chain activity consists in transforming resources, raw materials, and components into a finished product delivered to the end customer. 
Check out the supply chain diagram above. The black arrow represents the materials and information flow, while the gray arrow shows the flow of information and backhauls. Its major elements are (a) the initial supplier (seller or factory), (b) the supplier, (c) manufacturer (where production happens), (d) the customer (retailer), and (e) the end customer.  With this flow, the complexity starts to happen.
Where is the complexity in the supply chain?
The scope of the supply chain grew as manufacturers, suppliers, transport modes, and geographic areas expanded. With that, let's understand first the market constraints that impact the chain:
The main concern is the

cost reduction

, which is a requirement as they are continually being called upon to; 

Meet global competition

. Considering the Internet and technology nowadays, manufacturers can directly contact the distributors or suppliers with ease.

Next, we have to face the challenges of a competitive market environment such as

adapting to changing customer expectations at performance;

and 

Improving their ability to reduce product delivery times

.
Because of these recent market constraints, the supply chain must change from cost-oriented into demand and value-oriented objectives. The new objective priorities based on the Geodis study are now:
#1 Ensure OTIF (On-Time, In-Full) deliveries.  
#2 Improve product availability or delivery.
#3 Improve end-to-end Supply Chain visibility. 
#4 Optimize inventory costs. 
#5 Reduce transport and warehousing costs.
However, 70% of the firms in that study reported that their supply chain is very or extremely complex. In other words, the complexity occurs on so many levels, and too many factors have to be considered. Here are some of those that contribute:
Too many supply chain decision-makers within companies' organization.

The addition of more inbound and outbound partners into the overall process.

Decentralized organizations: Companies broken down into regional and local business units make it even challenging to monitor and manage data.

Multiplication of transportation and operational flows, especially in those decentralized units.

Excessive outsourcing to multiple players, joining an increasing trend

Same day delivery demands, etc.
How to ride on the existing supply chain complexity
There is no denying that the chain visibility remains uncertain and is still variable, mainly focused on direct partnerships. Certainly, the ambition is to have improved end-to-end visibility to address complexity which should lead to:
Collaborating closely with partners and reducing disputes

Better risk anticipation using data analysis

Increased overall supply chain flexibility

An extended degree of control over processes

Improved customer satisfaction

Higher profitability 
Top areas of improvement in visibility are before and after the production stage, and the complete lifecycle of the product. The perspective allows the supply chain to streamline the entire process and simplify operational activities to achieve high efficiency.
Moreover, there is also a need to embrace new skills and technologies to manage data in different ways and avoid supply chain complexity.  Data Analysis and Internet of Things (IoT) head the list. They allow the supply chain to be drawn through many features, including real-time flow management, track & trace, and financial control. Also, a reliable software management tool or inventory management system must be used to generate a relevant analysis of the entire flow effectively.
To support their reliable and robust processes, Cloud Computing and Info security must be considered also as key technologies. With the scope of supply chain activity becoming wider and more strategic, the nature of the information to be managed is becoming more sensitive indeed.
It's about accepting the supply chain's uncertainty. 
In conclusion, trade flows have grown significantly amid globalization and rapid digitalization. The supply chain has hit unprecedented levels both in size and scope.
Now almost unanimously recognized as a source of competitive advantage for companies to grow, supply chain management at a strategic level has been placed by the best global players.
Finally, the supply chain complexity remains a significant challenge for all companies, especially as customer expectations and business growth goals rise. The response is how complexity can be overcome effectively.