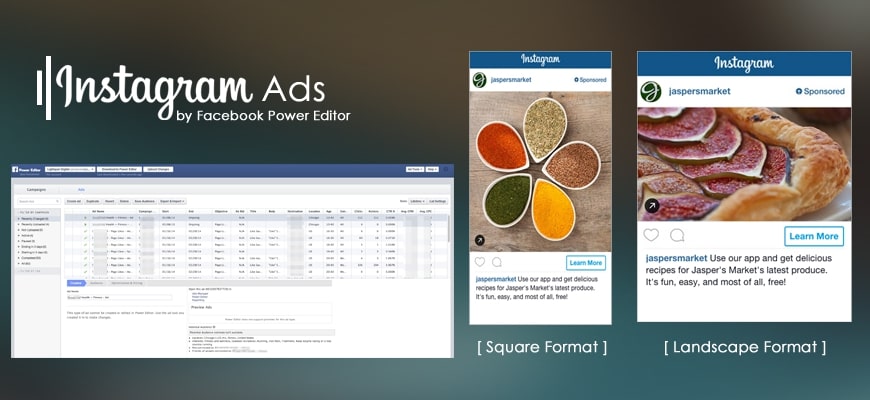 Dec 4, 2015
Instagram Ads: Create with Facebook
Visual content is now preferred over plain text on social media. It has also become an increasingly important matter for brands to leverage on. This shift to visual social media means that more businesses. Whether small or big, businesses are starting to communicate more visually to their audience, followers, and customers.
Instagram – one of the most popular online social platforms, will now enable you to leverage the power of this shift. With over 400 million monthly users, the social network is the most-used photo sharing platform. It enables you to share photos as well as short videos with your followers and with Facebook. Recently, Instagram has over 75 million photos. That alone makes it a powerful platform for businesses to use.
It's been quite some time since Instagram launched Sponsored ads that allow brands to advertise on the social network. These take the form of photos or videos with the mark "Sponsored" on the top right corner. Users can like and follow the brand as they normally would with any account.
Now, with Facebook giving Instagram brands more room and audience to shine with its Business Manager, everything becomes easier to manage.
Where to create ads for Instagram
Everyone can use both Facebook's Power Editor and ad creation to create an ad. To be able to run ads on Instagram, you'll need a Facebook ad account.
Your ad will appear in people's Instagram feeds along with images shared by their friends, family, and other accounts they follow. Also, your ad may appear in the square or landscape format depending on your preferred format when creating your ad.
It's not required to have an Instagram account to run the ads. But there are important things to note if you don't have one:
You cannot respond to comments and;
Your handle will be that of your Facebook Page's name, which has limitations.
A Business Manager account isn't actually required to create and run ads on Instagram. However, if you expect to review and respond to comments on your ads, you will need to add an Instagram account in your Facebook Page settings. Just go to the Page Settings and click on Instagram Ads to add one.
Since Instagram advertising is fairly new, it is only recommended for newcomers who may be overwhelmed by the process provided by their help-desk to seek out experienced consultants. As a starter in looking for a career in advertising and marketing, having this type of knowledge is crucial for success.
Knowing who your audience are and what your company can provide them is only one (albeit large) aspect of Instagram advertising, but having this information will make life easier for those looking for careers in advertising. Social media penetration is such a crucial and growing part of any business campaign and learning new forms of advertising is part of it.