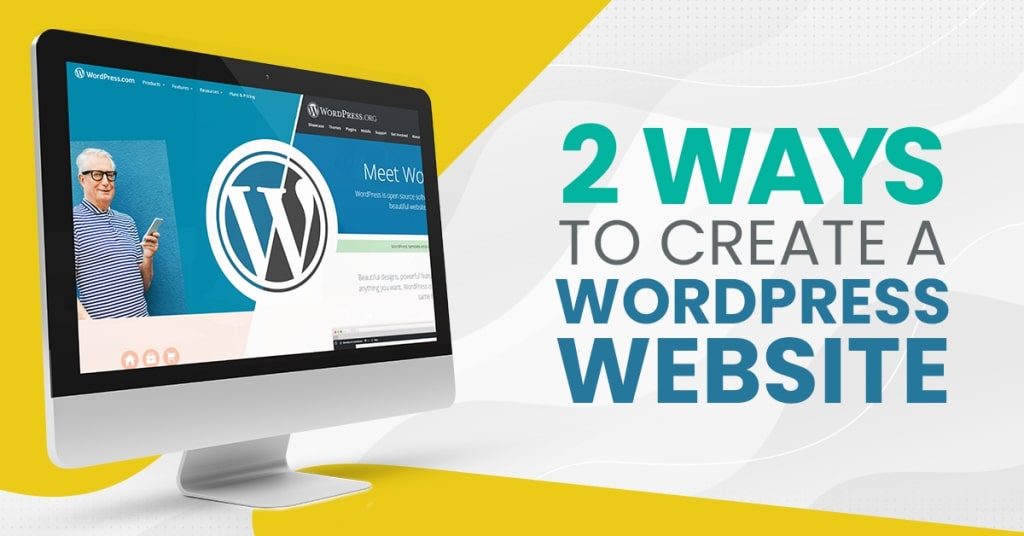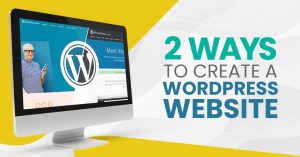 Sep 25, 2020
2 Ways to Create a WordPress Website
Websites help businesses promote their products and services to their target audience and make better sales. Today, web users consider WordPress as one of the most popular content management software used in building websites. With WordPress website development, business owners can create a website that reflects their brand's image and boosts their business goals.
WordPress.com vs. WordPress.org
You can create a WordPress website for your business in two ways – through WordPress.com or WordPress.org. The main difference between the two lies in who is hosting your website.
You can create a WordPress website through WordPress.com without having to download any software. Through this, WordPress.com manages your server and your website's URL will look like this: www.nameofwebsite.wordpress.com. When choosing WordPress.com to create your WordPress website, you have limited options to customize its appearance and functionality. However, you will have the option to upgrade your WordPress.com account and purchase a custom domain from a third-party provider.
On the other hand, creating a WordPress.org website or blog requires that you build it through a third-party hosting provider. You also need to download the WordPress software, purchase a domain name on a third-party site, and manage your server. Thus, your URL will look like this: www.nameofwebsite.com. Going for this option means that you will need to manage your site with more hands-on experience. As such, many companies invest and outsource from a WordPress web designer to help build websites that not only look great but function even better.
Below, we will discuss quick and easy steps on how to create a website using WordPress today!
How to Create a WordPress Website on WordPress.com
1. Get Started
Start your WordPress website development journey by heading to the WordPress.com home page and click on the "Start your website" button.
To start creating your account, you need to type in the domain name of your choice. The domain name is similar to your home address – it allows your visitors to locate your website on the Internet quickly. It will look something like this: www.sample.com.
2. Select WordPress Plan
WordPress.com offers its users with four plans that mainly differ when it comes to monthly fees, site customization, and access to marketing tools. You have an option to start using WordPress with a free site, too.
3. Customize WordPress
WordPress automatically provides its users with a default theme. However, it may look too plain or too different from what your business is trying to go for.
You can customize your WordPress website with WordPress' many themes and templates, which include a variety of layouts, formatting colors, styles, fonts, and many other visual options. For this, you can employ a WordPress website development agency to help you create the website that you envision.
To start customizing, you must head on to your admin dashboard and click on "Appearance," and then "Themes".
On the following page, you can browse through all the available themes or search for a particular one for your website. Click "Activate" once you have selected the one that works best for your site, and start customizing it.
4. Add Site Posts and Pages
 Businesses display content on WordPress websites through posts or pages. Posts are dynamic pages that are usually placed in blogs and portfolios as they automatically place your latest content at the top. On the other hand, pages are static, and they remain in the same place.
To add a post to your website, head to the admin dashboard, click "Posts," and hit "Add New." Add a catchy title for your post and insert relevant photos.
You can opt to save your changes as a draft by clicking "Save Draft". If it is ready to go live, hit "Publish".
When adding pages to your website, you will go through a similar process. First, head to the admin area and click "Pages" and then "Add New".
Add a page title, insert photos, embed videos, and place other content. A WordPress website development company can help you put all your content together cohesively and sensibly. Also, check copywriting services like 501Words. When you're done, click "Save Draft" or "Publish".
5. Customize Website
You have several ways to customize your WordPress website.
WordPress website development companies suggest that you make your pages into either a static or dynamic page. Take note that you can only access and make these changes after you have set your pages up.
Static Page
By default, WordPress automatically uses your latest post as the homepage for your website. If you have created a home page or a blog page through HTML or a builder, then you have the option to set it as a static page. Static pages are used by business owners who would instead place their content in one location on the website for consistency rather than have it move around. Such pages include the "About Us" and the "Contact Us" pages.
Dynamic Page
Dynamic pages, on the other hand, automatically appear on the top of your pages so visitors can easily find your newest posts. For instance, if you are working on a website that produces blog content, then after setting the page up, you can make it into a dynamic. Doing so helps users automatically see your blog posts on the Home Page. Moreso, if you have a business site, then you have the choice to select which of your pages should serve as the Home Page and the Blog Page.
To make your page into either a static or dynamic page, click the "Settings" tab on the left side, and then hit on "Reading". Then, select between "Your latest posts" or "Static Page" to make the page dynamic or static, respectively.
You can also customize your site information such as the site title, tagline, your time zone, date format, etc. On the admin dashboard, click "Settings" and hit "General" to arrive at the General Settings section.
Moreover, you can also customize the navigation bar to help visitors find information on your site with ease. You can edit your navigation bar by clicking "Appearance" on the admin dashboard. Click "Menus" and start customizing your bar.
In this section, you can determine how many pages you want to include on the navigation bar. You can also identify the title of those pages and the order that you want them listed.
6. Install Plugins
Plugins are software that WordPress website development agencies incorporate into a WordPress site to improve its functionality, enhance user experience, and secure the WordPress website. Some of the most commonly used plugins for every type of website owner and user include Yoast SEO, The Events Calendar, The SEO Framework, Hubspot Conversion Tools, Pixel Caffeine, and Table Press. You may choose here the best WordPress plugins and themes for your website. As a requirement, remember to keep the WordPress plugins updated!
To start installing, click the "Plugins" tab on your admin dashboard. You can choose to search for a particular plugin in mind or browse through the plugins available.
Select the plugin that you wish to incorporate into your WordPress website and click "Install".
7. Optimize Site to Increase Page Speed
WordPress developer in the Philippines ensures that a website performs to its maximum potential to guarantee the best user experience. When a page takes too long to load, it may discourage visitors from continuing their visit to a website. This contributes to a website's bounce rate.
You can improve your site speed and performance by enabling browser caching, which lets you store your website's data on a visitor's browser. When you do this, you no longer require your content to be processed again for it to appear, thus, increasing site speed.
Do this by installing and activating a caching plugin. First, head on to the "Plugins" tab on the admin dashboard and then search for your desired caching plugin. Click "Install".
Now, you can expect to increase your site speed and enhance overall site performance.
How to Create a WordPress Website on WordPress.org
Before installing and building your website using WordPress.org, WordPress website development companies suggest that your host or local computer should have a web server software (Apache), PHP version 5.2.4 or greater and MySQL version 5.0 or greater. PHP is a programming language and MySQL is a database management software, which are both required to run WordPress on your computer.
Download WordPress
First, head on to the WordPress official site at www.WordPress.org and download the latest version of the WordPress software.
Extract and Copy WordPress
Once you have downloaded the ZIP file onto your computer, extract the file on your desktop. It should contain a folder named WordPress.
Then, extract the contents of the ZIP file called "wordpress.zip" to the htdocs folder within the XAMPP directory.
Create Database
On your computer, head to http://localhost/phpmyadmin and locate the "Create new database" label. Next, input the database name, and then click the "Create" button.
Once a WordPress website development expert successfully creates the database, this prompt message will appear: "Database has been created."
Just take note that if you are creating the database on your hosting, you should head to the database settings of the hosting. This is because the settings will depend on the hosting provider.
Setup WordPress
Now, browse for and then transfer the extracted WordPress folder to your xampp server htdocs. It may look like this: http://localhost/wordpress.
A prompt message will then appear to configure WordPress. Click on the "Create a Configuration File" button to proceed to the next step and run the installation.
Take note of the following information needed before proceeding.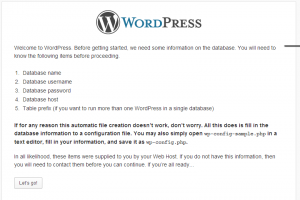 Configure WordPress
 Enter the database name you have created in step 3 and input the MySQL username. The default username of the local web server is "root". Then, enter the MySQL password. By default, the password for the local web server is left blank.
Supply the Database Host. By default, the host of the local web server is set as "localhost". Then, enter the Table Prefix, which is set by default as "wp_".
After a WordPress website development professional inputs all the entries, they will click on the "Submit" button.
If the configuration is successful, then a prompt message will appear for you to run the installation. After that, hit on the "Run the install" button.
Install WordPress
In this step, you must fill in the information needed on your WordPress site such as the site title, the administrator username and password, and a valid email address.
If you wish to allow search engines to index your site, you can tick the checkbox with regards to Privacy.
Then, click the "Install WordPress" button to finish the installation process.
A prompt message will appear once you have successfully installed WordPress.
Build Your WordPress Website Now!
All in all, one can start the journey to learning how to create a WordPress website following all the steps we've written above. Also, if you're looking into creating a website for your blog, possibly a portfolio for your works, wordpress.com is the best option. For a more complex and customizable website, such as for your business and its landing pages, wordpress.org would be the better choice, especially since wordpress.org can also be used as an e-Commerce platform using WooCommerce.
With a great-looking and well-functioning website, you are ensured to attract your target market, improve your sales, and achieve your business goals. Work with a WordPress website development agency from the Philippines that knows their way on how to create efficient websites using WordPress.
If this article was of any help to you, please let us hear in the comments section below!