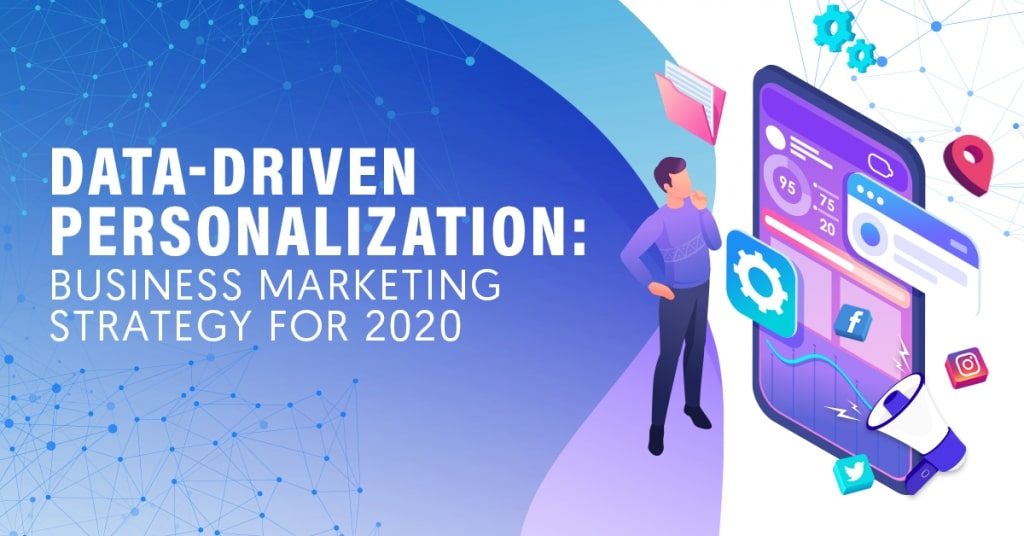 Apr 30, 2020
Data-Driven Personalization: Business Marketing Strategy for 2020
With competition being so high, businesses need the right marketing strategy to stand out from the rest. And with such an environment, personalized content, experiences, and recommendations for their customers become must-haves for businesses. Customers find it more appealing when brands give them individualized or customized content that suit their personal needs. Data-driven personalization is the key to achieving all of these things.
Data-driven personalization delivers content to consumers at just the right time. By collecting enough data to understand a customer's behavior, you'll be able to make use of data-driven strategies that are specific and personal. Hence, you'll know what will help in converting prospects into paying customers through the delivery of relevant content.
Customer Experience is At Its Core
When it comes to data-driven personalization, the focus will always be on customer experience and service. According to a survey conducted by Ascend, 64% of marketers believe that delivering excellent customer service is one of the priorities of a data-driven personalization strategy. Other objectives also include increasing visitor engagement and conversion rates. This shows that having a better grasp of your customer's preferences and using that to give them a one of a kind experience will be advantageous for your business and brand.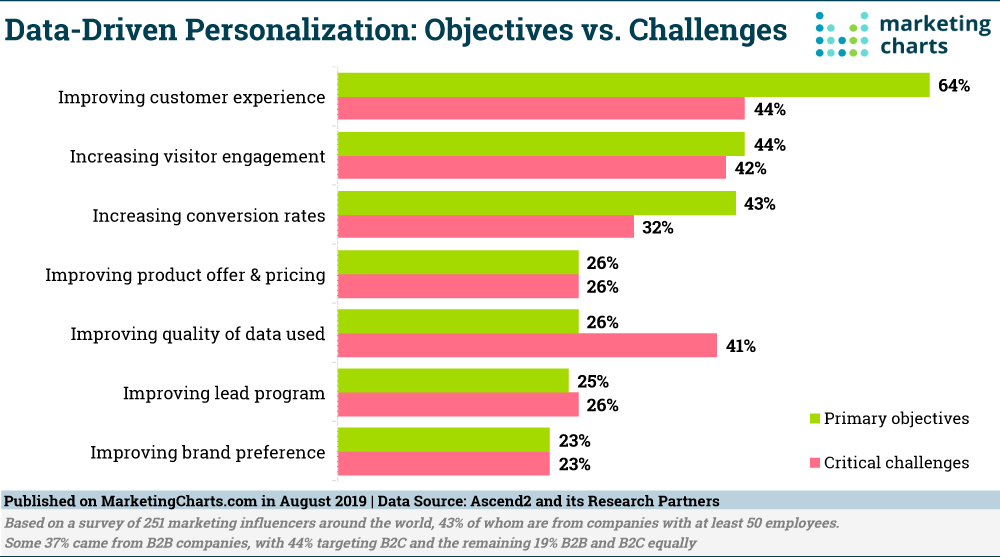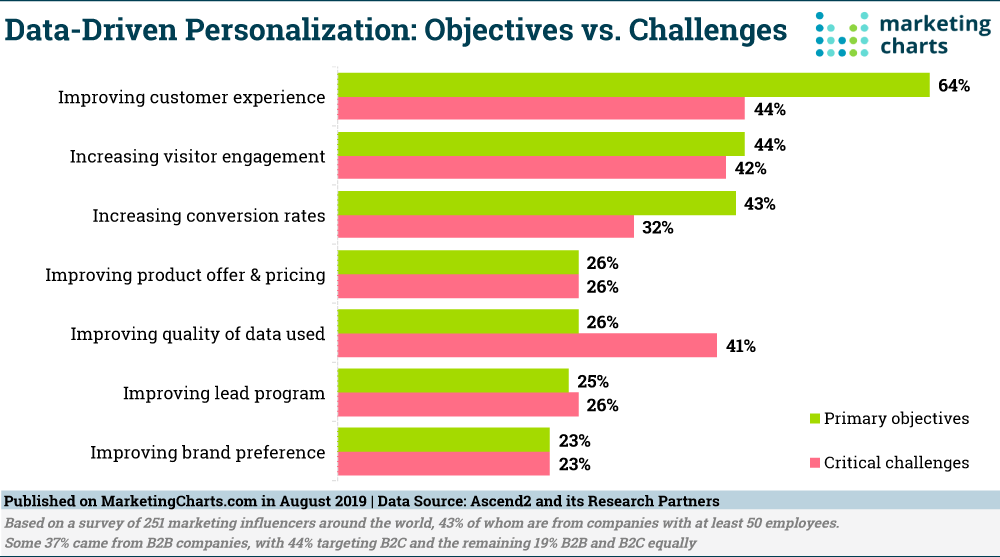 Source: V12
How should you improve your customer service through data-driven personalization?
Know your customers well. Achieve this with the help of marketing data, which will be further discussed later on. By collecting enough data and information, you'll know what kind of content will work best for your prospective customers. You must also remember to remove your data silos. Data silos are information in the organization that is isolated from it and are inaccessible.    
Make use of self-services. Consumers love it when they have the opportunity to exercise control within your brand. You can use features such as FAQs on websites or contact information where they can communicate with your business.  
Take advantage of Social Media Platforms. Track and respond to your customers with the help of social media. You can engage with them through this popular medium and gain a better understanding of their likes and dislikes for further data-driven personalization. Online marketing agencies in the Philippines offer services such as managing and improving your social media marketing, among others.  
Prioritize customer experience, above all else. Your entire business must revolve around, putting your customers' needs first. So, always keep in mind that giving them the best experience will lead to higher chances of conversion rates. 
Tracking the Right Marketing Data
Online marketing involves things like email, social media, and your website. In the context of data-driven personalization, these are valuable sources of data. If you want to map out consumer behavior, then the only thing that you have to do is to collect relevant data and information. It will help you when it comes to planning for your business' marketing strategies.
There are different types of marketing data. According to Ascend's survey, 55% of marketers believe that website activity is the best type of data for personalizing marketing outreach. Website data involves tracking visitors to your website, the pages viewed, sources of traffic, and the bounce rates, among other things. An online marketing agency in the Philippines can help you out with collating such data with the help of platforms such as Google Analytics. Other types of data also include:
Transaction

– This is the second popular type of marketing data in the survey. It involves information about commercial transactions such as purchases. With this data, businesses will know what are the products and services that most consumers prefer to buy. 

Social Media Data

– Social media platforms offer an abundance of data. By sharing photos, videos, or links on your profiles, you will be able to track user engagement in the form of likes, comments, or shares. It will also help with building your customer persona by engaging with your target audience.
Data-Driven Personalization is an Effective Strategy
Marketers everywhere like online marketing agencies in the Philippines believe that data-driven personalization is the answer to a successful business. Based on reports, 25% of marketers believe that the effectiveness of such a strategy is increasing substantially. With the help of marketing data, businesses will be able to have information such as conversion rates, costs, and revenue gained from campaigns. It will also help in checking out if marketing is driving value in the form of positive ROI. That is why many have been allocating their budget, time, and resources for personalization in their marketing efforts. 
As the world constantly changes, businesses must be able to adjust quickly. By knowing what the consumers want and by taking advantage of that knowledge, companies will be able to thrive despite such shifts in the industry. It is always better to be ready so that in times of crisis, your business will remain secure. Enlist the help of an online marketing agency in the Philippines and understand your customers' prospects and be able to provide personalized content. Consumers today prefer their interactions with brands to be personal and expect it to be a standard service.