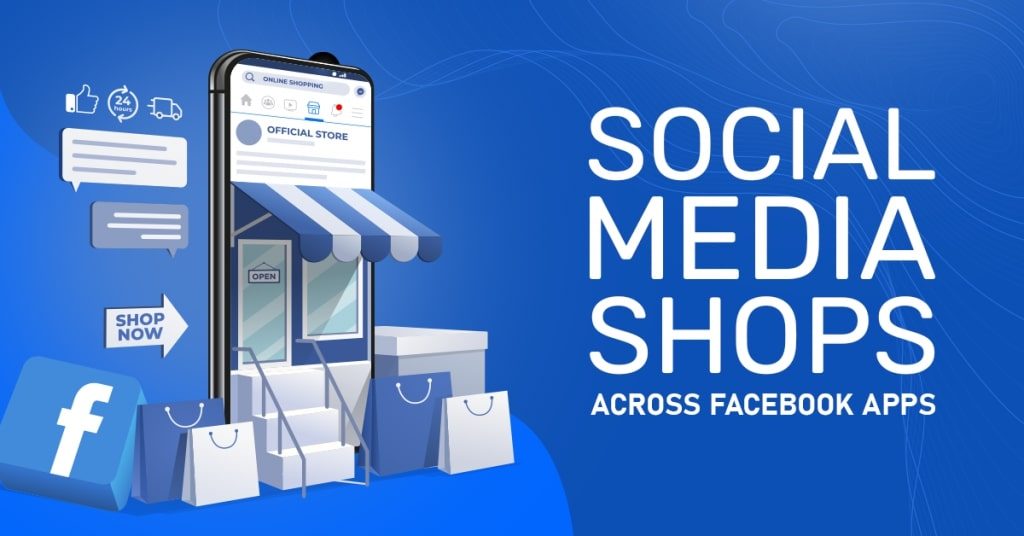 Sep 16, 2020
Social Media Shops across Facebook Apps
Small businesses from all over the world faced economic consequences due to the COVID-19 pandemic. Thankfully, the internet has helped them realign their marketing campaigns to focus on social media marketing. To further help, Facebook founder and CEO Mark Zuckerberg announced that they had created a new e-commerce feature that will help businesses build social media shops through Facebook apps.
The Facebook Shops feature is one of Facebook's latest and most timely moves into the e-commerce industry. As of now, the feature is out only in the United States. However, it should be available in other countries in the coming months.
Zuckerberg also promised that small businesses could soon start selling their products through Instagram Direct, Messenger, and WhatsApp. They could even tag their products while they are doing live broadcasts. Through this, your customers can directly ask you questions regarding your product offerings. They can also get support regarding your services, track deliveries, and more.
What are Facebook Shops?
Facebook Shops allows small businesses to build an online store through the Facebook Commerce Manager. The feature enables the selling of products directly across the many apps under the Facebook family (e.g. Facebook and Instagram). Therefore, businesses can create a dedicated social media shops section on their Facebook Page or Instagram profile. Business owners can provide their customers with a catalog of their products for them to browse, save, share, and purchase.
By now, you may have gotten confused between the terms Facebook Shops and Facebook Page Shops. A Facebook Page Shop is an existing feature that allows businesses to display their products on their Business Page. Whenever a customer clicks on a product, the customer can check it out on their website. On the other hand, Facebook Shops is a new feature that serves as a storefront to existing Facebook Page Shops. The social media shops feature provides customers with a seamless online shopping experience. They no longer have to leave Facebook whenever they wish to check out a product.
Facebook Shops are integrated across Facebook's many apps.

Once you have set up your shop, it will be available on both your Facebook Page and Instagram profile. Your customers can also access your social media shops from stories and advertisements. Similar to the Facebook Page Shop, this feature allows customers to check out directly through Facebook rather than getting redirected to the business website to continue the purchase.

Facebook Shops are highly customizable.

The feature allows you to create a "storefront" where you can make it look more like your own website rather than a Facebook page. You can choose which products you wish to feature from your catalog. You can also customize the aesthetics and feel of your social media shops. Do so with a unique cover photo and accent colors that genuinely reflect your brand's image. Check out this quick and easy guide on how to create and design social media posts using Adobe Photoshop.

Facebook Shops are easy to create.

The Facebook Shops feature is still currently being rolled out. So, your country may not have access to the feature yet. The sections below will guide you on how to set up a Facebook Page Shop (as a temporary alternative for countries without the feature yet). After which, you will learn how to set up Facebook Shops (for countries with access to the social media shops feature).
How to Set Up a Facebook Page Shop
So it seems like the Facebook Shops feature is not yet available in your area. You can still maximize your business' digital marketing potential by setting up a Facebook Page Shop. With this, you can begin selling your products straight away. You can then easily link up with the Facebook Shops feature once it arrives in your country.
Assuming that you have already created a Business Page, start by clicking on the "Shop" tab.

Next, fill in the tax and payment details, or select your preferred checkout option.
If your business is US-based, then your customers can directly buy products from your Facebook page shop. Facebook will then ask you to provide your business details and remind you of its shipping policies. If it is based outside, you cannot link up your payment details to your Facebook page shop. However, you can choose from either of the two methods to complete a sale. You can redirect your customers to your business website to finish their purchase. If you have no website to link to, tell your customers to message you when purchasing a product.
Start adding products by clicking the blue Add Product button.
In the Shop section, click the blue Add Product button.
In this step, you should already have prepared your products' respective names, images, descriptions, and prices. You should also provide links to where your customers can check your products out. 
As soon as you have added a product, it will display as "Processing". Facebook then checks if it complies with their policies. Within 24 hours, Facebook approves and shows your products on your page.
Organize your products into collections or catalogs.
Doing this makes it easier for your customers to search for what they are looking for. Click the Shop tab, and then hit the Manage Your Catalog button. Give your collection a catchy name and then add the relevant products. You can also share your collections and create ads to promote them.
How to Set Up Facebook Shops
It would greatly help if you already have a Facebook Page Shop when setting up Facebook Shops. In four easy steps, you can enable Facebook's latest social media shops feature.
Set up an account with Facebook's Commerce Manager.
Do this by heading to Facebook's Commerce Manager and clicking the Get Started button.
Then, choose where you want customers to complete their purchase and click Get Started. 
Facebook will ask you to select the business that you want to make a shop of. Click Next.
Provide the name of your store and link your Commerce Manager to an existing page. Facebook will then verify if you have a Business Manager account. Click Next.
Select where to create your shop and show your items, and then click Next.
Add products by selecting a Catalog and clicking Next. If you have no catalogs yet, it will prompt you to to create one. Be creative.
Review your business details. When everything is in place, tick the button that states that you agree to Facebook's Merchant Agreement. Click Create Your Shop and Facebook will then review everything.
The next step is to create a collection.
Grouping your products into collections gives your customers a great online shopping experience. To create a collection for your social media shops, you need to log in to your Commerce Manager. Click on the Catalog tab. 
Click on Add Products and start placing your items. You can do this either manually, using bulk upload, or using a Pixel. Click Next.
Finally, provide the collection's name, description, cover media/product images, sales prices, and other necessary details about your products. Click Add Product.
Customize and personalize your storefront to give your Facebook Shops a unique look that screams your brand.
Head to the Commerce Manager and click on Shops. If you have created more than one shop, select the Shop that you want and click Edit. 
Here, you can customize the layout by choosing which products to feature or by adding in carousels of other collections. You can also edit the style. Here, you can adjust the text, button size, and colors to make your storefront look consistent with your branding.
The last step is publishing your social media shops.
Before doing so, you can check how they look by clicking the Shop Preview button. You click on Publish once satisfied with everything. Facebook then reviews and approves your collections within 24 hours.
Maximize Business Potentials with Social Media Shops
If Facebook Shops is not available in your area, boost your digital marketing potentials through the Facebook Page Shop. Once the new feature is ready for use, quickly make the switch by following the easy steps mentioned above.
Maximize your digital marketing campaigns through social media shops with the help of social media marketers in the Philippines. Grow your business with Facebook Shops!