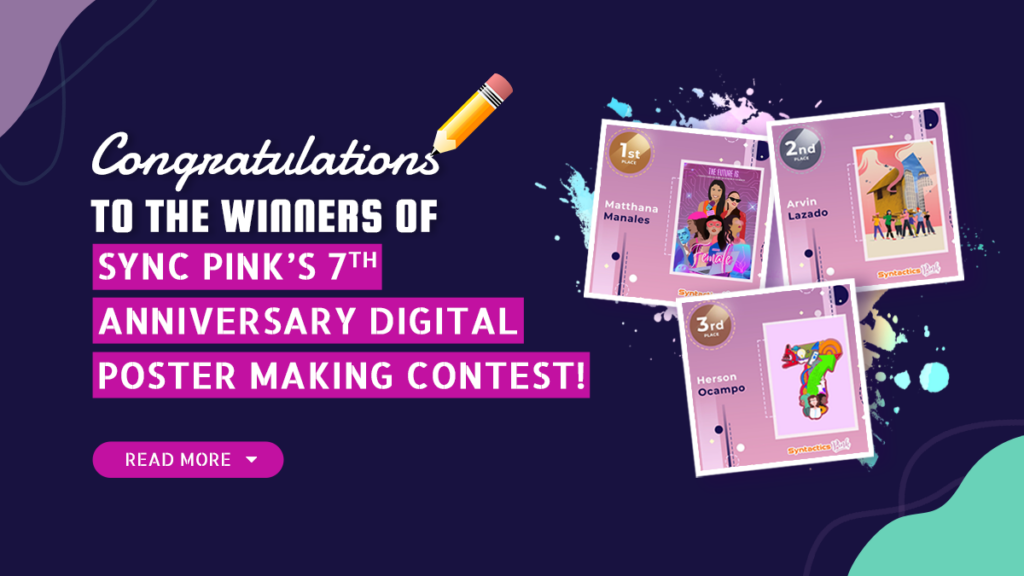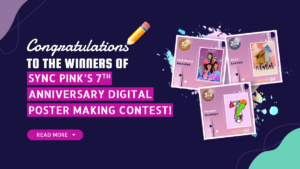 Feb 10, 2023
Winners Announced for Sync PINK's Poster Making Contest
Syntactics PINK's Digital Poster Making Contest celebrating its seventh anniversary, now has winners as of last night, February 6, 2023, via Facebook.
Syntactics PINK is committed to empowering women in the tech industry to pursue their passions. Thus, Sync PINK has launched several events and ventures to provide women with the IT skills necessary for the industry.
One of Sync PINK's latest initiatives is the Poster Making Contest celebrating its 7th anniversary. The contest's theme, "DiverSyete: Increasing Diversity and Inclusion in the Tech Industry," intended to "promote creativity and inclusion through innovation." 
Contest Mechanics
Digital art enthusiasts and amateur graphic designers in the Philippines sent in a total of 20 entries. The artists had to explain how their art empowers women in the IT industry within 100 words.
The digital posters were judged according to the following criteria:
Creativity;

Adherence to the theme;

Delivery and execution; and 

Audience impact. 
The first-place design would not only claim prizes but also have their work featured on Syntactics PINK's website, Facebook page, and merchandise for 2023 events.
Entries were accepted up until January 31, 2023. Then, they were posted to Syntactics PINK's Facebook page, where people were encouraged to vote for their favorite design until 5 PM on February 6, 2023. 
Winners were also chosen by a panel of judges delegated by the Sync PINK committee:
Stephanie Rosalind Caragos

, President and CEO of Syntactics, Inc., and Syntactics PINK's founder.

Jeraiza Molina

, managing editor for

WhatALife.ph

, a Syntactics website, and Sync PINK organizer.

Christine Mae Salcedo-Royo

, Syntactics, Inc.'s senior graphic designer.

Hannah Mae Alcantara

, Sync PINK's design lead.

Hazel Alegbeleye

, program director for Syntactics PINK.
Scores were carefully tabulated, resulting in the following winners:
1st Place: Matthana Manales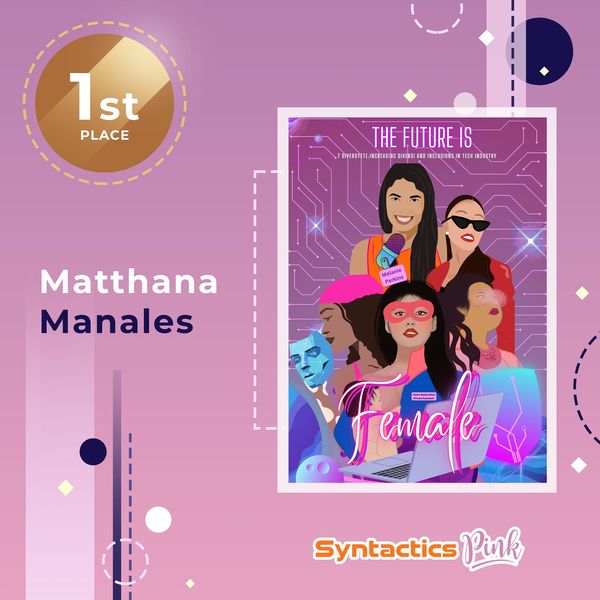 Manales' description of their work:
Too long have biased stereotypes and deprive the world of the creativity and inventiveness of half the population by denying women. Thinking a women's imperfections would hinder them to overcome imperfections to create perfection. With this, a digital art that shows, women can also get involved and find themselves suited in any technological forms. The environment at work needs to be more accepting of different genders, colors, and interests. Otherwise, the talented individuals leave and the mediocre remain. Lakshmi Puri once said, "We must ensure that women's participation in innovation is not the exception, but becomes the norm"
2nd Place: Arvin Lazado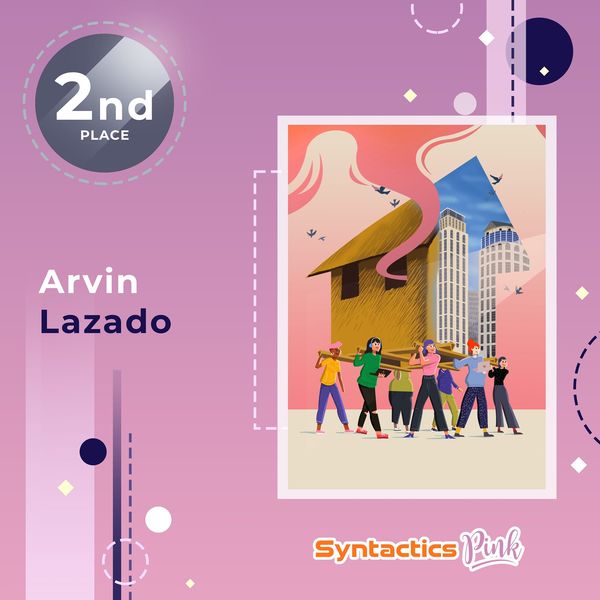 Lazado's description of their work:
In my work, the heroism of women can be seen here. We know that "bayanihan" is a Filipino word derived from the word "bayan" meaning town, nation, or community in general and is thus used to refer to a spirit of communal unity and cooperation. We can also notice in the pictures that usually the lifters are men and here in my work I want to empower women that they can be leaders and advocate as one community in tech and inspired other women that they can bring more a fresh approach and offer unique perspectives to meet challenges, solve problems, and design new products in technology. And now, we need to act now to build a strong confidence for women to take the world in the future of technology because women are the future of tech. 
3rd Place: Herson Ocampo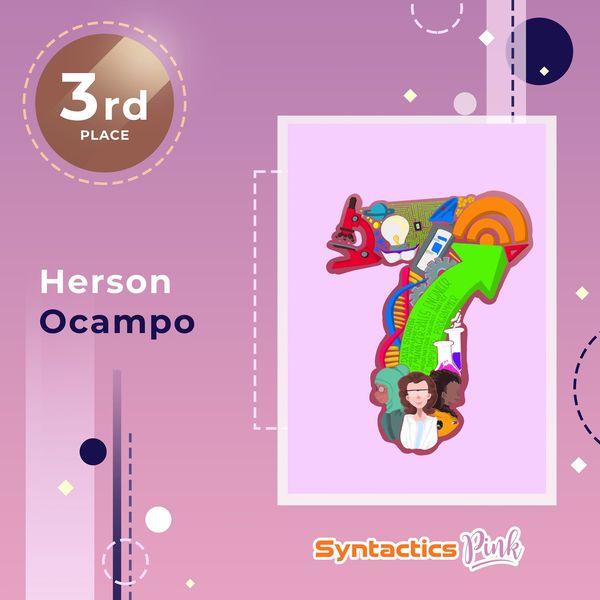 Ocampo's description of their work:
My poster was made in celebration of the 7th anniversary of Syntactics PINK, hence the number 7 silhouette in the poster. Sticking to the theme, "DiverSyete: Increasing Diversity and Inclusion in the Tech Industry." My poster shows the growing inclusivity in the tech industry. Below are three women: a transgender woman, a woman of color, and a Muslim woman. It also contains an arrow pointing above, insinuating the increase in the number of minorities observed in a field that was then dominated by men. This poster reminds women that they should be celebrated and that no label can stop them from being represented.
Congratulations, Winners of Sync PINK's 7th Anniversary Poster Making Contest!
Again, the first-place design is set to be featured on Syntactics PINK's website, Facebook page, website, and merchandise. In addition, winners will receive emails containing instructions on how to claim prizes.
If you're interested in checking out all the contest entries, go to Syntactics Pink's Facebook page!