Apr 8, 2020
5 Psychological Tips For Your Next Email Marketing Campaigns
It's no secret that learning about human traits and behaviors can point your marketing strategies in the right direction. However, with the amount of different unique traits for every individual, it's important that you focus on the most common ones to maximize your effectivity—especially in email marketing. Remember these email marketing psychology tips and tricks for the next time you segment your e-mailing lists:
Inviting Images
Most of the data our brains process are visual. This is why individuals are more likely to remember an image than the text it's associated with. Moreover, since images are processed 60,000 times faster, it's less likely that emails that solely comprise of text will be read in their entirety. Instead, it's best to expect that your audience will only be scanning your email. They'll be looking for visual cues that can catch their interest and simply read the points they're most interested in.
Keep in mind that the emotions you induce can last much longer in your clients' memories than any rational thought. This fact alone can significantly increase your effectivity when you're building relationships with your clients. And while most images that include faces can catch one's attention, images of babies tend to activate emotion receptors.
Colors
In the psychology of effective email marketing, the design should never be an afterthought. Consider the overall layout and colors present in your email as thoughtfully as how you chose what the subject of your image would be. Learn about color psychology and how it affects an individual's mood. Determine the most appealing color schemes and palettes for your target market. For example, you may want to use a shade of yellow to radiate positive energies and uplift their emotions.
Source: flickr.com
Price Comparison
Closing your email with a call to action is fairly common. Oftentimes, it may often be expected. However, instead of directly offering your product or service at a fixed price, it may be more effective to provide your subscribers with a selection. 
Set one option as a base price to serve as their primary reference. Depending on your overall marketing strategy, you can then place one of your products in the spotlight. For instance, an email marketing agency in the Philippines can label it as the most popular choice among your clients.
As another example, in a group of three, emphasizing the lowest price can imply that your prospects can buy products at a lower price than their true value. In most cases, this easily attracts the attention of newer clients. Meanwhile, on the opposite end, providing the most high-end option gives them the impression that you're able to expand your services when they intend to scale their business. Plus, the more expensive price can also direct them to the more cost-effective item that serves a similar purpose.
The Psychology of "Free" And The Tendency For Reciprocity
Marketing teams could easily overlook the benefits of offering items for free. At first glance, it may seem counterintuitive in the psychology of email marketing. Why would you offer prospects resources right of the bat, with no guarantee that they'll be converted? However, in reality, it's more promising and cost-effective than what it's made out to be.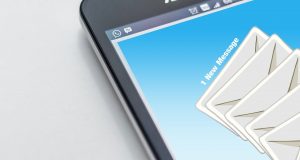 Source: pixabay.com
In truth, this is one email marketing psychology tip that turns out to be one of the most rewarding investments. You'll usually find that this strategy involves offering free trials, quotes, or guides from the very beginning. But it's more than a lead generation tool to accumulate as many email addresses as possible. You can also incorporate it in the actual email as well. For instance, marketing teams retain their relevance using regularly scheduled emails that offer useful tools or tips. In most scenarios, prospects may then feel compelled to acquire your services since the connection between both parties have been established. It's also worth noting that exclusive content can also intensify their curiosity about the products you offer.
Some e-commerce platforms use email marketing to offer discount codes after they sense certain products left in their customers' carts. And when they pair this with the offer of guaranteed free shipping, they can often get their users to seal the deal.
Scarcity
In the psychology behind email marketing, experts link scarcity with the principle that consumers often feel the Fear Of Missing Out (FOMO). When customers sense a high demand for an item, they feel the pressure to purchase it for themselves as well. For this reason, customers will always perceive limited edition items to be more valuable in contrast to products available year-round. Cognitive psychology and decision theory explain that this is due to the tendency for loss aversion in daily decision making. That is, when all other factors remain the same, individuals will still tend to feel more strongly about losing a specific item, in comparison to gaining the same one.
Choose To Incorporate The Psychology Of Email Marketing In Your Campaigns
Using these tips and a few more can easily help you become an effective email marketing expert in no time. Keep your momentum going and keep these tips in mind. The next time you're sending out emails to your subscribers, you may see an increase in your conversion rate.