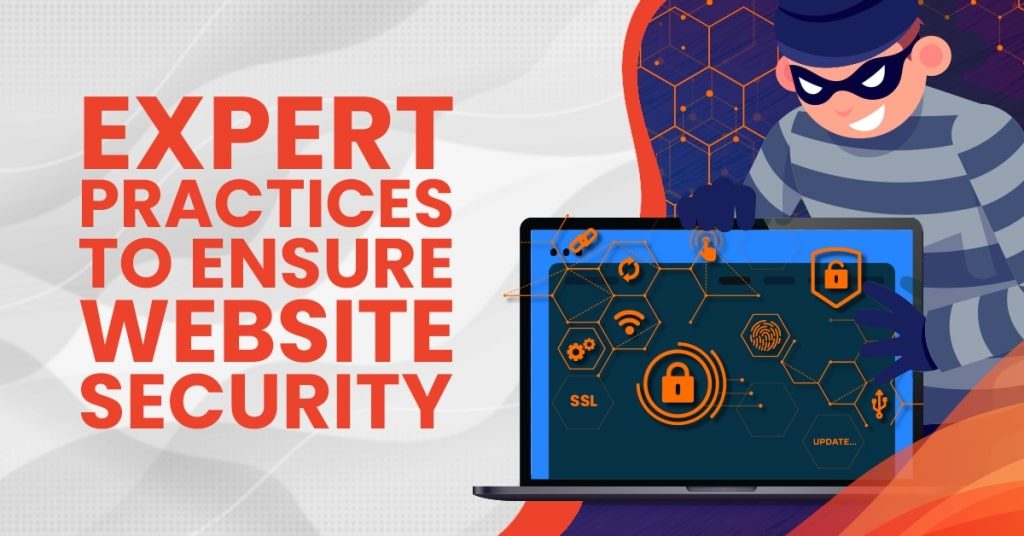 Dec 14, 2020
Expert Practices to Ensure Website Security
Cybersecurity attacks are getting more sophisticated and advanced. Successful security breaches could threaten an organization's integrity and endanger user privacy and security. Thus, in managing websites, site owners must provide sufficient attention and employ expert practices to their website security efforts.
Expert Practices to Ensure Website Security
As stipulated in the Data Privacy Act of 2012 (RA 10173), the law requires the protection of personal details in information and communications systems within the government and private sectors.
In relation, below are some of the most effective expert practices to ensure the security of a website and uphold the provisions mentioned in RA 10173:
Installing an SSL Certificate
Protect yourself, your website, and your users by installing an SSL certificate, which allows the encryption of data that pass between websites and visitors. Google even warns visitors when they are about to enter a site without SSL. It is especially vital if your site accepts online payments, asks for login information, or transfers files.
Thus, it would be best if you implement a high level of security for your website. For this, you can ask assistance from your service provider. You may also avail an SSL certificate here.
Using HTTPS Protocols
With a website that employs HTTPS protocols, you reassure your visitors that communications done on the site cannot be intercepted by third parties. Google also marks websites without HTTPS security protocols and informs visitors that it is not secure to access. This discourages visitors from proceeding, which then leads to reduced site engagements.
Employing HTTPS protocols also prevents hackers from accessing codes used to build and develop sites. With these codes, they can monitor and access all the information that your visitors provide on the site.
Using Anti-Malware Software
Anti-malware software products provide you with varying levels of protection against website security threats. Additionally, you can tailor them to your website needs within your budget.
Anti-malware software services may include web scanning, malware detection and removal, web application firewall, vulnerability patching, DDoS protection, and PCI compliance.
Deploying Firewalls
A firewall blocks malicious connections that compromise website security. Its two types are network firewalls and web application firewalls.
A network firewall identifies and blocks malicious scripts between the website servers in a network. On the other hand, a web application firewall prevents malicious scripts from getting access to a web server and secures a website from getting compromised.
Making Passwords Uncrackable
Stop using passwords that are easy to guess, such as "123456789," "qwerty," "111111," "abc123," and the like. Instead, generate a random sequence of characters or combine three unrelated yet unforgettable words.
Also, never use personal information as these will be the first things that hackers will try to use. Most of all, never share your passwords and try to change them every three to four months.
Keeping Websites Updated 
If you are using a website builder, then most probably the builder will handle updates and security issues. However, if you are using platforms such as WordPress, then you will need to run updates for the plugins installed and your core software when needed.
Thus, it is best to keep an eye on your site to make sure that everything is working as they should. Doing otherwise will make your website outdated, which then leads to bugs, glitches, and cybersecurity threats.
Keeping Hackers Away
Hackers deliver most malware through email, so, you should always be vigilant about what goes into your inbox. Additionally, always be suspicious of text messages and phone calls asking for personal information.
There are many types of hackers. Thus, it would help if you put your guard up, especially when working in public or when using open internet connections such as those found in cafes, study nooks, and co-working spaces. Never click on links that seem suspicious. Always be careful of whom you are giving access to your site. Lastly, make sure to change your website's default passwords, usernames, and settings.
Employing Access Control
Many professionals are involved in the development and maintenance of a website for it to function correctly. Considering that human error may give way to various cybersecurity threats, it is crucial to define the access permissions for the users who can access a site.
With access control mechanisms put in place, you limit website access to particular individuals only whose roles are vital in the web development process. As such, only a dedicated web developer should be given access to the coded part of the website.
Accepting On-Site Comments Manually
Today's technology has made it possible for bots, trolls, and fake accounts to exist. They may fill your comments section with spammy and malicious links, which may seem annoying at first, but can pose security risks to you and your users. You and your site users may expose personal information or unintentionally install malware on the site.
To avoid these, you may manually approve comments before they show up on your website. You may also employ anti-spam software or plugins or require site visitors to register before they can comment. Doing these helps ensure that your comments section is safe from hackers and their malicious links.
Running Regular Backups
It is crucial that you backup website data, including your files, content, media, and databases. To do this, you may employ the help of backup service providers. You may also use a web host with built-in or add-on backup services in their plan.
Instead of backing up your files in a regular server, make sure you have off-site backups to keep your data away from hackers. It would help if you also utilized automatic backups. If possible, implement redundant backups by storing your data in multiple server locations.
Secure Websites with Dedicated Web Developers
Businesses and organizations must always keep in mind the importance of securing their websites. By employing the expert practices mentioned above, they can keep themselves, their sites, and their site visitors safe from hackers and other malicious attackers.
Employ a quality web design and development company from the Philippines to enhance website security!