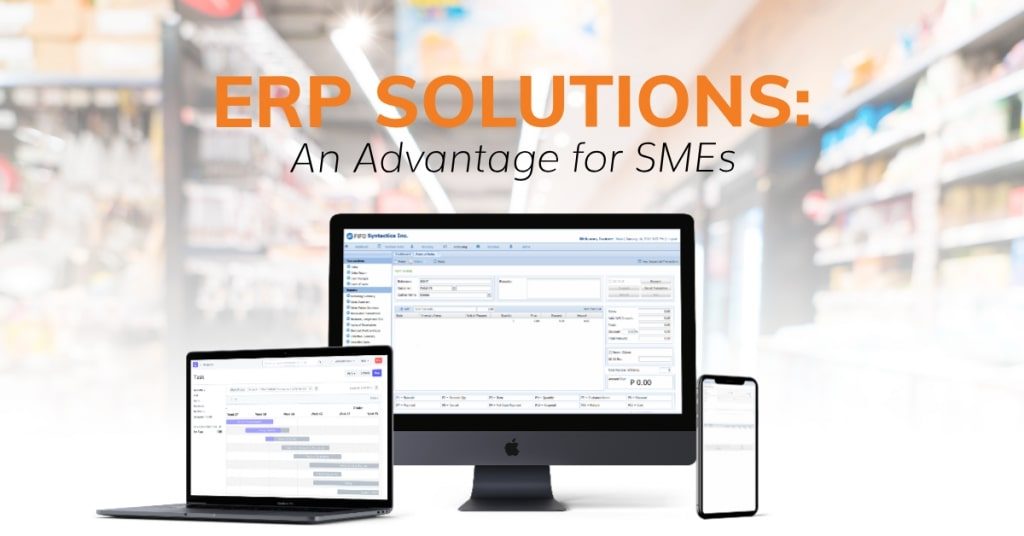 Jan 16, 2019
ERP Solutions: An Advantage for SMEs
Enterprise Resource Planning can be very challenging without having to use an effective tool that can help decision-makers plan out their objectives and actions. This is true when SMEs deal with strong competition and the need to scale up in order to embrace a bigger niche market. Hence, ERP solutions come to be beneficial to companies as they scale up their business.
Five reasons that give those that use ERP solutions an advantage
Increased productivity. The staff can now focus on increasing sales and overcoming challenges related to business growth with the clarity provided by this and its business reports. Application developers see to it that all areas and processes of this method are streamlined and automated.
Cost-reduction. In a long-term view, business opportunities gained by increased productivity translate to profit and increased assets for the company. You get to maximize your current human resource as, as stated above, you are able to improve efficiency of existing staff. Thus, cutting the necessity to hire more staff to cover for any additional work. This reduces cost related to wages and added benefits.
Resource transparency. Decision makers gain easy and secure access to all relevant data stored, shared and used by all the departments. These further increase efficiency and productivity in reporting. User-related errors, timeline delays and security issues due to exporting and importing data from each department can be also eliminated.
Better flexibility. Being agile and flexible to adapt changing market needs and conditions are some of the benefits and advantages for those who use ERP solutions. This further frees up their time especially when the business needs to adapt quickly when customer engagement processes need to change or when a new compliance is issued by legal and regulatory bodies.
Improved decision-making. Taking immediate core business decisions for top and middle management leaders requires the availability of relevant company information coming from all departments, real-time data in a timely manner as basis for goal setting and action building. Through this method, such required information is easily available, accurate and up-to-date.
No business is the same when choosing an Enterprise Resource Planning
Even if your functional requirements are quite common to other competitors, this is the first thing we need to understand. There will always be other influencing factors which makes every business slightly different from others. These factors will definitely influence which is suitable for your business and management needs.
Some of the considerations include internal processes and structures within your organization, timelines, budget, and available resources.
How to choose a suitable ERP
As a piece of advice, here's a good checklist of how you can choose a suitable Enterprise Resources Planning for your SME:
Aim for a best yet cost-effective solution. Check the one that has the standard, out-of-the-box functionalities that you are looking for which suits your requirements almost perfectly.
List your core functional requirements first, and then those features related to them next.
Start from a top-level assessment down to the user level processes.
Keep everything simple. If your business does not require certain modules and features, do not include or implement them.
Take small significant steps and grow to adopt your automated solution from there. Expect a transition challenge but the journey and benefits will be worth it.
Technology is becoming increasingly important for companies to scale up these days. Hence, choosing Cloud versus on-premise solutions based on the company's specific situation and requirements may become a dilemma. Before you decide, assess your company's long-term goals, growth plans, and infrastructure strategies. As the trends point towards cloud solutions, it does not necessarily mean it is the only way to go. On-premise solutions can still deliver the same output that the cloud can.
Partnership always matters in business. Choose an Enterprise Resource Planning provider that has extensive experience and expertise in business applications development, a reliable partner with good support options fit to empower your business.
Decide to embrace technology
In the end, you can choose now to hire an application developer and get a bundled package features as an investment. If a bulk purchase may not be possible within your budget, you can also just subscribe only to those functionalities that you can use for now and scale up later. However you start, make the decision to embrace the tools that enable your business to grow faster and establish quickly a competitive advantage over other competitors.