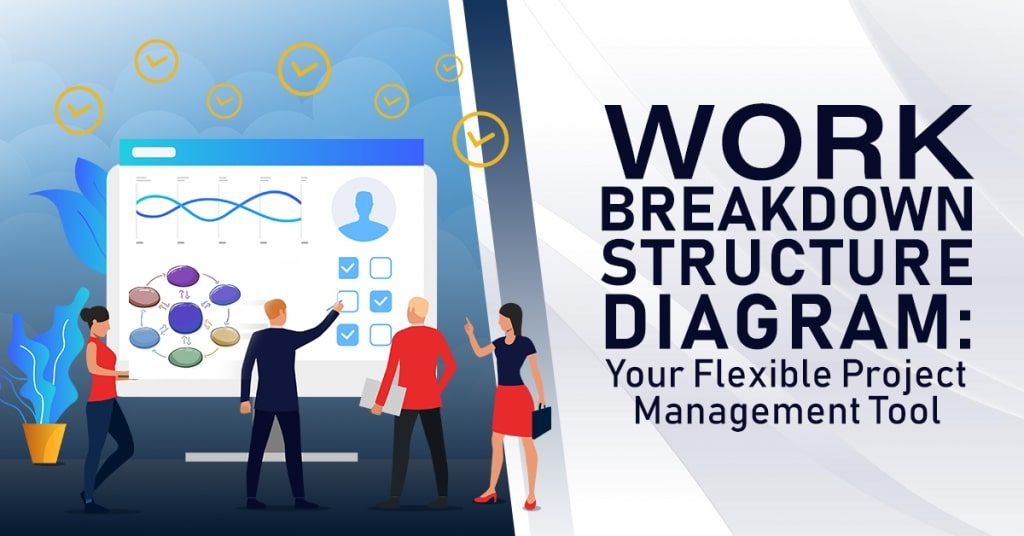 Feb 10, 2020
Work Breakdown Structure Diagram: Your Flexible Project Management Tool
Project Managers (PMs) lead your entire project team. And every team is unique. This means that project managers have their preferences when it comes to the management tools they use. However, undeniably, the majority of PMs utilize one of the most common project management tool: a Work Breakdown Structure (WBS) diagram. This is due to the fact that both the entire project team and their clients can easily interpret it. Here's how they maximize their potential with this tool:
A General Overview Of Tasks 
Project management often goes through multiple phases. From the beginning of each project until the completion of the end result, each phase has its own set of deliverables.  In most cases, you do this even before you officially begin working on the website or application. Generally, this means that at the end of the initial consultation, you end up with a list of tasks for the team, the Work Breakdown Structure (WBS). This helps avoid confusing your members due to the lack of proper organization and delegation.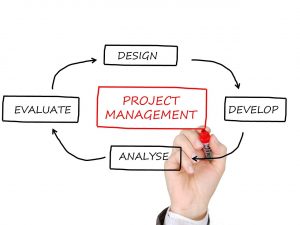 Source: pixabay.com
For this reason, Project Managers use Work Breakdown Structure diagrams to provide their teams with a more structured guide of their workload. With this tool, they can present the complete list of tasks they need to accomplish in a more understandable way. Essentially, this allows you to provide your team with a visual reference point for these tasks. Keep in mind that a team's WBS can be as simple or as complex as the PM wants. Regardless, when creating your own Work Breakdown Structure diagram, make sure that each step contributes to the project's 100% whole.
Enhanced Ability To Stay Accountable 
More complex diagrams include timestamps and deadlines for major milestones. This makes it one of the more ideal tools to use as it can provide your client with a more accurate breakdown of the time it takes to accomplish each step. While you're at it, place names beside each independent task. This way, you're confident that they've all been delegated properly.
Another advantage of using this project management tool is that it helps you create an in-depth schedule. It serves as a great time management guide as it details exactly which deliverables may be affected when one task's completion is delayed. For this reason, a Work Breakdown Structure diagram can also be used as an accountability tool. With this diagram, the project team can avoid neglecting to perform certain tasks for the reason that the scope is too vague. Moreover, it strengthens the team's commitment to the project. This is because it emphasizes that the website or piece of software can't be completed without the team's dedication to work on it.
In the same way, a PM can also color-code the WBS diagram and include a specific budget for each portion of the project. You can choose to monitor your expenses yourself or have each member or department send you detailed reports. Regardless, this should provide you with a solid reference and limit that should prevent you from overspending.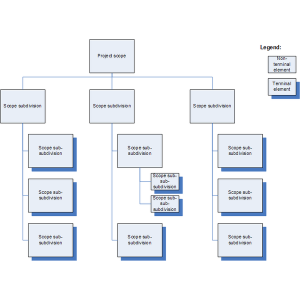 Source: wikipedia.org
Added Motivation To Complete The Project
It's true that PMs are in charge of leading their team. Nevertheless, it is the collaboration that occurs between the members of the entire group that gets the job done. Truly, the total sum of the efforts of the group is worth more than working on separate projects with different directions. Therefore, it's crucial that the team effectively communicate among themselves. The WBS diagram is useful for facilitating discussions.
Moreover, remember that a PM may need to create status reports to go with many other project management reports. To do this, some PMs place labels that mark a task's status (for example, "not started," "ongoing," and "done"). And through these labels, your team will be able to see their overall progress. Regardless of your project, seeing progress towards achieving the end result becomes incredibly motivating for a team to complete it. With the right intervals in between each report, PMs can turn their Work Breakdown Structure diagram into a source of motivation.
In addition to the WBS diagrams, Project Managers can use a few more project management tools that complement it and help you reach your goals. However, it takes the right tool, accompanied by the right execution of tasks, to finish a project as accurately and as efficiently as possible. Budget the resources allocated for the project wisely. Establish and maintain effective communication channels. Make it a point to become and stay accountable along the way. Guide your team and drive them to genuinely dedicate their best efforts to collaborate on a project. Truly maximize the benefits your WBS gives you. 
Do you have any experience working with your own Work Breakdown Structure diagram? What advantages did you gain from it? Let us know!