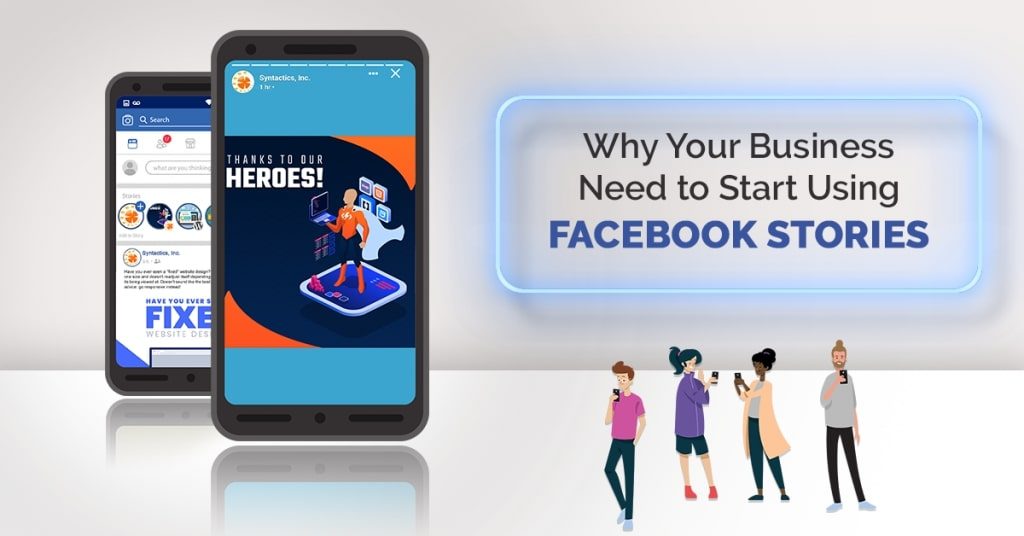 Jul 17, 2019
Why Your Business Needs to Start Using Facebook Stories
In the Philippines Facebook marketing world (or anywhere, for that matter), the Facebook Newsfeed is the staple information dump for users on this social media platform, and it is a place businesses have used as well for their social media strategy. While until now users still choose to post updates for their friends and family to know on their feed; another venue for such is growing in popularity, and that is Facebook Stories.
Launching back in March 2017 to compete against the pioneer in the Stories format, Snapchat, it did not take long for Facebook Stories to rise in popularity with its billions of already existing users. This added feature provided a fun way for users to make quick updates about their day; without the need to flood their Newsfeed with updates.
However, you do have the option to share a Story to your Newsfeed should you deem it to be Newsfeed-worthy. Additionally, the fact that Facebook Stories only stay up for 24 hours leaves users tempted to keep posting more.
Until now, Facebook Stories has proved to be still raking in popularity points with users; but where do businesses fit in this equation? Is this more of a personal updates type of venue; or can companies or brands jump in on the fun as well?
The answer: most definitely! Here are a few reasons why you should start using Stories for your business if you have not already:
You Can Sync Both Facebook and Instagram Stories
If you can link your Instagram posts to pop up on your Facebook Business Page; you can do the same with your Instagram/Facebook Stories. Cross-posting from Instagram to Facebook is as easy as switching on the Auto-Posting option on Story Controls on Instagram.
Cross-posting is essential as you may not have the same followers on Instagram and Facebook. You will be hitting two birds with one stone; reaching out to both social media audiences at the same time with less effort; by linking your Instagram and Stories as part of your social media strategy. 
Stories Have the Most Strategic Setup on a User's Newsfeed
Facebook Stories are located right on top of the user dashboard. Specifically, it is below the What's on your mind? space and above the Facebook Newsfeed. Sprout Social calls this "prime real estate"; as it is the first thing users see when they open the app.
Similar to SEO, where being on top matters; the same applies to Stories for those who want to build up their visibility and engagement. Other updates can easily overshadow yours on the Facebook Newsfeed, but using Stories can make up for that.
More Users Are Getting More Active on Stories than on Newsfeed
Currently, Stories boasts a whopping 150 million daily active social media users; and that number is just going to keep going up. What primarily makes Stories more popular is the fact that it is only available to view for 24 hours.
Being automatically taken down after that 24 hours creates a sense of urgency in users to view it immediately. It is a strategic play on the Fear of Missing Out phenomena for users, thus posting on Stories allows you to tickle their curiosity enough to view your Story before it poofs and disappears. 
Facebook Stories Help Humanize Your Brand
In this generation of online marketing, it is all about putting a face behind your brand or humanizing it; so it does not just appear as a plain business or corporation that is after their customer's money. This is especially true considering that users will be less likely to trust brands without the gray verification badge on their Facebook page. Facebook Stories provides the perfect venue for companies to humanize their brand, the same way users use Stories to put up a window to the everyday goings in their lives. 
Stories can allow you to let loose and be a little less formal and more personal with your audience by posting everyday happenings in your business. Whether it is a tour of the backroom, a short random conversation with one of your employees, your audience will appreciate the more authentic and unfiltered approach. 
You Can Also Use Facebook Stories Ads
Seeing as more users are migrating to Stories, it is only natural for Facebook to extend its Ads platform to Stories as well. Now apart from letting your Facebook Ads on the Newsfeed or Messenger, you can have Ads slide into Stories as well.
Facebook Ads Stories can be in an image or short video format, and setting up one is pretty straightforward, especially if you are used to regular Facebook Ads management. One of the great things about Facebook Ads Stories is they pop up so seamlessly into the regular ones it is hard for users not to get the full experience.
Hopping on Facebook Stories for Your Business
After all that, you should be thinking about what you need to post now for your business' Facebook Stories. Remember that this is a social media platform where you need to connect with your audience at a more personal level, so let loose a little and show them the fun side of your business.
Should you require any help with Facebook Stories, Facebook Stories Ads, or your social media strategy in general, though, you can reach out to our marketing agency in the Philippines for help.