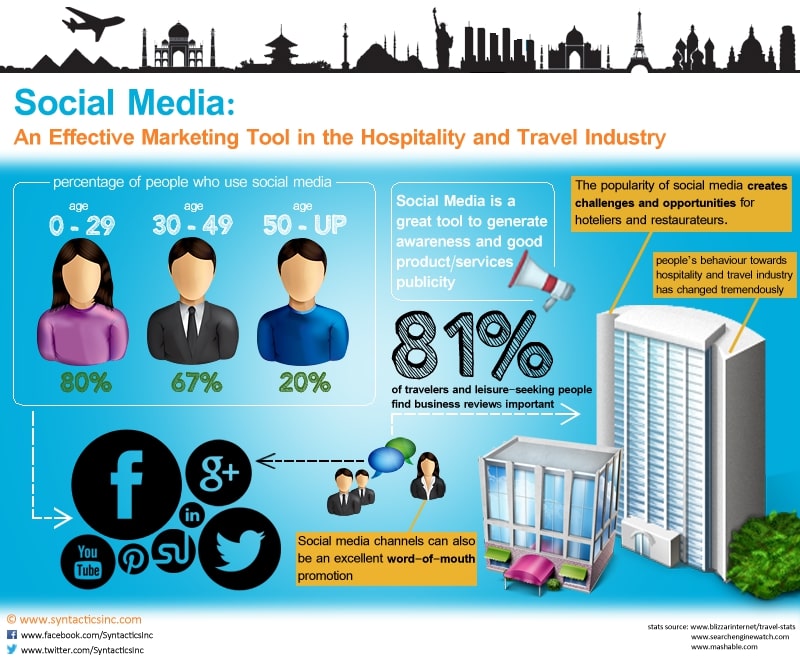 Aug 19, 2013
Social Media: An Effective Marketing Tool in the Hospitality Industry
The increased use of social media applications (Facebook, Twitter, Youtube, Flickr, etc.) in every hotel and restaurant has created both challenges and opportunities for hoteliers and restaurateurs. Over the recent years, the behaviour of every guest in the hospitality industry has changed tremendously. Such that they really have high expectations towards a service. This is because social media sites give them an idea about the services and products they can avail. Thus, hotel industry operators have focused on exceeding guest expectations to boost their competitiveness in the hospitality industry.
Social Media Statistics
According to surveys, 83% of people aged 0-29, 67% of people aged 30-49, and 20% of people aged 50 and up use social media for their references to look for the best services provider in the hospitality industry. More and more people are now turning to social media applications. This is because they rely on people who are giving their reviews and feedback about the experience they have from a certain business in the hospitality industry.
Overall, there are 61% of online users who are influenced by social media sites when it comes to purchasing decision about travel and leisure. Furthermore, social media sites are the place where business in hospitality industry can fill social sites with their business' promos and discounts. Undeniably, people are eager to search the products and services in social media sites. This is as opposed to spending much time in searching for business' websites.
The Hospitality Industry
With this statistics, hotel industry is using the most effective marketing strategies to attract more customers. They increase the number of press releases about their services in many posting sites such as PRBuzz.com and PRLog.org. They also upload videos on youtube showing how good their services are. Furthermore, they post updated posts in Facebook and Twitter to reach most online users. These marketing techniques with the help of social media are a great way for any business to get customer comments and inquiries. Social media channels can also be an excellent word-of-mouth promotion. Thus allowing their best guests and strongest advocates to share their experience in availing their services.
By displaying guests' comments, more and more people will check out the business' services. About 81% of travelers and leisure-seeking people find reviews important and 49% of them will not avail of business' services without customer reviews.
Social media sites have really been a great tool to every business in the hospitality industry. It promotes their products/services, generates awareness, and creates good publicity in terms of the products and/services that they offer.