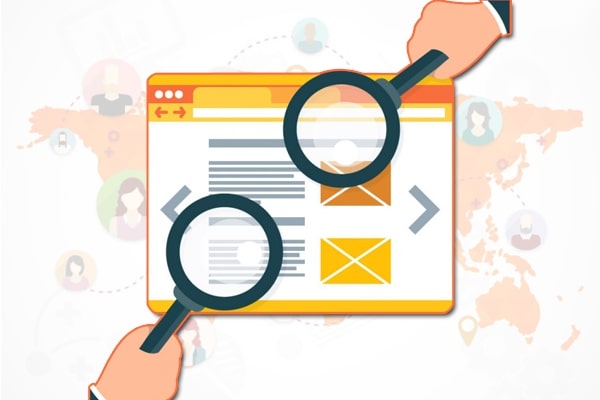 Aug 4, 2022
Local SEO Services in the Philippines for Businesses
You may have already heard about Search Engine Optimization and Local SEO Services. Of course, SEO is more general and can be used for various industries, such as Travel and Fashion eCommerce. But, Local SEO Strategies involve local listings. We'll let you in on Local SEO Marketing Services for businesses, especially those from the Philippines.
Local Search Engine Optimization uses Local Business Listings and the ever-present Google local listings. So, it's a more targeted form of SEO — Location-Based SEO, you might say.
For instance, when you search for "hotels" plain and simple, the search engine will return the results of hotels from all over the world! On the other hand, when you search for "hotels in Los Angeles," you'll get results of the most popular and reviewed hotels in Los Angeles.
Search Engine Optimization: Localized!
Local SEO Services — especially those from the Philippines — are considerably more convenient for users looking for a service or product to buy within a certain area. Additionally, it's also just as convenient for local businesses when it comes to finding more customers.
If you're already in charge of a business, you probably have other active marketing efforts. For that reason, you might ask yourself why you need to jump on the Local SEO Services.
Why should you start using the Internet to advertise locally? There are a few good reasons why you may need such services.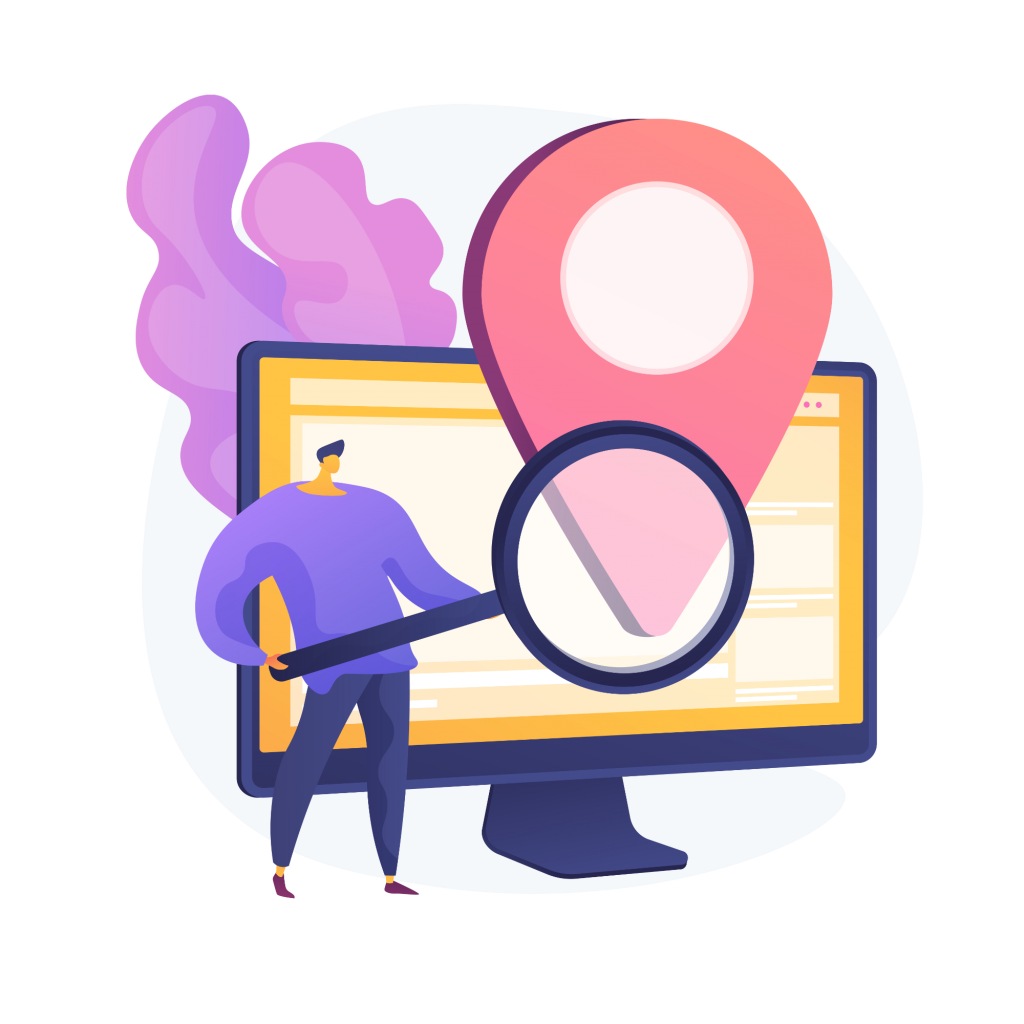 Why Should Businesses Apply Local SEO from the Philippines?
Local listings appear on mobile searches, which boost exposure rates as more and more people get accustomed to searching on their smartphones.
Local SEO narrows down the competition. But, this doesn't necessarily mean you'll have to be directly pitted against more prominent businesses. Moreover, you're targeting a more specific demographic, thanks to location-oriented keywords, such as the hotels in Los Angeles.
Additionally, it's more cost-efficient than print advertisements and offers a higher ROI for your business.
Most, if not all, local business directories allow customers to give you a review. In addition, when your customers continuously give positive reviews, it helps build your business' good reputation. As a result, your local business attracts even more customers!
Local SEO means you're bringing your business even closer to your customers. After all, you're making yourself easier to find via local searches.
How Do I Start Advertising Using Local Search Engine Optimization?
There are several ways for you to make the most out of online local advertising. An essential part of having a Local SEO Campaign includes Keyword Research. But for now, let's first define a couple of terms mentioned earlier:
Local Business Listings
Local Business Listings are your online business profile. Thus, all your essential business details should be included. These include:
Your business' name;
The office's business location or address;
Phone number; etc.
Furthermore, this information is submitted and posted on various free Local Business Listing websites. Such sites are perfect for promoting Local Search Engine Optimization Services.
Google Business Listings
Similar to a Local Business Listing, only this information is placed on a Google My Business page. Such a page is tailor-made for your business, usually by Local SEO experts. However, these are the primary listings you see when you enter a search query for a service or product.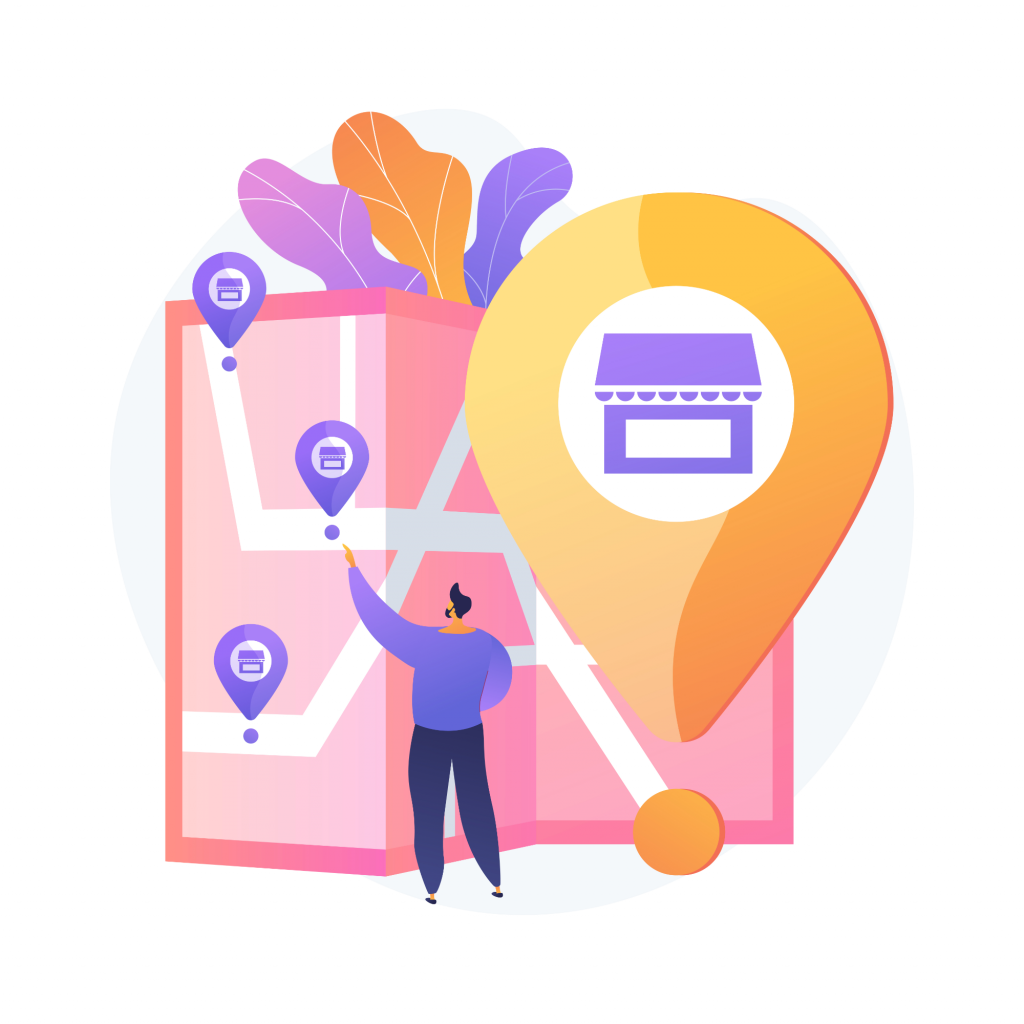 Your Google My Business Listing is a foundation for your other Local Business Listings. After all, information on the latter has to be consistent all throughout your Google profile. As a result, your local business can gain more visibility on Google Maps.
Bonus: Check Out These Stats
Are you still having second thoughts about using the power of Local SEO Services from the Philippines to your business' advantage? Here are some statistics that may finally help you decide:
How Local SEO Services in the Philippines Work
Step 1: Creating a Google My Business Account
Before getting on the Local SEO bandwagon (perhaps via a Local SEO Company), the first thing you can do is sign up for an account on Google Business Profile. Then, as with Business Listings, you fill in your business details. Setting up your Google My Business profile is easy, thanks to Google's step-by-step setup.
Subsequently, try to get your profile to 100% completion before proceeding to the next step. Any company offering Local SEO Marketing Services will tell you that reaching 100% in your Google profile is crucial.

Source: Google Business Profile.
Step 2: Add a Listing on Yext
Google isn't the only site for setting up a Local Business Listing. Alternatively, you can set up a listing for your Local Business with Yahoo! Too. Or, more accurately, with Yext, its partner for all things Business Listing.
So just head over to Yext, indicate your business type, fill out the information fields, and click the Scan My Listings button. Afterward, you'll go through a step-by-step process of setting up your business profile.
As a result, your business also shows up in Yahoo searches and other premium sites.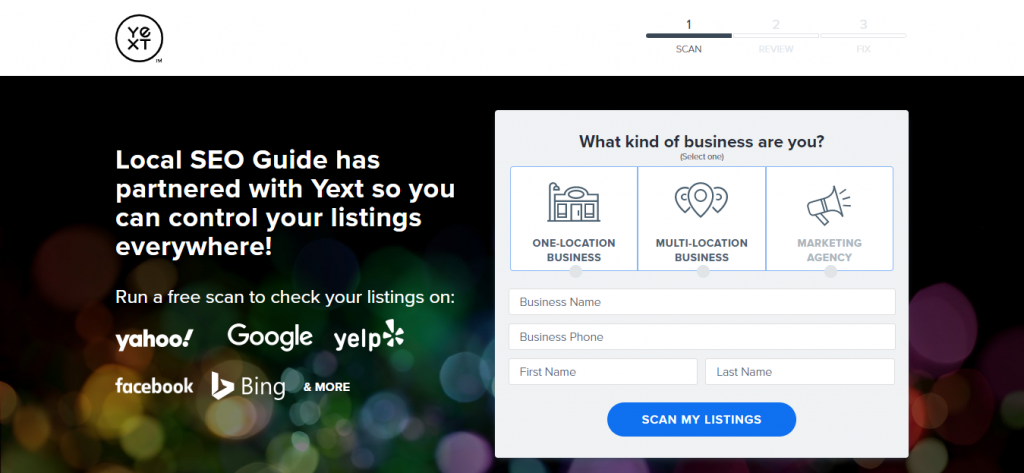 Source: Yext.
Step 3: Set Up a Profile on Business Listing Sites
You can set up your business profile on other popular Business Listing Websites, such as Yelp.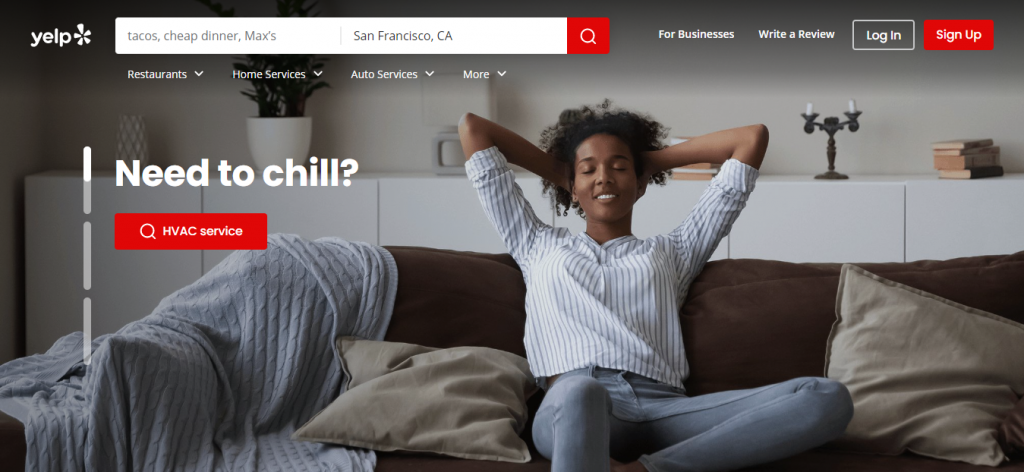 Source: Yelp.
Apart from Yelp, here are a few other top Business Listing sites where you can start setting up business profiles or listings:
Bing Places
MerchantCircle
Thryv
YellowBot
Manta
CityGrid
MapQuest
Local Corporation
Foursquare
Dexknows
The Business Journals
AngiAds
Hotfrog
Step 4: Get Listed in YellowPages
Yellow Pages are critical for many people to find businesses — however, we're not referring to old-school phone book yellow pages. A site called YellowPages is another highly popular Business Listing site. Thus, Local SEO Solutions companies or business owners should register their business on the site.
So, just visit the YellowPages website and click Advertise With Us to get started.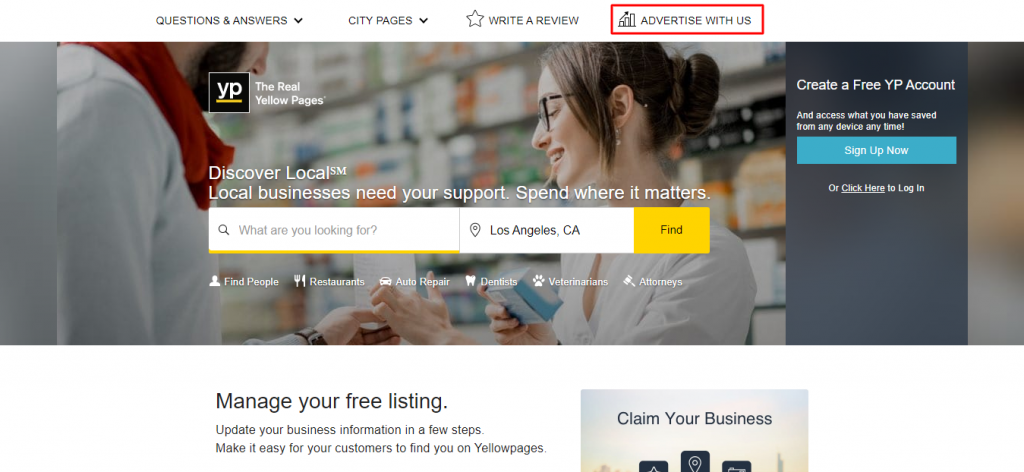 Step 5: Create a Social Media Account (if You Don't Already Have One)
Having a Social Media Account linked to your business helps customers find you, but they can interact and openly communicate with you.
For instance, Facebook is one of the biggest Social Networking sites where you simply have to have a business page. You can start setting it up directly by clicking this Create a Page link on the Facebook homepage: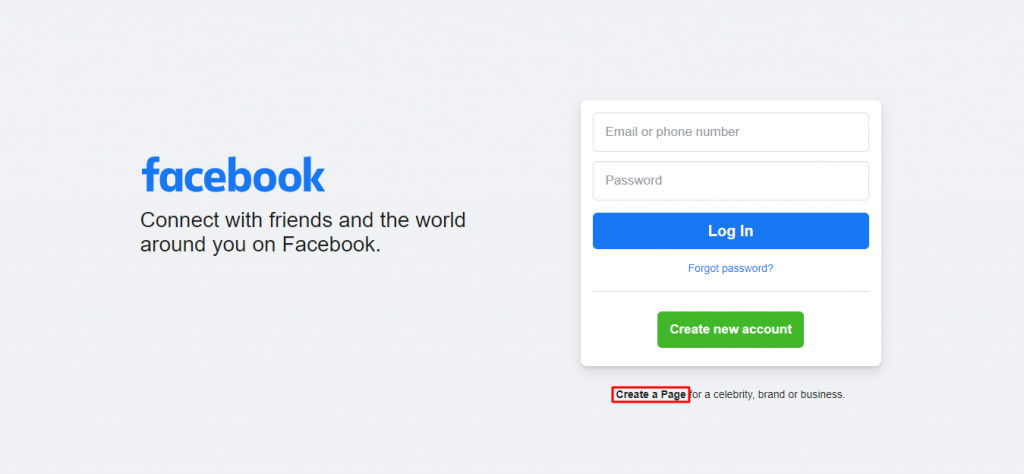 Source: Facebook.
Otherwise, you can log into your personal Facebook Account, click the dropdown menu, and create a page.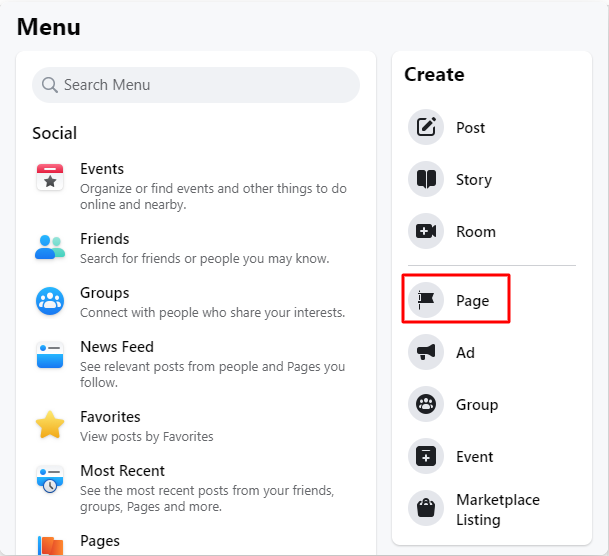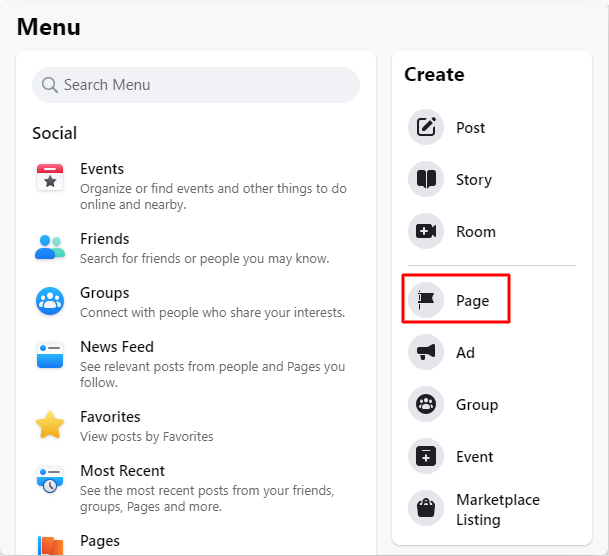 Source: Facebook.
Popular Social Media options for businesses include Instagram, Pinterest, and TikTok!
Step 6: Post a Free Online Classified Ad on Craigslist
Craigslist will automatically detect your location and direct you to your local Craigslist site. However, if you want to change your location, check out the options on the side.

Source: NPR.
Step 7: Create a Dedicated Website (if You Don't Have One Already)
Chiefly, Local SEO Marketing Services can work for businesses without websites. But having one helps further boost how "searchable" your business is online.
In addition, you can link your site to your Business Listings, particularly on Google My Business.
Step 8: Sign Up at Your Area's Local Chamber of Commerce
Local Chambers of Commerce are organizations or websites that help local businesses connect and interact with each other. They aim to build an extensive business network. So, if you're having problems signing up on your local Chamber of Commerce website, contact them to get assistance.
Need Help with Local SEO Marketing Services in the Philippines?
That's why we have a team of Local Search Engine Optimization Services experts in the Philippines! They'll be happy to set up your business profiles on various local Business Listing websites for you.
SEO narrows down searches to specific areas and is used to rank websites in major search engines like Google. Undoubtedly, it's one of the best methods for establishing online visibility for any local business.
However, it deals with organic search rankings to reach a wide range of audiences. As a result, it tends to be too broad.
This may not be a problem for big-shot international establishments or online shops. However, it is a different story for small businesses or SMEs. Why jump into fierce competition when you can build your online business presence locally, where your customers actually are?
Local SEO in the Philippines can help save you the time and effort of advertising online and provide regular reports for tracking your progress.