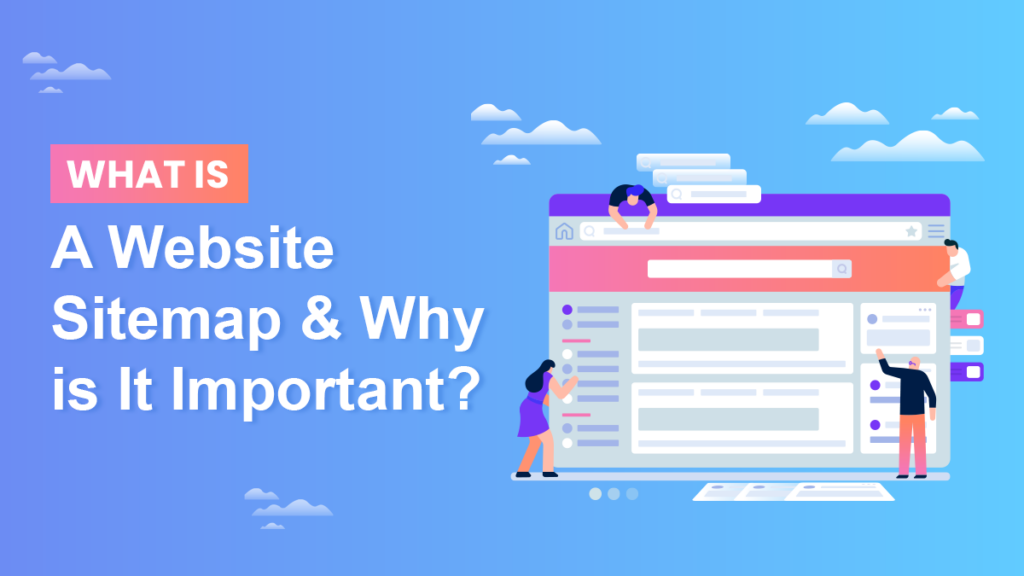 Aug 10, 2023
What is a Website Sitemap & Why is It Important?
Implementing sitemaps as part of your overall website SEO strategy can help improve your site's visibility, accessibility, and performance. They have a positive impact on various aspects of website optimization, including the following:
Indexing, especially for new content; 

Organic search traffic;

Mobile optimization; and

Maintaining large websites with over 500 pages. 
Organic search is responsible for "36% of overall website traffic" for six of the top industries in today's market.
What is a Sitemap?
A sitemap is a file or page which lists details about a website's pages, URLs, and content. Thus, it's a website's 'blueprint' or hierarchical structure, outlining all available pages and their relationships to each other. It usually includes the following:
All critical web pages;

Blog posts;

Product pages, if applicable; and 

Other crucial content you want to be indexed.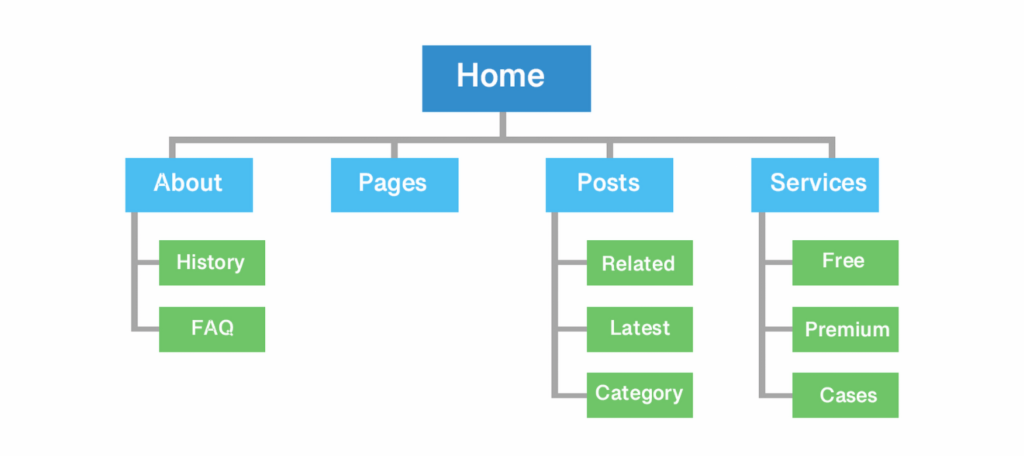 Sitemaps help website visitors, particularly search engines, understand and effectively navigate its content. As a result, they also ensure your content is easily discoverable. Smaller websites don't need these files as much, but sites that exceed 500 pages do.
Still, they facilitate effective crawling and indexing by search engines. So, they enhance the User Experience and allow you to improve your content's search engine rankings.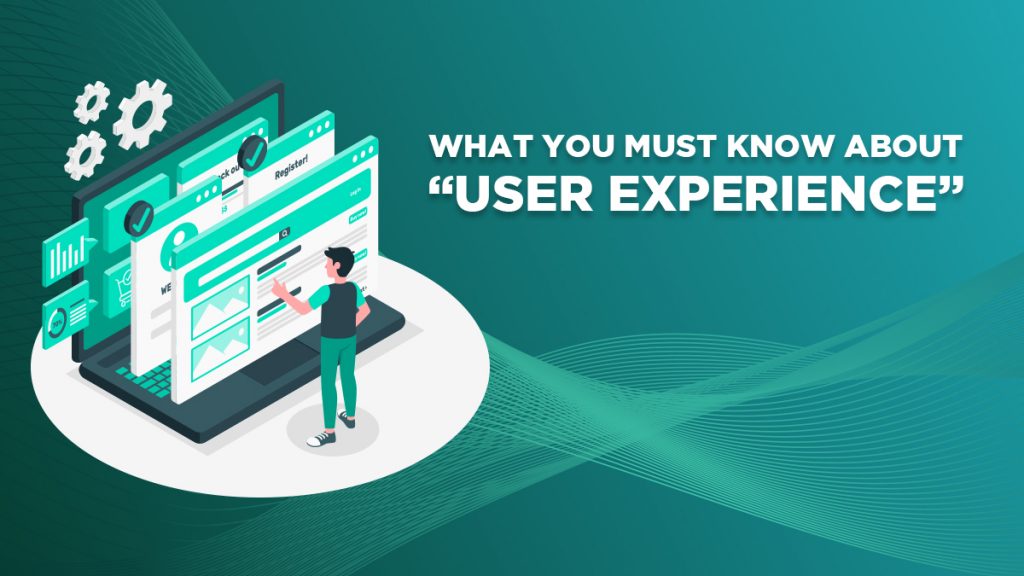 Two Common Types of Sitemaps for Your Website
XML
XML sitemaps are written in the eXtensible Markup Language format. They're designed to get web crawlers' attention since they're so understandable to search engines. They include essential details about each page, such as the following::
Its URL;

Last modified date;

Priority; and

Update frequency.
The listed details assist search engines in indexing the website more efficiently, ensuring that all pages are visible in SERPs.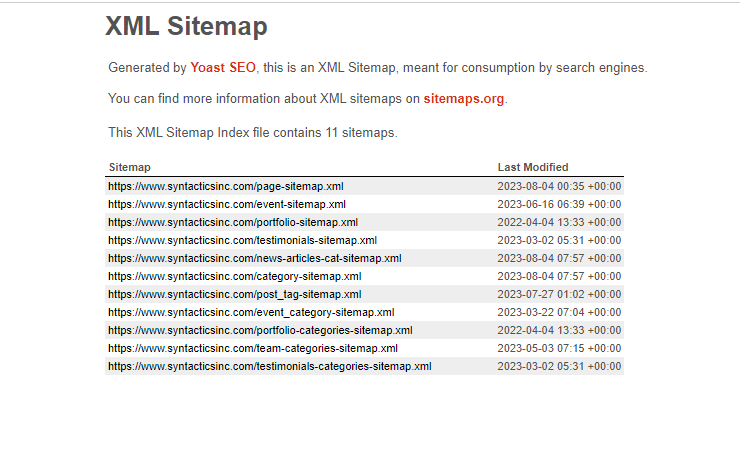 HTML
HTML sitemaps provide an overview of the website's structure and content, so visitors can easily locate specific pages or sections. They're presented as a user-friendly website page, structured like a hierarchical list or a structured navigation menu.
This type provides human visitors an overview of the website's structure and content, making locating specific pages or sections easier. Website owners can also add descriptions or categories for each page for improved user navigation.
As a result, XML sitemaps are for search engines, while HTML ones are for human visitors.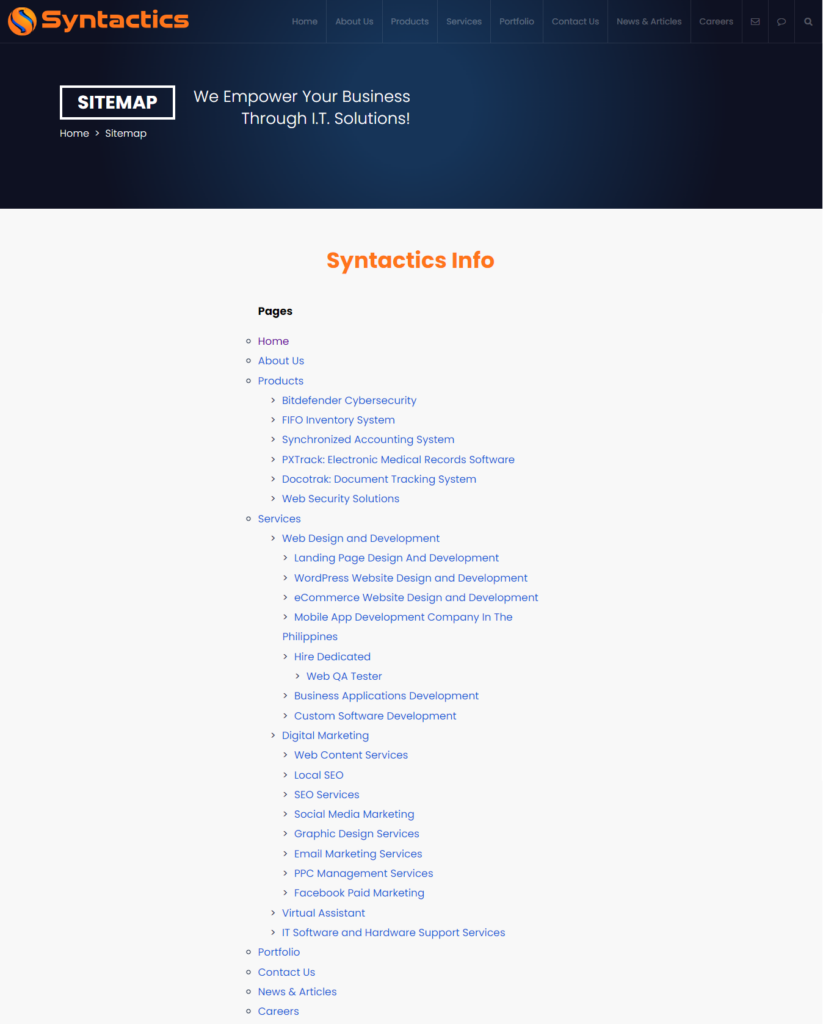 Why is a Sitemap Important for Your Website?
A sitemap page or file is crucial for your site, but its effects can differ depending on various factors, such as: 
Website size;

Your industry; and

SEO optimization strategies. 
Partner With Our SEO Experts Today and
Boost Your Website SEO Strategies!
Not only does it improve indexing and search results page visibility, but also the overall website User Experience or UX! This file can improve mobile optimization so web crawler bots can easily find your web pages' mobile versions.
Thus, they optimize site performance, increase organic traffic, and improve overall user satisfaction.
Improves Website Indexing
Search engine bots use sitemaps to crawl and index your website content so search engine users can discover your web pages. This includes those pages that might be too deep in your site or not easily accessible through regular navigation.
So, search engines can understand your site content better, increasing your ranking chances for SERPs. This results in a wider reach via Passage Ranking or Voice Search.
Enhances SERP Visibility
According to HubSpot, 31% of sites have over "50,000 unique visitors per month." Again, you boost your chances of ranking because search engines index your website more effectively due to detailed sitemaps.
After all, they ensure that critical pages of your site are included in search engine indexes. So overall, your site is more visible to potential visitors. Because of this improved visibility, you can increase your organic website traffic.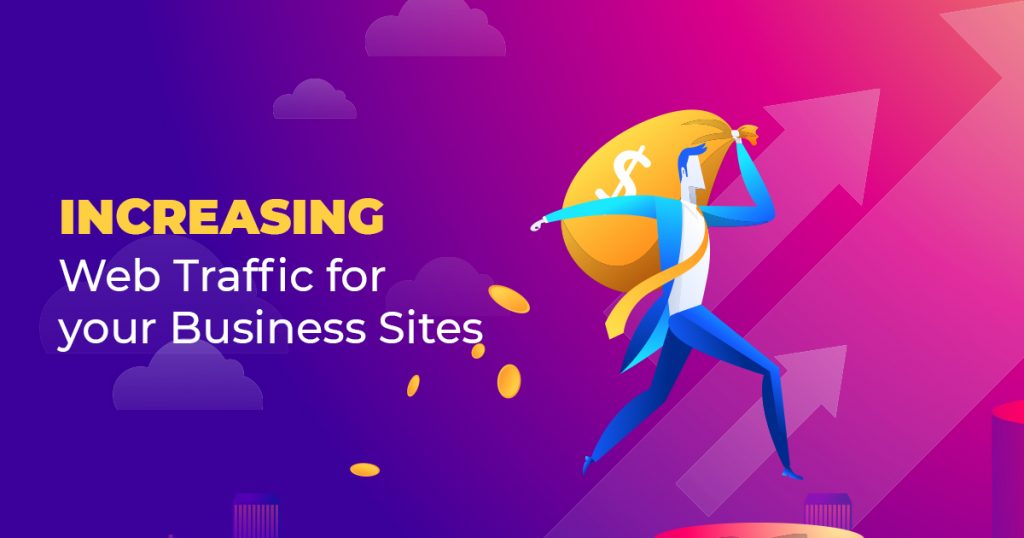 Improves User Experience or UX
Sitemaps make your website more navigable (to human visitors especially). Thus, they can freely interact with the pages they want to see on your website. After all, the page or file provides a clear overview of your site's structure. Then, users can quickly find specific pages or content, reducing frustration and improving the overall UX.
This file improves accessibility, discoverability, findability, and usability. Also, it helps UX, influencing visitors to stay on your site to explore more pages.
Facilitates Website Updates and Changes
Sitemaps are invaluable when you make updates or changes to your websites. For instance, you might add new pages or reorganize the site structure via a Website Content Audit! So, you can communicate these changes to search engines through the file. 
Updating this file and submitting it to search engines lets them know the latest site content and structure updates. This strategy minimizes the time it takes for the changes to be indexed and reflected in search results.
Supports Multimedia Content
Sitemaps can outline information about your site content, including multimedia files like images and videos. By adding such content, you can improve the chances of search engines indexing and displaying them in relevant search results pages.
Thus, these files can improve the visibility of your multimedia content and drive greater traffic to them.
How to Make a Sitemap
You must follow certain steps to create a blueprint for your business site. Also, you should consider whether you want to make an XML or HTML one.
Here's a general guide to creating a sitemap: 
1. Determine the Scope
Firstly, you must decide which pages and content to include in your sitemap file. This usually includes all critical website pages, like blog posts.
2. Choose the Sitemap Type to Create
Here you must choose the sitemap to create. You need to follow the particular instructions depending on your desired file type.
For HTML Sitemaps:
You can manually create one which lists the links to relevant pages. Also, you can go on your Content Management System or website platform to use HTML sitemap-generating tools or plugins.
XML Sitemap:
To make an XML file, you can use online sitemap generator tools. These are either paid or free services that crawl your website to generate an XML file with the appropriate URLs.
Some popular ones include: 
Inspyder Sitemap Creator

Screaming Frog SEO Spider

Sitemap Writer Pro

XML-Sitemaps.com

Yoast SEO (for WordPress websites)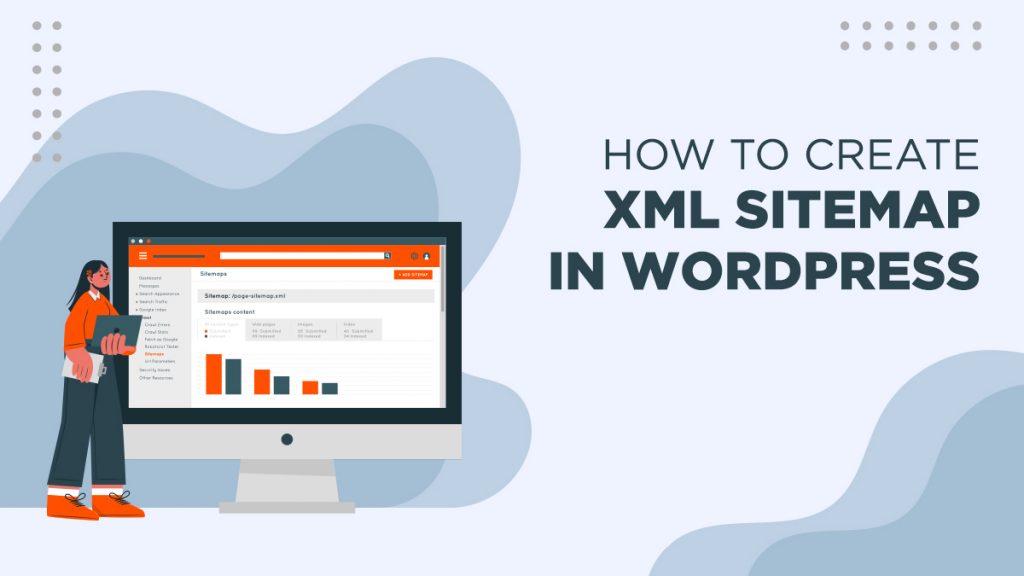 3. Organize the Sitemap
Next, you must organize your file; however, using a tool automatically takes care of URL organization. It does this in a hierarchical structure based on your site's navigation.
But, if you've created it manually (HTML), you must logically organize the links in a user-friendly way. For example, you can group related pages under particular categories or sections for better user navigation.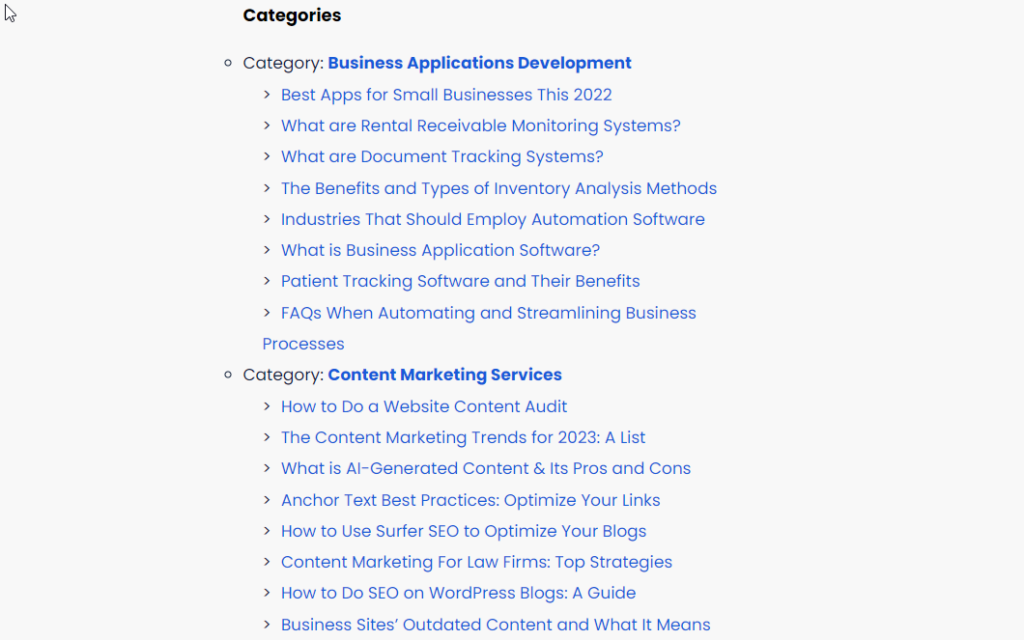 4. If You Have an XML Sitemap, Validate It
You must validate your XML file before submitting it to Google. By validating it, you ensure it conforms to the XML sitemap protocol. The Google Search Console's Sitemap Report is the ideal tool for checking for errors or issues.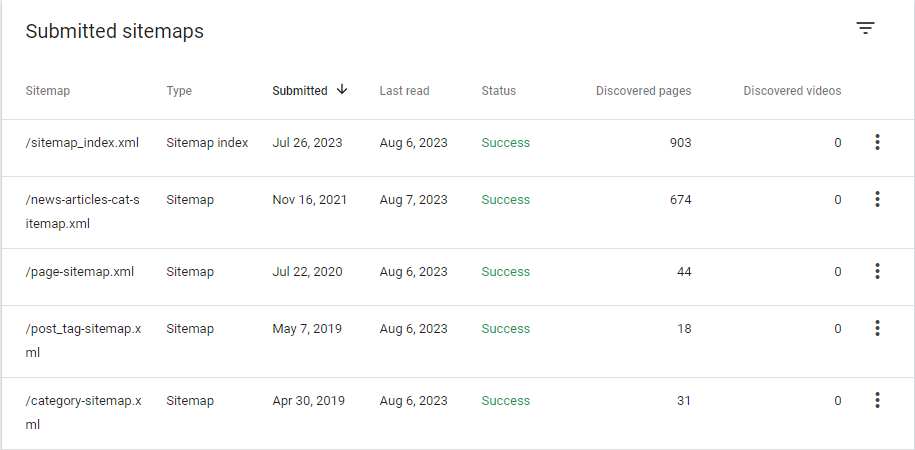 5. Submit Your Sitemap to Google
To submit your XML file to Google or other search engines, you must register your website with their respective webmaster tools. Once done, you can add and submit the file through the tools' interface.
6. Update the Sitemap
Remember to update your website blueprint according to the changes you make! This is applicable whether it's adding new pages or updating existing ones!
For instance, you must resubmit updated XML sitemaps to search engines to keep them aware of the changes.
Final Thoughts
Creating and maintaining sitemaps is crucial for managing your website effectively. They guide search engines (XML files) and human searchers (HTML pages) through your site.
By helping them navigate its architecture, the files make it easy for visitors to find and access content. As a result, they improve search engine content indexing and User Experience.
Overall, these blueprints to your site are instrumental to its SEO and your standing on search results pages. Business site owners can make a sitemap by following this guide:
Determining the sitemap's scope;

Choosing the type;

Organizing it;

Validating the XML file and submitting it; and

Updating the sitemap.
Reach out to a Web Design and Development Company today for assistance with sitemap creation to improve your website's SEO!