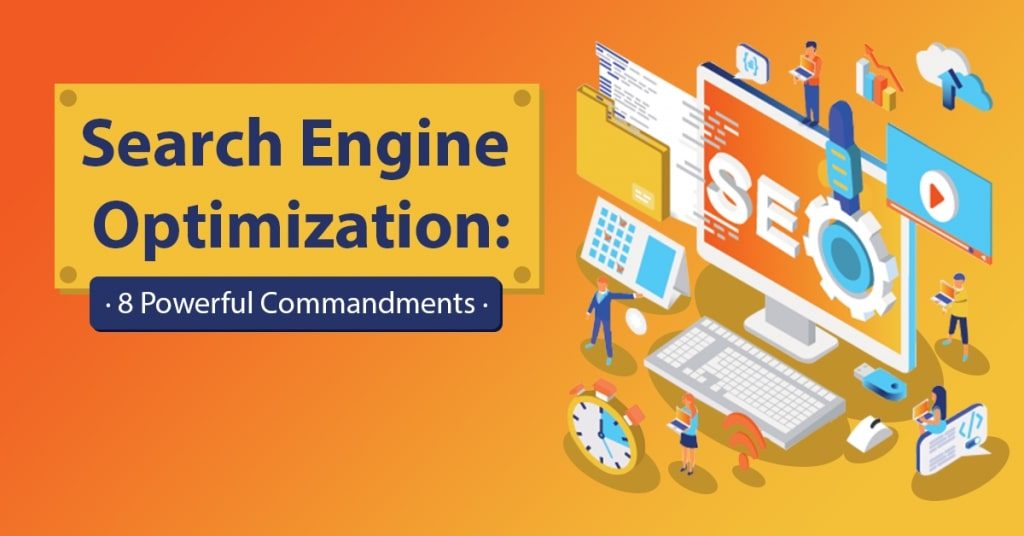 Apr 8, 2019
Search Engine Optimization: 8 Powerful Commandments
What is Search Engine Optimization?
Search engine optimization is one of the renowned techniques that helps search engines find and rank a website  through a user's search query. Ranking means going beyond or higher than the millions of other existing websites on the Google search engine or other such popular search engines for the specific keyword. It is indeed a challenging task to accomplish, but it is possible, thanks to the powerful benefits of the SEO commandments.
The present-day brings a lot of complexity to how sites are ranked as Google, the default search engine for most users, tends to change their algorithm with the like of updates such as Google Fred. This update basically pushes all websites to deliver fresh, highly relevant content as the key to website success.
Since the entire SEO process is ever-changing, it is always recommended to come up with various strategies to stay ahead.
Listed below are the 8 powerful SEO commandments that will always remain true despite any algorithm change:
1. Do Not Ignore The Benefits of a User-friendly Website
Algorithm updates are able to strike rankings in some given situations. However, it can't impact the overall quality of the development and creation of the website. While most people stick with the traditional use of SEO which is to optimize websites for rankings, SEO today also involves improving the user experience. Search Engine Optimization can help businesses build a faster and smoother website.
A well-developed and uncluttered website can attract visitors. It can also influence them to stay longer which helps decrease bounce rate and increase traffic for page views. Therefore, a user-friendly website plays a vital role when it comes to achieving positive SEO results.
2. Always Remember That Credibility is the Key
This is probably one of the most critical SEO commandments. Once you are able to build a lasting impression on your website, algorithm updates affecting web search result rankings can have less impact. Thus, building credibility through your website can help your business remain stable regardless of any algorithm changes. Additionally, it is important to remain consistently remarkable despite any algorithm updates' effects to achieve such strong credibility.
This can also tie up to your local SEO performance. Thus, it is also important to realize why you need to take care of your local SEO or why you should start using it today if you still haven't taken advantage of it yet.
3. Give Importance to Search Engine Optimization Content
Google's algorithms have paved the way for a new emphasis on publishing original content. Furthermore, these algorithms stretch the balance of human-friendly and search engine- friendly content. Let's set Fred algorithm as an example. Fred focuses on targeting websites that infringe Google's webmaster guidelines. The most affected ones are blog websites with low-quality posts. Fred can identify if the posts only appear to have been created for the sole purpose of generating ad revenue.
Gone are the days when SEO content writers only have to tweak their old content. If you really wish to stand out in search engine rankings, then fire up your content with fresh, relevant and informative topics.
4. Effectively Stuff Keywords Into Your Content
The use of keywords or search terms is significantly needed when it comes to ranking your website in the Google search engine and a crucial SEO commandment. However, keywords are not only vital in website ranking but they also provide multiple benefits in terms of:
Grabbing Customer Attention

Audience Engagement

Increasing Conversion

Marketing Trends

Expanding Long Tail Efforts
Effectively stuffing keywords in your website's content can also help Google push it down into the search results. This is in relation to the fact that the recent Google algorithms gauge your website based on the relevance of your content.
5. Web Content Must be Responsive for Mobile Users
You must bear in mind that people nowadays no longer rely solely on desktop and laptop computers to browse on the internet. They can now use their mobile phones to connect online. Additionally, there is a huge percentage of web users who will now be searching for relevant contents from their mobile devices.
Therefore, if you happen to have both a mobile-friendly site and quality content, you will surely have a pool of potential visitors and future converts.
6. Do Add Photos, Videos, and other Widgets On Your Website
If you want your website to be more interactive, then you can add visually compelling photos and interesting videos in it. The more authentic your media-based materials are, the better user-experience you can provide to your visitors. Additionally, if Google crawls your web pages, it will look for content that is more diverse. Therefore, never forget to optimize your photos and videos first before posting them. This can also benefit you when users perform a video search or image search relating to your topic.
Furthermore, you can also take advantage of widgets. Widgets are the embedded applications that you can find in a website. The common examples of widgets are website search fields, clocks, video players, currency converters, slideshows, contact forms, etc. Widgets can add functionality to your website which will make it more interactive or engaging for your visitors.
Prominently, it is important to realize that the effectiveness of Search Engine Optimization is not solely connected to written articles. It is also linked to how the website presented the entire content. Provide your customers with an idea about what your business looks like by incorporating media-based materials to your website. By doing such, it will definitely make you stand out against your competitors in the global online market.
7. Create Effective Alt Attributes
In connection with using photos to your advantage, creating an effective alt attribute can also be a game changer. Instead of just labeling down the images on your website, Google recommends that the alt tag should also carry the same contextual message that users see whenever the image is presented.
To help you achieve this goal, here are 3 of the best practices that you can follow and use to your advantage:
Keep it short and concise.

The image description does not need to be lengthy, it only needs to be directly informative,

Be specific yet straightforward.

What does the image look like? Describe it exactly as it is.

Utilize keywords efficiently.

Include keywords but avoid filling your alt text with too many similar key phrases.
8. Don't Turn A Blind Eye On Sharing Web Content to Social Media Sites
If you really want to gain more traffic on your website, then incorporate both search engine optimization and social media optimization. Try to link your content to social media networks. However, make sure that you have optimized your web pages first. Contents that are good for social sharing can help attract more visitors and increase traffic.
When you post your content to Facebook, Twitter, Instagram, or any popular social networking site, it will allow you to make your pages friendlier as you optimize your title and meta tags with the use of Facebook Open Graph. If one of your social network friends shares one of your web pages to their other friends, then the process will automatically improve the conversion rate of your site.
Above all, if followed accurately, these SEO commandments can greatly help you achieve a higher search engine ranking. However, the overall success of your SEO will always depend on how committed you are at handling the task.