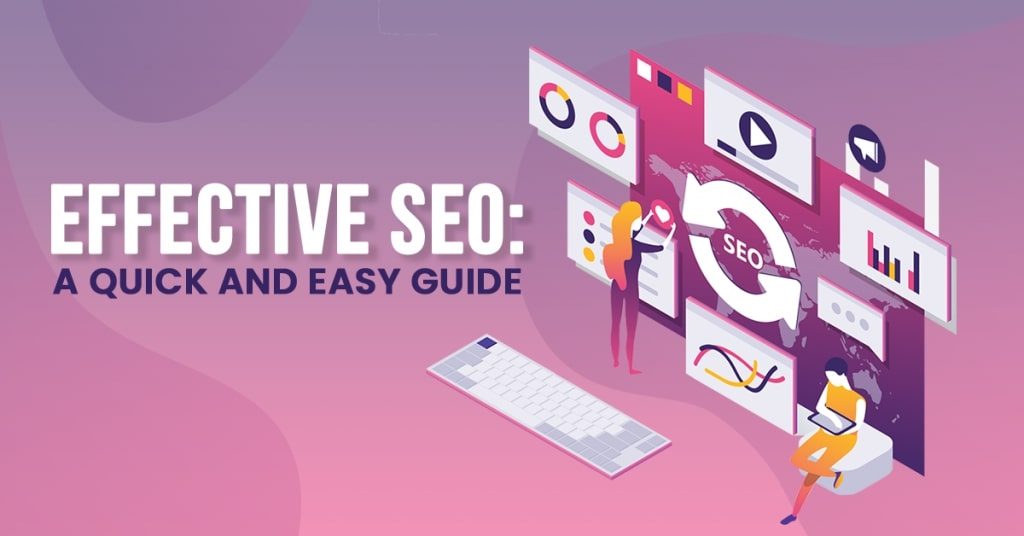 Apr 5, 2019
Effective SEO: A Quick and Easy Guide
Achieving effective SEO content strategy is not an easy thing to accomplish. There are numerous factors that every business owner has to consider before jumping into the whole process. Additionally, most people in the online marketing industry fail to understand what SEO content really is which makes them susceptible to committing mistakes. These mistakes often impact website ranking in the Google search engine.
The Importance of Content In SEO
There is a reason why content is one of the most essential elements of SEO and that is the delivery of information to users across the web. The same thought is also supported by marketer Heidi Cohen, who describes it as "useful information that conveys a story… and solicits an emotion or engagement'. Simply put, content is needed in SEO and Local SEO so that customers can understand what a brand is all about, what a brand's products and services are for, how these can help them, and finally encourage them to take action and purchase. Content also helps the company build credibility and win the trust of potential customers. All in all, without content, users would simply not get the context of a brand's marketing,
A Change in SEO Standards
During the previous years, one of the strongest techniques that SEO professionals used to increase a website's traffic and visibility was keyword density. In fact, keywords are considered to be "everything" when it comes to creating SEO content before. The use of keywords was so important that it was even favored over quality writing standards.
However, this isn't the case today. Ever since Google started to update its algorithms, the SEO standards also increasingly changed. It is important to understand that creating worthwhile SEO content is not just about applying keywords all throughout your set of website articles. Yes, keywords are still necessary but in order to achieve an effective keyword-targeted content, you need to do more than just inserting keywords randomly.
To help you start creating highly engaging content for your website,  here are some factors that you need to keep in mind to help you formulate a successful SEO strategy.
Audience.

A successful and productive SEO content strategy will always use the audience's interests to build an effective internet marketing method. Therefore, before you even begin your content creation, you have to know your target audience first. Knowing who they are will help you uncover their interests and identify their needs.

Keywords.

As mentioned above, keywords are still necessary when it comes to achieving potent SEO content. However, you should minimize ineffective keyword stuffing in any content form. Yes, keywords are still important, but you should use them effectively. Avoid inserting keywords randomly within your content because it can cause your article to not make sense anymore.

Word Count.

Word count helps articles rank but it is not a standalone factor in the SEO process.

Most of the time, word count only matters if the quality of the content is high. With that being said, you need to focus on the quality of your content, not on word count. It is important to remember that the online audience does not want short content nor a long one. What they really need is something that has meaning to them. Therefore, you need to focus on creating engaging and informative content and then the benefits of word count shall follow.
Components of a Quality SEO Content
Aside from those factors, we also gathered some relevant information with regard to the components of quality and powerful SEO content.
Relevance.

Make your content relevant to what your business is offering, otherwise, you are just wasting your time and effort. Always keep in mind that the Google search engine favors relevant content so making your content relevant as possible will surely benefit you at the end of the day.

Informative.

Remember, the online audience wants to be educated and find helpful information.  Thus, instead of telling your audience that you have the best product and/or services in the industry where you belong, you can simply inform them about your business and make them realize how you can help them without hard selling your business.

Compelling

. The only way to hold your audience's attention from start to end is to create engaging content. Make your readers feel involved because this can help you build a strong connection with them.

Well written

. Make sure your content is already polished before publishing or posting it anywhere on the web. Spelling, grammatical or formatting errors will not only shoo away your audience, but it will also decrease your rank on search engine result pages.
Effective SEO content on Social Media
Taking advantage of the social media platform is now the trend for most SEO companies. To help you take advantage of these advantages and get ahead of the curve, here are some of the things that you shouldn't forget about.
Engagement.

Use your content and social media profiles to start conversations, ask questions, and respond to the comments of your audience.

Lead generation

. Do not use your social media profiles for self-promotion. As much as possible, provide your community of online users a helpful content. This will help them increase their knowledge of your brand. Don't forget to be creative, remember that hard selling your business will not benefit you.

Frequency.

Post, start a conversation and respond to comments on your social media profiles daily. The more active you are, the more chances your community will grow and generate sales. Some social media networking sites like Facebook provides insights which can help you keep track of your engagement performance.

Show valuable information.

Always share content that engages, educates, informs and contents that always perk your audience's mood. It's been proven that

establishing an emotional connection to your audience can influence their buying it is behaviors

.
Worthwhile SEO content on Link Building
Build a resource

. Creating blog posts is an effective way to publish relevant, educational, informative, and entertaining content. After doing such, you can simply build the links to your posts by sharing them on your social media profiles.

Newsworthiness.

Your content can be newsworthy if you keep posting engaging promotions, free giveaways, new products and/or services. The more exciting your content is, the more newsworthy it will be.

Inspirational.

Give your audience something that they can relate to by creating inspirational content. You can even create a "natural link bait" because your reader will get excited to share content that inspires them.

To sum it up, achieving helpful SEO content requires a lot of time and effort. Moreover, it is also essential to be aware of the beneficial factors that are contributory to reaching your goal. Lastly, becoming cognizant about the considerations that you need to think about before executing your strategy can help you steer clear away pitfalls in the future.