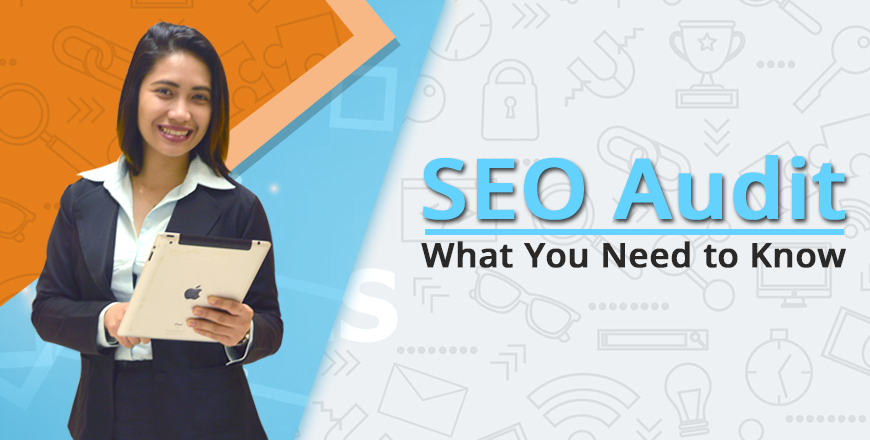 Feb 26, 2018
SEO Audit: What You Need to Know
As a digital marketer, attracting traffic is the name of the game – and many industries believe that excellent content and popularity are the secret weapons in achieving this. However, what they don't know is that the most important thing to do to gain significant traffic on your website starts by performing a Search Engine Optimization (SEO) or SEO Audit.
An SEO Audit is done to check how your website is performing. In doing so, you will have a deeper understanding of what works in your campaigns or not. You can then use this data to shift how you do your marketing.
An SEO auditor will provide you with three things, namely
The overall performance of your campaign concerning traffic flow
The factors not working in your campaign, and
The necessary steps to be taken that are available in the market
When Should You Perform an SEO Audit
According to gotchseo.com, there are only two instances to perform an SEO audit – before starting a new project and at the beginning of a new quarter.
Additionally, if you are a small website, you do not necessarily need to perform these audits all the time. Instead, you can do this once a year. If you are, however, a medium to a large company, there is a need to do a website's SEO audit during the periods mentioned. On the other hand, reliablesoft.net suggests that an SEO audit is needed at least twice a year; you will have a clear understanding of your website's performance.
Regardless of when you do an SEO audit, it is a crucial step to help you gain the traffic you desire.
Checklist to Guide You in an SEO Audit
Technicality
Performing an SEO audit begins with analyzing the technicalities in your website. According to searchenginewatch.com, this cover two main points – the accessibility and the indexability. Well-Written content will not matter if these two are not correctly programmed. Take note that these two are not for users but your search engines, i.e., Google, Bing, etc.
Accessibility
Regarding accessibility, you can program contents that you want to make available for search engines. Using robots.txt files, you can restrict Google's access to certain parts or your website. However, you need to be sure that you are not hiding any necessary file from Google. Otherwise, there might be a chance your page will not be visible in Search Engine Result Pages (SERP).
There is a way for these search engine crawlers to locate you. With the use of robot meta tags, you can instruct these search engine crawlers how they should handle the page. Meaning, you have control which page these crawlers should focus. You can also apply what we call an XML Sitemap. An XML Sitemap provides a roadmap which the search engine's crawler will use to navigate through your website. Doing this will ensure that your page will be visible in SERPs.
Indexability
After Google "checks" your website, it will decide whether or not your site is worth a spot on the SERPs. If you can't find your page on SERP, there might be a problem with your website. Errors may range from content duplication and use of keywords, among many others. What you need to do is to run your site using Sitemaps to double check what needs fixing when performing an SEO audit.
Website
Your website is the next thing you need to consider – its aesthetics and functionality. One of the reasons why users press the back button after opening a website is because it is not functioning correctly.
As for its function, there should only be one browseable link. For example, your website should not be opened using different links like the following
http://www.XYZ.com
https://XYZ.com
 https://www.XYZ.com
Only one link should be accessible. It would be best to use https:// links since there is a slight ranking boost for Secure Sockets Layer (SSL) enabled sites.
A website needs SSL for security reasons. SSL is the backbone of having a secured internet connection. The purpose of SSL is to encrypt pertinent information like credit card details. When you send information using the internet, it will go from computer A to computer B. If there is no SSL, any computer between A and B can read the information. However, if there is an SSL, only computers A and B can read the information making the information unreadable to the rest.
Architecture
How your website looks is important in its overall impact. In your website's SEO audit, you should check if your website is structurally sound. This includes the placement of tabs on your website, even how a user will be navigating through it. Check if it is easy to browse your site – the number of clicks from other tabs to your homepage, the content, the graphics, and the ads. All that affects the overall look and performance of your website.
To do this, study your website's heatmap. The heatmap will indicate which part of your website page individuals click on. Typically, this has an F pattern. Understanding where your web visitors click on or pan will help you know where to place tabs and call to action buttons properly.
Performance
The performance of your website is dependent on its speed. You need to make sure that you have a fast working website and pages that can load quickly on both desktop and mobile devices.
Another thing to consider is the responsiveness of your website. With so many people preferring the use of mobile devices over desktop computers, it is essential that you have a website that can translate from desktop to mobile accurately.
Keywords
Choosing which keyword to use is very important. You need to have an idea of the kind of keywords individuals use when searching for information regarding your business. The ideal type of keywords is those that have medium difficulty and medium traffic.
The thing you want to avoid when optimizing your keywords is called Keyword Cannibalism. This is the use of duplicating keywords, which makes it difficult for Google search to prioritize which one to optimize. It is best to optimize one page (say your web page) and unoptimized any competing page. If you don't, both your pages will end up competing with each other. Take careful note of this when performing an SEO audit for your website.
Content Analysis
Due to the outpour of fake news seen in the previous year, search engines like Google are more stringent in scanning a website's content. As a result, it is essential that you make sure your content is solid.
For sound content, it has to be original. Creating new, fresh, and up-to-date articles are everybody's top priority. There are many free plagiarism check platforms online you can use to check your content. Google hates the same or similar content. Additionally, they have upped its game in searching for related content, so you need to stay away from that.
Off-site Analysis
These kinds of analyses mainly focus on your website's connections. Your connections help build your website's reputation, so it is important to check who your links are and how these networks affect your website ranking.
Popularity (including engagement and social mentions)
As much as you hate it, most people search for a website because of its mainstream popularity. Popularity is a huge factor in gaining that coveted SERP spot. Therefore, you should check if you are getting any social mentions, or if other people also use your hashtag (if you have one).
If you are not getting those mentions, do something about your engagement with your audience. Better yet collaborate with other bloggers or business owners so you will have more opportunity to market your brand.
Backlinks
Link building is probably one of the most basic to-dos in a website's SEO yet is proven to be the most effective. Backlinks are those websites you connect with. Networking is vital in building your website's reputation, especially if you have connections to sites that correlate to your branding.
These backlinks will also ensure your website's trustworthiness. A lot of people tend to visit popular websites because it establishes that people can trust such a brand. Link building is just like choosing soap where you prefer buying from big named brands regardless of its price. You know it has been proven and tested by a lot of people.
Due to the increasing amount of people using social media, it has increasingly become an excellent platform for marketing. Several people now use social media accounts to spread the word about their business but do not necessarily give you the guarantee of having high traffic on your website. You still need to ensure that you are sharing your posts correctly and targeting the proper audience for your social media marketing to become effective.
The Share Button
It is essential that you have a share button on your website. It will allow visitors to share your content on different platforms, the things that they find interesting on your site. Doing this will enable others to know about your business and would result in organic searches on your website.
As you can see, there are several things to consider in performing an SEO audit, and it can get a bit overwhelming. However, it is something you should face and check off of your list to ensure the improvement of your website traffic.