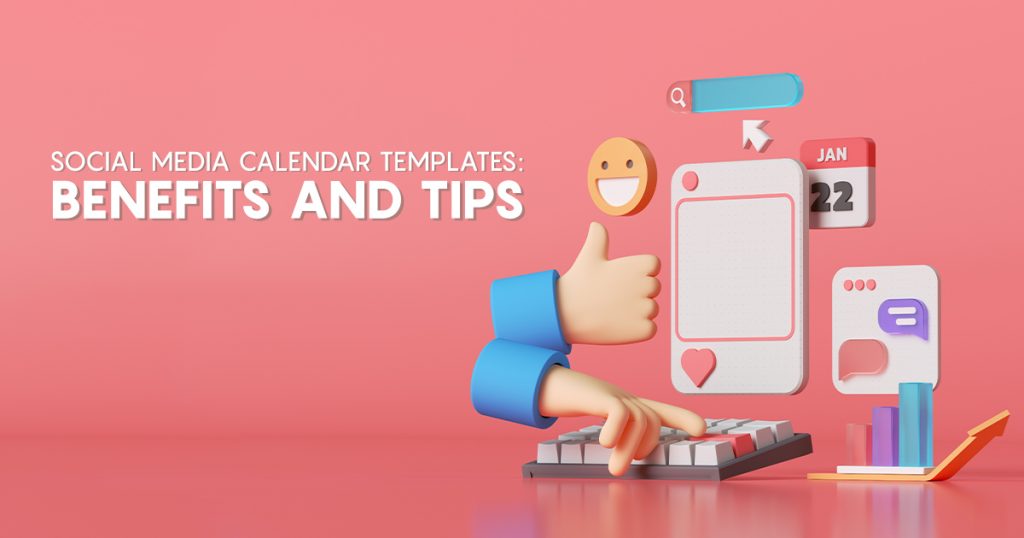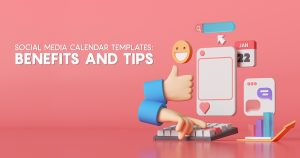 Jul 5, 2022
Social Media Calendar Templates: Benefits and Tips
On paper, Social Media Content Calendars sound like a lot of work and maybe even unnecessary. However, Social Media Management means working smarter and not harder. Thus, social Media Calendar Tools are valuable for saving time. You can even create a content posting template from nothing but a spreadsheet.
You might be thinking, you've got a pen, some paper, and don't forget your memory. So perhaps you don't need a calendar for your Socials. But the truth is there's only so much you can do. Particular details can slip your mind, and you probably don't have stationery to write with or might run out of space for written reminders.
One great thing about a Content Social Media Calendar is that several ready-to-use tools are of the drag-and-drop variety. You just need to move around a few things for your convenience and start posting. However, these can cost money. However, you can create a template from scratch and then apply your Social Media Strategies to it within the day!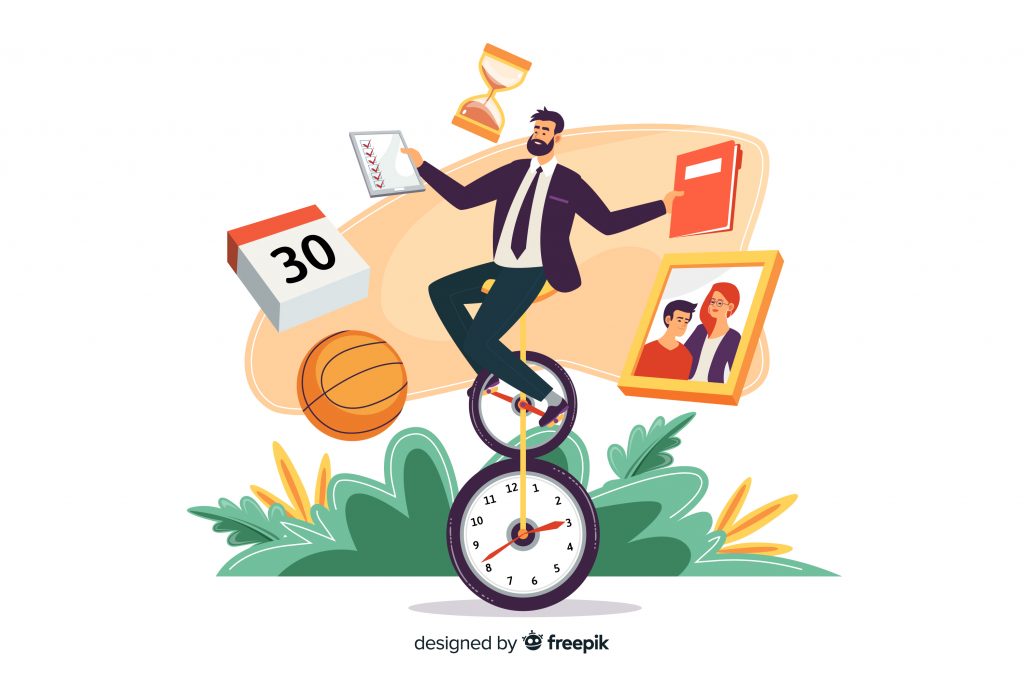 Using a Social Media Calendar: What's in it for Me?
Social Media Calendars can schedule Social Media or blog posts. But some calendars can even post content for you, provided that you set a specific schedule for publishing. Still, no matter what kind you're using, your team members can apply the Social Media tool to publish several types of content.
90% of businesses are using Social Media to broaden their reach. But organized Social posting with a Content Calendar for Social Media can boost its effectiveness. So, there are plenty of benefits of Social Media planning via a calendar.
Social Media Content Calendar or Template Benefits for Marketers:
You never miss a beat. 
A Social Media Calendar Template ensures you never miss out on the most significant moments of a Social Media user's life. It keeps you up to date with holidays, seasonal trends, and activity spikes. So naturally, riding these waves means boosting engagement.
You get more organized. 
Organization can boost your business campaign's effectiveness. As a result, the chances of confusion — especially among your team — lessen. Of course, in return, you have to have well-timed, engaging, and relevant content.
You oversee how everything's coming along.
A calendar can provide a record of Social Media postings. Thus, tracking post publication is more straightforward. At the end of a period, you'll see current trends and audience engagement.
You lessen the chances of making big mistakes. 
With a scheduler, you can witness everything that goes into the metaphorical pot and check if anything's amiss. It gets even better if the rest of your team is allowed to review the tool, as they can point out any errors or inconsistencies.
Your calendar is scalable. 
Depending on the circumstances, calendars can be as complex or as simple as you need! Whether free or not, a Social Media Content Calendar Template can meet marketers' needs at any intensity.
Your media sources are verified.
Most people don't mesh well with exclusively written or spoken descriptions. After all, people rely on visuals to learn more about their surroundings. "People remember 80% of what they see" compared to what they do. So, picture concepts make your goals and efforts clear.
Your team stays in the loop. 
As mentioned before, Social Media Calendar Tools let everyone see proposed content simultaneously. Thus, you and your team can continue your progress based on the results. It's essential to let the team see what measures you're currently taking.
Now, you don't have to go out and look for tools that can post things for you right away. Instead, you can start small if you're not ready to get a tool — for any reason.
First Things First!
Social Media Calendar tools can take care of assembling, scheduling, and automatically posting your content. But some do tend to ask for a bit of money. But what if we told you you don't need to spend a lot?
Creating a spreadsheet is an affordable (better yet, free) in-house solution that you can tinker with to your heart's content. For example, you might be able to avoid paying money for a scheduling tool if you're a whiz with a spreadsheet!
You don't have to pay much for a tool with an Excel-like spreadsheet such as Google Sheets. Thus, you can DIY a Social Media Scheduler. Alternatively, you could test a tool for a bit, see how it works, and then create a scheduler based on how the schedule worked.
Every Social Media Scheduler needs specific types of information. So by preparing vital information, you're prepared to post any time. Here's the info you need to display on the calendar: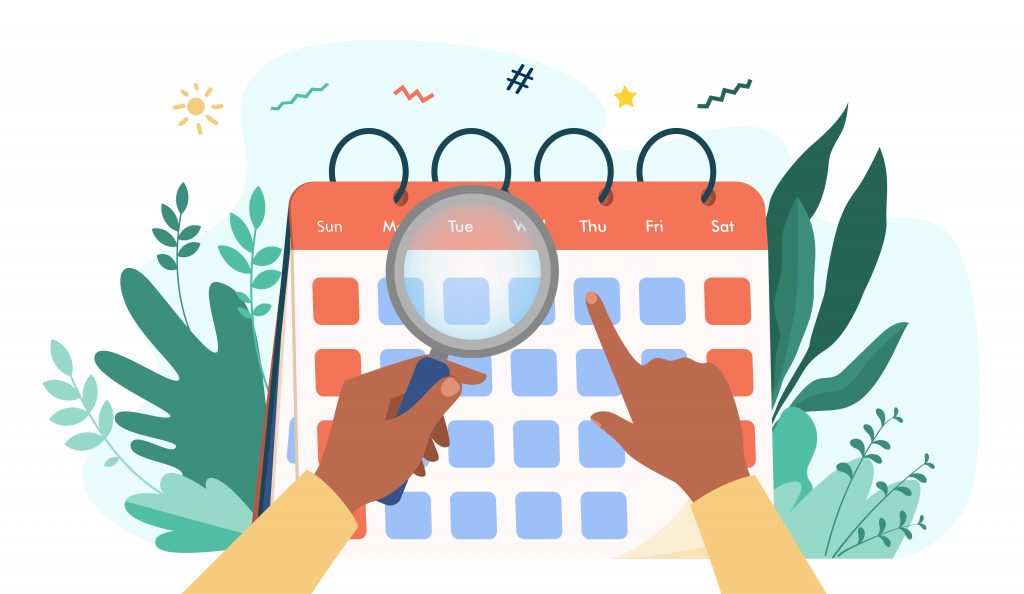 Shorthand and Acronyms
For common concepts, you'll need to lay out things such as color-coding, acronyms, or codenames/nicknames. There's only so much space on your scheduler to get everyone up to speed, so don't worry about using jargon.
URLs
If you have the web address for your post planned out in advance, you can avoid having two separate posts leading to the same URL! Furthermore, don't forget UTM parameters.
Date and Time of Posting
You may already have a posting schedule that indicates dates. But when you want to check what time to publish, check your analytics to see the ideal content posting time.
Overall Theme or Message
You must coordinate content with the marketing team. Thus, tell them how the concept should look by the end of the process in a concise message. Of course, this should be reflected in the images as well.
Campaigns
Your Social Media Marketing Campaigns are similar to most campaigns out there. So if you've got an initiative with a particular end goal, you'll want to give it specialized attention.
Media
You have to have media or photos in your calendar. Otherwise, people won't be able to see half of the concept for a post. Add a thumbnail or input a link if your spreadsheet doesn't allow for it. For best results, use software or sites optimized for Social Media platforms.
Caption
While your visual media is critical, don't forget a quick caption to go with your content! A caption can help further explain your message to Social Media users.
Guidelines on the Platform's Nature
You should write down basic rules for particular Social Networking Sites. Note things such as character limit and best dimensions for media or the best FPS for video. If it's got something to do with making your content look pristine, write it down.
All this data should be in your Social Media Content Calendar Template. This way, everyone involved in creating the post knows what should go into it.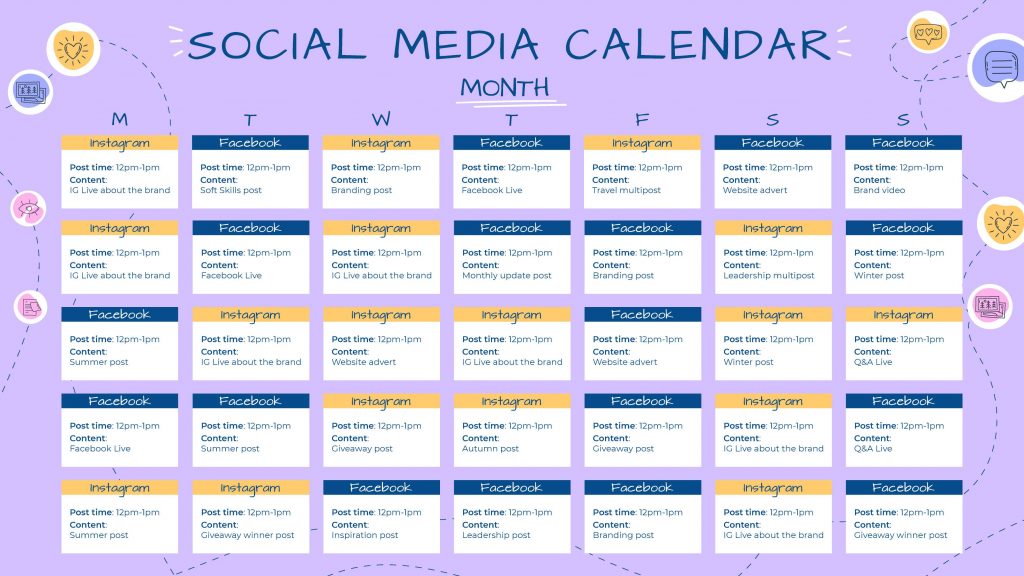 Tips on Creating a Social Media Calendar Template:
Draft Your Goals.
You've got to have direction when it comes to Social Media Marketing. Are your goals to raise awareness for a cause or educate your customers about your product or service? Then it's vital to make your intentions clear.
Plan for Holidays.
Everyone loves holidays, and many people are in engaging moods during their days off. In 2021, 28% of shoppers planned to use Social Media to look for potential purchases. As a result, the chances for engagement are higher. Also, because of the annual holidays, you can schedule content in advance, especially before the year starts!
Specialize Content According to Each Platform.
No two Social Media Networks or platforms are the same. Thus, you can't put a 10-minute video on YouTube and expect it to do numbers on Instagram. Likewise, you can't put the entire text from a Facebook post into a Twitter post unless you want to go through the trouble of numbering your Tweets. Therefore, you need to know your platforms just as your target audience.
Stay Consistent.
You want a constant yet organic Social Media presence on your socials. However, be consistent with posting because you can't break your streak once you start. Also, you must present on your social channels as much as possible to cultivate engagement! After all, nobody can engage with an account with a post that dates five years back.
Color-code Your Calendar.
When it comes to marketing, you may have more than one active project at a time. So when creating calendar templates, you can assign colors to specific campaigns. Thus, it's easier for people to find what they're looking for than to read through everything. Color coding can be a massive time-saver.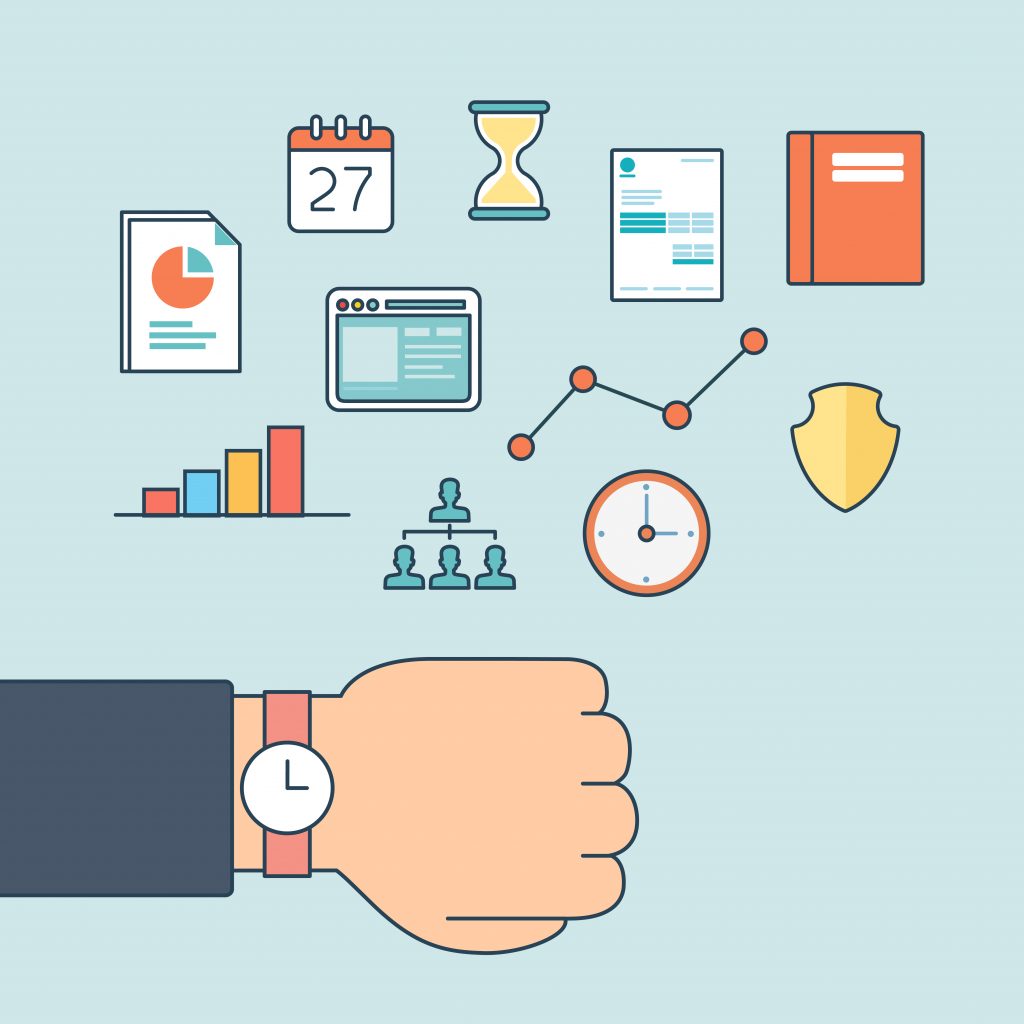 Overview
A Social Media Calendar or Schedule Template is crucial for marketers. Firstly, it keeps your Socials organized and sometimes automates posts. Also, a marketing calendar helps you oversee post creation.
However, not everyone can rely on a tool for any reason. For example, a business can use an Excel sheet instead of paying to use a tool. Here, a template is helpful as one can tailor the schedule however needed, without spending much or at all.
To create a proper calendar template, one must include:
dates and times;
URLs;
media and captions, etc.
These are critical for the marketing team to understand the post clearly. Lastly, when handling the template, one should note tips for each platform's requirements, curate initiatives, and plan for set holidays. Count on Social Media Marketing Services in the Philippines!