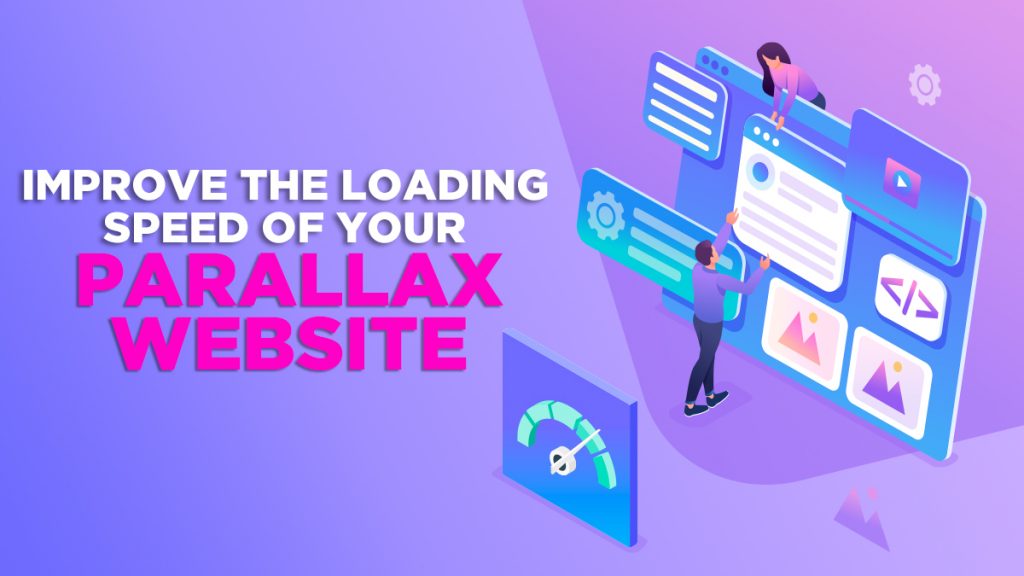 Mar 25, 2021
Improve the Loading Speed of Your Parallax Website
One of the most popular ways to design your website today is through the parallax scrolling technique. This particular scrolling technique is capable of showing the user an illusion of depth in a two-dimensional website. In simpler terms, your website will have its foreground and background elements move at different speeds as the user scrolls up or down the page. For this, a parallax website may be what you should build for your business. Let us discuss how to improve the loading speed of your parallax websites.
The Origin of the Parallax Website
The term "parallax" was first known from the visual effect of a 2D side-scrolling video game. It is a scrolling technique that uses different background images that move to create the illusion of depth during the gameplay. The illusion is done by making the background move slower than the foreground. Doing so makes the images look farther in the back.
As such, in parallax website design, the background of the site seems to move at a different speed to create that impressive visual effect. Thus, websites that use the parallax scrolling technique have taken hold as one of the top web designs. It provides an excellent user experience in terms of aesthetics and functionality. Check out some of the best parallax website designs here.
Parallax Web Design Strategies for Improved Loading Speeds
A website that uses the parallax scrolling technique has one long page with one set of meta-information, excellent H1 tag, and effective URL, which may negatively impact your SEO marketing. Also, it may significantly take longer to completely load because of the text, images, and other web design elements incorporated in that one page, which may also cause a bad user experience.
Check out some of the strategies which can help improve the loading speed performance of your parallax website:
Image Compression

When you have images that are larger than needed for web viewing, they carry extraneous metadata. You can compress these data without reducing the viewing quality of your images. To do this, you can make use of cloud image services such as  Tiny PNG, JPEG Optimizer, Optimizilla, and more.

Content Delivery Network (CDN)

By using a nearby CDN server, you can distribute content (especially images) closer to your site visitor. Subsequently, this increases your parallax website's page loading speeds. Also, with CDN, you can reduce your site's bounce rate and increase your site visitor's stay on your pages.

Responsive Image Sizes

Through the use of srcset, you can optimize images to increase web page load speed and to be responsive towards any type of screen resolution and size of the device your site visitors use when viewing your parallax website. With responsive images, you especially ease the loading time of your site on devices with smaller screens.
Tips When Building a Parallax Website
To maximize your use of the parallax scrolling technique, here are some things to keep in mind:
Use only a parallax website to tell a visual story to your visitors.
Make it fun and engaging to let your visitors stay on your website longer.
Emphasize any call-to-action button on your site to direct your visitors to wherever you want them to go.
Think about how your site will look on mobile devices. Do not leave those mobile visitors hanging by creating a parallax website that they cannot navigate. You may have more mobile traffic today than you realize. Ask a designer and developer to help you plan how to handle mobile visitors through your parallax website. You can also ask them to create a mobile-specific website that offers an entirely different user experience from its desktop version.
Designed by Webflow
Enrich the Loading Speed of Your Parallax Website
In sum, choosing to build a website that uses the parallax scrolling technique will depend on what you need and what you find more appropriate. A parallax website allows your users to know your products and services in a fun and engaging way. So, if you wish to incorporate the strategies and tips mentioned above to build you a parallax website that engages users, you can hire a web design company in the Philippines to lead you the way.
 What can you say about parallax websites? Let us know in the comments section below!