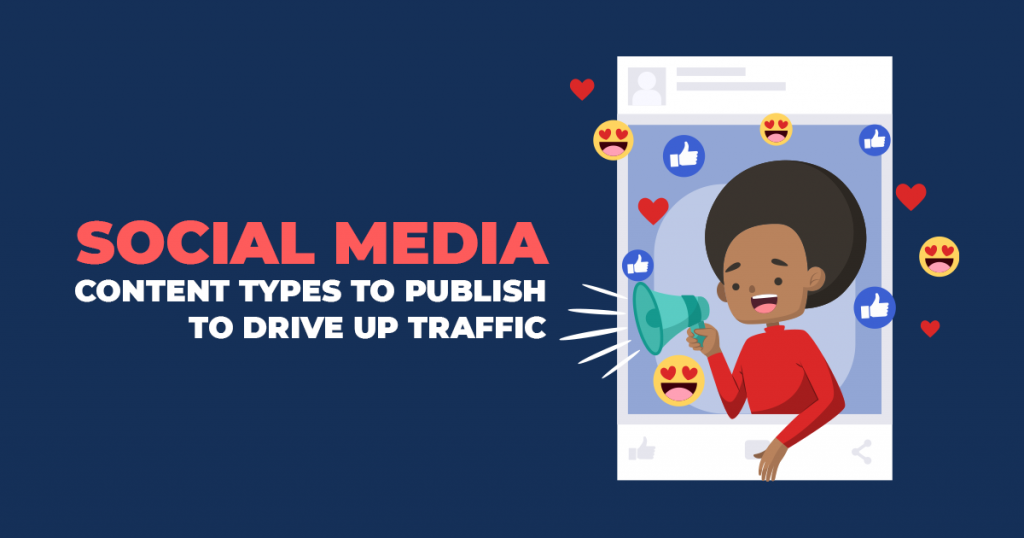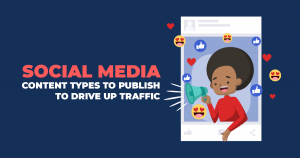 Nov 23, 2021
Social Media Content Types to Publish To Drive Up Traffic
Posts on Social Media can get your brand to the forefront of peoples' minds, if not the back of it. However you do it, if it gets your brand lodged into their minds, it's a win! So, Social Media is a bit more low-key than most other types of marketing avenues, but let it never be said that Social Media does nothing for businesses! On some Social Media platforms, several types of Social Media Content drive up audience traffic better than others.
How do you drive up Social Media traffic?
Social Media can boost your traffic. First off, you can schedule Social Media posts, which can promote engagement. But, when it comes to the posts themselves, most Social Media platforms rely on minimal text and emphasize visuals! Standout examples include Twitter, with its character limits. Also, there's Instagram, with its posts that take up the majority of the screen. Finally, YouTube, a site that focuses on videos regardless of length.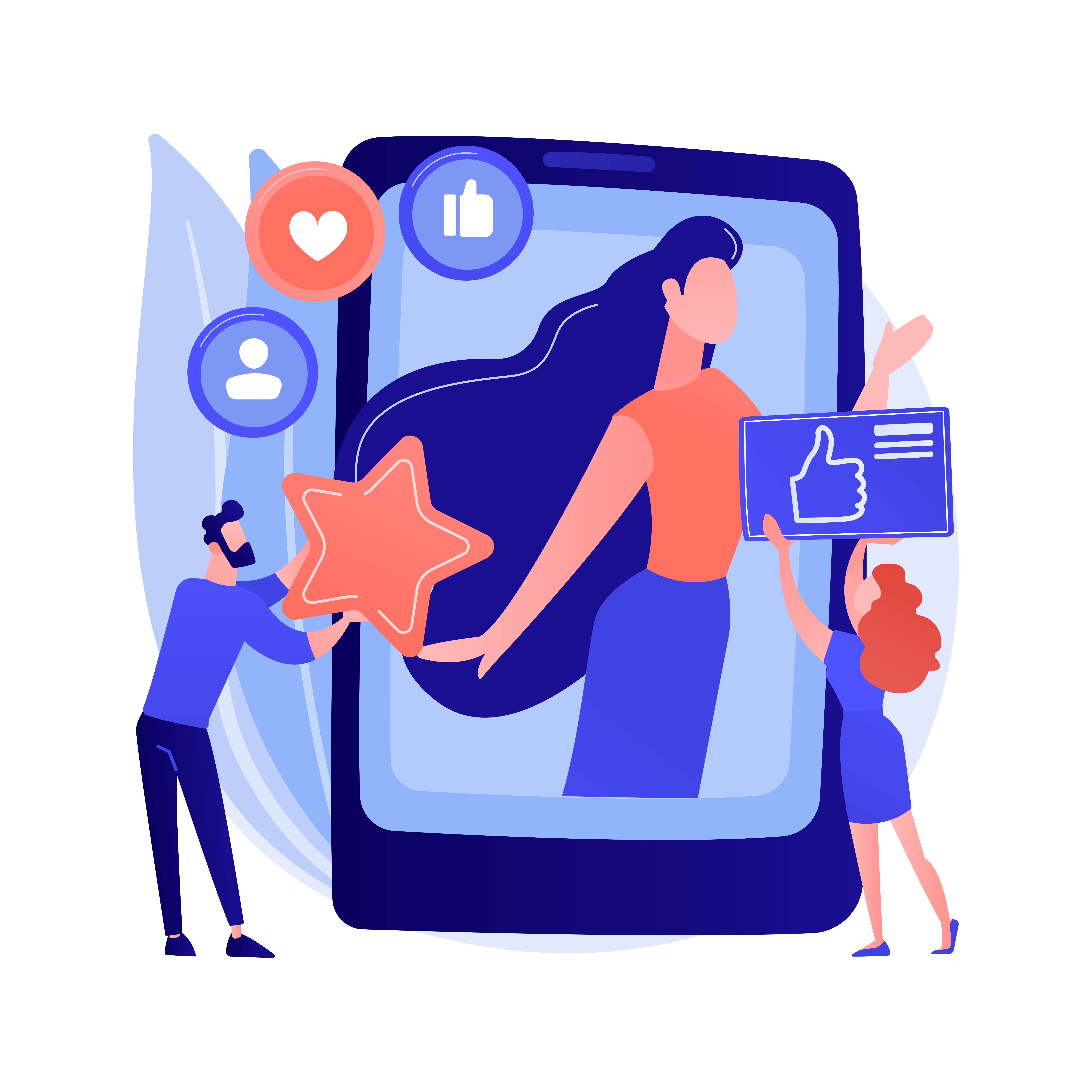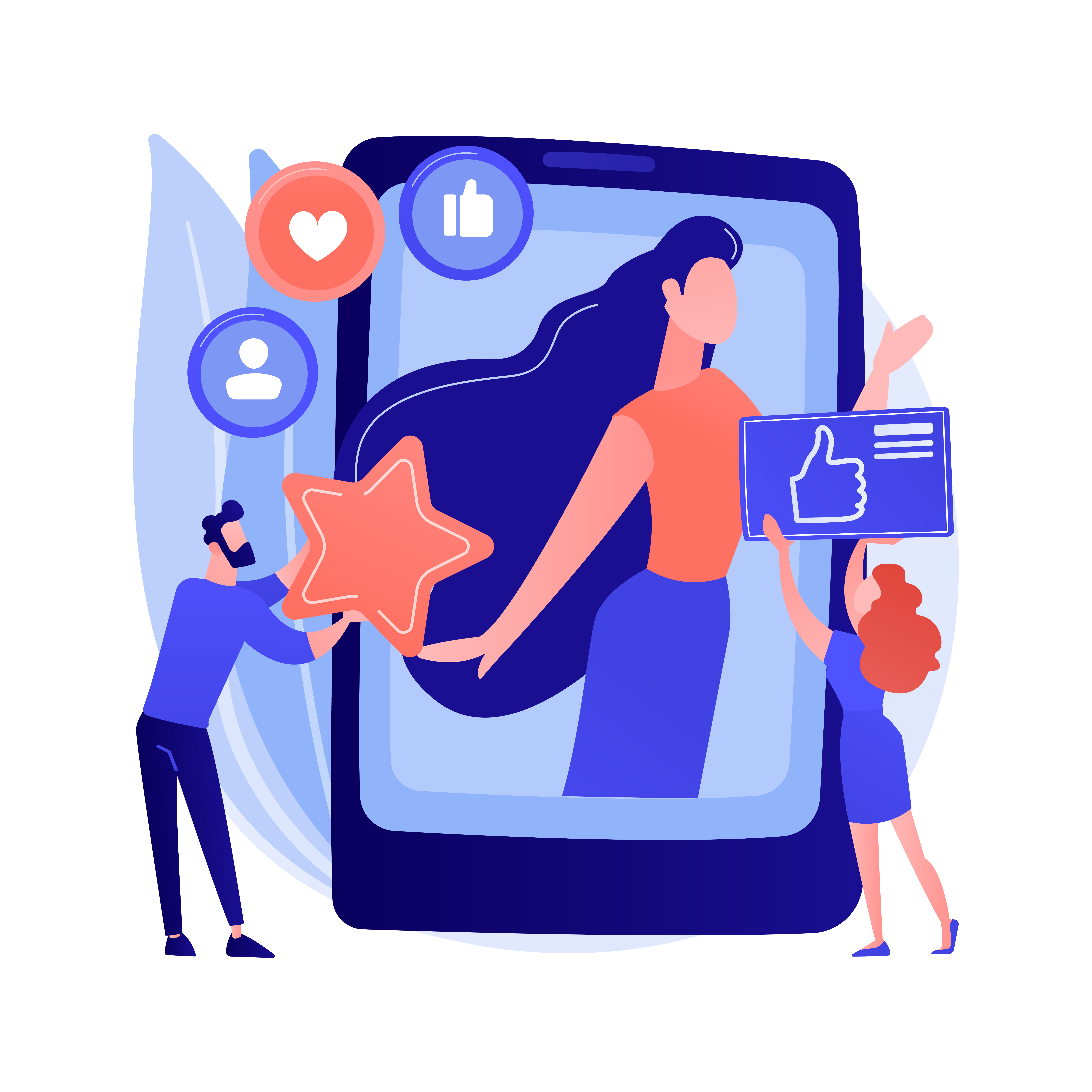 Social Media content that can drive up traffic:
Advertising on Social Media has its pros and cons, but the content you post doesn't always call your audience to action 24/7. Some people don't want deals shoved in their faces 24/7, and others want a healthy mix of entertaining and educational posts!
A more in-depth look at Social Media content types that'll drive up traffic
We covered several types of Social Media posts in an article about traffic-boosting caption tips! This article, however, will expand on the most popular types of posts! 
Text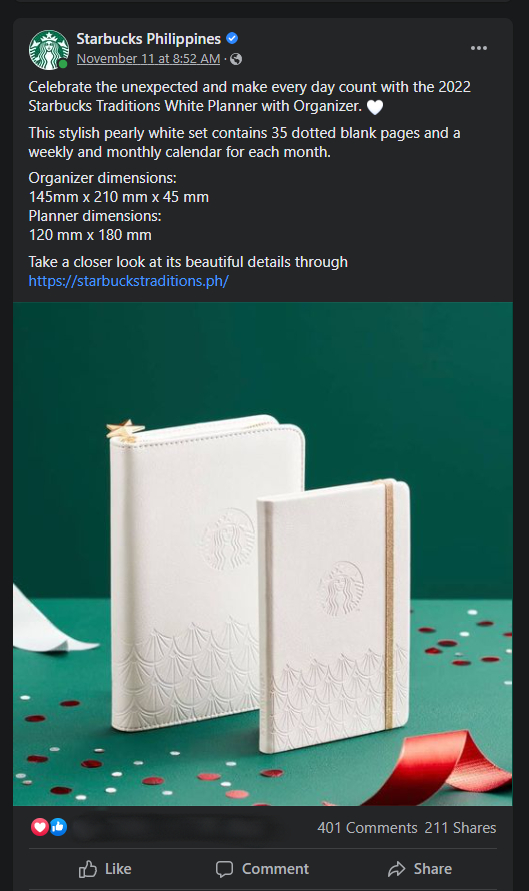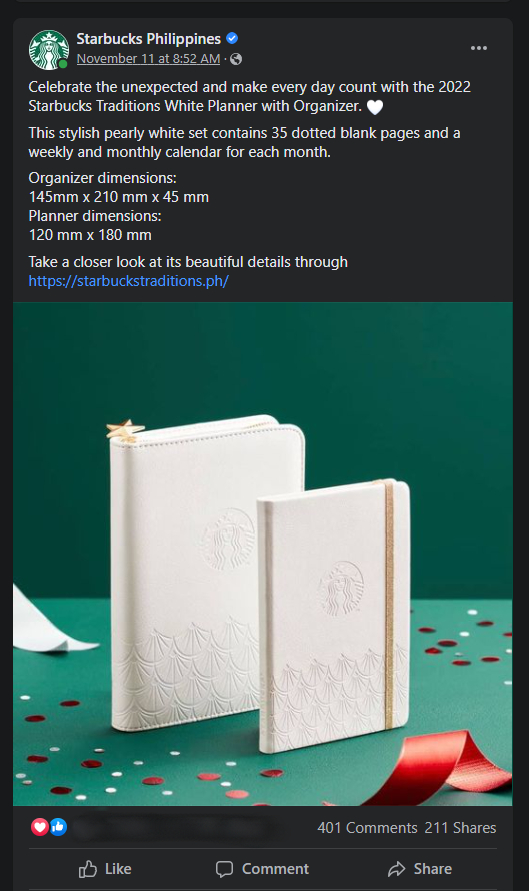 Source: Starbucks Philippines' Facebook.
Written content is widespread across the 'Net. First of all, it's the best way to explain your product or service. It will also establish your reputation and credibility within your industry. Also, it's great for telling stories or anecdotes to your Social Media audience. Written posts, Articles, Quotes, and How-to Guides can fall under Text. They're all excellent additions to your Social Media posts… as long as they're not too long. 
You see, in the context of Social Media, your word or character count tends to be limited! No Social Media user wants to read posts with entire blocks of text while scrolling through their feed. After all, Social Media is a fast-paced environment, so it calls for content that's easily digestible within a few seconds. Social Media captions that don't break three lines should do fine. But, for certain platforms that focus on businesses like LinkedIn or Facebook Business, you can post written content that's more than a few paragraphs long. 
However, for the usual platforms like Instagram, Twitter, and Facebook, you can throw in a couple of posts with higher word counts now and then. Of course, whether you can post longer-form articles can depend on the platform's limits. 
Who uses this type of content?
Any industry can use Text-based content!
Images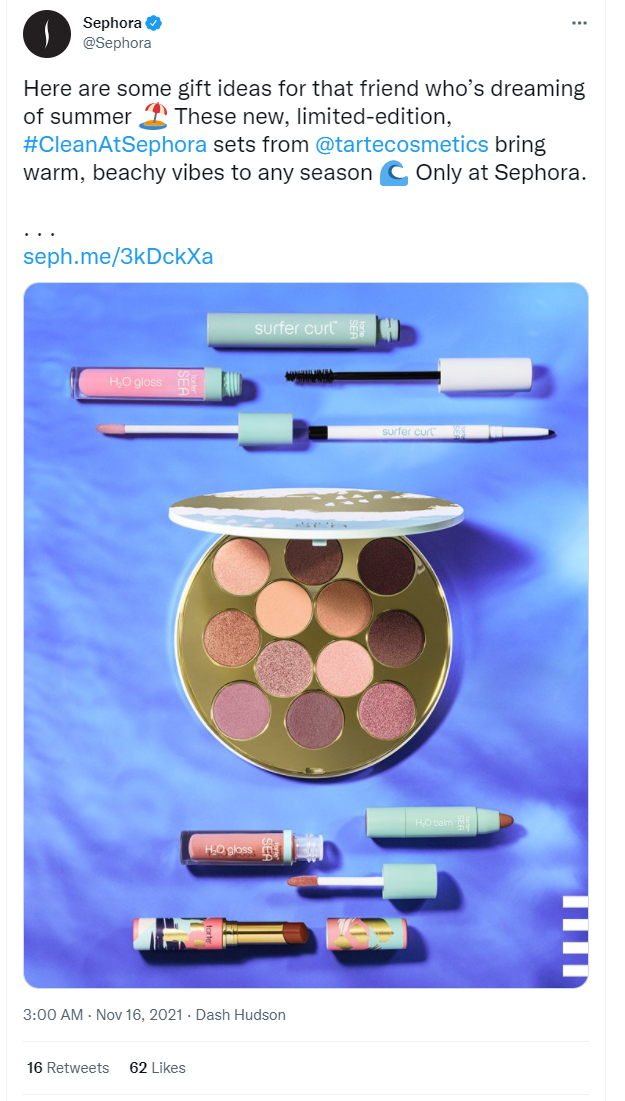 Source: Sephora's Twitter.
Images, such as Social Media Infographics, are an excellent draw for Social Media audiences. Of course, Images on Social Media are sure to drive up traffic! Pure text on posts can get boring. So, having Images can grab attention! Having Images on your socials can net articles 94% more views than articles that are purely text. Additionally, Jeff Bullas found that posts with photos had an engagement of 37% more than those without images. 
Visual content like pictures, vectors, or art allows your Social Media audience to take in your post quickly. So, seeing an Image post is much quicker than reading through a paragraph of text!
Who uses this type of content?
Any business can benefit from posting Images on their Social Media. Of course, most socials allow pictures on the platform. But several, such as Instagram, center on Images.
Memes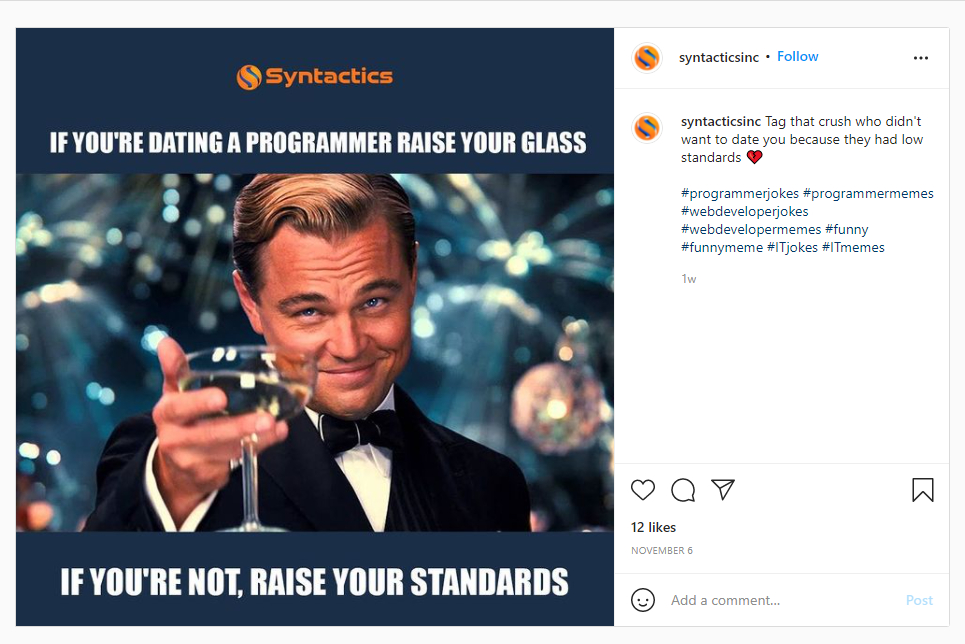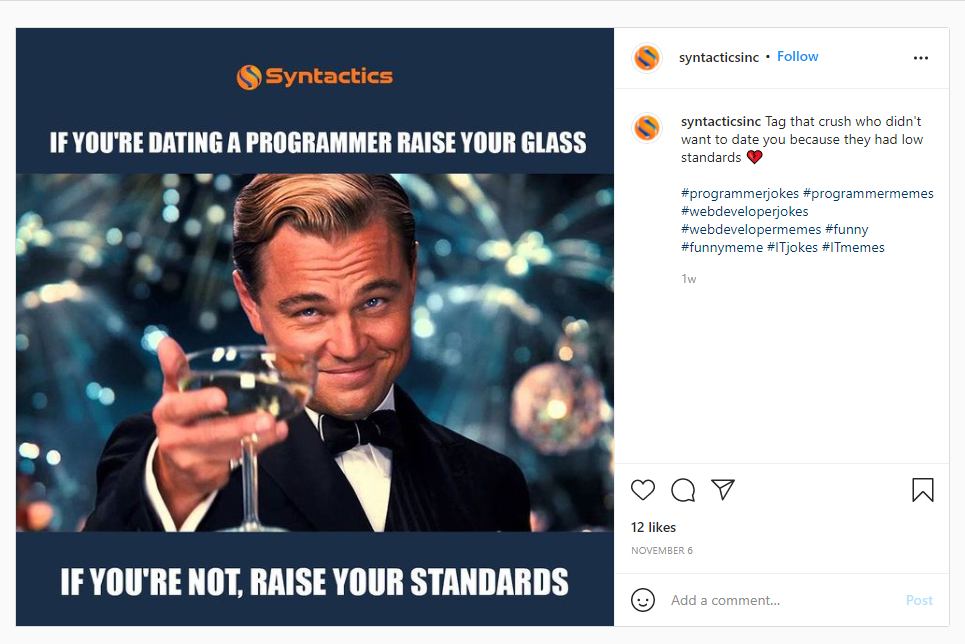 Source: Syntactics, Inc.'s Instagram.
Memes are a subtype of Images that capture a particular feeling or sentiment. They tend to be relatable to most Internet users. So within a single image file, a specific picture or drawing and a few phrases work together to create a Meme! There have been many kinds of Memes with styles varying from image to image. However, they're all charged with particular meanings that are known to those who enjoy Memes. And boy, do people enjoy them! Memes can elicit emotions like understanding, sympathy, shock, joy, and amusement.
The great thing about this Social Media Content Type is that you can change wordings around to relate to your brand or industry! Additionally, the meanings Memes carry can even spread to particular phrases that you can add to your Social Media captions!
Memes are easy to craft! While a Graphic Designer can make Memes for your brand, Meme creator sites like Meme Generator can help you out, free of charge!
Who uses this type of content?
Any brand that thinks Memes are in line with their content can use Memes. However, they should focus on posting this image subtype on more visually-focused Social Media platforms.
Infographics

Source: PLDT Home Website.
A subtype of images, Infographics summarize essential knowledge in a visual format. Infographics are perfect for sharing intel on anything and everything! So, you can make Infographics for anything under the sun — from new research to "debunking myths" to Public Service Announcements!
The idea of an Infographic is that it's capable of doing its job by itself! With the marriage of incredible visuals and succinct summarization of information, they can reach further and teach a Social Media audience many things! If a Social Media Infographic is crafted well enough, it can stay relevant enough to be evergreen and multipurpose.
Who uses this type of content?
Since Infographics are great for helping people learn about a brand, new or current research, and information in general, any industry can use this content. Visual media can help marketing by a mile. Images and other visual media boost readership up to 80%. It's clear to see that Infographics are a big traffic boost!
Videos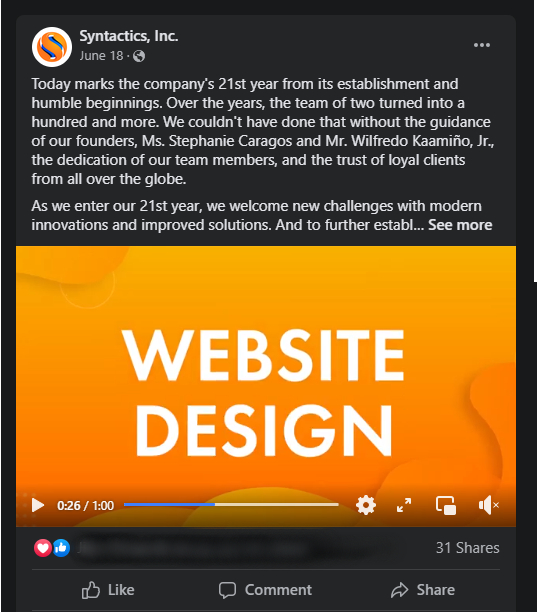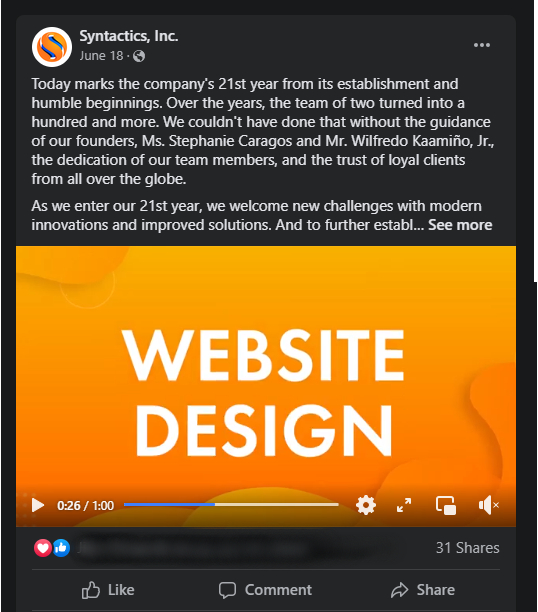 Source: Syntactics, Inc.'s Facebook.
The next evolution in images, Videos are used for almost anything! Instructions or How-Tos are pretty popular as some people do prefer visual instructions over text. Also, you can throw in Video Stories and Live Videos!
Since they're more animated than typical images, Videos retain a fair bit of attention — about 38% more than images, according to a study focusing on the Social Media platform Instagram. Now, you don't need every Video post to last as long as a feature-length film! But, as mentioned earlier, brevity is critical. Social Media requires you to say only what needs to be said, so a handful of seconds is fine at the very least. And when it comes to the most, you can cap the Video out at two or three minutes.
Who uses this type of content?
Any and every industry can use Videos.
Customer Reviews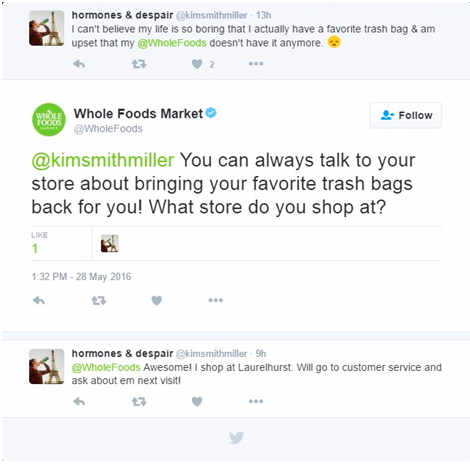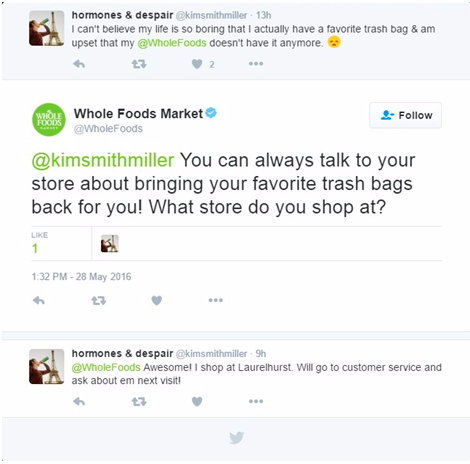 Source: Walls.io.
This Social Media Content Type is in line with the adage: The customer is always right! Customer Reviews are a great way to advertise your brand without shelling out too much money. In addition, Customer Reviews allow your Social Media audience an insight into your brand. 
Reviews can shed light on the capabilities of a product or service. Customer Reviews can also explain more about your company and its aims! Whatever it is, they give your brand some street cred, as it were! So while your business' standard advertisements are all fine and dandy, they need a bit of an extra push. Customers trust the word of other customers. Thus, if your audience hears about how your business handled itself with a customer, they'll trust your brand more!
You can post Customer Reviews that are simple text, but images will boost the post! Of course, it's going to be even better if you use a video! 
Who uses this type of content?
Customer Reviews are perfect for any industry, especially industries that want to get more new customers on board with their product or service. 
Holidays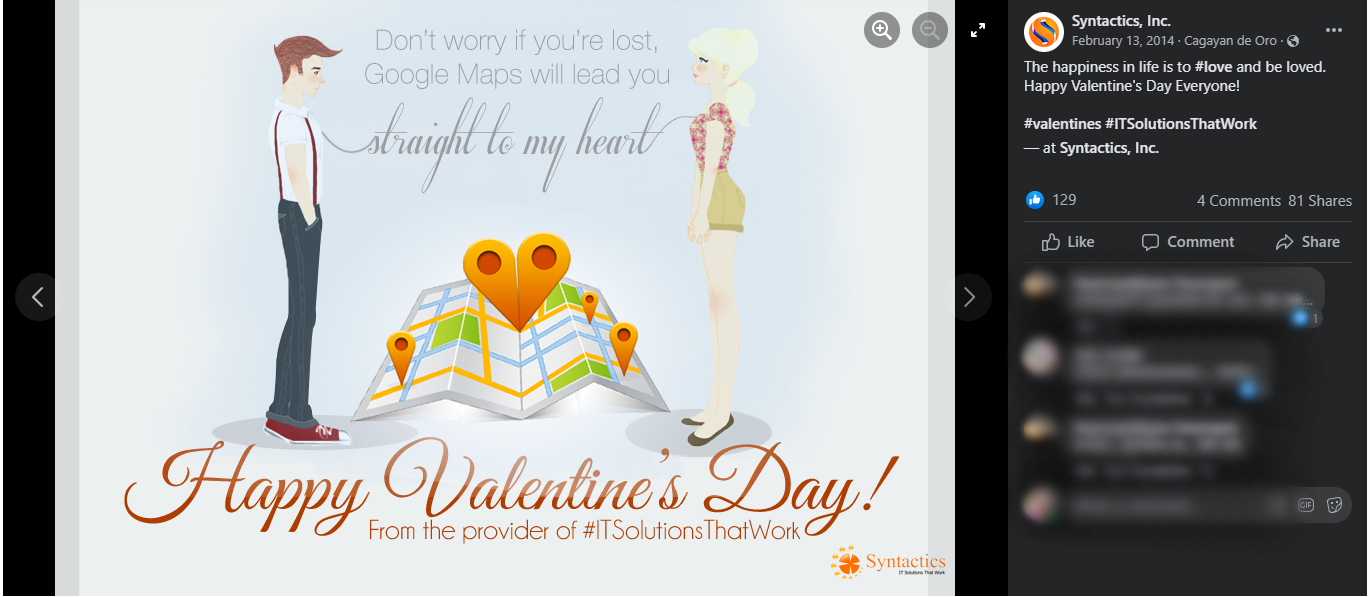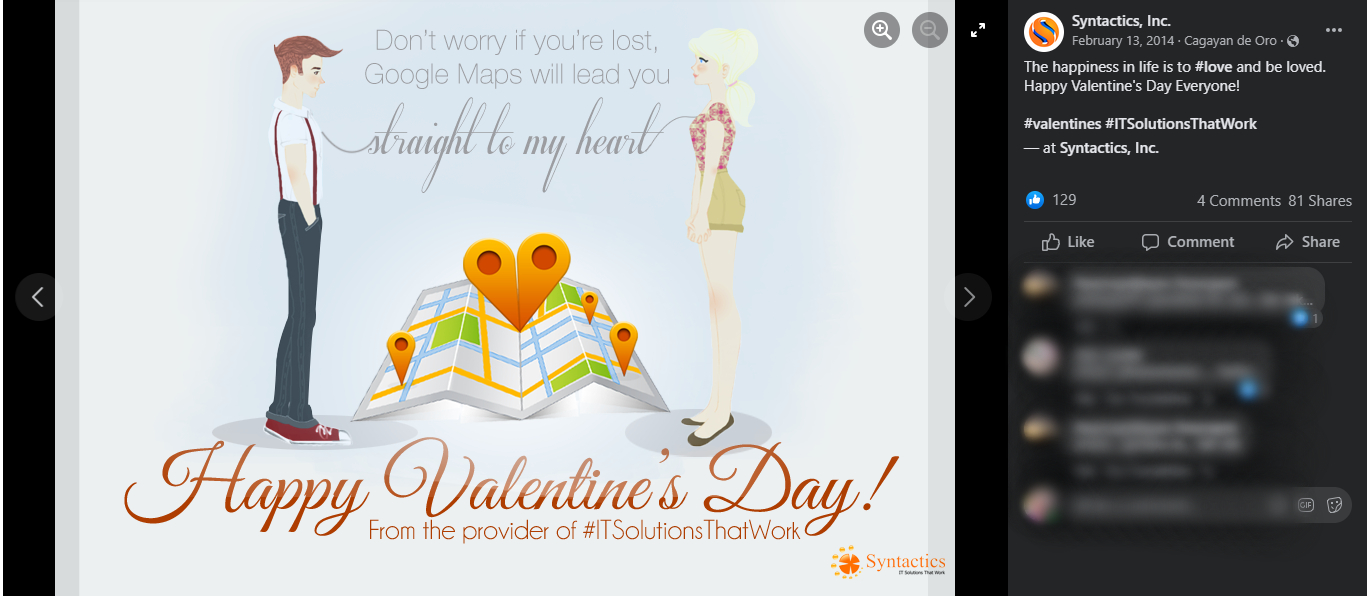 Source: Syntactics, Inc.'s Facebook.
People love holidays since they're related to fun! Thus, you can incorporate holidays with work. So, you can celebrate them with Social Media! And if you have an event on a given holiday, you can invite your audience! 
Now, holidays such as Christmas and Valentine's Day are famous and have iconic imagery associated with them, so your business is sure to generate some great images for the Holiday posts! Awareness Days or Months can also drive traffic, especially if they're related to your business or industry.
A business can base an event on upcoming holidays to mark the passing of time. A company can even celebrate lesser-known holidays, provided they aren't coming out of left field. Take National Hot Dog Day, for example. If your business is a restaurant with hot dog-based dishes, you can drum up some interest with hot dog-themed Social Media posts!
Who uses this type of content?
Industries that observe holidays can post things related to Holidays. Holiday marketing strategies can vary, but the nature of the posts depends on the business! The posts themselves can range from simple greetings to holiday event information. 
Announcements, Contests, and Polls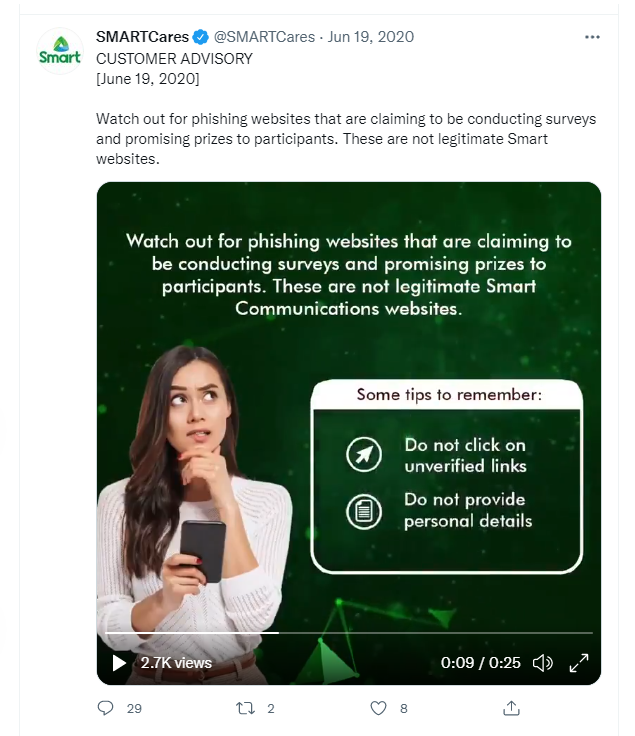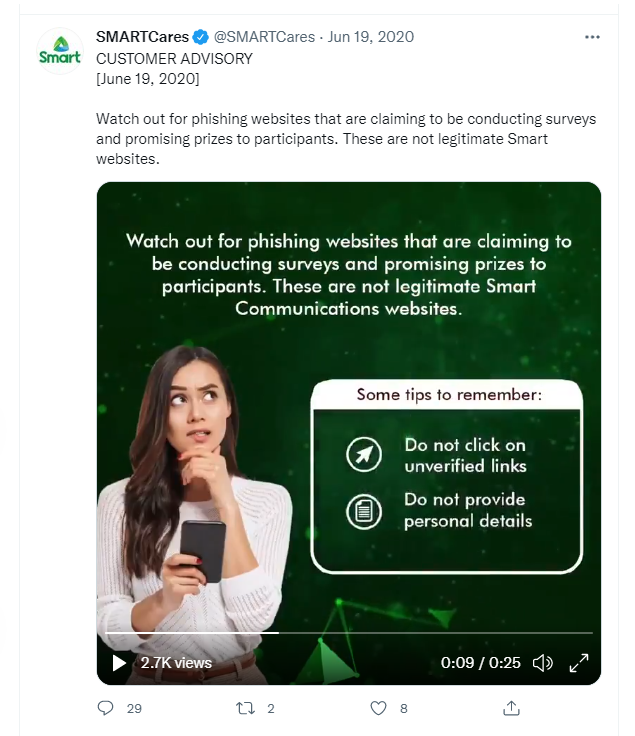 Source: Smart Communications' SMARTCares Twitter.
Social Media Announcements can cover news and contests. In terms of news, Announcement posts involve new offers or partnerships, even sponsorships! Perhaps, you can also add PSAs of varying degrees of seriousness. Also, one can even announce schedules for events!  For example, a company can create teaser videos or images for a given event, leading to the promised dates! Any variety of media is perfect for your Social Media Announcement posts, as long as they can fit with the platform's parameters and your business' tone.
In addition, Contests are terrific for driving up traffic, as they can generate a fair amount of excitement! A Contest can be as simple as commenting a phrase and getting picked or correctly answering a question posed by the company! In addition, a Contest can get its participants on social media, but the actual contest venue can be elsewhere, such as a separate domain. Contests can also occur in a physical venue! But combined with Announcements, you can count on Social Media to bring in the interested parties.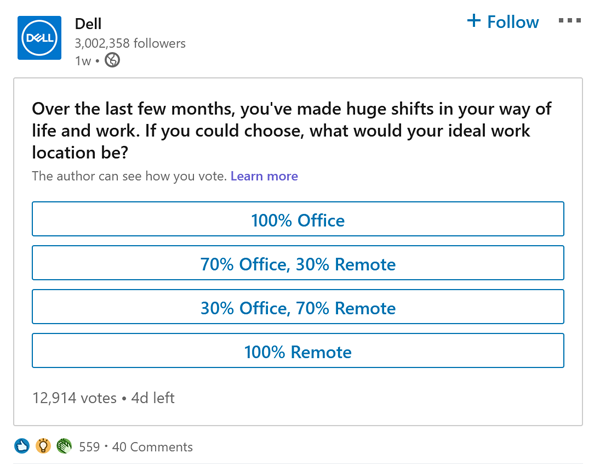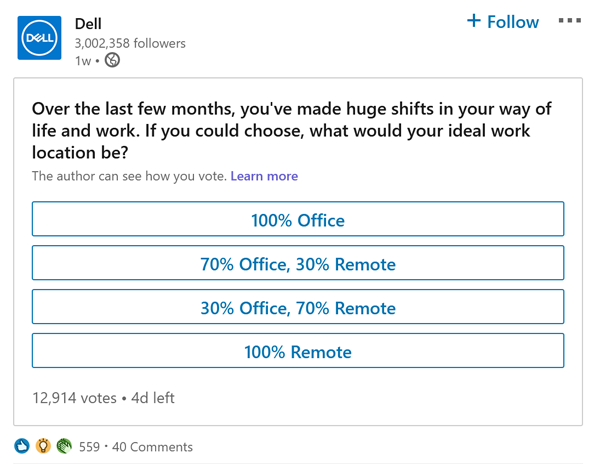 Source: Dell's LinkedIn.
Finally, Polls and Surveys can drive traffic due to your Social Media audience's various opinions. Surveys, of course, allow you to get a measure of how users think. Also, Polls can stir up some commentary, as some polls enable people to comment on the results! 
Who uses this type of content?
Industries of all kinds can put Announcements on their socials, Contests included. Facebook and Twitter are great for making Announcements! Also, Twitter and YouTube enable people to create Polls and Surveys!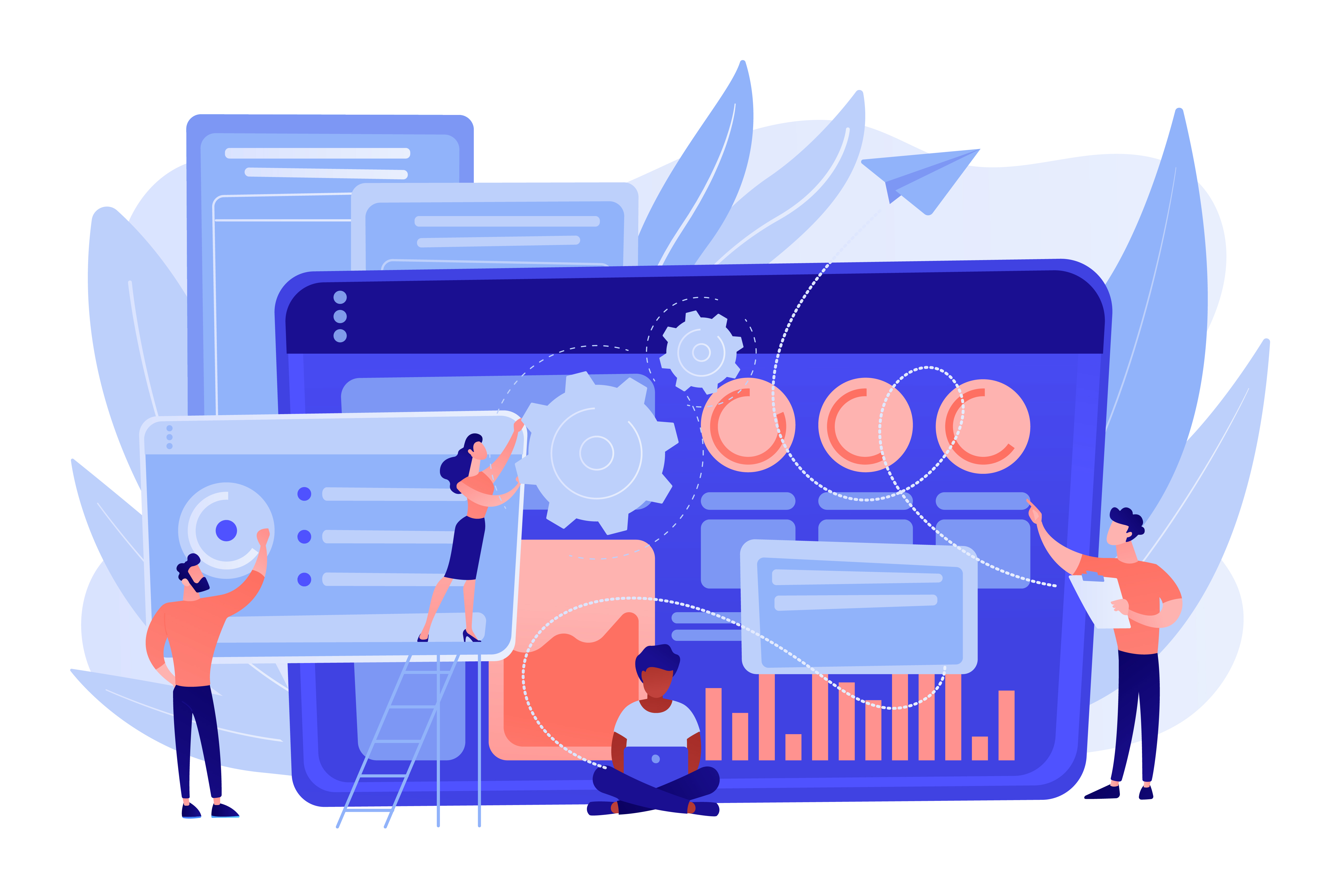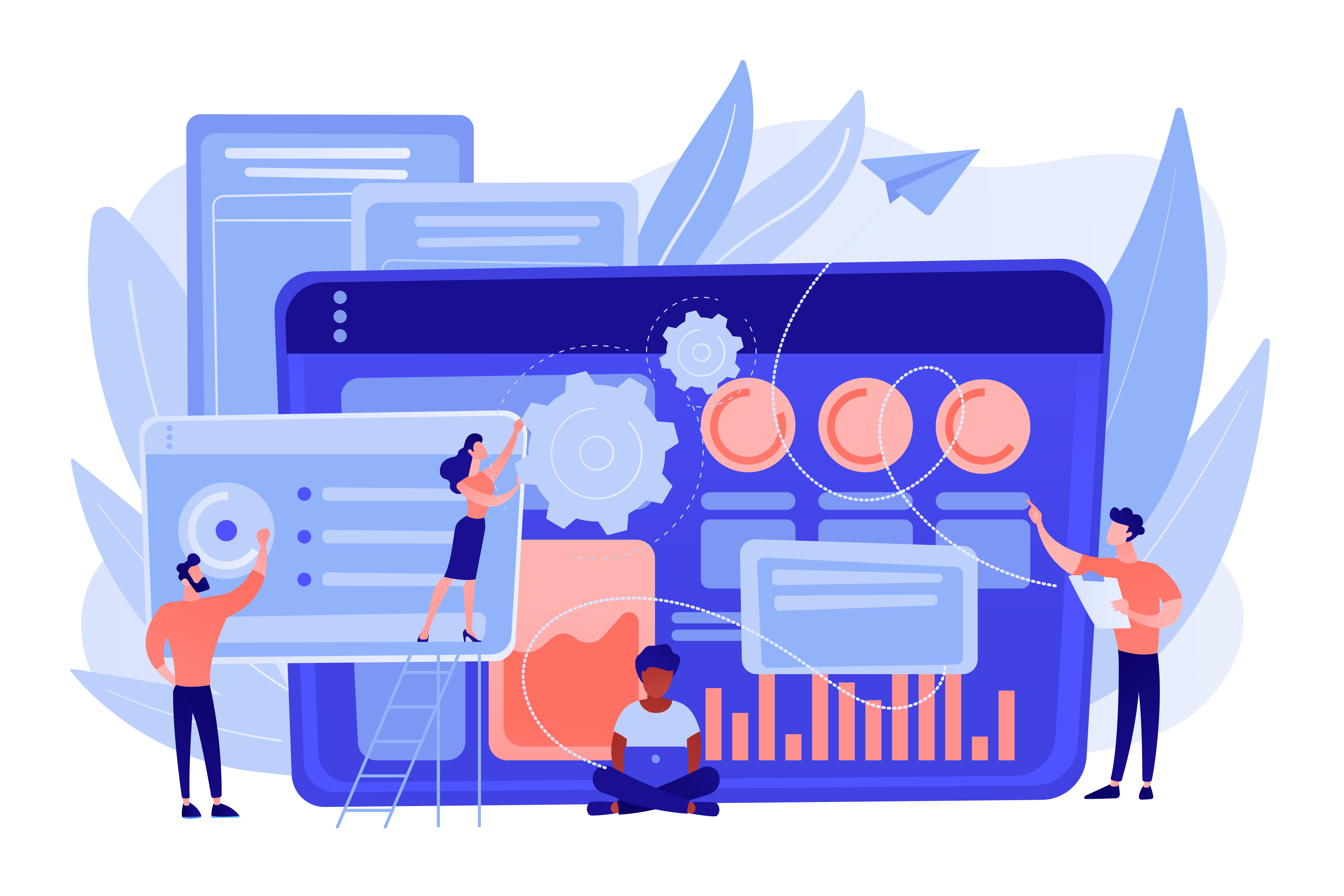 Drum up interest with choice Social Media Content Types!
With each passing second, more and more content gets added to the Social Media landscape. As a result, there's a need to get the attention of more and more people to drive traffic to your Social Media accounts. It's just as important as getting traffic on your business website! When it comes to this, Web Content Services go hand in hand with Social Media Marketing Services in the Philippines. 
Of course, Social Media platforms require that your content follow its limits. Some Social Media Content Types that you can use to draw in more people include text, images, videos, reviews, and announcements. They're all capable of interesting your Social Media audience and stirring up engagement.