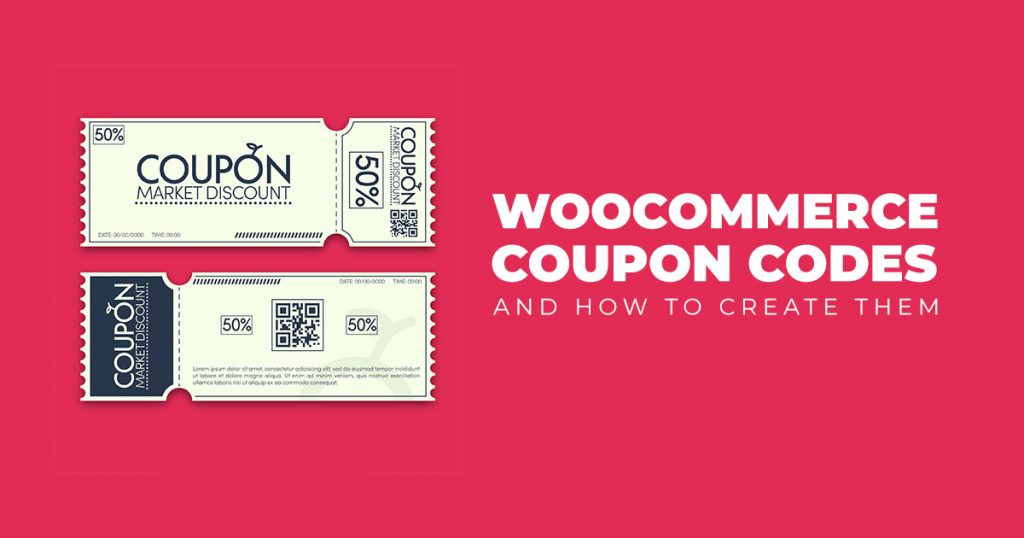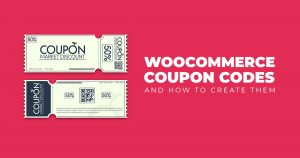 Mar 24, 2022
WooCommerce Coupon Codes and How to Create Them
One might think that shopping coupons are a thing of the past. However, over 90% of consumers use coupon codes while shopping online. eCommerce businesses must meet the needs of their customers, after all. So, WooCommerce can back you up on this. WooCommerce is among the Top eCommerce Platforms for a reason, despite being a WordPress plugin. It adds products, has checkout options, and keeps payments secure among its many features. Also, it manages taxes and shipping! WooCommerce does all this and even creates personalized discount coupons. So, read on to find out how to create One-Time Personalized Codes for your coupons. 
WooCommerce and discount codes
The WooCommerce plugin has advantages and disadvantages, but all in all, it goes perfectly with eCommerce businesses. Not only that, but it lets you create one-time personalized coupon codes. Thus, they're perfect for promoting your eCommerce business and boosting sales. Also, they lessen the chances of customers abandoning products in their carts. Lastly, they can be the gift that keeps on giving — to both your shoppers and your business. After all, "63% of shoppers […] want coupons to be more available." Thus, customers will want to come back to spend their coupons often! After all, coupons can help shoppers save some money with every purchase.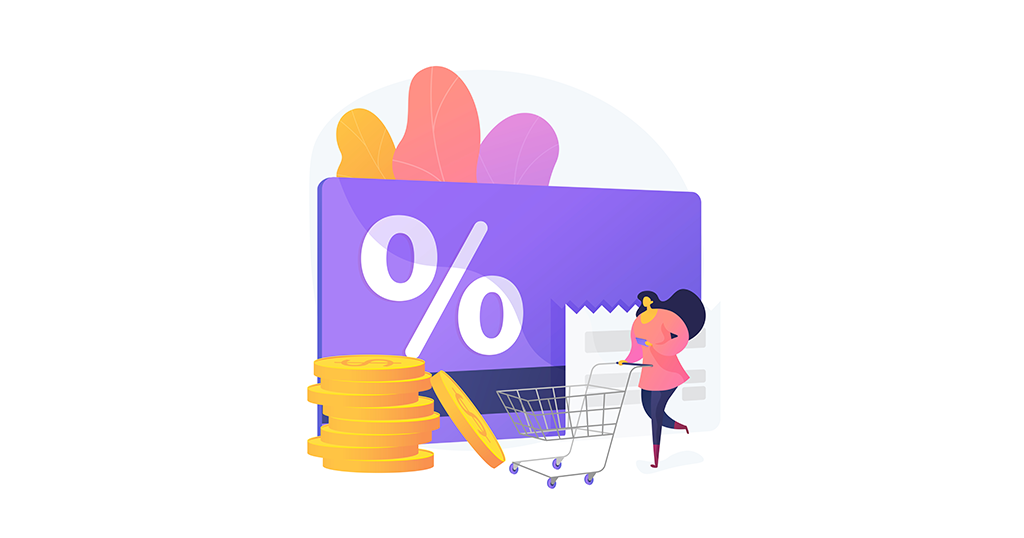 Though coupons are a great way to help loyal customers save while shopping, they need limits. For instance, multi-use coupons can be used by many customers. So, to make sure shoppers don't overuse them, consider using WooCommerce One-Time Coupon Codes.
How to Create One-Time Personalized Coupon Codes
There are a few methods to generate personalized WooCommerce discount coupons after creating a WordPress Website. You can create Single- or Limited-Use Coupons, Personalized Coupons, and even Role-Restricted ones. We'll be breaking down the first two as incorporating them results in One-Time Personalized Coupons. (And don't worry, we'll talk about Role-Restricted Coupons too.)
Getting Started
Note: Before you get your Coupon Codes, you need to install and activate the WooCommerce plugin.
To start, Click on Marketing to head to the Coupons page on the WordPress Dashboard. You can add the coupon by clicking the appropriate button. You can manually type your desired coupon code or generate one. For the latter, just click Generate Coupon Code.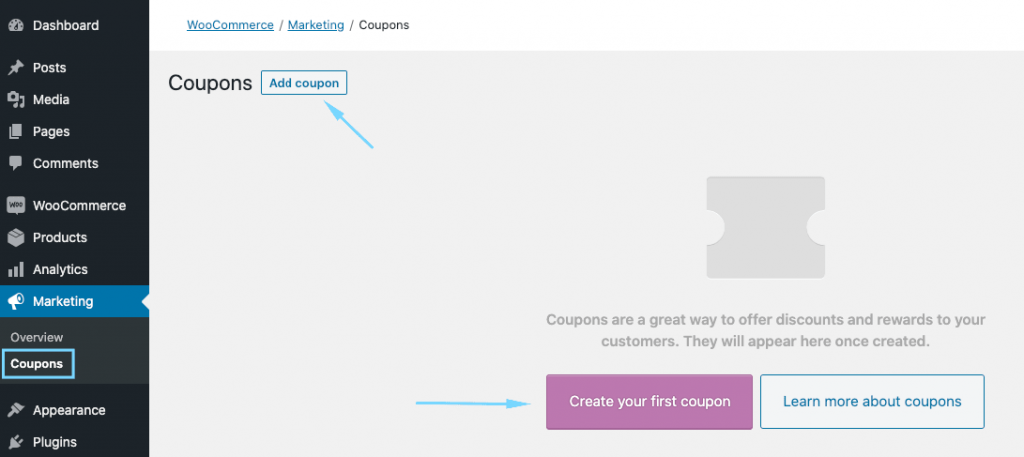 Source: WooCommerce.
So, you need a clear purpose for the coupon. Although optional, it's recommended to type a description of the coupon's purpose. Doing this prevents you from forgetting about it.
Then, you can choose the type of discount to offer and the amount. You may also choose to offer free shipping. Lastly, you can add an expiration date to the coupon.
Once the coupon has been edited to your satisfaction, you can limit the users and the number of times it can be used. Check out these methods:
Step 1: Creating One-Time Use Coupons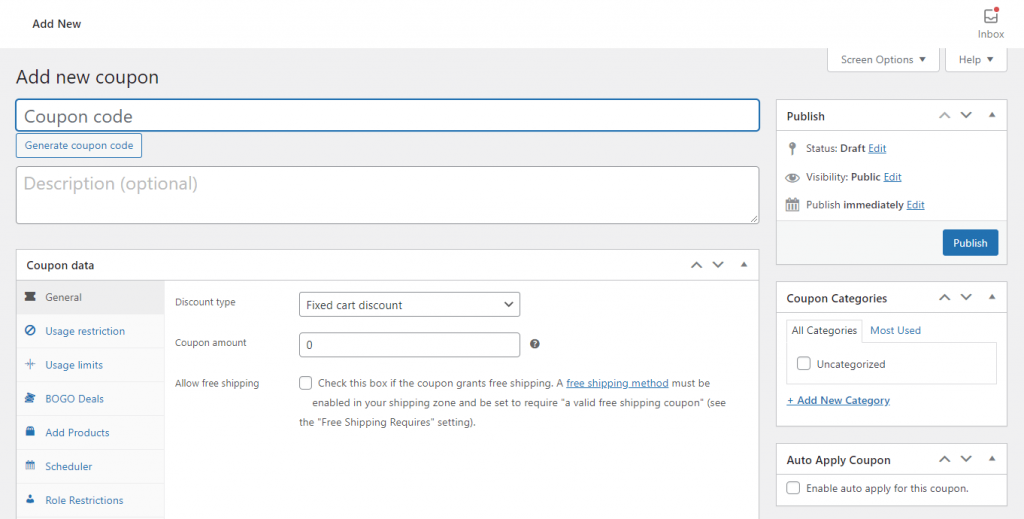 Source: Advanced Coupons.
As the name indicates, this method lets users create a limited-edition discount coupon on WooCommerce. You can either specify a single use or a limited number of uses per user. Start by going to the 'Add new coupon' page to see the 'Coupon data' section. Then, click the 'Usage limits' tab.
To limit a coupon for single use, type '1' in the field, 'Usage limit per user.' This tells WooCommerce that a user can use the coupon only once. So to create a limited-use coupon, type a number of your choice in the 'Usage limit per coupon' field. Instead of limiting the use per user, this specifies how many times the coupon can be used, even if more than one person uses the coupon.
For more specific results, you can even type numbers in both fields. For example, you could limit usage per user to one and then limit coupon usage to 500. Thus, 50 shoppers can each use the coupon code once.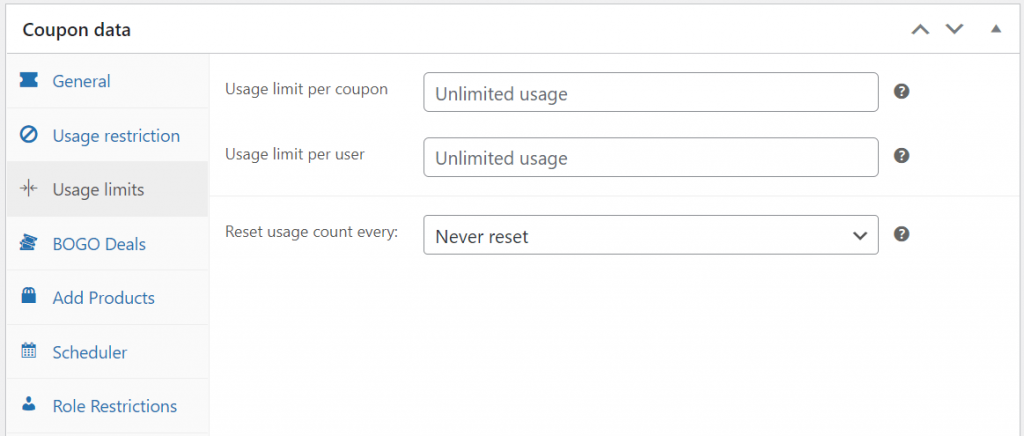 Source: Advanced Coupons.
Plus, if you're a premium WooCommerce user, you can reset the code regularly so that it works again after a while.
Step 2: Creating Personalized Coupons
With this method, you create a Personalized Coupon which means it's available to selected shoppers. 
Go to the 'Coupon data' section from the 'Add new coupon' page. Then, click the 'Usage restriction' tab. Next, you need to look for the 'Allowed emails' field and enter at least one email address, ensuring that commas separate each one. That's how you can restrict coupon usage to those specific customers.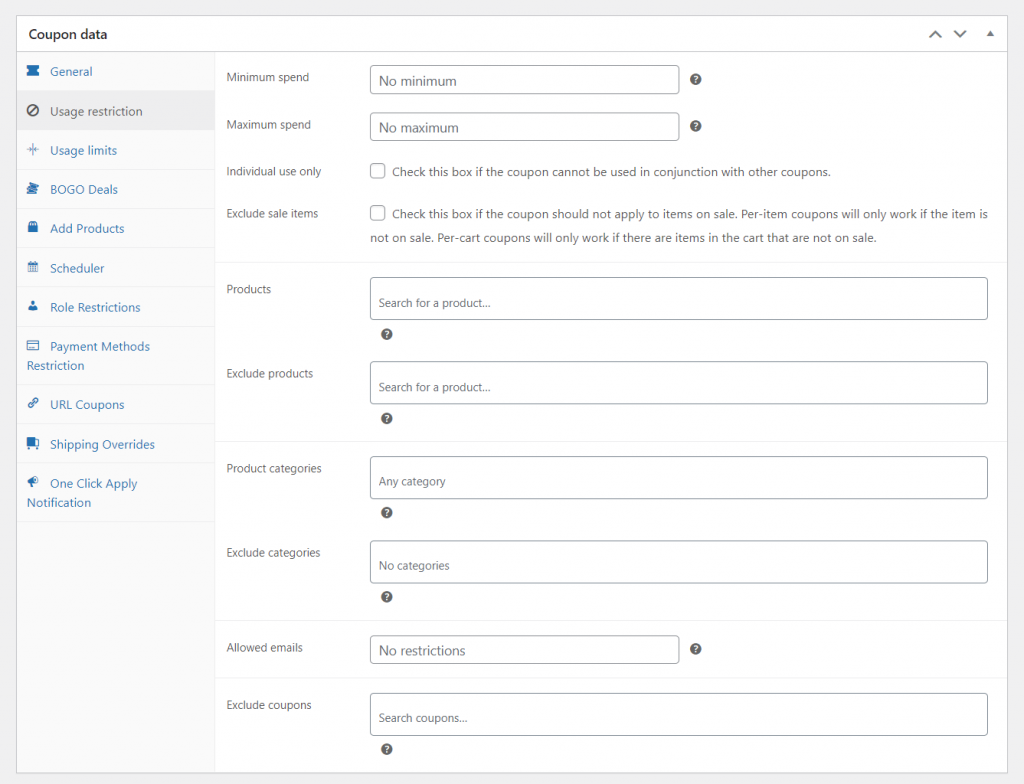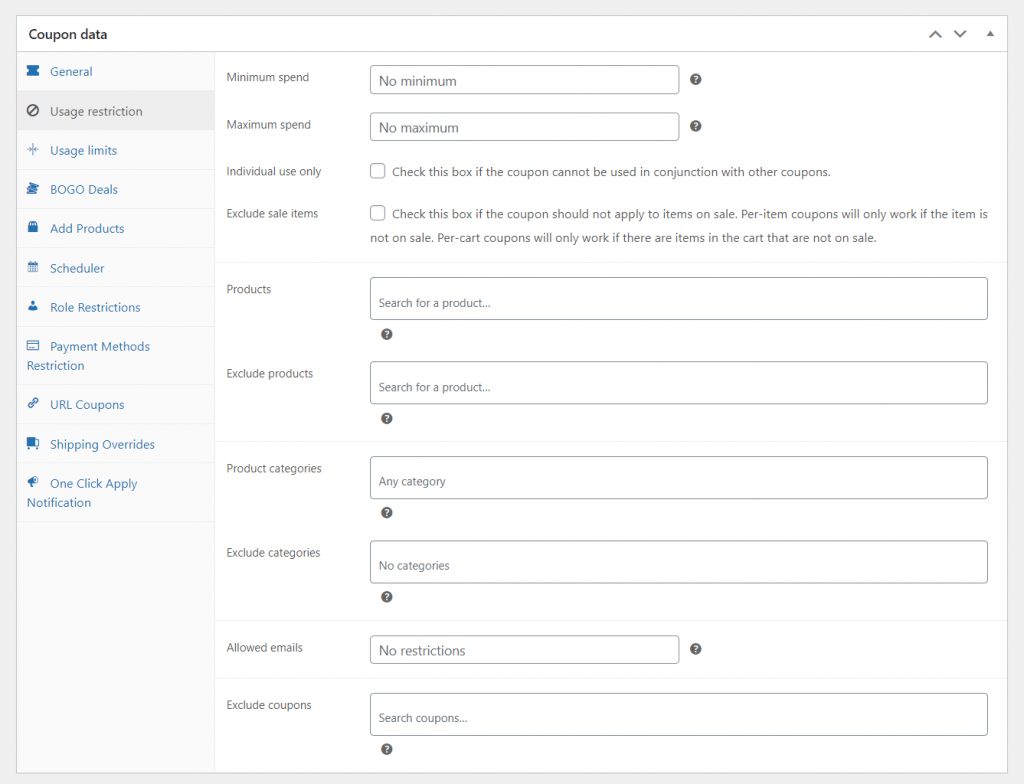 Source: Advanced Coupons.
In addition, you can even restrict coupon usage to particular email addresses with an asterisk. So if you enter '*@gmail.com' in the field, then shoppers with Gmail addresses are the only ones who can use the coupon. The only caveat is that these users can use the coupon more than once. 
Step 3: Combine the methods
So to create One-Time Personalized Coupon Codes in WooCommerce, you should combine the two methods from earlier. The great thing is that the two methods are easy to put together to create your desired One-Time Personalized Code.
First, limit the coupon usage per user to 1 only via the 'Usage limit per user' field. The next step is to enter the email addresses in the 'Usage restriction' tab. So, only those users specified get to use the coupon just once!
Bonus:
Creating Role-Restricted Coupon Codes on WooCommerce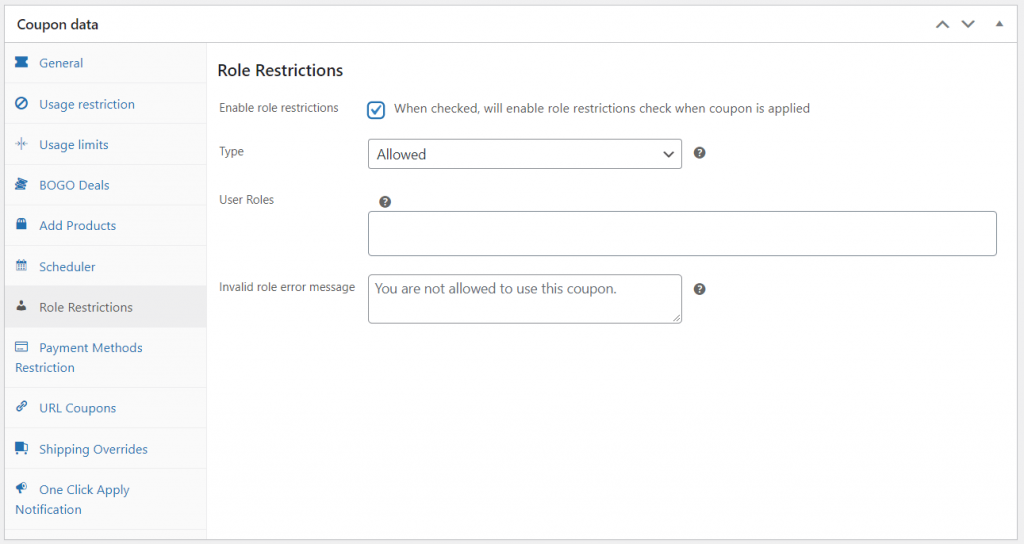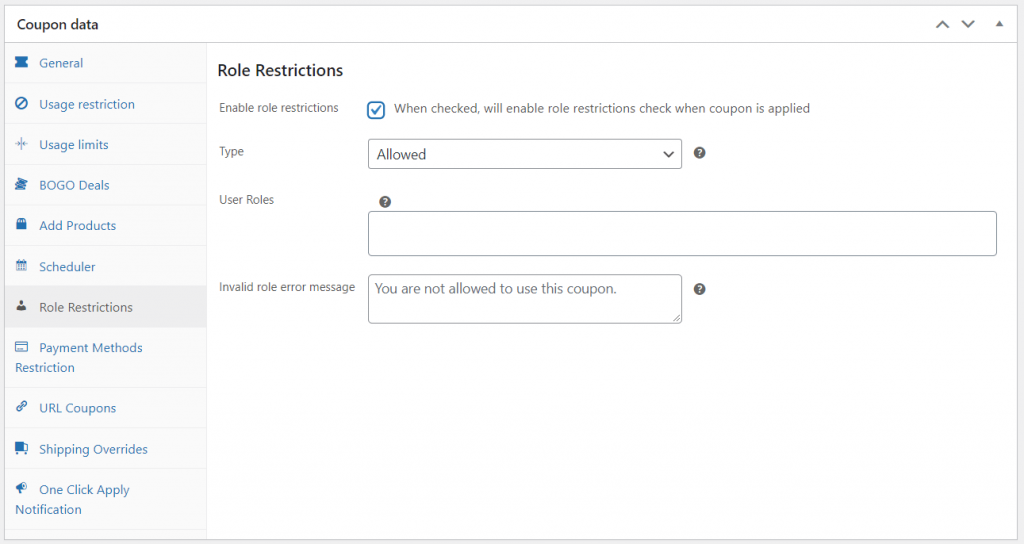 Source: Advanced Coupons.
This method lets you create coupons solely for specific WordPress user roles. Compared to manually typing email addresses, creating Role-Restricted Coupons requires a lot less work. 
Go to the 'Coupon data' section from the 'Add new coupon' page. Then, click the tab, 'Role Restrictions.' Tick a box to enable the role restriction feature. Next, you can select one user role or more. After all, there's a whole list of roles to choose from! You can also assign loyal customers particular roles for equally special coupon codes. This is one way to make member-only WooCommerce discount coupons.
In addition, the 'Invalid role error message' needs to be customized. This way, customers see why they can't access the coupon if they don't have the correct user role.
Also, as with adding One-Time Personalized Codes, you can combine this with the Single-use Coupon Code creation. It'll ensure that each customer with a specified user role gets to use the code once.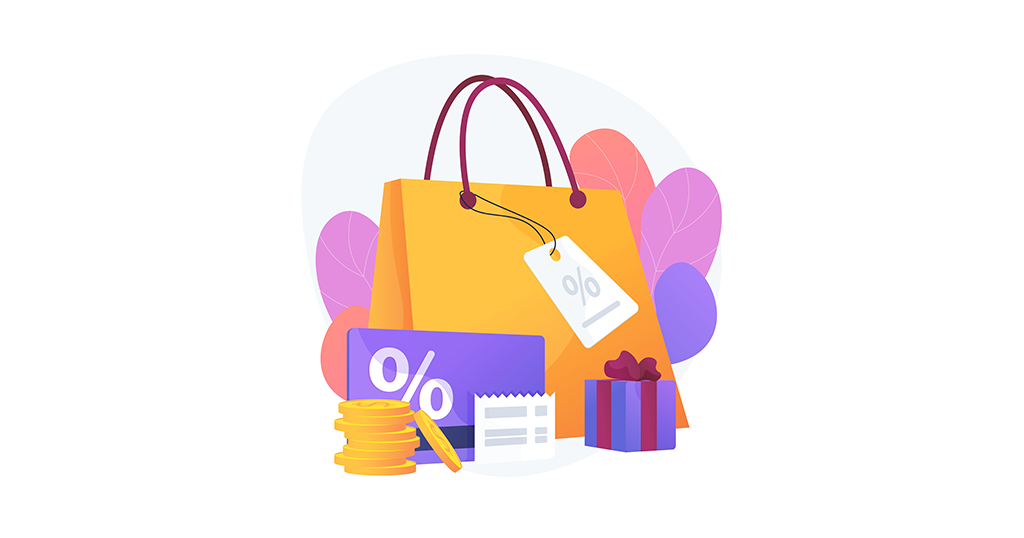 Create your personalized discount codes today!
Once you've built your coupon to your liking, regardless of the method, you're free to publish it. Your customers will appreciate having special discounts when they go online shopping. So send them to your email subscribers, loyal customers you want to reward, or any buyers who left you reviews. 
WooCommerce touts itself as "the most customizable platform for building your online business." It offers many specialized features designed to cater to eCommerce businesses. In addition to making carts and assisting with shipping, WooCommerce creates coupons. There are various methods for adding codes depending on the desired type of coupon. You can create Single-Use or Limited-Use Coupons, Personalized Coupons, or even Role-Restricted Coupons! You can blend these methods as needed to make even more unique coupons. So, it's best to play around with the settings and figure out which one best fits the sort of coupon you need! As such, you can even create One-Time Personalized Codes for your customers.
Need a hand with personalized Woocommerce coupons for your WordPress site? A Web Development Company in the Philippines has you covered.