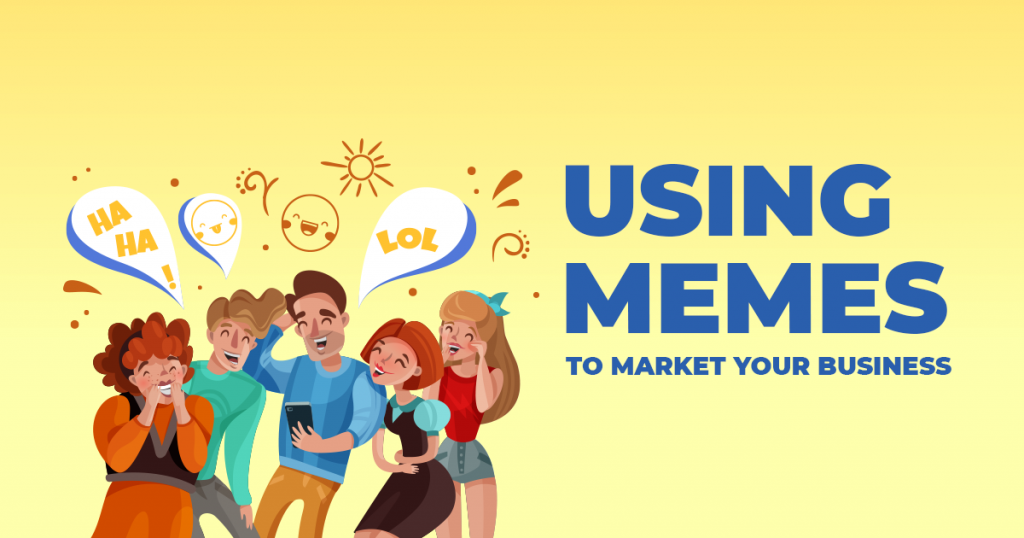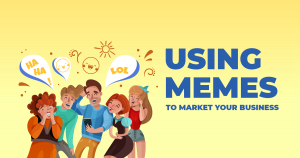 Nov 22, 2021
Using Memes to Market your Business
Using humor or Memes in your marketing strategy is an excellent way to get people's attention. Using memes in your marketing strategy is one way for your business to get your foot in the door when it comes to conversions! Internet memes are a culture unto themselves, with their own trends. Digital Marketing can make use of such memetic images. Also, memes are pretty prolific on social media for marketing! 
Memes? In your Digital Marketing? It's more likely than you think.
Oxford Languages says a meme is a humorous text, image, or video that gets shared around rapidly by Internet users, and some even have variations. So, in essence, memes are a snippet of media that's supercharged with a universal or relatable meaning!
Now, memes may not be as important as Social Media Infographics in terms of knowledge, but they're nonetheless important. Humor can help boost conversions in many ways!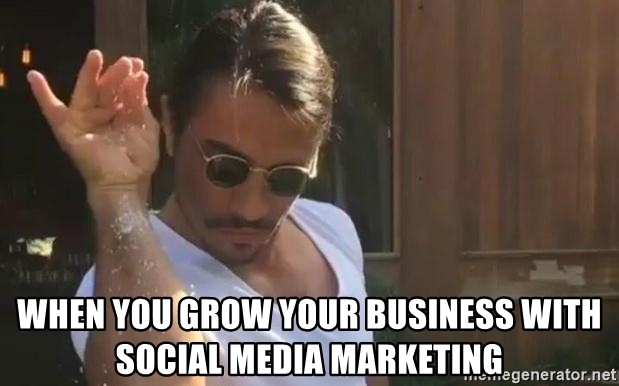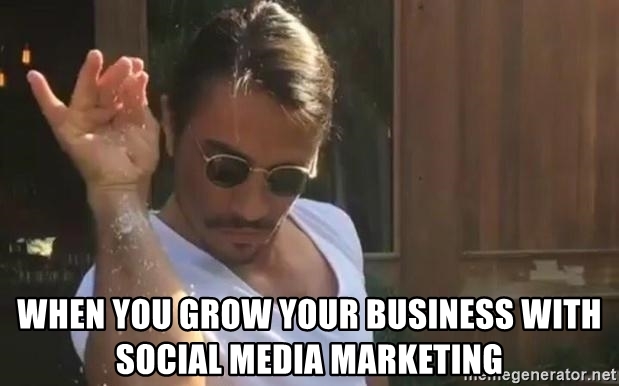 Source: Meme Generator.
However, you may write memes off because you don't really "get" them or their culture and trends. But, younger generations, or those aged 18 to 34, make up half the worldwide population of Internet users. Additionally, 75% of millennials tend to share memes. That makes them a prime audience for Memetic Digital Marketing!
Using memes in marketing 101
Meme marketing requires in-depth knowledge of memetic images. You can't just pull a random image and halfheartedly type out a caption or two! Memes have a universal meaning that people just 'get,' even if they don't speak the same language. Memes are more of a semiotic thing. So, they're focused more on symbols rather than language. However, language is still a big part of many memes. Here are the advantages of using memes:
Applicability and universality
The fun thing about a meme is that it comes from a moment in time that everyone understands! As a result, the meme's meaning crystallizes into one that all Internet users understand. Without said meaning, there would be no vessel for the joke or the understanding across demographics. Since most Internet users understand the essence of the meme, they tend to go viral, if not spread throughout the 'Net! For example, take a look at this dude who puts up cardboard signs teaming up with Old Spice: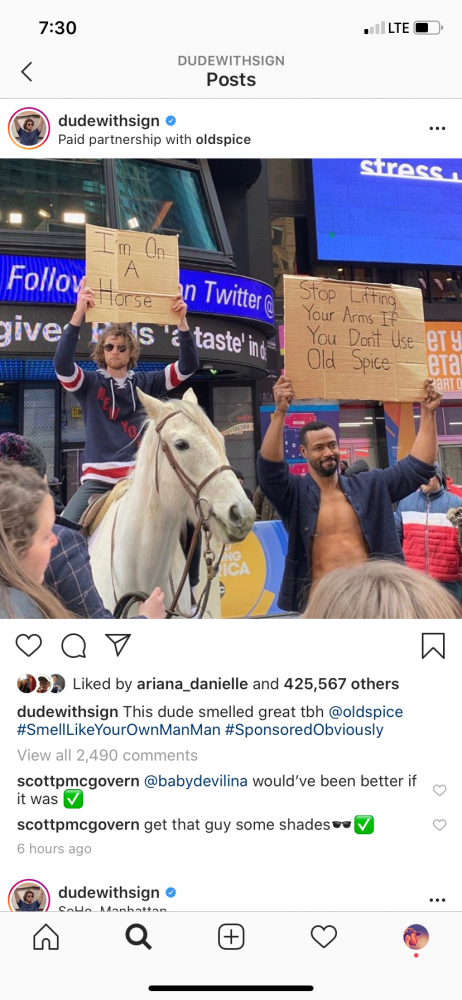 Source: Medium.com.
Ease (and cheapness) of creation
In terms of scale and resources required to create them, memes are really easy to make. Almost laughably so. It's as easy as hopping down to Meme Generator and slapping on a bit of text that matches a given meme! And don't forget those Social Media Captions!
But, hand-crafting your marketing memes can go a long way. It's highly encouraged to make your memetic images in-house. It's especially true if you want to give your Social Media Marketing memes a layer of polish and a touch of personality. Memes consist of either text or visuals or a combination of both. Not only that, they can have a variety of applications! Also, combining your branding with memes can bring you to a broader audience of Internet users.  Speaking of, people who haven't seen Avengers: Infinity War yet, avert your eyes!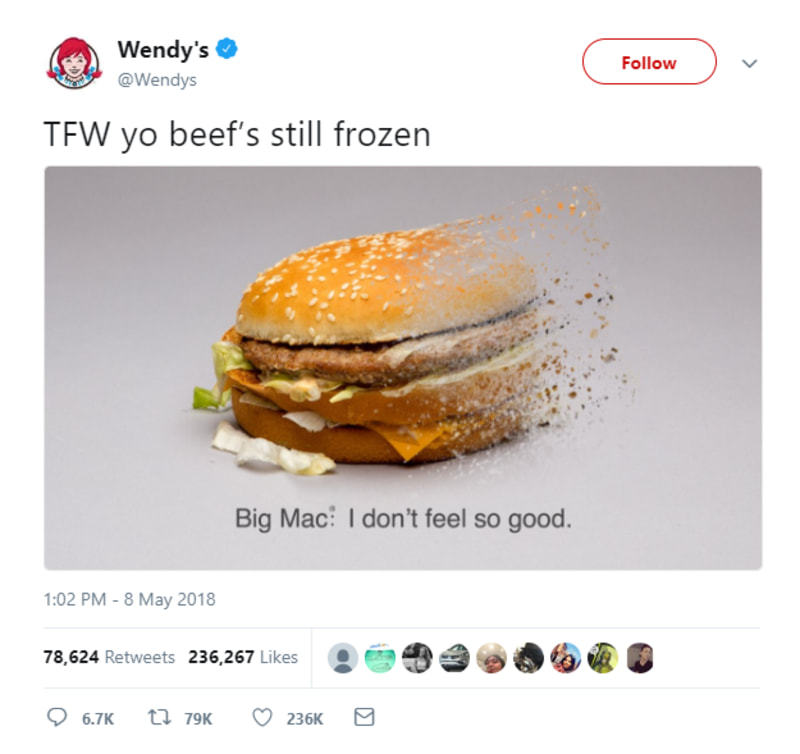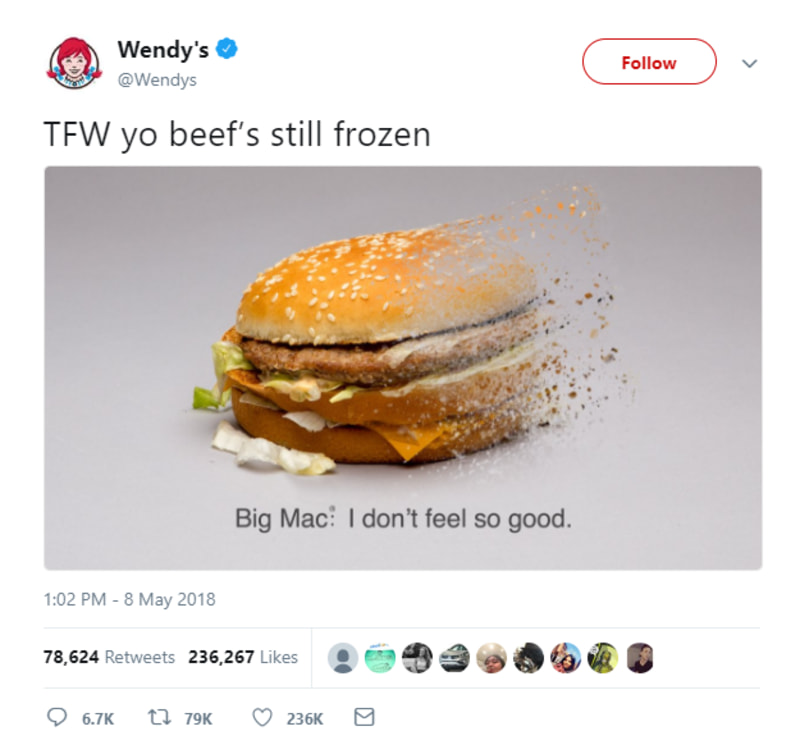 Source: Memes.com.
Relatability
With humorous memes in your digital marketing comes an understanding of the human element of your business! Witty branding tends to come from clever human minds, giving your brand an edge over competitors. It also tells your audience that they aren't robotically churning out Digital Marketing Content like these memes to get more people to patronize their brand!
Instead, posting trending internet memes shows that they want to make peoples' days a bit happier, to cheer people up while they're scrolling through the platform. Take this meme from Netflix, for example. (Spoilers ahead for people who don't watch the TV series Riverdale!)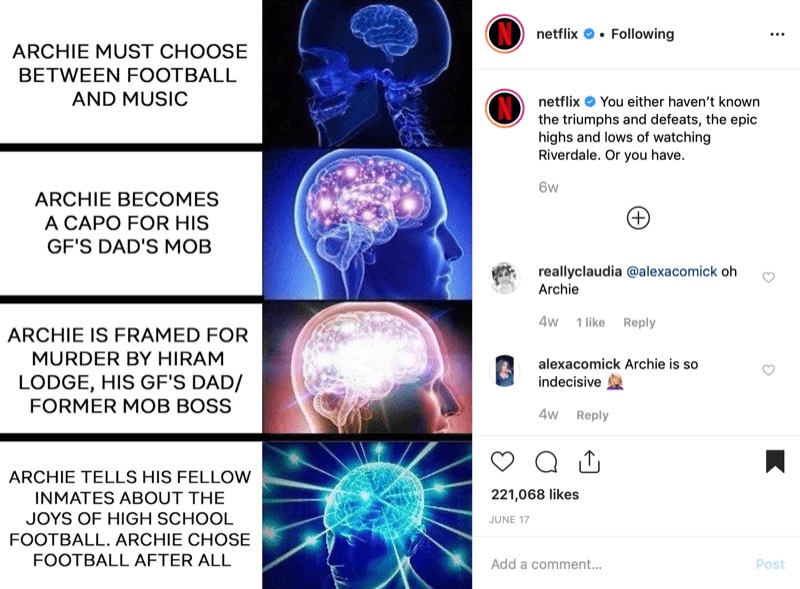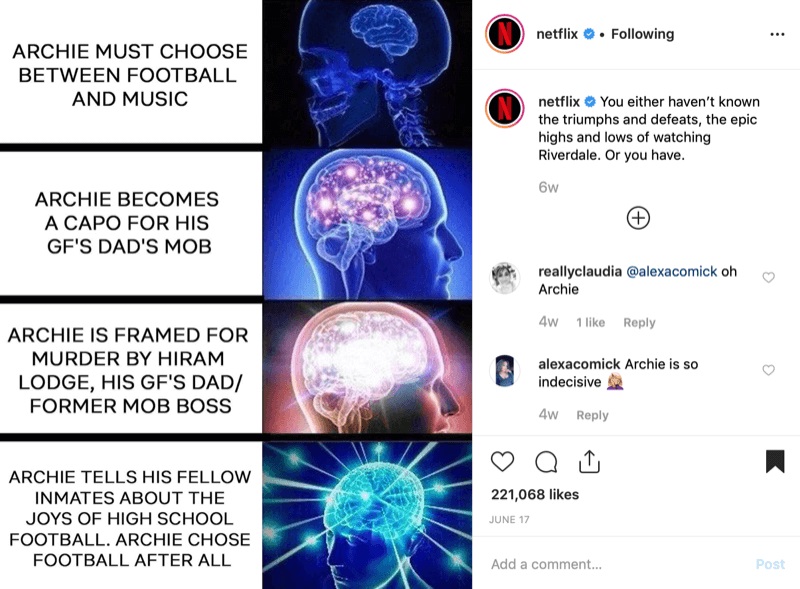 Source: Social Media Examiner.
Elicits (generally positive) emotion
Now, while memes were generally to get a laugh out of people, the laughs are really for those who get the joke. Not every meme elicits gut-busting laughs — if every meme did that, people would be out of breath. Now, if you want to make memes a mainstay in your Social Media Marketing strategy, consider using Social Media Calendar Templates! 
Sometimes memes are a message to other people who have gone through a similar yet universal experience. They can be a sort of bonding experience! The common denominator is that memes can bring people together with relatable sentiments (though most are humorous). If you haven't started using memes for social media marketing, you should start simple yet fun and light. 
Things to remember before jumping into memes
Keep an eye on Meme trends.
You see, when a brand uses a meme right, everybody rejoices and comments on how they 'understand current humor!' But when a meme is misused or after its supposed expiration date, people write you off as some business trying to be relatable and failing. However, when done right, Memes can boost traffic. That's why it's essential to have Digital Marketers who have an eye on Meme culture. While most people might think they're silly at best and borderline incomprehensible at worst, memes live fast and hit hard. Additionally, their relatability could help you reach viral heights.
It takes 15 minutes of fame… give or take.
While they're a social media content type that's tempting to use, memes have a short shelf life. A particular meme could be white-hot one week and an ancient relic the next. When it comes to Memetic Digital Marketing, time is of the essence! Not only that, if you post an old or unrelated meme, nobody will be impressed, least of all the audience you're trying to attract — especially some of the younger generations. You have to take advantage of a meme's rising popularity to get attention!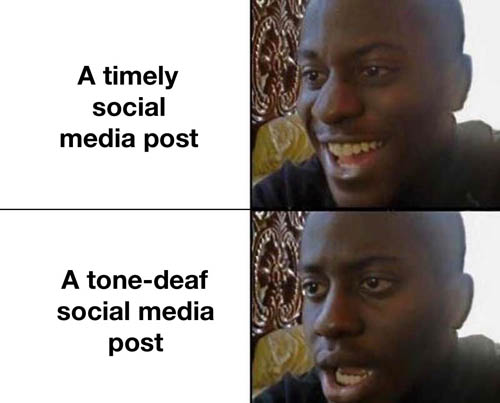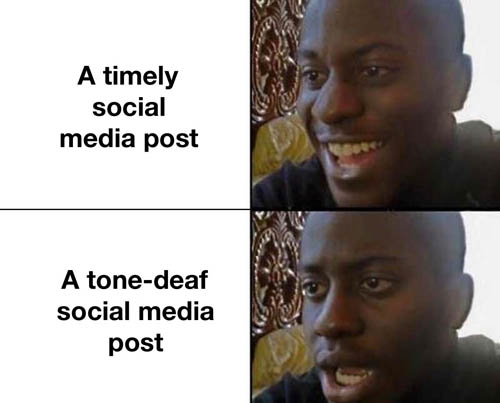 Source: DigitalMarketer.
You can "mutate" a meme to better fit your branding.
To be more precise, you can change the meme to be more relatable to your branding. This phenomenon is what's called memejacking. You can apply these sorts of branded memes to your own Social Media posts! Also, you can use memes on other channels, such as your Marketing Emails or your blog posts. However, they should match the theme and tone. In addition, you can even merge your branding and a meme to make something unique!
One does not simply ignore the benefits of using memes in digital marketing 
People love humor. Get a chuckle out of a person one day, and they may find themselves gravitating towards your product or service the next! That's where Memetic Digital Marketing comes in.
Visuals, such as images, GIFs, and videos, are a part of memes. A text meme can stand by itself, but it becomes even more iconic when combined with a visual element! Memes are known for having specialized and generally positive meanings. These meanings can apply to nearly every Internet user on the Internet. Because of this applicability, it can show your audience that you're not just some brand trying to be relatable "for the lulz." Also, memes are easy to replicate and use for your Digital Marketing campaigns!
However, memes have drawbacks, such as their short lifespan. Therefore, it puts great importance on keeping yourself informed about meme trends! That way, you can change up the meme to make it go with your branding messages better. Of course, you can use Memes in your Social Media Marketing, but Social Media Marketing Services in the Philippines can tell you what's best for your brand.