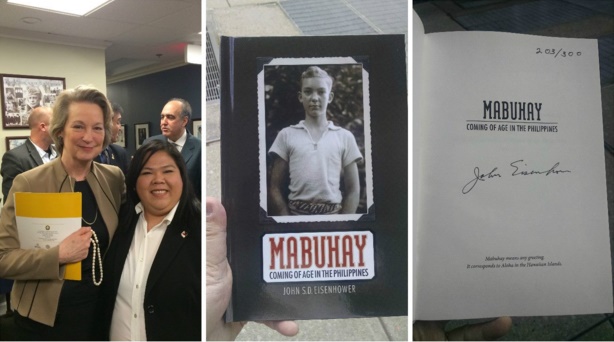 Apr 18, 2016
SYNTACTICS CEO AT 2016 EISENHOWER FELLOWSHIP
Eisenhower Fellowships welcomes a group of outstanding leaders each spring to participate in the Multi-Nation Program. Additionally, it is the very first fellowship program that started in 1954.
The EF is a private, non-profit, non-partisan organization created as a gift in 1953 by a group of prominent American citizens to honor President Dwight D. Eisenhower for his contribution to humanity as a soldier, statesman, and world leader1. Eisenhower was a man who believed that cooperation is the result of friendship. Hence, Eisenhower Fellowships fostered friendship and cooperation among different nations, removing boundaries and borders and emphasizing on the good that can be done through this exchange program.
This year, the 23 Multi-Nation Fellows represent 22 different countries.
Moreover, these Fellows have wide-ranging interests in land investment & property rights, national security & counter-terrorism, women's empowerment through media, criminal justice reform, cultural preservation, eMedicine, social entrepreneurship, tax systems, and more similar fields. In addition, each Fellow has made a commitment to mentorship for the advancement of the next generation of emerging leaders.
The main tenet of the Program is that "Eisenhower Fellowships identifies, empowers and connects innovative leaders through a transformative fellowship experience and lifelong engagement in a global network of dynamic change agents committed to creating a world that is more peaceful, prosperous and just."
The 2016 Multi-Nation Program is joined by the following International representatives:
MOHAMMED ABAALKHEIL
Head
Bank Albilad
OONAGH MCPHILLIPS
Assistant Secretary General, Corporate Affairs
Department of Justice and Equality
WAHYUNI HADI
Producer & Executive Director
Singapore International Film Festival
MAXWELL MUTEMA
Founder & CEO
Grosbrook Private Limited
BERNARDO ALTAMIRANO-RODRÍGUEZ
Founder & CEO
Better Business Bureau Mexico
FRITZ PASARIBU
Colonel
Indonesian Army
STEPHANIE CARAGOS
President & CEO
Syntactics, Inc.
Philippines
VUYISILE PHEHANE
Senior Manager
Agricultural Research Council
I-I CHAN
Director of News
TVBS
ROSALBA STRIANI
Senior Legal Officer
Italian Antitrust Authority
SOPHIA ERIKSSON
Head of Unit
European Commission
EDWIN TO
Founder & CEO
BudgetWise Supermarket
ONUR ERYÜCE
Secretary General
SODEM
ANDRES TORRUBIA
CoFounder & CEO
MedBravo/Fixr
ANU GEORGE
Additional Secretary
Government of Tamil Nadu
BALÁZS TÓTH
Program Director
Hungarian Helsinki Committee
ADI GIGI
Senior Security Consultant
Defender Security Group, Ltd.
ARCH WONGCHINDAWEST
Founder & CEO
Socialgiver
LORNA IRUNGU-MACHARIA
Managing Partner
Siwa Communications
FARZANA YAQOOB
Minister
State of Azad Jammu & Kashmir
FERNANDO KOCH
Director of Research & Development
Samsung Research Institute Brazil
DAN MANOLESCU
Tax Partner
Soter & Partners
Stephanie Picardal Caragos (Syntactics), along with Fellow Edwin To, have both joined the Multi-Nation Program to represent Mindanao/the Philippines. As mentioned on her EF profile, she is a passionate advocate for the tech sector as a transformative economic tool. Consequently, Stephanie Caragos uses IT mentoring and business development to college graduates in Mindanao who come from low-income families. Thus, giving them the skills and experience that will propel them further in their professional careers and enabling them to help their families as well. Her efforts, along with the Cagayan de Oro ICT Council, Public, Private and Academe cooperation, have helped make Mindanao a tech center, increased the pool of IT talent, and enhanced the prosperity and quality of life.
After founding her own tech outsourcing company, Syntactics, Inc. in 2005, Caragos launched LetIThelp.org, a social enterprise that pairs local tech college graduates with career mentors from Syntactics.
While on her fellowship, Caragos will explore mentoring and business models that can inform and promote her scale up and implement expansion of the LetITHelp program to other regional sites. Through her visits to innovation centers and IT training institutes in the U.S., Caragos will research how teaching IT skills increases economic opportunity. She will also study software trends that could positively impact the small and medium-sized enterprise (SME) culture in the Philippines.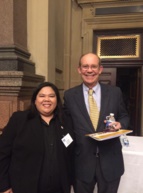 By now, Caragos has already met and listened to Dwight David Eisenhower II (left photo), an esteemed trustee of Eisenhower Fellowships, at Philadelphia City Hall, where he talked about the legacy of his grandfather, President Dwight D. Eisenhower.
On her Facebook post, she further mentioned, "He is, of course, an American author, public policy fellow, professor at the University of Pennsylvania, and the U.S. Presidential mountain retreat, Camp David, is named after him."
She has also had the esteemed honor of meeting David's sister, Susan Eisenhower (below), the granddaughter of President Dwight D. Eisenhower.
According to Caragos, "She is a consultant, author, and expert on international security, space policy, energy, and relations between the Russian Federation and the United States of America. I had the honor of giving her the Cagayan de Oro Folder, wore my CDO ICT hat and gave her the thank you gift made by my mom for her. She gave me copy 203 of 300 of the book her father, John Eisenhower, a known historian, wrote and signed. It is the book he wrote about his years in the Philippines. I am learning even more things about the history of the Philippines while on this trip."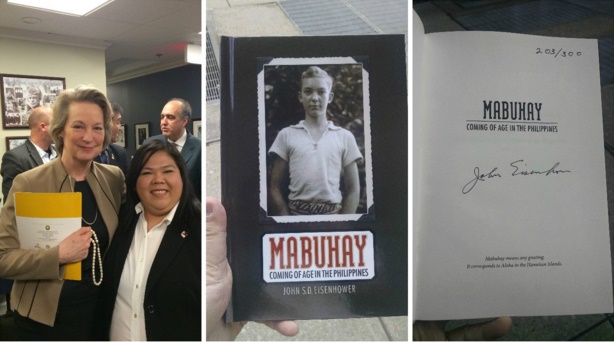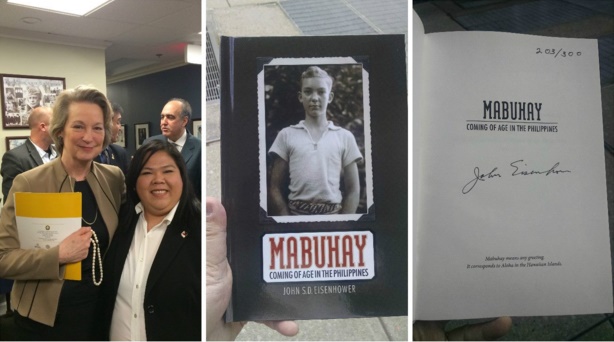 Caragos' selection to the 2016 Multi Nation Program of EF has been featured in the March 26 to April 1, 2016 release of Cagayan de Oro Times (BusinessWeek Mindanao, Philippines), which showcased her passion and motivation for the ICT industry, and a brief background of how she started as a tech entrepreneur2.
As posted and scheduled, the EF's 2016 Multi-Nation Program runs from April 4 to May 19, 2016. The experience will begin and end at EF's headquarters in Philadelphia, with Opening and Closing Seminars that include opportunities for networking and special conversation. Highlights include a discussion of General Eisenhower's legacy with his grandson, David Eisenhower, as well as participation in EF's Annual Meeting with its chairman, General Colin L. Powell, USA (Ret).
1
Eisenhower Fellowships
2
The CDO Times