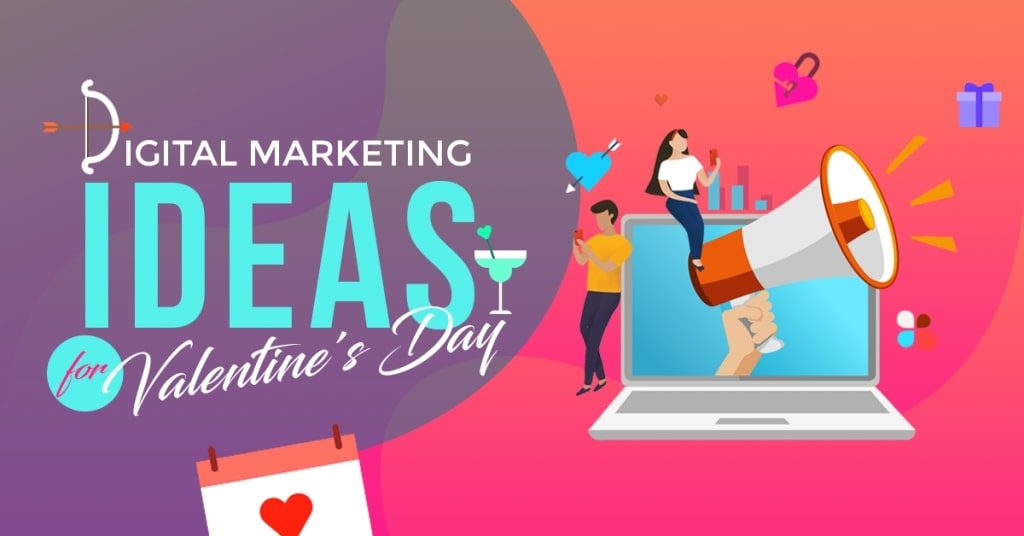 Feb 8, 2019
Digital Marketing Ideas for Valentine's Day This 2020
DIGITAL MARKETING IDEAS FOR LOVE'S SEASON
Valentine's Day is an annually huge successful seasonal sales period. It's a goldmine that provides a great opportunity to explore digital marketing ideas to connect with couples and singles. Customers aren't hesitant to invest money to express their affection for their loved ones. From flowers, jewelry, clothing or just setting up a dinner-for-two, people are just spending the big bucks for their significant others.
According to Statista Valentine's Day survey, 36.9% of internet users use their smartphones to research products and compare prices. Furthermore, 44.7% will use their tablets to make purchasing decisions related to the season for their loved ones. Hence, technology will definitely play a big role for your customers to celebrate Valentine's Day.
So is your business ready for Valentine's Day? Do you already have a strategy for your ideas? Whether you love or hate the sentiment-filled day, it's definitely hard to ignore the valuable opportunity. As an experienced online marketer, this holiday gives you an opportunity to nurture relationships and create a community around your brand along with your loyal customers.
FOUR STRATEGIES TO CAPTURE YOUR AUDIENCE
We have a few Valentine's Day digital marketing ideas for you to try out and win the hearts of your target audience this 2020:
1. Create Visually Inspiring Content For The Season. 
Make all your visuals appealing to your audience and add engaging subject lines. Here are a few things you should remember: Use the season's color theme as a first tip. Secondly, Valentine's Day images mostly involve: Jewelry, clothing, candies, flowers, gift and greeting cards, dinner and going out. So, try your best to use these in your visuals.
2. Experiment on User-generated Content.
User-generated content is one of the most inexpensive ways to try experimenting this Valentine's Day 2020. Your audience basically does most of the work for you. They share the items they've purchased, activities they'll be attending, or incentives they have received with their friends on social media. About 71% of Internet users are likely to purchase items based on social media referrals, so this can be a big opportunity.
3. Spark Audience Interest With Gifts And Incentives.
It is one of those times when customers are in full-buying mode. Hence, they need your help to be convinced of what they need and can avail. Incentives and free perks are some of the effective digital marketing ideas to use. An easy formula to seal the deal is to combine visually-enticing seasonal content marketing materials and loyalty rewards or discounts. Hence, incentivizing is a better strategy to convert customers during seasonal marketing opportunities
4. Launch a Video Content Campaign For Valentine's Day.
In 2014, Amazon shared a Valentine's Day video of a dog singing "That's Amore" along with his fellow canine and feline friends in Venice canals. The cheeky campaign, which may be unrelated to their business, was able to gather about 2,792 shares. Furthermore, BMW UK posted a video ad in 2017 of two cars with skid marks outlined like a heart. The video generated about 1,033 shares on Facebook. When you capture their attention with your digital marketing idea, you'll get their interest.
PUT ADDITIONAL VALUE
Here are additional things that we need to consider in our campaigns:
1. Share The Love With Emojis on Social Media.
Emojis can be a powerful tool when promoting seasonal content and campaigns. There are available emojis for different occasions which means there is a huge scope for using them in your taglines or social media posts. More importantly, emojis are instantly engaging, eye-catching and can definitely boost the impact of your message to your audience making them one of the best digital marketing ideas to use out there.
2. Add Romance To Your Social Posts.
Fill your social channel feeds with digital marketing ideas and offers that your customers can try and enjoy with their loved ones. In other words, be proactive to find ways to get them engaged with your content and the season's overall theme
3. Consider The Unlucky Ones.
Of course, single people need love too. More importantly, Valentine's Day doesn't have to revolve and be limited to those who are lucky in love. Thus, brands can help some hopeless romantics engage with other single people and find their match. Additionally, online events like blind dating or matchmaking activities are generally much appreciated. Lastly, you can also provide the romantically-challenged audience with a way for them to seek advice and tips from those who are successful in their relationships
4. Make It A Great Time To Connect With Your Customers On A Personal Level.
Not everything is about selling. Rather, it is being able to give value and establish humane relationships with your customers. Share their need for love and celebrate with those who have found it. Because of this, customers will appreciate brands that once in a while step out of their way to give them the best Valentine's Day experience. Look at what Jollibee is doing with their commercial videos. That is probably one of the digital marketing ideas that everyone can apply.
5. Help Create Memories For Your Customers.
Keep your audience engaged after Valentine's Day. Ask them to share their highlights, pictures of their dates and meetups, their great outfits and romantic dinners. Additionally, you could start a conversation through Facebook by having them share their funny stories and awkward moments. Create a positive memory and start engaging them now. Hence, they'll remember you once they start looking for ideas next year.
WRAPPING UP
Therefore, instead of focusing solely on selling your products and services, use holidays like Valentine's Day to truly connect with your customers on a personal level. Nurture your relationships and build a loyal community to establish authenticity and trust. Show them that you understand where they are coming from. Additionally, doing this can also make a small business look personal and intimate, something people look for nowadays.
At the end of the day, putting the focus on significant others, family and friends is the most effective way to run your ideas for the day that celebrates love.