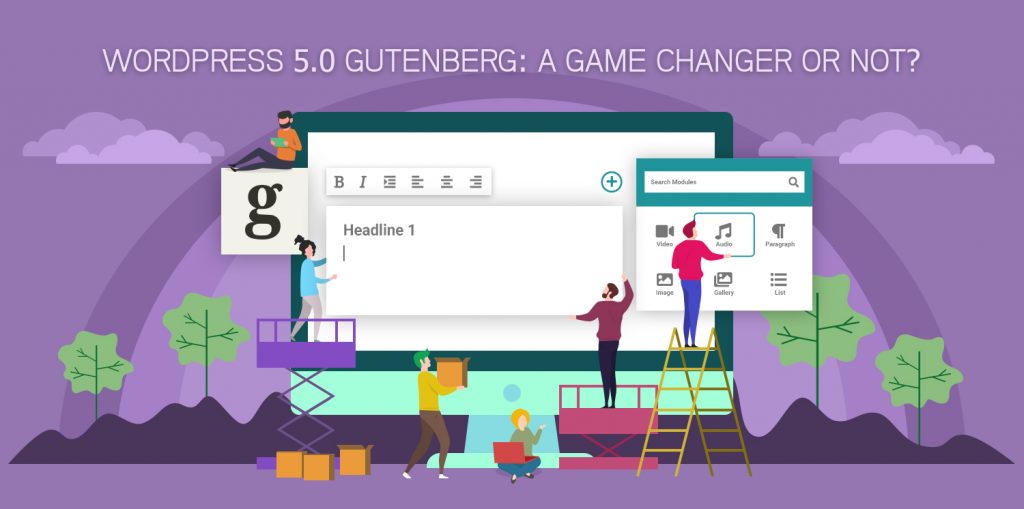 Feb 19, 2019
WordPress Gutenberg 5.0: A Game Changer or Not
An Innovative Attempt
WordPress Gutenberg focuses on its new take of a modern WYSIWYG editor for the famous content management system and replaces the old TinyMCE post content editor.  The goal is really just to provide a unique and refreshing user experience for writers. Many WordPress web developers, contributors and volunteers have spent months behind the scenes working for the project already. For many of those users who upgraded last December 2018 and onwards, it has been a hit and miss scenario.  
While updating to the latest version is the recommended action for those who have received the rollout, it's best to know the package you're getting. Are you one of those WordPress web developers who received the update prompt? It's very important to be aware of the main highlight.  The new Gutenberg editor is now the default editor for all sites once you decide to update to WordPress 5.0.  
In this article, we will show you the major differences between the classic and the new WordPress Gutenberg editor as objectively as possible. You'll probably need to decide afterwards which one fits your needs.
What's exciting:
Modern-look WYSIWYG editor using REACT and REST API
Drag-and-drop system to build pages and posts using various pre-built and customizable blocks
May help reduce the number of plugins needed
Better mobile responsiveness
Provides plenty of new tools for visual editing, media-rich content and dynamic layouts
What's frustrating:
Requires users to utilize shortcodes and HTML
Frustrating than helpful for Classic editor hardcore fans

Figuring out how to use Gutenberg's settings takes time for

WordPress web developers

who are so used to the old editor

A huge structural change that may create compatibility issues with current site themes and plugins
Editor unintuitive or overly complex for technophobes
Initial reviews overwhelmingly negative
The WPGutenberg.io website rolled out an anonymous poll to the beta testers and early adopting WordPress web developers of the community on how they felt about the new update.  So far, below are the number of respondents and results of the poll:
13, 17.81% – "I love it and I can't wait to use it"
25, 34.25% – "I like it but I'd prefer to have it as an option"
27, 36.99% – "I don't like it and I'll install a plugin to revert it to classic editor"
8, 10.96% – "I hate it and I hope someone will fork WordPress 4.9"
How to Approach the New Gutenberg
Whether many people hate or love it, Gutenberg is the next update of WordPress – so it's worth learning how it can work for you and your sites. As it stands, it certainly is powerful software and could be a game changer for all WordPress web developers. But time will tell if its implementation is successful or not.
Here are some tips before you decide the execute the upgrade:
Learn all that you can about this new update. Let us suggest that you check out and be familiar with all the documentation of WordPress Gutenberg for its changelog.
Backup your files. It's essential to create several backups of your website so you'll have a copy of your website's current version to come back in any case something goes wrong. There are options for a free and paid backup that you can explore.
Test the new editor first. Should you wish to test out the new editor and its features now so you'll have an idea if you like it, try to visit this link for a quick peek.
Update all your plugins and themes. Some of the plugins and themes have already begun rolling out compatibility updates in preparation for Gutenberg. It's wise to update them and avoid conflicts once you start your upgrade to WordPress 5.0.
The final verdict
In conclusion, there's nothing constant in this world except change itself. Everything evolves into something for the better. It just boils down to the right timing and execution.
If you simply dislike WordPress Gutenberg, you can disable it and just install the Classic editor plugin instead. You can then continue to create content exactly the way you always have. The new editor is an innovative attempt to provide the community, especially the writers and the WordPress website developers, a modern tool with lots of helpful features, if we have the patience and time to learn.
Though it's a big change to the way we know how WordPress works, it is expected that not all WordPress users will feel that it's a change for the better. With new upgrades also come some drawbacks that may frustrate some in the community. However, issues like this can be addressed over time with patches and hotfixes.
In the end, we believe this is, without a doubt, going to be potentially a powerful feature for WordPress. It can elevate the platform above its competitors even further and drive the market share higher in the coming years.