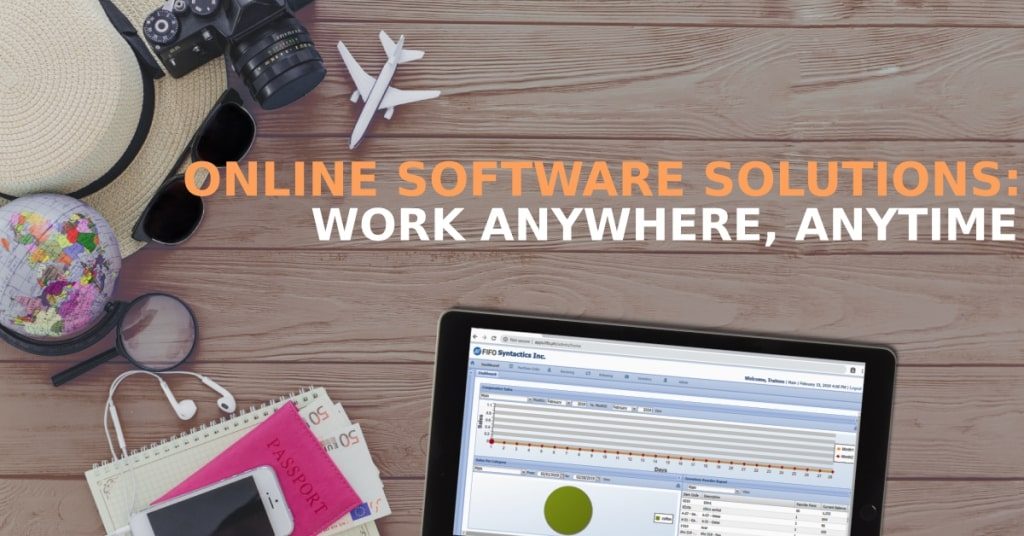 Feb 20, 2019
Online Software Solutions: Work Anywhere, Anytime
WORK ANYWHERE ANYTIME USING MOBILE DEVICES

The new trend of modern work today introduces the "ability to access your data anywhere using any compatible device or terminal". Its technical term is called data mobility.  In other words, you can work anywhere at any time using your laptop or smartphone.  While the feature exist in all online software solutions today like those from Google, a familiar application developer, many still do not understand how to maximize it.
These cloud solutions and applications concept require one source of data storage hosted online that can be accessed by authorized individuals and devices from any location. Hence, this actually implies that companies no longer need to always operate within their own boundaries. They now have an option to do remote work.
Data accessibility is one of the core pillars of organizations for them to operate effectively. Recently, technology advancements and the Internet have introduced innovations on how users can quickly access on-demand data while on the go. Just when USBs and flash drives were a huge thing before, they have gradually become irrelevant today as online software solutions overtook the need.
REASONS WHY ONLINE SOFTWARE MOBILITY HELPS
How does it help? Well, the success of a business depends on the people driving it forward on a day-to-day basis. Mobility plays a crucial role where business, productivity, environment, health, safety and security converge while employees perform their specific roles and functions. Here are some of the reasons why this feature matters:
BUSINESS-RELATED
Mobility expands your operating margin.
Imagine being able to handle more business inquiries and tasks outside the four corners of your office. Businesses can resolve issues and manage risks even beyond the normal working hours if necessary without on-premise efforts. More importantly, online software solutions add value to the business by increasing the potential income when employees work anywhere without boundaries. These software can also have various functions like small business accounting, inventory management, enterprise resource planning etc.
Being mobile pushes for streamline operations by enabling employees to collaborate together with real-time data even while on the go. This centralized concept can minimize human mistakes and process data quicker than conventional methods. Companies get the right data from the right place at the right time. Enablon research shows 41% of companies don't have access to data when they necessarily need it to conduct analysis and make business decisions. Additionally, a boost in productivity almost always correlates to a boost in cash flow.
SOCIAL-RELATED
Promotes better exercise.
Issues of heart disease, Vitamin D deficiency, lower back pains can be traced back to sustaining long hours sitting down in the IT workplace. Increased productivity is still possible while most companies practice taking adequate breaks away from the chair once in a while. With the mobility feature, employees can answer emails, respond to inquiries, discuss with clients while you are on the go.
However, there is a danger side to this. Distracted activities such as driving, walking, and even cooking due to mobility are leading factors of accidents and harmful incidents. Employees must find a safe remote place to work away from danger and distraction.
With 4.1 billion Internet users worldwide and 49% of that come from Asia, online software tools can sometimes go beyond just business use. In case of accidents or potentially dangerous incidents like calamities, mobility can save lives and perhaps further minimize physical and material damage. Furthermore, users can assist each other stay safe as they share or exchange real-time data, post warnings, photos or even videos alerts of perilous situations before they occur or even while they're happening.
As an example, when Typhoon Sendong hit the Philippines last 2011, it was an unexpected disaster at night. Electricity was shut down but mobile data was enabled for companies to coordinate with their employees for their safety. With Facebook as one of the social cloud solutions, people were able to share photos and statuses of those in need of medical attention and immediate help.
SECURITY STILL A HURDLE
There is still a huge debate today on the security of online software solutions despite the advantages of data mobility. While cloud solutions is, without a doubt, able to empower businesses, the issue remains to be a cause for non-adoption.
Security is always is a key consideration when migrating to cloud computing, whether it be for accounting software, document tracking software, inventory software, etc. It even becomes more of a concern should any software include credit card information. Once businesses start expanding, its users or devices using on-premise methods don't guarantee data protection. The fail point is when data travels outside of corporate borders on different devices when employees start to work anywhere.
However, providers of online software solutions are constantly stepping up their game. Securing their infrastructure and platform for any unauthorized or malicious attempt is a top priority. Of course, users are similarly to blame for breaches due to negligence and lack of awareness. There are plenty of articles and training online on how users can be cyber-secure, with EC-Council programs as an example.
Positive statistics of cloud computing adoption below tells us of what is inevitable:
According to Forbes, 50% and more of IT spending of companies will be cloud-based in the next few years.
Cloud infrastructure spending is expected to grow 6x more its rate through 2026 at a CAGR of 16% according to IDC and SiliconANGLE.
CLOUD SOLUTIONS WITH MOBILITY TO TRY OUT
If you decide to allow your employees work anywhere at any time and experience its mobility feature, there are a variety of options to choose from. Below are some of the online software applications that worked best in our operations:
Google Apps (Drive, Keep, Docs, Spreadsheets, Slides)
Basecamp, Facebook and Slack for team collaboration
Skype for voice and video communication
FIFO for inventory management
EMBRACE THE NEAR FUTURE NOW
In conclusion, adopting new technologies may still be challenging to most companies. This is true for those that have found ways to improve their businesses using conventional on-premise solutions. Security and financial return-of-investment are the main reasons for reluctance in moving to cloud solutions.
However, even with the security concerns, cloud solutions adoption continues to rise. This is due to the improved data mobility, increased efficiency, streamlined collaboration, cost-effectiveness, and speed of connectivity. Mobility opens a lot of doors to a truly integrated and constantly updated system. It allows companies for a more agile workflow, improved communication, better tracking and better adaptive approach to management and decision-making.
Sometimes providers of online software solutions may not be able to give exactly everything you need. Should you need a professional team to help you create a customized cloud and mobile applications that fit your company needs, contact us right now so we can get started right away.