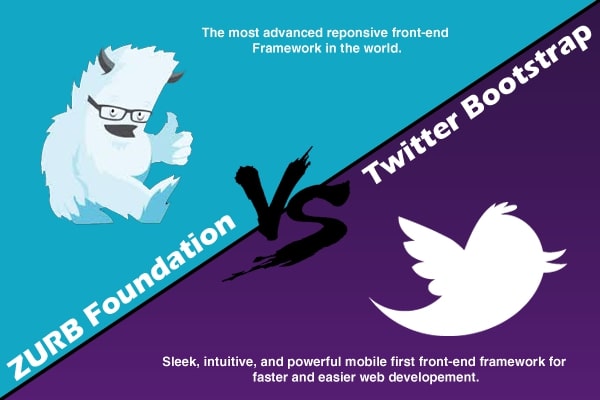 Feb 26, 2014
ZURB Foundation vs. Twitter Bootstrap: Which Framework Is Right For You?
Responsive websites are popular nowadays. However, you are probably stuck at similar situations wherein you are confused as to what front-end development frameworks you must use for creating a site that works well on any device.
Twitter Bootstrap and ZURB Foundation are two of the most preferred front-end development frameworks. The two frameworks help developers create high quality sites easily because they provide a multiple number of effective features. Before you choose which one is right for you, get to know them first.
Twitter Bootstrap
Twitter Bootstrap is a popular front-end development framework, which consists of a CSS grid system used for non-responsive and responsive sites. It has a basic CSS that helps developers create engaging buttons, code, forms, icons, images, tables and typography.
Twitter Bootstrap also includes a multiple number of components making it easier for developers and web design team in the Philippines to select from the extensive range of:
Alerts
Badges
Button groups
Button dropdowns
Breadcrumbs
Dropdown menus
Labels, media objects
Navigations
Navigation bars
Pagination
Progress bars
Thumbnails
Typography.
Furthermore, such site development framework is loaded with helpful Javascript jQuery plugins. In the current version of Twitter Bootstrap, there are 13 Javascript jQuery plugins that include alerts, affix, buttons, collapse, carousel, dropdowns, modals, popovers, tabs, transitions, tooltips, type ahead and scrollspy.
Twitter Bootstrap could be the right framework for you if you are looking for a grid system that supports responsive and non-responsive grids and has a number of CSS and jQuery plugins.
ZURB Foundation
The ZURB's Foundation is the biggest competitor of Twitter Bootstrap. Like Twitter Bootstrap, ZURB supports a responsive grid system and has a bunch of basic CSS, CSS components and Javascript jQuery plugins.
Such framework has fascinating features of alert boxes, buttons, Dropdown, forms, flex video, global styles, Javascript plugins Clearing, Joyride, Magellan, navigation, Orbit, panels, pricing tables, responsive mobile-first grid system, Reveal, Section, tables, thumbnails, Tooltips and typography.
Moreover, ZURB Foundation is a "mobile-first" development framework. This means that ZURB designed their framework to look good and display well on mobile devices first and then scale nicely to other devices that have larger screens.
This "mobile-first" strategy of ZURB Foundation makes the mobile navigation process easy. This is something more complicated and difficult to do in Twitter Bootstrap.
You still cannot decide which one is the right one for you?
You choose Bootstrap if you like the way it looks, easy and clear codes and if you rely on QA sites and forums to fix website framework issues/problems.
You choose ZURB Foundation if you want to create an awesome and well-designed mobile websites and if you do not care too much about the syntax.
If you really want to experience the difference between the two frameworks, try to use both.
Have you tried using one or both frameworks? What can you say?