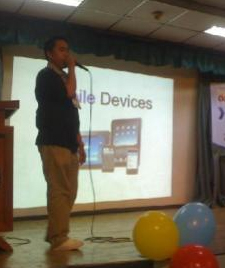 Mar 18, 2013
Syntactics Inc Talks About 2013 Internet Trends and Trends in Web Development
March 12, 2013 – Philippines – The Leading Business Outsourcing Company in the Philippines – Syntactics Inc. – two (2) of our seniors, Rolan Rey Fernandez (SEO Operations Team Leader) and Cris John Tagupa, Senior Web Developer were invited to be the guest speakers of DeVCon (Developers Connect) seminar yesterday at Mindanao University of Science and Technology (MUST).
Mr. Fernandez, talked about "2013 Internet Trends." He said there are four (4) latest internet trends this year, they are:
Mobile Devices – many people nowadays are using smartphones as part of their everyday activities. They use their phones as pocket PCs to surf the net, shop online and search for information locally.
Social Media – social media sites are the most popular sites today. Almost all people in the world are very fond of visiting FaceBook, LinkedIn, Pinterest and Twitter. They use these social media sites to get in touch with old friends and to meet new ones.
Inbound and Outbound Marketing

Inbound marketing – uses blogging, SEO and social media to lure visitors or the target market to your website and purchase your products and services. You allow buyers to seek you out. The advantages of inbound marketing are that you can capture global audiences (not just local visitors) and you can go shopping anytime of the day because internet shopping is open 24/7. Aside from that, you will have a bigger opportunity for networking since many people are using the internet. PLUS, it's more cost-effective than outbound marketing!
Outbound marketing – uses TV ads, flyers and cold calls to inform the target market of your products and services or websites. You are the ones reaching out to the buyers and it's quite expensive since the TV advertisement is paid on a minute basis ( air time).

Responsive Web Designs – the meaning of responsive web designs is that your website is designed to run on all devices. It can adjust according to the kind of device you are using. – visitors can still view your website properly no matter what device they use to view it.
As for Mr. Tagupa, he talked about "Trends in Web Development." And according to him, there are five (5) trends for web development this 2013 such as: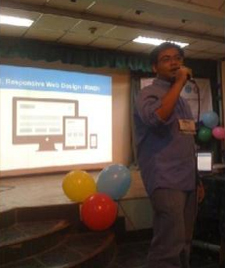 Infinite Scrolling – all contents will be loaded can be read while scrolling down. This is made possible by using the technology called "AJAX", and almost all social media sites are using infinite scrolling, BUT not all layouts are compatible with it.
HTML5, CSS3 and JavaScript – these technologies replace Flash. Since Flash takes time to load and is bad for SEO because search engines won't crawl sites that are using flash, these 3 technologies replaced it. They offer fast loading time and help websites get good ranks in all search engines.
Social Media Integration – website owners are encouraged to integrate social media sites in their main site so that viewers will have an option to choose which is convenient for them to view the site. Aside from that, having a link to your social media sites can boost your website traffic.
API (Application Programming Interface) – this protocol is used to allow your main website, your social media sites and other programs to connect with each other. – It automatically connects everything!
Responsive Web Designs – creates websites that provide an optimal viewing experience, easy reading and navigation for a wide range of devices.
Moreover, there are also other speakers from other companies and they are:
John Requiroso (Freelance Web and Mobile Developer (DevCon member) – "Intro to iOS Development."
Lionel Amarado (General Manager of Innovative Web Technologies) – "Jenkins – An Open Source Tool for Software Development"
Dan Albert Pacquiao (Vice President at Cleversoft, Inc.) – "Perks of Being a Developer"
Jun Daomar (Project Manager at Cleversoft, Inc.) – "5 Reasons Why Testing Is Overlooked"
Nideliza Fe O. Nacilia (Regional IT Coordinator 10 at DOST-ICTO-NCC ) – "Smarter Philippines"
The DeVCon seminar was a huge success and many I.T. students from MUST and from Xavier University really learned a lot from the speakers. They are even amazed that social media sites such as Facebook and Twitter can be used as part of internet marketing.
Speaking of social media and internet marketing, Syntactics Inc. offers social media optimization services to those business owners who want their online businesses to go viral in a fast and effective way. Just call us at at 63-88-856-2242 for the Philippines, +1-(650) 209-4767 for the US and +61280062938 for Australia and look for Stephanie Caragos, CEO and President of Syntactics Inc.
You can also send your inquiries at sales@syntacticsinc.com.