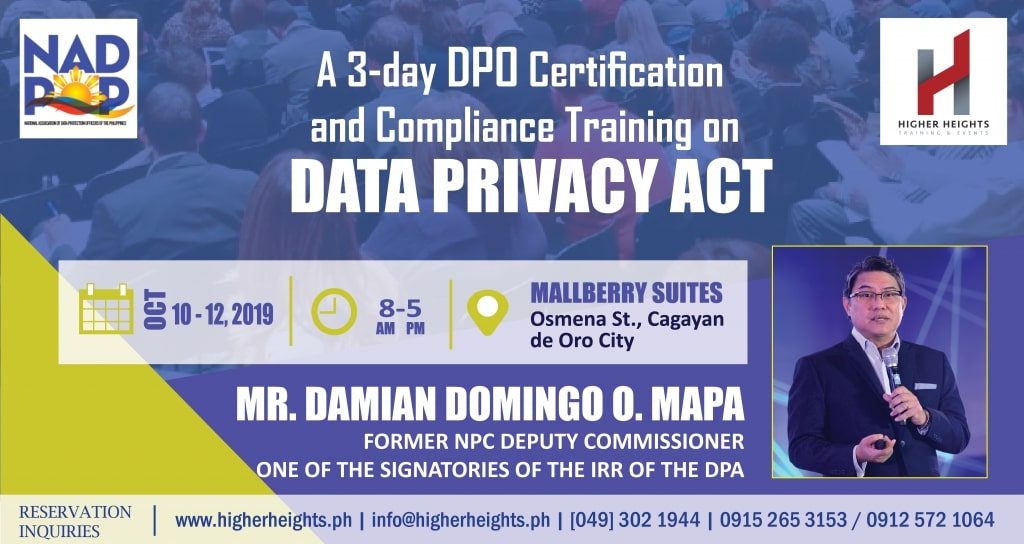 Oct 14, 2019
Syntactics CEO and COO become certified Data Protection Officers
October 12, 2019 — Syntactics CEO Stephanie Caragos and COO Wilfredo Kaamiño Jr. pass the Data Protection Officer Certification Exam 2019 given at the Malberry Suites Business Hotel 
Last October 10 – 12, 2019, Syntactics, Inc.'s CEO Stephanie Caragos and COO Wilfredo Kaamiño attended the 3-day DPO Certification and Compliance Training on Data Privacy Act held at Malberry Suites in Cagayan De Oro City. The attendance of the company's founders is part of the company's mission to respect the clients' data privacy, ensure that the company is updated with the policies, and to fulfill the company's duties towards its clients.
The event, which took place at 8:00 am to 5:00 pm, had keynote speaker Mr. Damian Domingo O. Mapa, the former NPC Deputy Commissioner and one of the signatories of the IRR of the Data Privacy Act. 
The 3-day event covered topics on:
Writing a Company Privacy Manual

Conducting a Risk Impact Assessment

Drafting data sharing and processing agreements, and

Designing data security measures. 
On the last day, the IT company's very own founders then received their Data Protection Officer certificates.

Ms Stephanie Caragos receiving her certificate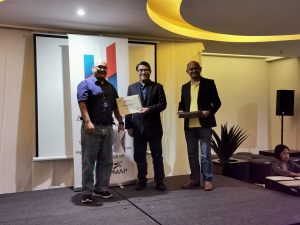 Mr Wilfredo Kaamiño receiving his certificate
The DPO Accountability Compliance and Ethics Program
It was back in December 2018 when the National Privacy Commission unveiled the DPO Accountability Compliance and Ethics Program. The program aims to establish for local privacy professionals a skills benchmark to match the demand for data privacy training in the Philippines. The pilot training, also comprised of 3 days, happened last December 12 to 14, 2018. It took place at the Philippine International Convention Center in Manila. Many of the attendees were members of government offices and prominent corporations.
The program further emphasizes the importance of trust and caution in today's digitally active world, one where data can be easily abused and misused.
A Rising Demand for Data Protection Officers
Data Privacy is also a need, especially for IT service providers such as Syntactics, who deal with tons of data entrusted by clients from all over the globe. In fact, any company that handles data from users and clients should have a data protection officer. These officers then become responsible for making sure that the company or organization complies with the Data Privacy Act. Part of the role of a DPO is also to understand and be aware of data being processed inside the organization.
Due to the demand for a Data Privacy Officer in various industries in the country, many institutions offer certification programs. It can also be expected that universities will eventually have formal courses in the near future.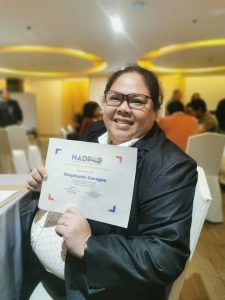 Ms. Stephanie Caragos happily showing off her certificate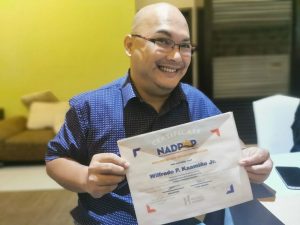 Mr. Wilfredo Kaamiño looking happy with his certificate