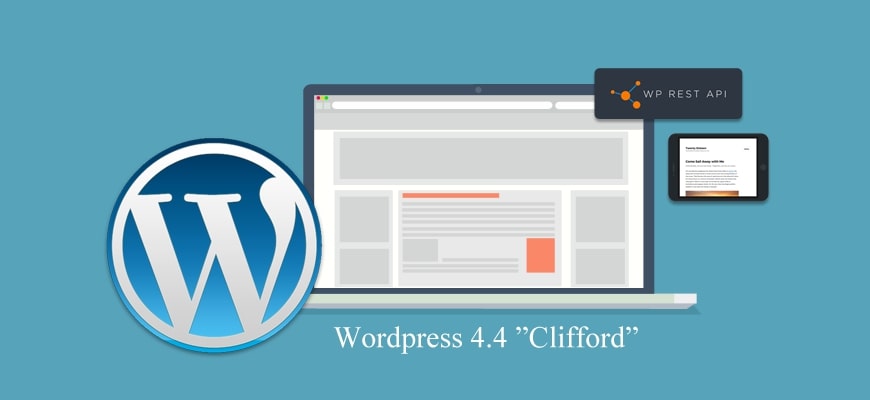 Jan 12, 2016
What's New With WordPress 4.4 "Clifford"?
WordPress released the newest update "Clifford" last month and here's our take on this version. Jazz trumpeter Clifford Brown is its namesake. More importantly, this version boasts of several new features that will make websites much more responsive than before.
Responsive Images
Have you ever visited an image-heavy WordPress site on a mobile device, only to be waiting a long time for the page to load, particularly on a slow internet connection? With WordPress 4.4, uploaded images will become automatically responsive, regardless of device and screen size. It's all thanks to the support of srcset and sizes in Clifford. It automatically detects what device you're viewing the website on and loads the appropriate-sized image.
This will be especially beneficial to users on mobile devices as they'll spend more time enjoying your content. The best thing about it is there's nothing you need to do to make the images responsive since everything happens behind-the-scenes. Just upload and you're done!
Embeddable WordPress Posts
In the past, WordPress users have had the ability to embed content from outside sources with oEmbed. Now, WordPress itself is an oEmbed provider. This means that posts embed on any WP website. When a post URL is pasted into the editor, an instant preview will pop out, containing the title, article excerpt, feature image (if any), along with comment and share icons.
REST API
The core WordPress 4.4 finally has the infrastructure of the REST API integraed. This is the first part of the implementation, the other being the endpoint which for the meantime is available in a separate plug-in. The infrastructure includes the routing, argument handling JSON serialization/deserialization, and status codes, to name a few. Having these built-in means that it'll be quicker and easier to code RESTful APIs within WordPress.
The endpoint functionalities in the API are slated to be included in a future release.
Twenty Sixteen Theme
Like in previous WordPress versions, 4.4 Clifford includes a new default theme called Twenty Sixteen. The theme is a minimalistic design by Takashi Irie with the typical WordPress header and optional right-hand sidebar, making it perfect for blogs and other websites. Twenty Sixteen has four color schemes and a responsive grid design. It's also built from the ground-up to adapt to any screen size, whether it be a smartphone, tablet, laptop, or desktop.
This latest release also comes with numerous code-related changes, including a new class on the WordPress Multisite called WP_Network, improved multiple network features, as well as the usual bug fixes and deprecated features.
For more details on WordPress 4.4, take a look at the official blog here.
WordPress Design And Development has never been better!