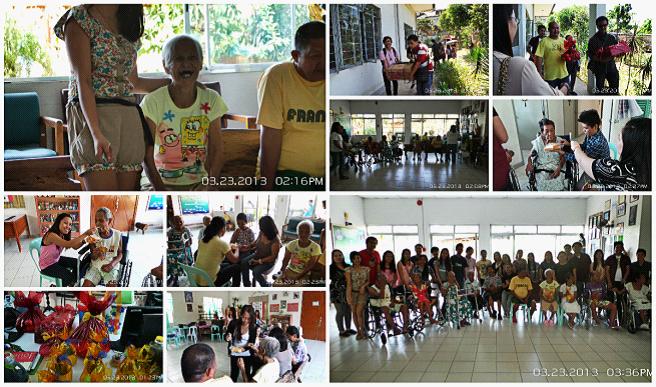 Apr 10, 2013
SYNCare – Syntactics Shares Time with the Elderly
April 5, 2013– Cagayan de Oro City, Philippines- the leading business process outsourcing companies in the Philippines- Syntactics Inc.- held a special activity for the elderly last March 23, 2013, Saturday (2:00 pm – 4:00 pm) at St. Joseph's Golden Home Foundation, Inc., Clemente Fernandez ext. 18th Nazareth with the theme "SYNCARE for ELDERS".
As part of Syntactics Inc. Annual activities, the entire family spent their whole Saturday afternoon to give joy and care to the elderly of St. Joseph's Golden Home Foundation, Inc. The Home for the Aged committee prepared several activities and surprise give aways especially designed for the elders.
The event started with an opening prayer led by Ms. Anna Fay Edulsa and followed by a short welcome address by the committee chairman, Ms. Charmaine Suarez. This was later on followed by the giving of snacks to the elders.
While our beloved elders enjoyed their delicious snacks, Ms. Fria Mae Durac and Mr. Richard Rivas sang "Kahit Maputi Na Ang Buhok Ko" by Rey Valera. This was followed by a special number from one of the elders– Lola Elizabeth/Abet an 88 year old lady who still sang beautifully.
Then we had a stretching activity which was actively participated by the elders. After which, some members of the Syntactics family who represented a certain elder actively participated in different parlor games such as the statue dance and the famous Harlem Shake.
The mechanics of the game was twisted by the game master Mr. Julius Kanlapan telling the participants to dance when the music starts and when it stops they must freeze and bring up one of their legs. The participants should not move until the music plays again.
It was indeed a fun activity giving some sort of inspiration and joy to the elderlies who have been away from their own families for quite some time already.
The program ended with the song "Handog" rendered by the entire Syntactics family while the members of the committee distributed the individual gifts to the elders.
"It was so much fun, I never expected to feel so good being with the elders specially when I saw them so happy because we visited them. It felt really great seeing genuine smiles from the elderly. I am looking forward to doing it again." said Ms. Charmaine Suarez, committee, Home for the Aged Program
To know more about Syntactics Inc. feel free to give us a call at 63-88-856-2242 US:+ 1 650 557 3336 Aus:+61280062938 Contact Person: Ms Stephanie Caragos Email: sales@syntacticsinc.com.