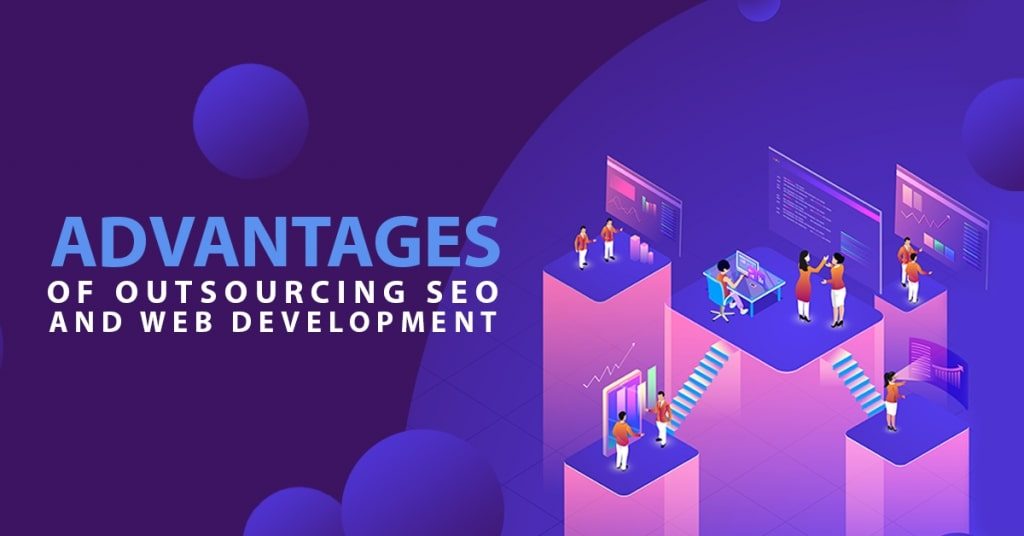 Mar 25, 2019
Advantages of Outsourcing SEO and Web Development
There are several advantages of hiring outsourcing companies for outsourcing services for both off-shore and local platforms. Simply put, if you are planning to maintain a staff of less than 30, it's more advisable to outsource to an existing company and work out a good deal. Moreover, if you do want to set up a larger company and hire more people, then setting up a company and investing in the Philippines would be a good option for you.
Let me point out several advantages of hiring SEO, software development, and web design outsourcing company to do the job for you versus having to set up one yourself.
Pros of Outsourcing no.1: They can help you avoid the cost in setting up your own IT division.
The first advantage of outsourcing is that you don't have to spend so much just to set up the division. All you have to do is ask the outsourcing company to hire you a specific number of people and then you can start the work.
By outsourcing services to the Philippines like your SEO campaigns, Web Jobs or Software development jobs, you eliminate the following cost for your own company:
Purchasing additional equipment.

Hiring your IT team.

Cost of investing in at least 2 Internet connections

Training

Providing healthcare and social welfare benefits
If you are in the IT industry (whether abroad or in the Philippines) and you're thinking of setting up an IT company yourself, you can experience the benefits of outsourcing services and you can eliminate the following financial and time costs:
Working out the registration to the various government agencies that oversee the companies taxes obligations and employees welfare (which is approximately about 8 agencies here in the Philippines)

Advance payments for rent advance payment (usually 3-4 months of the rent amount)

Cost of purchasing the equipment, servers, network installation, and management.
Pros of Outsourcing no.2: Team Management
You don't have to look for your own managers. You need someone who lives and breathes outsourcing. A professional dedicated team who can guide the business in finding out the latest technology and work to adapt with the latest trends.
Also, you don't have to look for a manager who knows how to handle SEO, developing, and designing operations. You can also avoid paying a separate fee to another person to just run the company. The outsourcing company already has a specific leader for each specific service that you may need.
Pro no.3: Process implementation
Let the outsourcing company implement the process. The outsourcing company in the Philippines have already set up the process for skill and service. As they say, you don't have to reinvent the wheel.
Look for a company that has an established process and work with them. Most of the outsourcing companies are also willing to adjust and iron out their process for you.
Furthermore, you can take advantage of the fact that the outsourcing company also already has its means and methods of monitoring the process and working out the reporting systems for this. If there are tweaks and adjustments to the reports that you feel you would need more for your decision-making, they can work this out for you.
Pro no.4: Human Resource Management
If you outsource, you don't have to worry about finding an HR Manager. Many take advantage of this by letting outsourcing companies take care of all human resource needs. The HR officer will work out all the filtering and hiring of the staff you would need for your team. However, let me emphasize that an HR officer for an IT or SEO company is different from that of the regular retail, merchandising and manufacturing company.
Moreover, the HR officer will also assist the staff in processing their benefits from the respective agency. Over and above all, the HR officer should be able to implement company policies and rules.
Pro no.5: Finance Management
If you take advantage of an outsourcing company, you don't have to hire a finance officer. Someone has to work out the finances and financial reporting locally. You need a good finance manager who can help you with the invoicing. Someone who can take care of receivable monitorings, budgets, managing bills, record all the financial transactions, and work out the books.
Pro no.6: Building Team Spirit and Growth
One upperhand of outsourcing is you don't have to worry about having to set up the training, work out team building activities and finding ways to make each individual in the organization grow. In running the team, you have to work out different ways to help the staff in their professional and personal growth.
As a manager, you have to always look after your team members and find ways to help them grow. You have to let them grow professionally by continuously providing them with training, seminars and constant mentoring.
You also have to understand the culture and know what is important to your people. Additionally, you should know how to motivate them and know what makes them happy. It's not always about how big the salary is. Yes, the amount of money is important, but there's really more to it than just that.
Weighing in The Pros of Outsourcing
In conclusion, if you set up your own division or company, you may be paying less, in terms of salary per head, however, you will still have to consider administrative, training, overhead and operations cost to think about. You have to weigh this properly.
At the end of the day, if you want a worry free SEO, software or web development business operation at an affordable cost and experience all these advantages, try outsourcing from the Philippines!